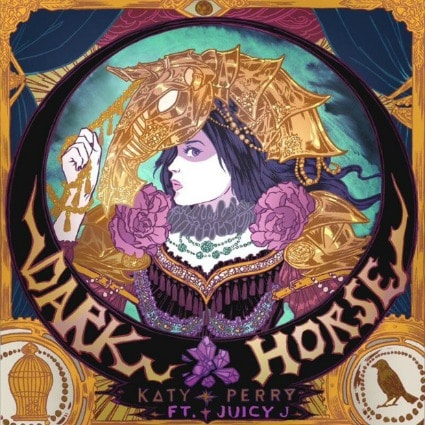 Official "Dark Horse" Single Cover
Whether you follow the Chinese Zodiac or not, in the world of music, 2014 certainly feels like Year of the Horse—err, Year of the Dark Horse to be precise.
"Dark Horse" is the sleeper hit single off of "PRISM," Katy Perry's fourth studio album and ninth Billboard No. 1 track. "Dark Horse" differs from the singer's other records in that it has a more mysterious and bewitching aura than her otherwise bubblegum pop tunes.
Kitty Purry's mommy is dropping the highly anticipated video for "Dark Horse" today, and in honor of the release, we put together three ensembles inspired by the song. Gallop out of winter and right into spring with these enchanting and fun looks!
So You Wanna Play With Magic?
Katy Perry - Dark Horse (Music Video Trailer)
This outfit is inspired by Katy Perry's video teaser for "Dark Horse." Her latest clip is set in Ancient Egypt, and tells the tale of a glamorous queen named Katy Patra – a #swaggin Cleopatra, if you will.
Mix and match Egyptian-themed items to channel the video: a pyramid cap, pharaoh shirt, Ankh ring, and strappy sandals are perfect accents. Whether you're in 1st century BCE or 21st century CE, a Queen of the Nile isn't afraid to wear makeup that pops, so add some glittery cotton candy eye shadow to capture Perry's signature pizzazz.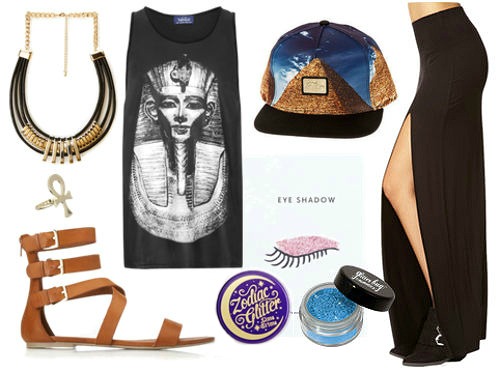 Product Information: Necklace- Forever 21,Ring- Topshop, Eye Shadow- Nasty Gal/Amazon, Sandals- Forever 21,Hat- Karmaloop, Maxi- Forever 21, Top- Topman
I'm Coming At You Like a Dark Horse
This getup directly channels the theme of Perry's latest hit by keeping with the equestrian air while also displaying a dusky ambiance. Slap on some riding boots, horseshoe earrings, a mustang bracelet, and a ponyhair saddlebag to bring out the stallion in you. Add a dark grey scarf and jeans to contrast with the chambray top, then saddle up!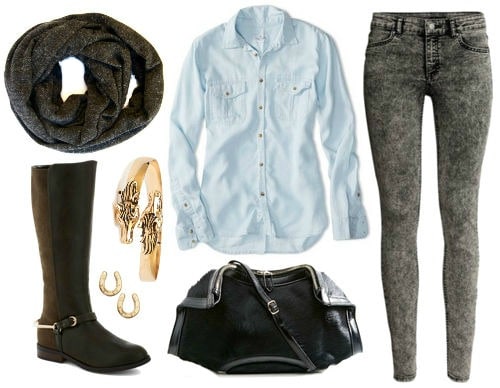 Product Information: Boots- ModCloth, Saddle Bag- Nasty Gal, Earrings- Macy's, Bracelet- Forever 21, Pants- H&M, Shirt- American Eagle, Scarf- Etsy
Are You Ready For A Perfect Storm?
https://www.youtube.com/watch?v=ZSaxGesjybA
This song amped us up during the gloomy and stormy winter season, and Katy herself (quite literally) kept the fire burning during last month's controversialGrammy performance. Before a haunting colt-themed background, Perry recreated a witchcraft-like ritual while singing "Dark Horse" on stage, culminating in a fiery stake tableau.
Here, we explore the dark lyrics and paired a jumpsuit with a stormy pattern, sturdy booties, and a Bermuda Triangle/Harry Potter necklace for a flash of mysterious magic. Add a jolt of lightning with crackle nails to complete this tempestuous outfit.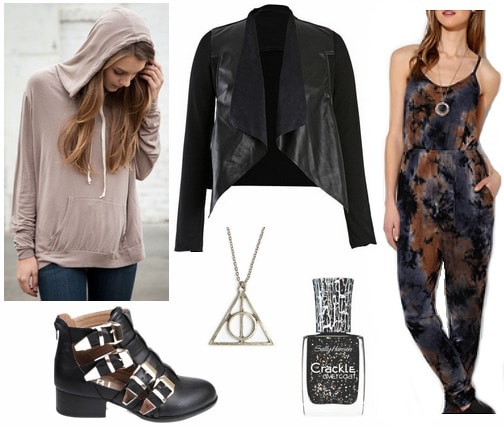 Product Information: Booties- Tobi, Necklace- Brandy Melville, Nail Polish- Sally Hansen, Jacket- Macy's, Jumpsuit- Urban Outfitters, Hoodie- Brandy Melville
What Do You Think?
Do you like the spooky tone of "Dark Horse"? Did you enjoy Katy Perry's video? How would you have styled the outfits differently? Are there any other KP songs you enjoyed from Prism? Let us know what you think by leaving a comment!