Two weeks ago, I received a reader request in the comments box for my non-Disney princess article about doing a Narnia piece. Hope you enjoy this one, Chloe! (And to all you comment-less readers with thoughts for CF articles, please take this opportunity to submit your suggestions below.)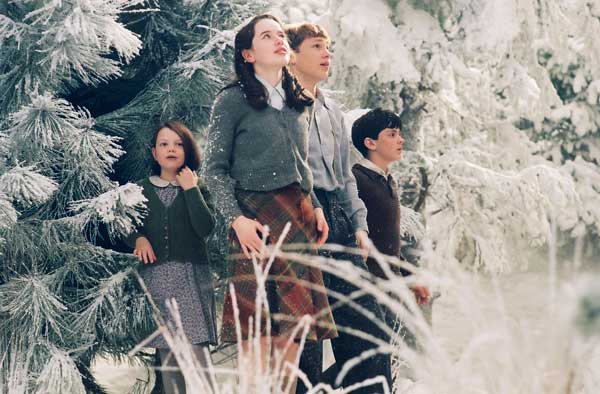 The Lion, the Witch, and the Wardrobe
Written by C.S. Lewis, The Lion, the Witch, and the Wardrobe is a children's fantasy novel encompassing the second World War, the English countryside, and a magical land hidden behind a professor's wardrobe. (But, mostly, it's about four children and their adventures in Narnia, the other world with talking beavers and a feline Christ figure.)
Much has already been said about The Chronicles of Narnia's mythological elements, profoundly Christian message, and general excellence, which is why we're focusing on something else today — the three main ladies from the books and films: Lucy, Susan, and the White Witch.
Lucy Pevensie
"I think—I don't know—but I think I could be brave enough."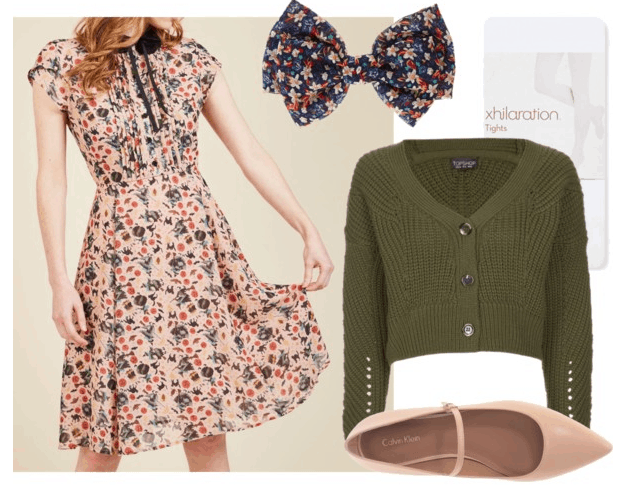 Products: Dress – Modcloth | Bow – Icing | Tights – Target | Cardigan – Nordstrom | Shoe – Zappos
The youngest of the Pevensie children, Lucy Pevensie is generally considered to be everyone's favorite. She's certainly the easiest to love, having purity of heart and noble strength in abundance. (Fun fact: C.S. Lewis was a huge fan of Lucy in particular, naming and modeling this Pevensie after his own beloved goddaughter.)
In terms of plot points and cause and effect, Lucy is also a highly significant character — she's the first one to enter the world of Narnia and befriend one of its inhabitants, Mr. Tumnus. Pushing her older siblings to believe in the nature of Aslan and Narnia, Lucy represents youth in all its wholesomeness.
Susan Pevensie
"It isn't as if we wanted to take [the fur coats] out of the house; we shan't take them even out of the wardrobe."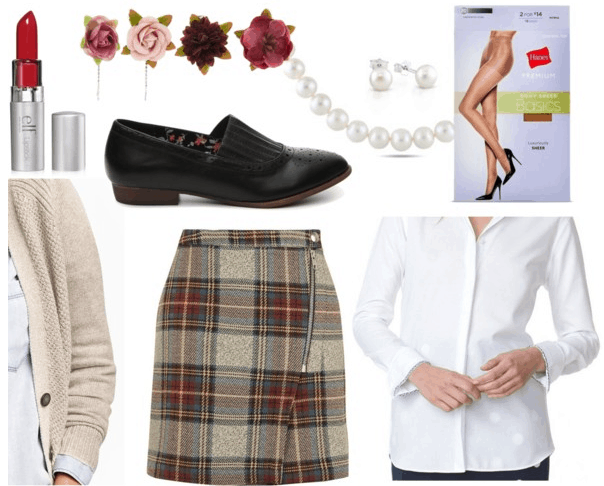 Products: Lipstick – e.l.f. | Clip – Forever 21 | Pearls – JCPenney | Oxford – DSW | Pantyhose – Target | Cardigan – Old Navy | Miniskirt – Nordstrom | Top – Kohls
If Lucy represents blind faith and acceptance at the age of eight, Susan Pevensie, who is 12 years old at the onset of the novel, is an accurate depiction of an older child's skepticism and adult-like maturity.
When Lucy tells her siblings about the magical land tucked away at the end of the Professor's wardrobe, Susan, and her brothers Edmund and Peter, is quick to dismiss the theory as the product of an overactive imagination. Still, once she gets to Narnia, she quickly changes her tune, admitting error alongside Peter and partaking in their adventures to have tea with Mr. Tumnus (which quickly gets modified to the adventures of "uh-oh, everybody's favorite Faun has been jailed because of Edmund's big fat mouth").
Jadis the White Witch
"Not know the Queen of Narnia? Ha! You shall know us better hereafter."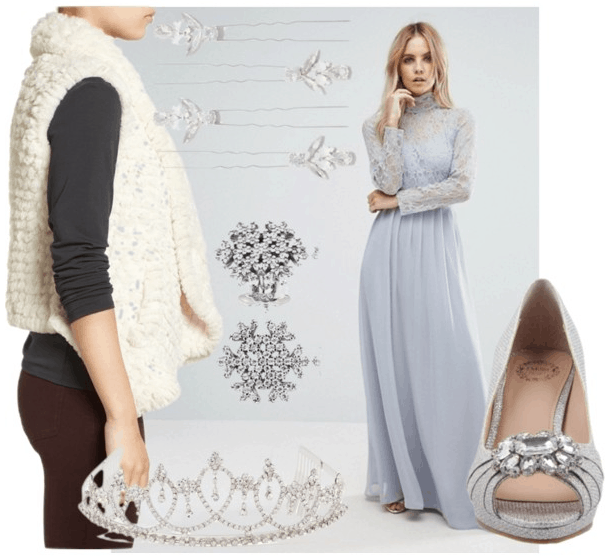 Products: Vest – Nordstrom | Hairpin – Charming Charlie | Earring – Pandora | Tiara – Charming Charlie | Dress – ASOS | Pump – JCPenney
When Lucy and Susan's brother Edmund first meets the self-declared "Queen of Narnia," she's riding a large reindeer-drawn sleigh and surveying the land she's held dominion over for one hundred years. Within the course of one unlucky meeting, Jadis the White Witch persuades Edmund to give away kind of personal information (the names of his siblings) and promise to return to Narnia (with his siblings) through flattery and bribery. Bribery in the form of Turkish Delight.
(As someone who's actually had Turkish Delight before, I can honestly say that it's certainly not something to write home about, never mind betray your siblings for. But because Edmund is kind of the under-appreciated middle child here — and being manipulated by an evil, cunning sorceress — it's easy to understand why he would.)
The Witch Witch's plans are to kill the children and therefore secure her control of Narnia. Since this is generally regarded as a children's book (and movie), we'll let you guess whether her plan comes to fruition or not.
Ready to enter the wardrobe again?
Stay tuned for secondary characters of the Narnian universe in my next article! Comment below with suggestions, as always.