The best endorsement of Deadpool I can offer is that my roommate claims my laughter during the movie was so loud that it rendered her deaf in her right ear. Whether you're familiar with the tale of the world's least polite Canadian superhero or not, you'll probably have a grand old time watching the film (so long as you have a taste for cheeky humor and don't mind generous servings of cinematic violence and sexytimes).
Deadpool, as you probably know, is a lighthearted romp of a romantic comedy starring Ryan Reynolds, Morena Baccarin, Ed Skrein, T.J. Miller, Gina Carano, Brianna Hildebrand, and Stefan Kapicic. If you somehow missed the totally on-point marketing campaign, round up your friends (but leave the kiddies at home) and head to the theater!
Know Your Geek: About Deadpool
Marvel anti-hero Deadpool, aka Wade Winston Wilson, was introduced to the world in 1991 by Rob Liefeld and Fabian Nicieza.  The popularity of the character has been attributed to his irreverent sarcasm, moral ambiguity, pop-culture references, and tendency to break the fourth wall.
Before he becomes Deadpool, Wade Wilson is your run-of-the-mill mercenary who hangs out the friendly neighborhood wretched hive of scum and villainy (i.e., his buddy's bar which primarily serves other killers-for-hire.)
When he meets Vanessa, your classic film trope of a hooker with a heart of gold, everything seems perfect (as illustrated by a truly touching montage of their holiday celebrations) until Wade is diagnosed with terminal cancer.
After undergoing experimental testing that's supposed to cure his cancer, Wade emerges from the horrific experience with superpowers and a disfigured face.
Outfits Inspired by Deadpool
Deadpool
Deadpool/Wade Wilson is played to perfection by Ryan Reynolds. While his wisecracking, violence-loving, slightly insane personality can't be emulated (and probably shouldn't…professionalism and all that), you can get his style without having to squeeze into a spandex suit!
I loved that they played "Shoop" during the movie; bring some early '90s/Salt N Pepa flavor to this outfit with an oversized red bomber jacket and fun sneakers. Black jeans and "sword" earrings add some edge. Deadpool is all about pop-culture kitsch, so he'd totally love wearing a tank top featuring himself (and his fav food). Last but not least, you know Deadpool would totally rock a Hello Kitty backpack!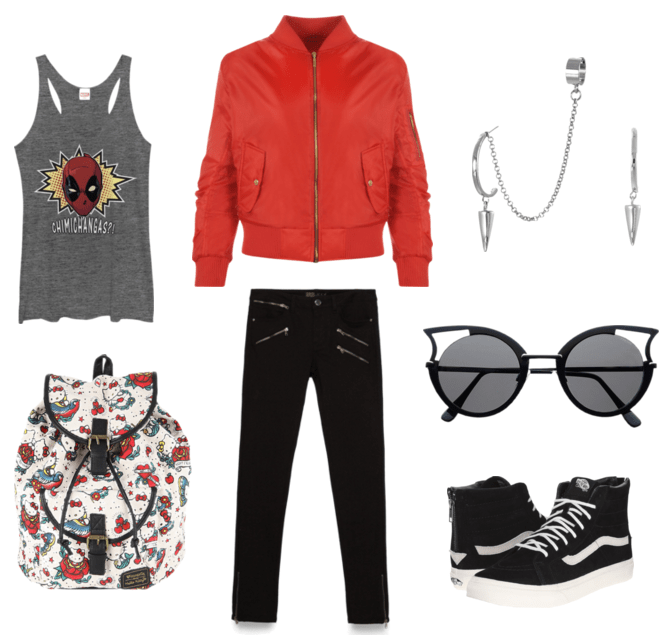 Products: Jacket, Top, Jeans, Earrings, Sneakers, Sunglasses, Backpack
Vanessa Carlysle
Vanessa Carlysle, played by Inara Serra…I mean, Morena Baccarin, is a feisty escort/stripper and the love of Wade Wilson's life. Too bad he's convinced she'll never accept his wrinkly-avocado-offspring face. (Spoiler alert: true love prevails.)
When she's not working, Vanessa has a laid-back style that's subtly sexy. Get her look by pairing a slouchy flannel (in Deadpool colors, natch), a delicate lace bralet, and a faux leather mini skirt. Finish off the outfit with fishnet stockings, buckled boots, and a homage to Wade's saccharine engagement ring.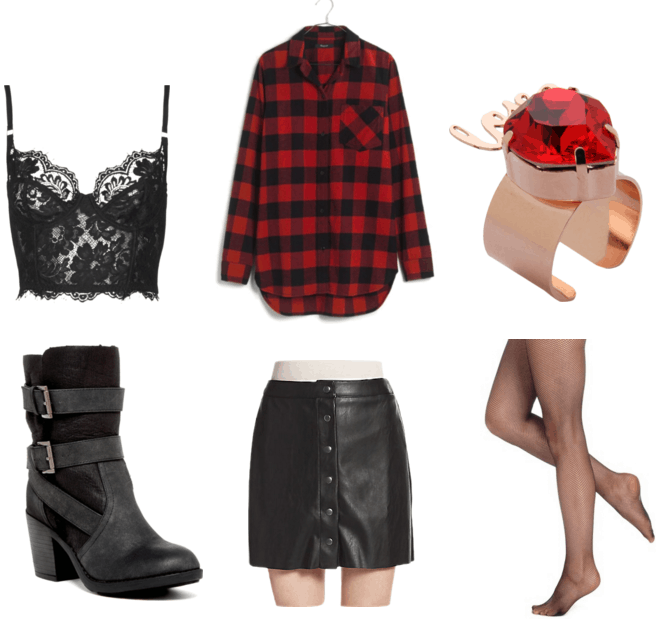 Products: Top, Skirt, Stockings, Boots, Bralet, Ring
Negasonic Teenage Warhead
Negasonic Teenage Warhead, played by Brianna Hildebrand, is a moody adolescent member of the X-Men clan who's been tasked with keeping an eye on Deadpool. Though her superpower is literally explosive, she really couldn't care less about your problems (unless you're on Snapchat). While she might find apathy to be the best accessory, I loved Negasonic Teenage Warhead's throwback X-Men look!
For a modern spin on her unitard, here's my take on what I imagine the too-cool-for-school youths are wearing these days (my goodness, I'm so out of touch…what does Damn, Daniel mean?!!) Pair a ribbed turtleneck sweater with a pair of high-waisted shorts. A faded denim vest and combat boots grunge up the look. Don't forget your vampy lipstick and all-important phone case!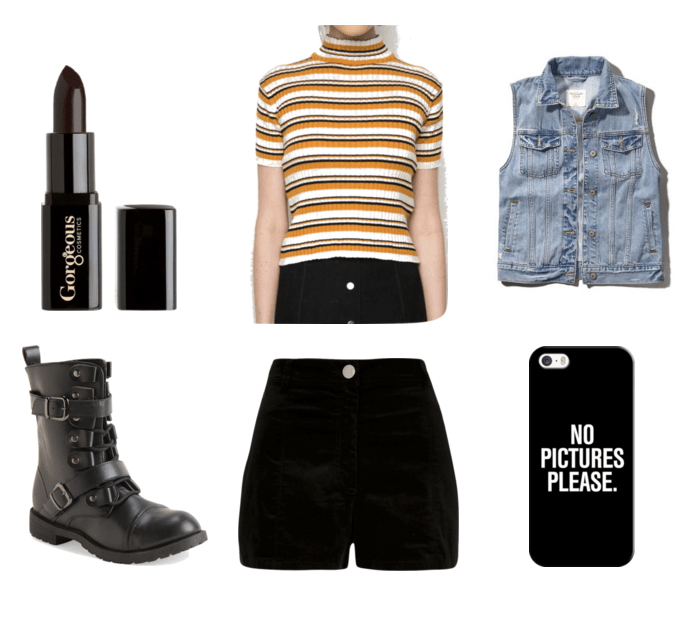 Products: Top, Vest, Shorts, Boots, Lipstick, Phone Case 
What did you think?
Would you wear these outfits? Have you seen Deadpool? Would you accept a Ring Pop proposal? (I would, but only if I knew a real ring was coming along somewhere down the road.) Do you wish you had a name as cool as Negasonic Teenage Warhead? Let us know in the comments!