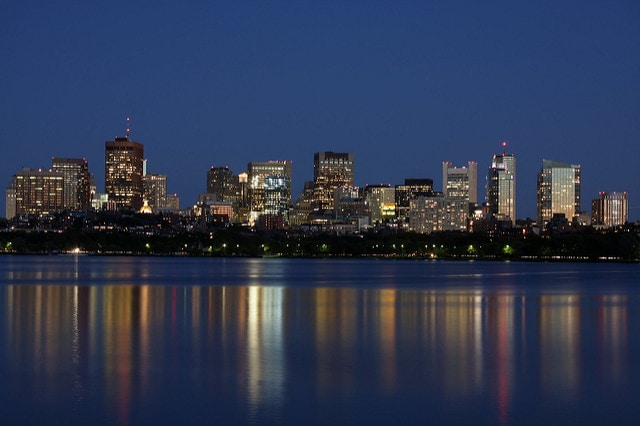 Although I'm from Southern California and currently live in New York, Boston is and always will be one of my favorite cities. After all, it was my home for six years! Boston might be one of the oldest cities in America but it's also a leading center of higher education and innovation. There are over 100 colleges and universities in the Greater Boston area, and there's nothing quite like being in a city full of 350,000 other college students!
Lately I've been experiencing serious Marathon Monday FOMO and general Boston nostalgia, so I thought I'd take a trip down memory lane and create some outfits inspired by some of my former favorite stomping grounds.
Outfits Inspired by Boston Neighborhoods
While different neighborhoods are associated with different vibes (i.e. Allston=hipster mecca, Back Bay=trendy yuppies, etc.), Boston is full of students and tourists who don't abide at all by these fashion zones. These outfits aren't meant to be a reflection of what residents of these neighborhoods wear, but they are inspired by the areas themselves.
Back Bay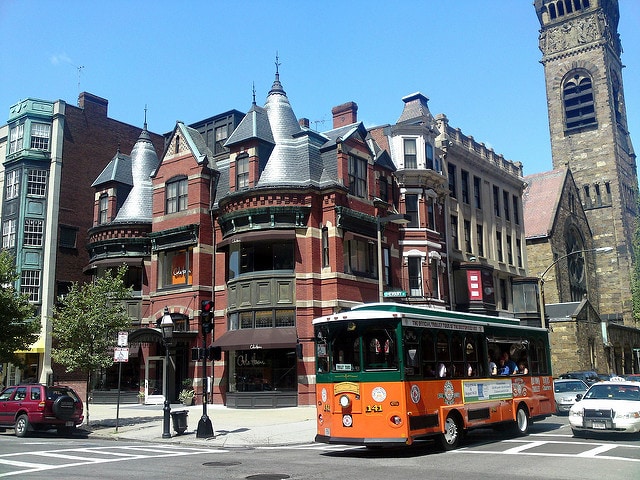 Back Bay is home to Trinity Church, Copley Square, the Boston Public Library, the Boston Public Garden and Commons, Prudential Tower, and shopping haven Newbury Street. It's a beautiful neighborhood where swanky bistros and boutiques sit in between incredible architecture and historical sites.
For a pretty springtime look that'd be perfect for brunch with the girls on Newbury Street, go for a perfectly preppy and polished ensemble. Pair a chambray tank with standout pastel pieces like a pink blazer and mint satchel. Historic areas of Boston are paved with cobblestones and bricks, so opt for stable wedges instead of stilettos. (I learned this the hard way!) Lastly, add a pair of R2-D2 earrings as a whimsical tribute to the 111 Huntington Avenue building!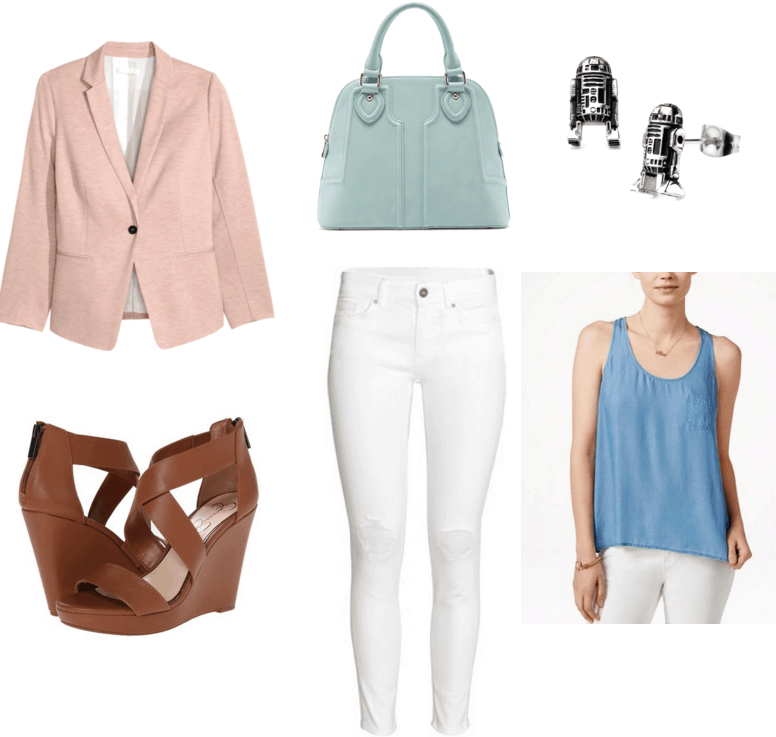 Products: Blazer, Tank, Jeans, Satchel, Wedges, Earrings
South End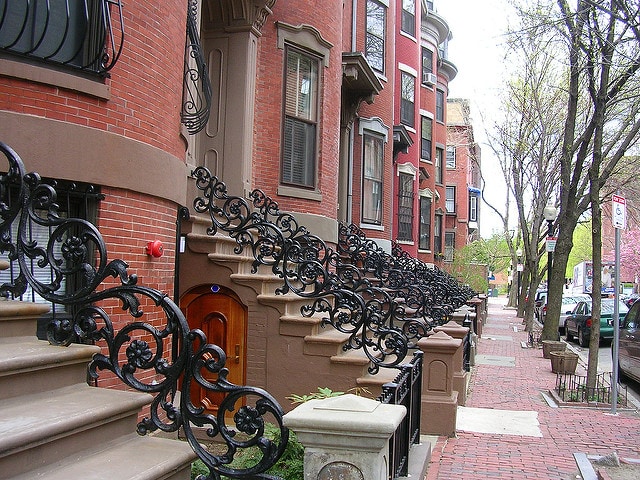 I lived and worked in the South End for two years; while it's not the most convenient neighborhood travel-wise, it's definitely one of the most picturesque! Home to the oldest intact Victorian row houses in the country, the South End is known for its amazing restaurant and art scene, as well as a thriving LGBT community. It's also home to the awesome SoWa Open Market, a farmer's market/craft market/vintage market/food-truck heaven.
Were my life ever to become a movie, this is what the fictional, Anthropologie-sponsored version of me would wear on an afternoon stroll around the South End. A crisp white shirt is the perfect foil to a statement-making printed midi skirt; neutral accessories like nude flats and a grey chain-strap bag keep the look subdued. Add a delicate vine ring and a coat of brick-colored lipstick as an homage to the iron railings and brick exteriors found in many South End homes.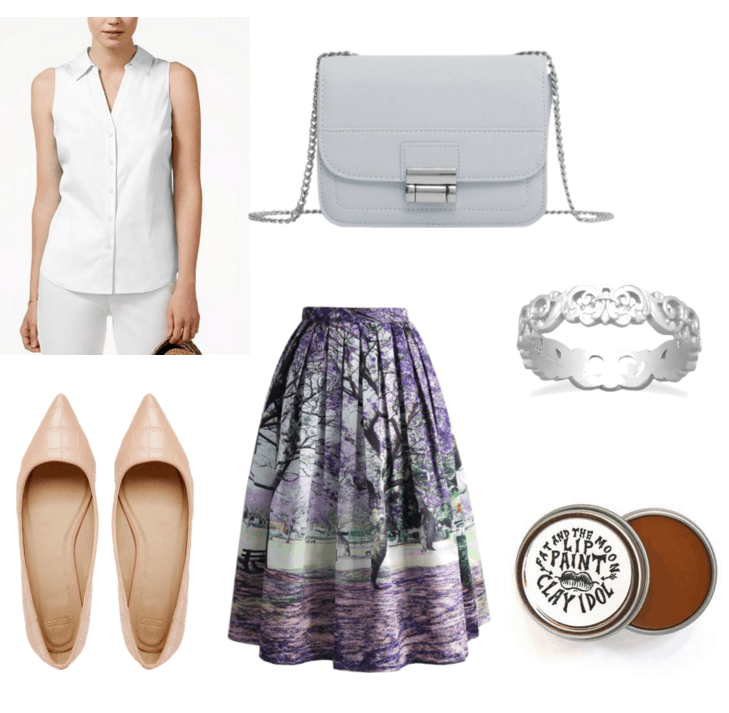 Products: Top, Skirt, Flats, Bag, Ring, Lipstick
North End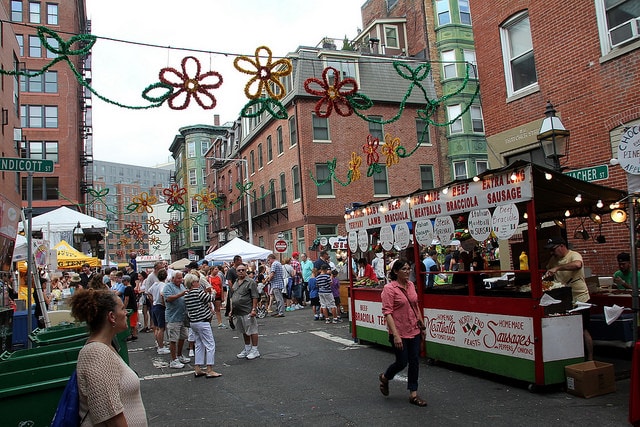 If you love Italian food, the North End is the place for you! I'd never even heard of cannoli before I moved to Boston, but a trip to Hanover Street, the heart of Boston's Little Italy, quickly changed that. Not only is the North End a great foodie destination, it's also Boston's oldest residential community, where you can visit famous sites like Paul Revere's House and the Old North Church (remember "one if by land, two if by sea"?)
I can't think about the North End without thinking about food, so I picked out an outfit that would be great for a day of pigging out, whether at Mike's Pastry (or Modern Pastry, if that's your thing) or at one of the many outdoor feasts and festivals held throughout the year. A denim jacket over a sundress or romper is always a foolproof combo. Opt for a wristlet or a cross-body bag so you can keep both hands free for eating. Lastly, add an engraved silver bangle as a tribute to America's most famous silversmith and midnight rider!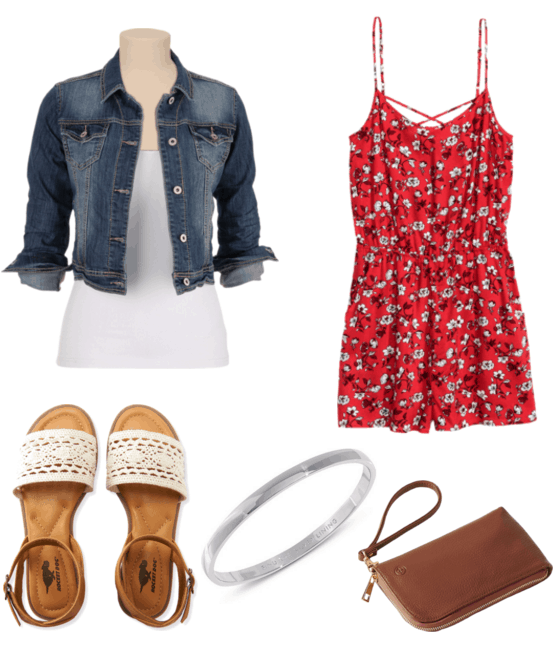 Products: Jacket, Romper, Sandals, Bracelet, Wristlet
Fenway/Kenmore
Confession time: in all my six years living in Boston, I didn't go to a single Red Sox game, even though I lived right next to Fenway Park. (I also never went to a Celtics or Bruins game, although I did go to TD Garden once to see Star Wars in Concert.) Still, even for a sports-phobic person like me, the energy buzzing around Fenway Park on a game night is totally infectious.
Show your own team pride with a comfy and casual outfit. You really can never go wrong with wayfarers, sneakers, and ripped jeans!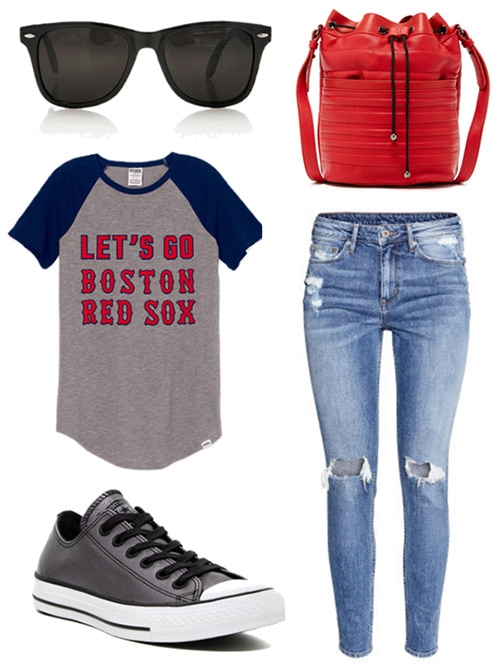 Products: Top, Jeans, Sneakers, Bag, Sunglasses
What did you think?
Would you wear these outfits? Have you been to Boston/do you live in Boston? What's your favorite neighborhood? (Apologies to those across the river for leaving Cambridge out of the article!) Let us know in the comments!