This month's CF Reader Spotlight is a daring college fashionista who combines trendy pieces in a way that we all can marvel at. She is also a devout thrifter and was happy to share her bargain-shopping wisdom with us. Read on to meet Kathleen!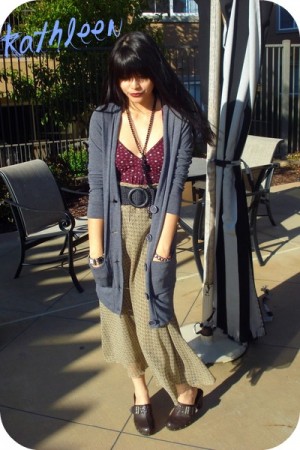 The Interview
Name: Kathleen Carla Murillo
Age: 20
School: University of California, Berkeley
Major: Psychology and Education Minor
Class standing: 3rd year
Hometown: Hercules, CA
Your style in three words: eclectic, urban, and thrifty
Interests and hobbies: "I love art, whether it's drawing, painting, DIY projects with bags or oversized t-shirts; I'm artsy at heart. I also love doing yoga whenever I have the time. Browsing fashion blogs is my other main hobby at the moment and I also collect fashion magazines."
Where do you draw fashion inspiration from? "Mainly from my mom, who really got me into buying vintage and thrifted clothing. Interestingly enough, we share a closet. (It's a walk-in closet that can hold both of our wardrobes.) Her wardrobe is FILLED with interesting vintage and thrifted clothing items like shoulder-pad blazers, coats, and velvet slacks."
What is your favorite fall trend? "It's a tie between cozy, chunky knits and long maxi skirts. I really love oversized knits and just knits in general; they keep me seriously warm and are perfect for the Bay Area where it tends to get cold unexpectedly. And I love long maxi skirts because they are not only great for cold weather but also make me feel taller and are amazingly form-fitting and flattering."
What three clothing pieces or accessories can you not live without? "First is the cardigan I'm wearing in the photo – it is so essential to my wardrobe because it goes with pretty much ANYTHING and is great for layering with any outfit. Next would be a belt – any belt – a great belt makes any oversized shirt/dress into a more form-fitting ensemble. The third piece would be a pair of tights. I love wearing tights because they not only keep me warm but also make outfits more interesting with their different textures and colors."
Fashion advice? "Don't be afraid to go into thrift or vintage stores! It takes some focus and a keen eye to go into these stores, or else you'll end up spending too much on items you can't fit into your wardrobe. But you'll get better at thrifting with practice."
For more on Kathleen's style, check out her awesome blog, Inspirafashion, as well as her Chictopia page.
An Outfit Inspired by Kathleen
Product Information: Tank –Urban Outfitters, Cardigan – Bluefly, Maxi skirt – Asos, Belt – Forever 21, Clogs – Forever 21, Watch – Modcloth, Necklace – Forever 21,
To capture Kathleen's bold style, grab a simple tank in a fall hue – this purple one is perfect! Pair the tank with a neutral blue cardigan – Kathleen's favorite piece. Next, the key to Kathleen's look is a maxi skirt – this trendy item is a perfect go-to for the colder months when you are dying to escape wearing jeans every day. For accessories, clogs are one of the latest fashion trends for fall and this heeled pair will make your outfit just a bit dressier. Then add a long chain necklace and a wrist watch, and you are ready for any autumn day!
Wanna be our next featured reader?
Would you like to be featured in our next CF Reader Spotlight? Do you push the fashion boundaries? Do you have a unique sense of style? We want to see something unexpected, girls! If that sounds like you, please send an email to readerspotlight AT collegefashion DOT net and include the following:
Your name
Age/year in college
College
A picture of yourself in an outfit that you believe evokes your own personal and unique style
Your style in three words
Once we have received your entry, we will send you a short interview to complete as soon as possible. If you are chosen, you will be notified via email prior to the article's publication. Good luck!
What do you think?
Are you impressed by Kathleen's style? What do you think about her look? Do you like to thrift and/or vintage shop? Are you a fan of the maxi skirt or clog trend? What are you wearing this fall? Feedback? Ideas? Questions? Chat with us in the comments!