This post may contain affiliate links, which means we may receive a commission if you purchase through our links. Please
read our full disclosure here
.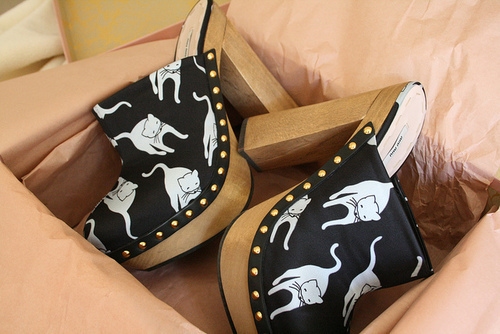 While I was studying abroad this summer in Spain, clogs were in all of my favorite stores. Tons of cute, fashionable girls were rocking them with their outfits– and they looked great! The more I saw them, the more I liked them. Feeling inspired, I purchased my own pair of tan clogs before I returned home to Minnesota.
While I love living in Minnesota, it isn't exactly the style capital of the world, and clogs are considered pretty fashion-forward here! So because of this, at first I felt a bit awkward wearing my new shoes at home. Fortunately, I soon developed a system that worked for me, and let me wear my clogs casually.
These are the guidelines I follow when wearing clogs… Check them out if you're interested in incorporating this trendy shoe style into your wardrobe!
Tips for Wearing Clogs

Get inspired. Feeling unsure about clogs and how to wear them? Try checking out pictures of celebrities and other girls trying the trend. Weheartit.com and Chictopia are great places to find images. Also, check out features and articles on clogs: Kim's Would You Wear…Clogs? and Audrey's Fashion Challenge: Clogs both discuss the trend, as do these pieces from Who What Wear, Style Bakery, and Blue is in Fashion This Year. They just might inspire you to pick up a pair of your own!
Choose a heel. The main clog heel options are flat, chunky, or wedge-heeled. If you want height but aren't into the classic, chunky bottom that most clogs provide, clog wedges provide a different, often more wearable look. They're also easier to walk in than traditional clogs!
Keep it classic. Whenever you're sporting a trendy or over-the-top item, it's a good idea to keep the rest of your look classic and simple. This way, not only will your statement piece (in this case, the clogs) stand out, but you'll also avoid looking trend-obsessed and silly.
Try wooden-heeled shoes. This fall we're going to be seeing shoes featuring signature clog details: wooden platform heels and visible studs. So, if you're into that look but dislike the shape or feel of traditional clogs, you're in luck! Expect to see clog-inspired sandals, boots, and even shoes this season!
Hot Picks
Product Information: Cayenne Cutout Clog, Free People. Jeffery Campbell Snick Wedges, Lori's Shoes. Vintage Tie Clog, Miss Selfridge. Lattice Clog, Oasis. Thaddea Peep-Toe Clogs, Target. HOWDY Platform Clogs, Asos. Jola Clogs, Kurt Gelger. HOWIE Suede Double Buckle Clog Sandal, Asos.
Outfit Inspiration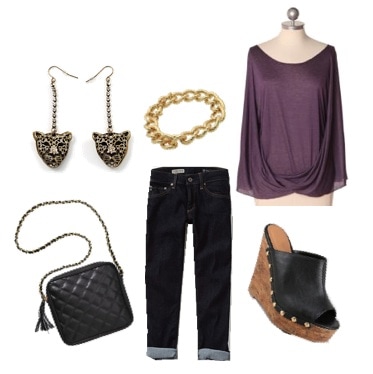 Product Information: Vintage Tiger Drop Earrings, Avalaya. FreeSpirit Quilted Bag, Very. Gold Metal Chain Link Bracelet, Fantasy Jewelry Box. AG Tomboy Crops, Anthropologie. Rested and Relaxed Dolman Top, Ruche. Leatherette Peep Toe Cork Wedges, Go Jane.
Your thoughts?
What do you think? Do you love clogs? Hate them? How do you wear your clogs? What do you think about clog-inspired shoes? Let us know what you're thinking with a comment!