Did you go see The Hunger Games:Catching Fire over the weekend? I caught it on opening night and was absolutely blown away with the adaptation; I'm going to agree with the hype and say that this is really one of those rare occasions when the sequel surpasses the original. Plus, I'm a huge fan of the books and I love that the movie is extremely faithful to the source.
For those of you who are new to the series, I'd recommend reading and/or watching The Hunger Games before heading to the theater for Catching Fire; the sequel dives right in where the first movie ended, so you might be a little lost if you're not familiar with Panem already. (Or you could just read the Geek Chic article for The Hunger Games…)
Catching Fire stars Jennifer Lawrence, Josh Hutcherson, Woody Harrelson, Elizabeth Banks, Liam Hemsworth, Stanley Tucci, Donald Sutherland, Lenny Kravitz, Phillip Seymour Hoffman, Sam Claflin, and Jena Malone.
Know Your Geek: About Catching Fire
Catching Fire is the second book in Suzanne Collins's The Hunger Games Trilogy and was published in 2009. The film is directed by Francis Lawrence.
When Katniss threatened to make a suicide pact with Peeta instead of fighting to the death, they were declared joint victors of the 74th Hunger Games. Although it was intended only as a desperate attempt to survive, in many Districts the pact was perceived as an act of defiance against the Capitol, sparking the fire of rebellion throughout Panem.
Katniss and Peeta faked a romance in order to gain support from the sentimental Capitol dwellers. Katniss soon discovers that the Games do not end once she leaves the arena. As a Victor, every aspect of her life is monitored and controlled by the Capitol. President Snow threatens to kill her loved ones if she and Peeta are unable to maintain their charade of true love.
For the 75th anniversary of the original Hunger Games, a Quarter Quell is announced: every twenty-fifth anniversary of the Hunger Games is marked by a special twist on the original. For instance, the 50th Hunger Games reaped twice the usual number of tributes. This time, it's announced that the tributes will be reaped from the existing pool of victors.
Katniss, the only female tribute from District 12, has no choice but to re-enter the bloody arena, where she finds her loyalties and beliefs seriously challenged.
Outfits Inspired by Catching Fire
Ready to enter the arena for the Quarter Quell? Read on for five looks inspired by Catching Fire!
The Victory Tour
In another heartless display of the Capitol's power, the Games are traditionally followed by a Victory Tour, in which the winner is paraded around each of the Districts. The citizens of each District must welcome the victor even while grieving their fallen tributes.
However, all is not well in the state of Panem. Katniss and Peeta witness the first waves of dissent when they visit District 11, home of Rue and Thresh, who had been their allies and friends during the Games. Throughout the Victory Tour, the two victors are dressed in matching outfits and ordered to recite odious speeches composed by Effie Trinket. When they deviate from this model, the two quickly learn that dissent in Panem is met swiftly with punishment.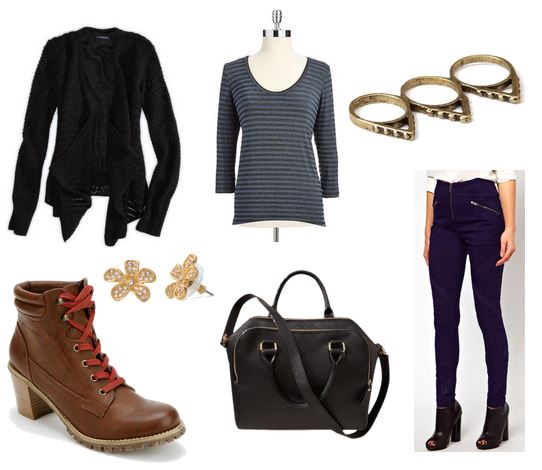 Product Information: Cardigan, Top, Jeans, Boots, Earrings, Ring, Purse
The majority of the Victory Tour outfits consist of simple clothing in dark blue and black tones. Try out this low-key take on Katniss and Peeta's attire for class or a weekend outing. A metallic cardigan and top are easy pieces to mix and match; high-waisted jeans echo the jumpsuit-like outfit that Katniss wears to her second Reaping. Add a pair of rugged hiker-inspired boots in a contrasting earthy color, as well as a satchel to hold those speech cue cards.
Small floral studs reference Rue, who Katniss laid to rest in a bed of wildflowers after she was killed in the arena. Finally, slip on a three-finger ring as a tribute to the traditional salute of District 11.
Also Read: Euphoria Outfits and Fashion Guide: Rue, Jules & Maddy's Styles
The Star-Crossed Lovers of District 12
When it's announced that Katniss and Peeta must re-enter the arena, even the most vapid of Capitol dwellers are upset that their most beloved celebrity couple faces inevitable death. The decision to have previous Victors return to fight is not a popular one, as many of the previous Victors have achieved star status in the Capitol.
The Hunger Games are about more than fighting prowess; popularity in the public eye also plays a large role in a tribute's success. As such, the tributes must look their best in hopes of gaining sponsors, who can donate gifts to favored contestants.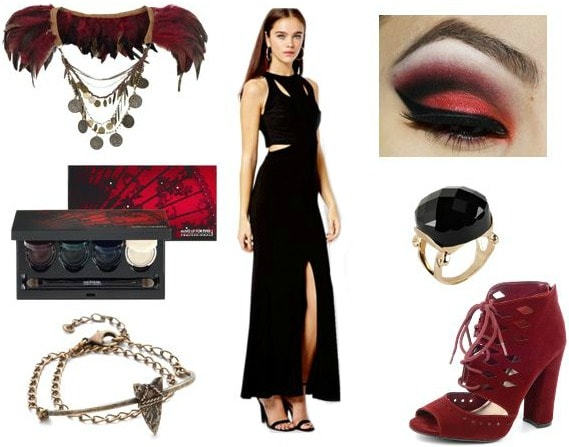 Product Information: Dress, Cape, Shoes, Ring, Bracelet, Makeup | Photo
While they are worn on separate occasions, the feathered gown that Katniss wears to the final party of the Victory Tour and the black dress engulfed in flames worn on the chariot ride through Capitol both reference her nickname, "The Girl on Fire." (Gotta say that the flames looked a lot better in this movie than they did in the first!)
Black and red is a classic color combination, especially for the holidays. If you have a flair for the dramatic, try out a scene-stealing ensemble inspired by Katniss's fiery gowns.
A daring maxi dress with strategic cutouts is sexy without showing too much skin, while an ornate feather cape resembles the ornamentation on Katniss's gown. Amp up the look with bold red eyeshadow and a pair of killer heels. Finally, stack on an arrowhead bracelet and a coal-like ring to reference both Katniss's skill and District.
Mockingjay
Before the Games begin, the tributes are always interviewed by the jovial TV host, Caesar Flickerman. At the behest of President Snow, Katniss wears her would-be wedding dress to the interview. Designed by her beloved stylist and friend Cinna, the dress is a vision of organza, feathers, and crystals.
However, the true magic happens when Katniss twirls: the wedding gown burns away to reveal a charcoal winged dress — the Mockingjay. While it was originally just a pretty motif on Katniss's pin, the mockingjay has become a symbol of the growing revolution.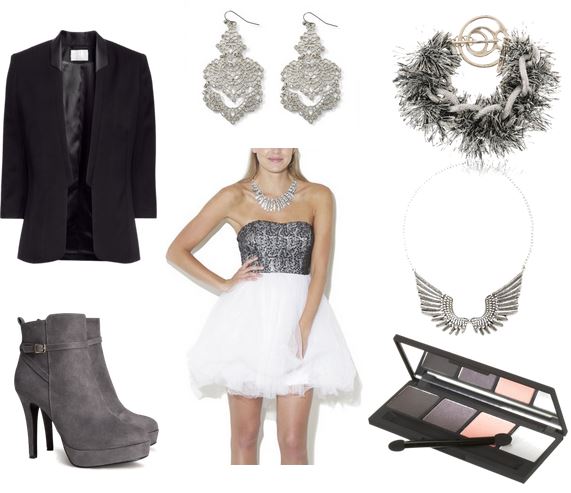 Product Information: Blazer, Dress, Shoes, Necklace, Earrings, Bracelet, Eyeshadow
The fluffy wedding gown stands in stark contrast to the sooty, sleek Mockingjay outfit; combine these two extremes for a look that's both sweet and edgy. The sharp lines of a classic black blazer perfectly complement the voluminous ruffles of a girly party dress. Instead of black pumps, try gray ankle boots for a more unexpected footwear choice.
Silver filigree earrings and a textured bracelet recall the silver "wings" that rise from the wedding gown bodice, while a winged pendant resembles those of the Mockingjay.
Darling of the Capitol
Finnick Odair is the Capitol's sweetheart; he won his Games at the age of 14, making him the youngest tribute ever to win. His stunning looks and boyish charm have kept the ladies of the Capitol enthralled for years. He hails from District 4, which is responsible for Panem's fishing industry.
Katniss dislikes Finnick, as he revels in his popularity and purposefully tries to her throw her off guard with his seductive behavior. However, as the Games progress she learns that this bronzed playboy may not be quite as shallow as she believes.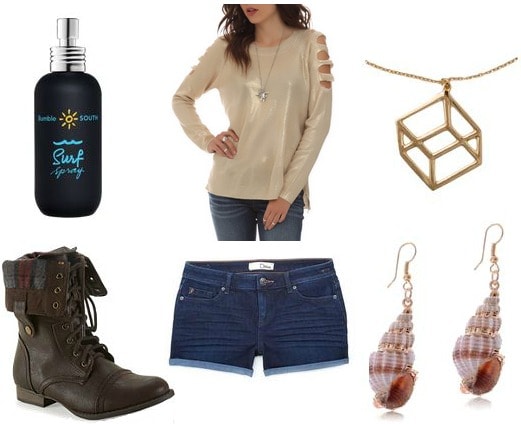 Product Information: Sweater, Shorts, Boots, Necklace, Earrings, Surf Spray
Take inspiration from Finnick's aquatic background with this laid-back ensemble. A golden cutout sweater references Finnick's fishnet costume, as well as his propensity for showing skin. A pair of cut-off shorts add to the beachy vibe, while rugged combat boots ground the look.
Slip on a pair of shell earrings that resemble Finnick's locket, as well as a cube necklace that alludes to the sugary treat that he offers Katniss. Finally, scrunch some Surf Spray through your hair for a perfectly tousled beach-goddess look.
Tick Tock
Tributes traditionally form alliances early in the Games in order to eliminate weaker contestants more efficiently. During training, Katniss meets former Victors such as the cynical and vitriolic Johanna Mason from District 7, elderly Mags from District 4, the scientifically inclined Wiress and Beetee from District 3, and the vicious Career tributes Enobaria, Cashmere, and Gloss.
Since it's a Quarter Quell, no expense has been spared with designing the new Arena. While Katniss's first Games took place in a forested setting, these Games are set in a lush tropical jungle complete with a circular ocean pool. As Katniss notes, this aquatic setting is "no place for a girl on fire." As always, the Gamemakers have filled the Arena with horrors like genetically modified jabberjays, vicious howler monkeys, blood rain, and poison gas. However, as Wiress notes, there's a trick to the timing of each threat. Tick tock, tick tock, tick tock!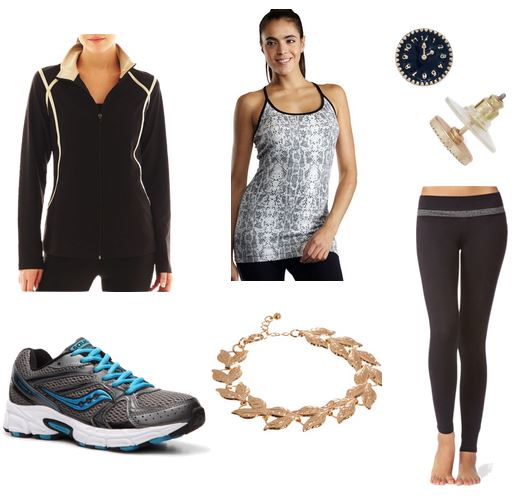 Product Information: Jacket, Top, Pants, Shoes, Earrings, Bracelet
The tributes are given identical uniforms to wear during the Games; this time around, they all don a sleek wetsuit that's suitable for the climate and terrain of the Arena. As I noted in the previous Geek Chic article about The Hunger Games, at the gym I sometimes pretend that I've been reaped as a tribute so I can motivate myself to work out harder. (Weird, maybe, but it works!)
While ratty T-shirts and sweats are perfectly acceptable gym attire, I find that I feel more confident and motivated when I wear cute, well-fitting exercise gear, like these yoga capris, silver top, and sleek running shoes. For a fun Catching Fire-inspired touch, add a golden bracelet as a reference to the tribute token that Effie gives Haymitch.
Fun fact: you can purchase the actual training outfits used in the movie, but be warned: the jacket alone will set you back a cool $500.
What did you think?
Would you wear these outfits? Did you see Catching Fire? What did you think? What other geeky inspirations would you like to see? As always, let me know in the comments!
P.S. Fellow Whovians, what'd you think of the 50th Anniversary Special?