Fashion inspiration can be found anywhere, and books are incredible sources for style innovation. Book Inspired Fashion explores these treasure troves, and brings them them to you in looks inspired by vibrant characters, far away lands, brilliantly woven plotlines, and more.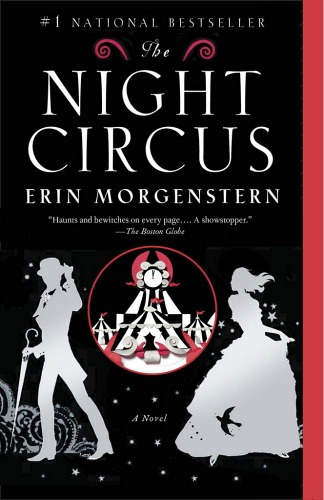 Cover Image via Amazon
I am so incredibly excited for this week's post, because as mentioned in my previous post, this is one of my favorite books of all time. I read it on a whim because of the magnetically powerful first pages, and haven't looked back since – it is called The Night Circus.
I have never, ever read a book that so successfully presents a hazily dreamlike beauty like The Night Circus (The hint word for this book was dream, and I think it really sums up the novel). The lyrical allure of the writing is just as compelling as the mysterious story, which cleverly shrouds the overwhelming heart that ties together the numerous characters, settings, and years – the circus, in fact, is not that binding web.
There is so much fashion inspiration in this book that I never wanted to stop creating looks for it! But before we get to the outfits, here's a little background on the novel:
Reading Between the Lines
This is definitely a book that has been talked about a lot, and has had huge sales and many, many readers. There are those who believe this book is hyped up, but trust me – read it without expectations, and you'll be astounded by the sweeping juxtaposition of dreamy luxury and high-stakes uneasiness that author Erin Morgenstern crafts so masterfully. And here's some trivia: it began as Morgenstern's NaNoWriMo project in 2005! (Although it wasn't published until 2011.)
There are several prominent characters, but the two that are featured the most are perhaps Celia and Marco, who trained from childhood to one day duel each other, but fell in love in the process. But hold on – this is far from a normal romance. We meet both characters when they are children, and follow them along their journey to adulthood, with both characters having other romantic interests before succumbing to their passion for each other much later on. But when the romance ignites, it'll be like nothing you've ever read before.
A novel this complex has many important characters, and Poppet, her twin Widget, and love interest Bailey are just as significant as Celia and Marco. Poppet and Bailey have their own romance (which is admittedly much less developed than Celia and Marco's), but as you'll read, everything in the novel comes full circle in the most beautiful way.
I loved that this book didn't have a super-open ending, since Morgenstern has stated she will not write a sequel. It really feels complete, and I love it just as it is.
1. Le Cirque des Rêves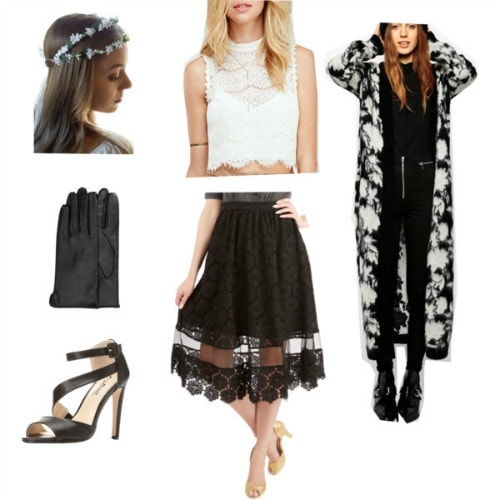 Product Info: Cardigan – ASOS, Top – Forever 21, Skirt – Modcloth, Shoes – Charlotte Russe, Gloves – H&M, Circlet – Etsy
"The circus arrives without warning. No announcements precede it. It is simply there, when yesterday it was not. Within the black-and-white striped canvas tents is an utterly unique experience full of breathtaking amazements. It is called Le Cirque des Rêves, and it is only open at night." (Blurb from Amazon)
The most distinguishing physical characteristic of the mysterious "Circus of Dreams" is the sudden appearance (and disappearance!) of its numerous black-and-white tents. I had no problem using this versatile color palette to create a formal but wearable look inspired by those mysterious tents and their performers.
There's a lot of detail that goes into Celia's performance dresses, and I wanted to emulate the dramatic elegance of the circus as a whole. I love the femininity of the lace details and floral prints in this look, but I also wanted to have some vaguely magician-ish touches. So, I finished the outfit with a long (cape-like?) cardigan and leather gloves.
2. The Ice Garden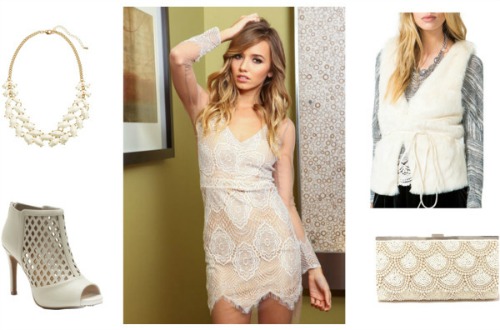 Product Info: Dress – Love Culture, Vest – A'GACI, Necklace – H&M, Shoes – Kohl's, Clutch – Lulu's
"He can see only white in all directions… He can discern the shadow of a tree. The hanging branches of a frosty white willow tree cascading around him… He stands in the middle of the Ice Garden." (Morgenstern 350)
One of the circus tents contains the Ice Garden, Celia's favorite room, and the result of Marco's ability to physically manifest his feelings and memories. It sounds so incredibly magical that I needed to create a look based on it.
Here, I played with a ton of different textures because that's how I see ice and snow – it can appear super soft and fluffy, jagged and sharp, and everything in-between! I incorporated this in every piece of this look, and I also purposely stayed away from pure white because I like the way Morgenstern characterizes and plays with shadows and lighting.
In addition, I wanted this look to be simple and uncomplicated because that's how the Ice Garden works – it has a sense of solitude without loneliness, like a comfortable silence with a lifelong friend. I did make sure that this outfit oozed elegance, however, because of the sophisticated construction of the room.
3. Like Moss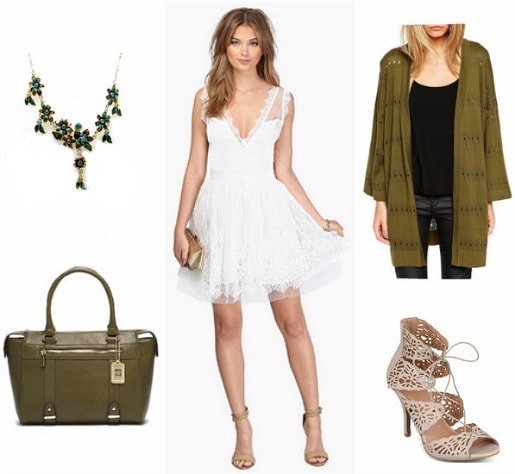 Product Info: Dress – Tobi, Cardigan – ASOS, Shoes – Kohl's, Bag – Carson's, Necklace – Etsy
"'It is destroying me that I cannot ask you to dance,' Marco whispers as she passes him in the ballroom, the deep green of his suit seeping across her gown like moss." (Morgenstern 229)
Black and white might be the circus's colors, but that doesn't mean the characters don't like wearing bright colors! The dress Celia wore to the 13th anniversary celebration of the circus's creation was a gorgeous gown that changed color based on the color of its surroundings. Marco, who kisses her in the middle of the ballroom (internal squeal!), was wearing green, which her dress changed to match when they stood together.
I was drawn to the almost fluffy weight of this vaguely princess-y white dress because Celia, to me, was like the princess at the ball. I also chose a white dress because I wanted the dress to emulate the feel of a blank canvas. The only touches of color in this look are the mossy green cardigan, subtle green jewelry, and green bag. I chose colors that aren't ostentatious, however, because her dress really wasn't green for too long!
4. But You Built Me Dreams Instead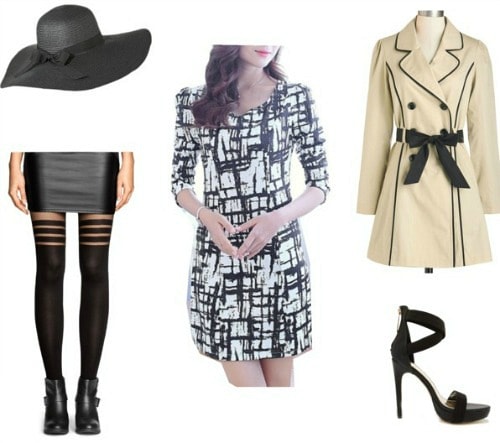 Product Info: Dress – OASAP, Jacket – Modcloth, Heels – Lulu's, Tights – H&M, Hat – Target
"I would have written you, myself, if I could put down in words everything I want to say to you. A sea of ink would not be enough.'

'But you built me dreams instead." (Morgenstern 293)
Spoiler Warning: This look discusses the ending of this novel. If you haven't read the book yet, skip this part!
An enormous concept of this book is the question of what it really means for something to truly exist and be present. When Marco crafts a boat of paper and ink for Celia, it might as well be real. It also doesn't seem to matter if Celia's illusions are real or not to her or to her audience. But when Celia and Marco find their way to continue existing with each other and the circus, long after they've relinquished their bodies? That definitely matters. The book hints that they remain forever with the circus and continue to live together, despite not truly "being" there.
This final outfit is inspired by the aforementioned boat of books, because it really stands out as a pivotal moment in Celia and Marco's relationship, despite it being very early on. The ink splatter print is simple, and not overly dramatic in any way. I love the tights and heels because both of them are girly, but subtle.
I purposely ended with a look that isn't completely pure black-and-white by throwing in the sand-colored jacket. Not only does the color seem more like what old books would look like, but I also imagine Celia and Marco to have ended up in a place where they don't have to stick to any color palette.
I love floppy hats, and they remind me a lot of going on vacation or exploring, which ties in a bit with the boat ride. I thought it finished up the look nicely.
Final Words
I've been gushing about this book throughout the whole article, and I still don't think that I adequately summed up how intense and moving an experience it is to read and fall in love with this book. Despite the fairy-like, mystical setting of The Night Circus, I felt like the emotional experience that characterizes every person in this book really grabbed me by surprise and refused to let go.
Like I've mentioned before, this truly is one of my favorite books and I hope you guys will decide to pick it up and give it a try!
Next time, I'm going to be covering a book that is dramatically different from both The Night Circus and The Time Traveler's Wife. Different genre, different era, different world.
Hint: Hunger
Your Thoughts?
Did you know they're planning on turning this novel into a movie? What do you think of this book and the looks inspired by it? Let us know in the comments below!