Fashion inspiration can be found anywhere, and books are incredible sources for style innovation. Book Inspired Fashion explores these treasure troves, and brings them to you with looks inspired by vibrant characters, far away lands, brilliantly woven plotlines, and more.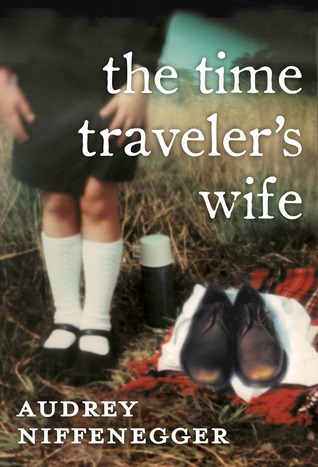 Cover Image via Amazon
With winter in full swing, I was reminded of the startlingly realistic chill of The Time Traveler's Wife. Not only does it give me shivers because of the depth and emotion of the romance, but it also gives me goosebumps because of the very literal chilly, snowy scenes. So, I dug up my copy again for inspiration, and decided to take advantage of the pure sensory pleasure of reading this book.
Since this is my very first "Book Inspired Fashion" post, I also chose this book because there is some familiarity with the title – many of you have heard of it, and it is a book that many of you may identify with.
I've created three looks based on this book, and was so overwhelmed by the amount of fashion inspiration that I found as I flipped through it – the writing just conjures up vibrant images in your mind in the best way possible. Before we get to the outfits though, here's a little bit of background on the novel.
Reading Between the Lines
The Time Traveler's Wife, published by artist Audrey Niffenegger in 2003, broke ground as a stunning love story with a disconcerting philosophical edge. Henry DeTamble is a librarian who, since the age of 5, has time traveled sporadically. His wife, Clare Abshire, is an artist and paper sculptor with whom he shares a haunting love that transcends time and space.
The book primarily spans from the 1970s to the the mid 2000s, and features both protagonists at almost every age throughout their lives. I really appreciated how absolutely real the characters felt. This was no perfect, idyllic relationship, and you'll discover more heart-wrenching twists and turns as you read on.
Niffenegger writes in an extremely blunt, straightforward manner that doesn't pull any stops with your emotions. This book can has it all: sweet hope, disquieting devastation, and especially self-reflection. I expected the romance, but was astonished by the determinism vs. free will argument woven within the novel. It sneaks up on you and really makes you think about life and the future.
Because of this, the best aspect of this book for me was the fact that it made me sit down and think about the meaning of time and reality – try finding that in a modern romance!
1. Girl of the '80s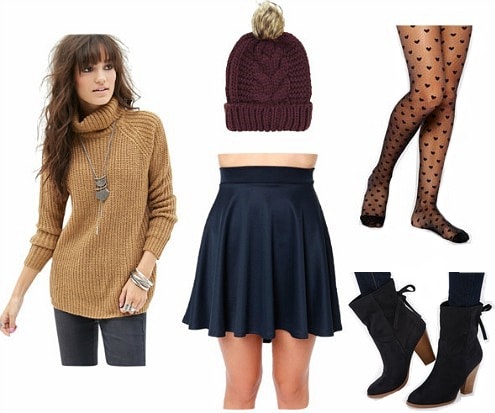 Product Info: Turtleneck – Forever 21, Skirt – Lulu's, Beanie – TopShop, Tights – ASOS, Shoes – Forever 21
For the most part, Clare's most vivid memories with Henry were in her teens in the 1980s. From having him punish the boy who hurt her to making love to him for the first time, the late '80s were a major turning point in Clare's life. She had already become the one who waits – a role she fully embodies as she grows older.
The late '80s is when the "short skirt" became an (almost) universally accepted trend. The raising of hemlines had already been a long time coming, and Clare, especially as a teenager, had no problem with embracing the trend. However, this look is still classy, since Clare was a wealthy, respectable girl who held high standards for herself. The heart-print tights retain a bit of her schoolgirl vibe, and the bows on the shoes add an adorable touch.
The beanie adds a bit of color to the look, but also pays homage to Clare's reddish hair. Author Audrey Niffenegger actually dyed her hair "Clare red" to commemorate the book and the character!
2. Love is Timeless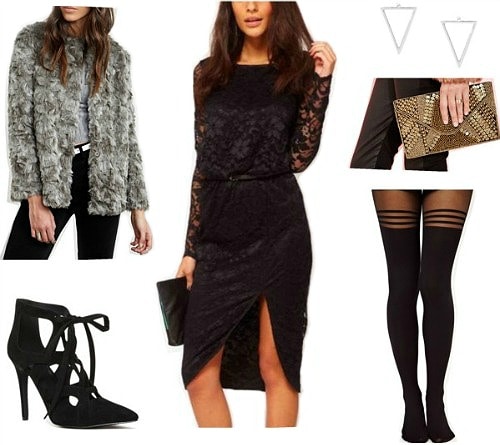 Product Info: Dress – Maykool, Jacket – Forever 21, Tights – ASOS, Shoes – Forever 21, Earrings – Claire's, Clutch – Forever 21
When Henry meets Clare for the first time, she is 20 and he is 28, and he's stunned by the "astoundingly beautiful amber-haired tall slim girl" who already knows him so well. This is the opening scene of the novel, and is a bit like the calm before the storm. The romance accelerates quickly and barely hints at the tragedy in the past and the present that ultimately culminated in this fated meeting.
The cold is the one of the most prominent foreshadowing devices used by Niffenegger consistently in the novel, and this look is inspired by that idea of a timeless cold weather romance.
When Clare comes over to Henry's apartment that day, Henry describes her sexy velvet dress and stockings. To recreate that texture, I chose an elegant black dress with a lace overlay because it looks a bit like velvet. The faux fur jacket tops off the ensemble with a glamorous touch that isn't too ostentatious.
The statement shoes are a little shoutout to the day Clare met Henry – she threw her shoe at him, hard enough for him to bleed, and marked him forever (in spirit, not physically) from the day.
3. Wings of Rebirth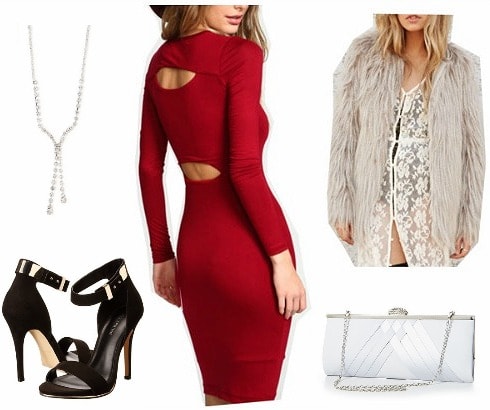 Product Info: Dress – Love Culture, Jacket – Forever 21, Clutch – Boscov's, Shoes – 6pm, Necklace – Claire's
Near the end of the book, Henry tragically loses his feet to frostbite. Fervent and impassioned, Clare creates wings for him in a strikingly intense red color – one of the most graphically powerful images in the book. These wings demonstrate Clare's undying devotion to Henry, and the blood red captures several more qualities: a consuming love, but also pain and anger. It also seems to represent Clare's desperate attempt to give Henry new life in the face of an accident that will almost certainly end tragically.
This high-drama dress is a vibrant scarlet color tempered by the feathery gray jacket, and it actually almost clashes. Nothing in the set matches perfectly, and you can glimpse the chaos that arises from the combination.
Final Words
The Time Traveler's Wife might not be for everyone, but for me, it's the perfect book to curl up with. It combines romance, science fiction, and a bit of the metaphysical beautifully, and even delves into '80s and '90s culture. At about 550 pages, it's a longer read than one would expect, and Niffenegger takes advantage of this length to develop the characters, the romance, and of course, the plot.
I was truly impressed by the beautiful story that came out of what seemed to be incredibly choppy and blunt writing. Be inspired by the book, whether it's through fashion or pondering the workings of the universe!
Next, I'll be covering one of my favorite books of all time, so look out for it! Here's a hint: dream.
Your Thoughts?
Have you read the book? Which of these looks do you think best capture Henry and Clare's tumultuous romance? Tell us your thoughts in the comments below!