Fashion inspiration can be found anywhere, and books are incredible sources for style innovation. Book-Inspired Fashion explores these treasure troves, and brings them them to you in looks inspired by vibrant characters, far away lands, brilliantly woven plotlines, and more.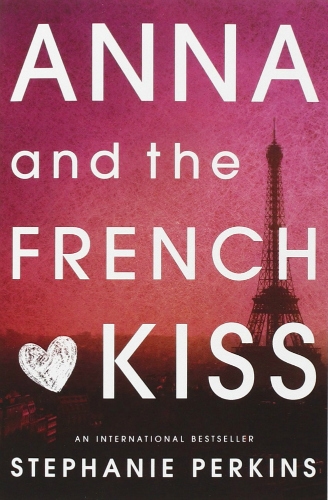 Cover Image via Amazon
As mentioned in my last post, I had no idea which book I was going to cover this week until just a few days ago! I ended up choosing a spunky, lighthearted novel that packs more of a punch than the title suggests. It's summer, after all, and I'm giving it a couple of weeks before diving into some heavier, more substantial reading.
I'd also like to say that I appreciate any book suggestions at any time, and definitely take them all into consideration.
Reading Between The Lines
Anna and the French Kiss is a Young Adult (YA) romance that was published in 2010. It is author Stephanie Perkins' debut novel in a companion-style trilogy, and books two and three, Lola and the Boy Next Door and Isla and the Happily Ever After (my personal favorite of the three!), quickly followed and feature overlapping characters in the same heart-filled universe.
These books launched Perkins' career as a master of the easily believable, effortless YA romance. But don't think that they're devastating, somber romances (à la Nicholas Sparks), because they are instead overwhelmingly charming in their humor and quirky couples. Sure, they might all sound rather cliché at first, but Perkins has no problem deviating from the norm of teenage romance in a way that's both subtle and lovable. I mean, how common is it for the resident hot guy to be shorter than all of the girls swooning after him?
Anna Oliphant, the protagonist, is an American sent to spend her senior year of high school as a boarding school in Paris. There, she meets Étienne St. Clair, who is an American-born, English-raised French boy– who's already been going steady with an college girl for a year. She immediately clicks with his group of friends, including Meredith, Rashmi, and Josh (who goes on to become the lead in Isla and the Happily Ever After!).
Anna and Étienne instantly get along, and become the best of friends despite some mutual attraction. Étienne has his girlfriend, Ellie, whom he visits by train every weekend, and Anna still has a lingering crush on a boy back home, Toph. How their relationship eventually evolves isn't as streamlined as you would think, and it's a lot of fun to get to know these characters.
I've created three looks, per usual, but have taken inspiration from the gorgeous Parisian setting of this novel. (It really makes me wish I could visit France again…) Without further ado, here are the outfits:
1. Welcome to France
In the center, directly between my feet, is a coppery-bronze octagon with a star. Words are engraved in the stone around it: POINT ZÉRO DES ROUTES DE FRANCE.

"Mademoiselle Oliphant. It translates to 'Point zero of the roads of France.' In other words, it's the point from which all other distances in France are measured." St. Clair clears his throat. "It's the beginning of everything."

I look back up. He's smiling.

"Welcome to France, Anna. I'm glad you've come." (Perkins 84)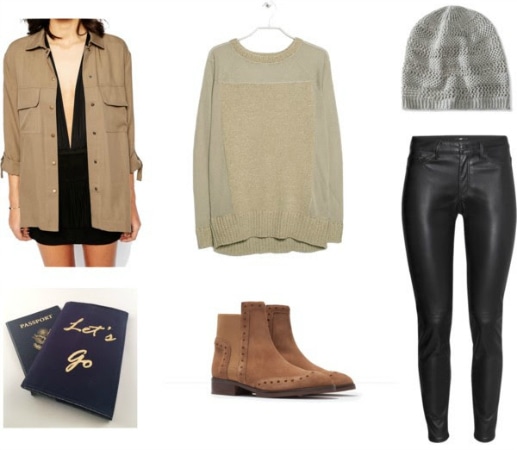 Product Info: Sweater – Mango, Pants – H&M, Jacket – ASOS, Shoes – Zara, Beanie – Target, Passport Cover – Etsy
The first time that Anna and Étienne explore the city together, Étienne enthusiastically shows her around Paris' most famous sites, knowing that she would not have ventured out alone because of her lack of French skills. It's also the first time Anna realizes that being in France for a year isn't as bad as it had initially seemed.
Anna notes the difference between Parisian and American attire, feeling slightly ashamed of her sneakers and casual clothing. So, I wanted to take a small risk in this outfit by using the visual of the "bronze-octagon" to incorporate a metallic sweater into this outfit.
The faux leather pants are actually a reference to the running-in-July-in-leather-pants comparison an online critic gives in derision of Anna's father's formulaic, emotionless novels– which is a comparison she wholeheartedly agrees with. They also, however, add an extra edge to the outfit without making it look too casual.
The rest of the outfit is comprised of basics, and includes layers since they're always super-important and useful for traveling. I also threw in the passport cover to finish off the travel theme of the look.
2. And More Macarons
It shimmers with neat rows of square-shaped tarte citrons, spongy cakes swelling with molten chocolate, caramel éclairs like ballet slippers, and red fruity cakes with wild strawberries dusted in powdery sugar.

And more macarons.

Bin after bin of macarons in every flavor and color imaginable. Grass greens and pinky reds and sunshine yellows [… ] I just want to die right there. Crawl over the counter and crunch my fingers through their delicate crusts and lick out the fragrant fillings until I can no longer breathe. (Perkins 158).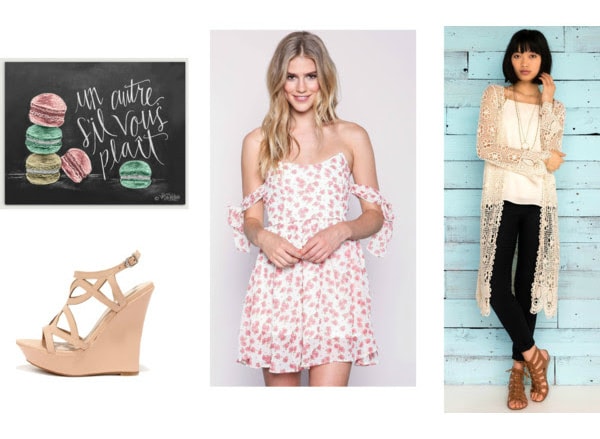 Product Info: Dress – Love Culture, Cardigan – Francesca's, Shoes – Lulu's, Art Print – Etsy
One thing I appreciate about this book is that Anna is extremely relatable to most Americans who have visited Paris. I know I was dazzled not only by the city itself, but also by the patisseries and their mouth-wateringly delicious sweets.
I chose soft, feminine colors and shapes for this look because that's how I would imagine dressing for a trip to some of the most elegant pastry shops in the world. The off-shoulder detail of the dress and lace cardigan are romantic touches that are reminiscent of the sometimes pastel beauty of Paris.
I thought hard about the wedges, but ended up including them since I love how Anna and Étienne embrace their height difference. She claims to be 3 inches taller than him, but it never seems to be an issue at all, and I really appreciate that.
I had to include the art print, which says "Un autre, s'il vous plait," which means "another, please," pretty much summing up my (and Anna's) relationship with macarons.
This look is incredibly effortless and easy to throw on. I imagine it would look awesome with Anna's gorgeous hair!
3. Thinner, Lighter, Softer
Now I know why people are always carrying on about Paris in the springtime. The leaves are bright green with birth, the chestnut trees are clustered with pink buds, and the walkways are lined with lemon yellow tulips. Everywhere I look Parisians are smiling. They've shed their woolen scarves for scarves that are thinner, lighter, softer […] Everyone is happy because it's the first warm day of the year. We haven't seen sunshine in months. (Perkins 307).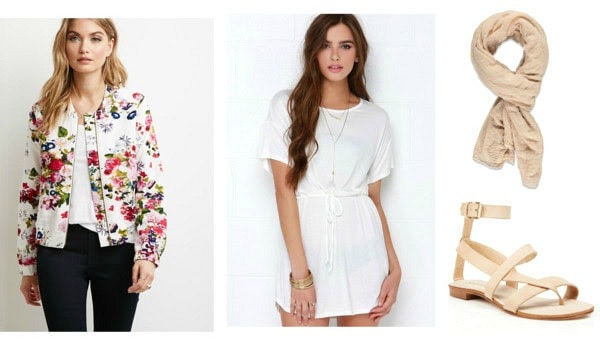 Product Info: Dress – Lulu's, Jacket – Forever 21, Shoes – Bloomingdale's, Scarf – Forever 21
Warning: spoilers ahead!
This scene, although beautiful, is immediately followed by a revelation that blows the good weather out of the water, because this is the day Étienne learns that his mother has beat cancer. It also happens to lay the perfect setting for Anna and Étienne's unforgettable French kiss, although it initially sets off far more problems than solutions for their relationship.
It's immediately obvious how simple this outfit is, like the last one, and that's because a lot of the answers that Anna and Étienne need are, in fact, simple, as evidenced by Étienne beating his father at his own game in order to attend Berkeley in the United States.
The first draft of this outfit was a top and jeans instead of a dress, but I realized that after months of cloudy weather, warmth and springtime would probably entail summery dresses more than anything else. I also think of the white dress as a blank slate for Anna and Étienne after both being entangled with other people for months.
The scarf was necessary because of the quote I chose, and I picked a basic, versatile one that could transition easily to other seasons. The sandals tie the entire look together, since there will be no more closed-toed shoes for a while!
Final Words
If Anna and the French Kiss sounds good to you, I highly recommend picking it up and giving it a try. You'll breeze through the pages, and you'll have two other novels to get through if you do enjoy it!
Don't be like me and resist because it seems shallow. Yes, it's an easy, heartwarming read, but that doesn't make it any less pick-up-worthy than a massive novel that will have you in tears from page 1 due to the sheer weight of its tragedy.
But who knows– it might elicit a few sniffles here and there anyway. I definitely resisted reading this book because, unfortunately, of the title, but I was really impressed by how much I enjoyed it. I do think Perkins evolved as a writer; Isla and the Happily Ever After is a bit more mature and less predictable, but that's just another reason to start with Anna and the French Kiss.
Next time, I'm going to go with a book that I expect will tug mercilessly at my heartstrings because– and this is your hint– it's by none other than Jodi Picoult. For the first time, I'm choosing a book I haven't actually finished yet, but it's so promising that I know I'm going to be able to glean some form of inspiration from it, even if that ends up just being the excellent research involved.
Your Thoughts?
Have you read any YA romances lately? Did these outfits inspired by Anna and the French Kiss meet your expectations? Let us know in the comments below!