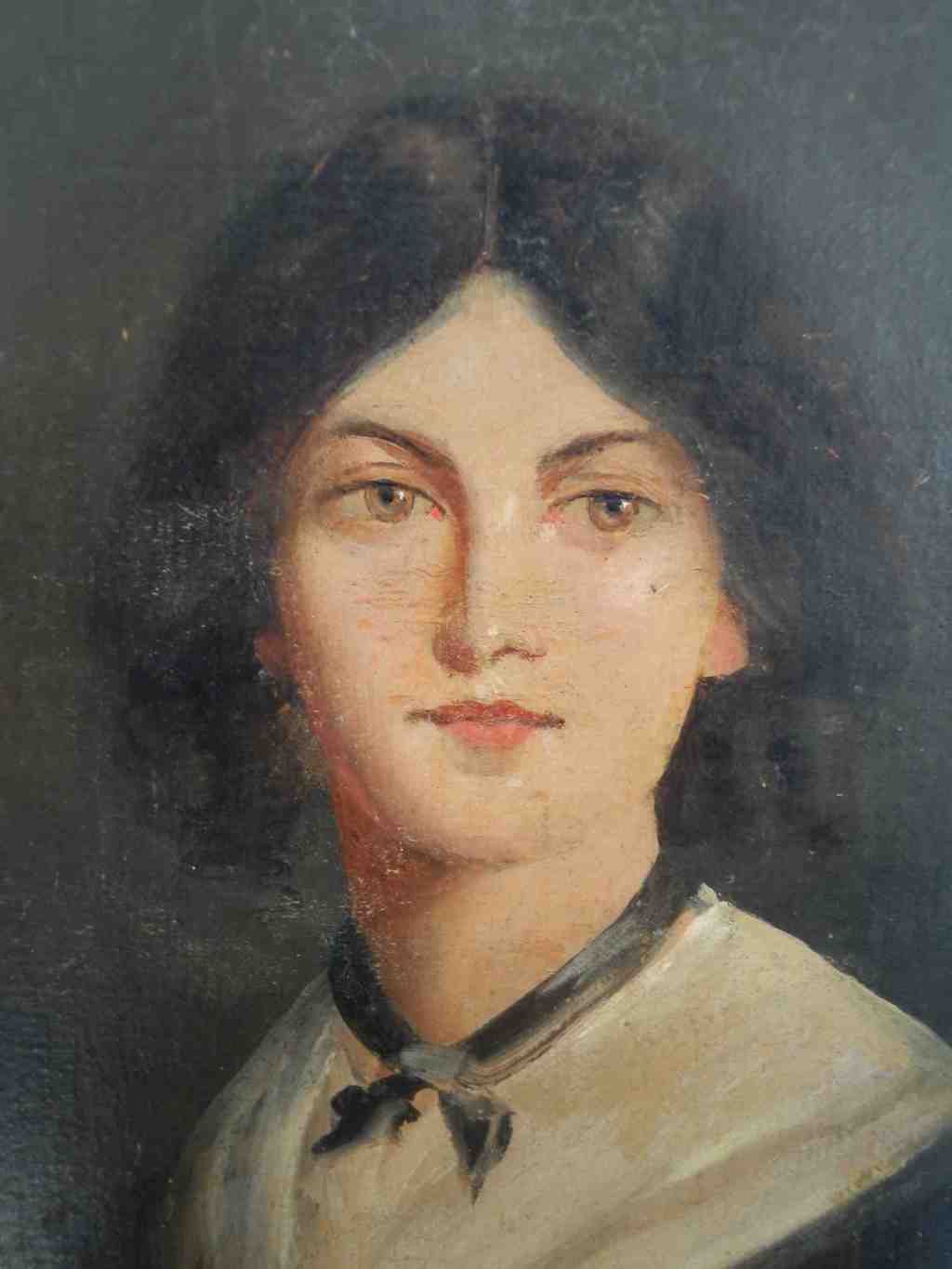 We've done posts on two of the Brontë sisters: Charlotte and Anne, so it seems fitting to end the trilogy with the family's middle child, Emily Brontë.
If you've been a long time CF reader, you've definitely seen our article on Wuthering Heights, a classic gothic story that challenges Jane Eyre for the title of most well-received Bronte work.
In the words of a biographer, Emily Brontë could be described as
"…a peculiar mixture of timidity and Spartan-like courage"

"She was painfully shy, but physically she was brave to a surprising degree. She loved few persons, but those few with a passion of self-sacrificing tenderness and devotion. To other people's failings she was understanding and forgiving, but over herself she kept a continual and most austere watch, never allowing herself to deviate for one instant from what she considered her duty."
(via Wiki)
Emily was a private, quiet woman who unfortunately died at the age of 30 from tuberculosis – before she was able to write a second novel. To pay tribute to her legacy, let's get inspired by Brontë's life and small but meaningful body of work in this week's Author-Inspired Fashion.
Boarding School Beginnings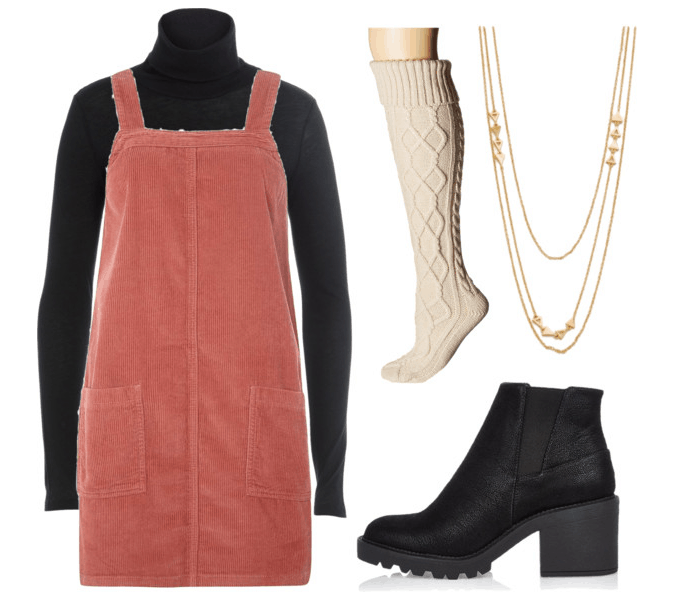 Products: Dress, Turtleneck, Boots, Socks, Necklace
Like her four sisters, Emily received a good education. However, her boarding school experience was terrible, seeing as her two eldest sisters died from the school's poor conditions. This time period provided inspiration for all of the Brontë sisters' works, including Emily's.
Create a fresh fall looks that harkens back to your school days with this unique overall dress. Add a black turtleneck underneath for modesty. Chunky boots and high socks add even more of a schoolgirl vibe. Finish the look off with a long gold necklace for a sweet hint of sparkle.
In the Moors of Wuthering Heights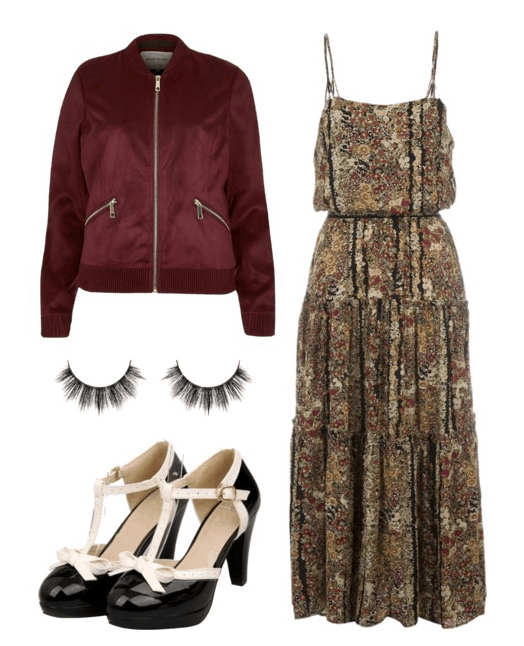 Products: Dress, Jacket, Lashes, Shoes
You might think of a lot of things when you think of Wuthering Heights: The English countryside, long flowing gowns, brooding heroes, or possibly Kate Bush spinning in a red dress. There's no doubt that this classic Gothic novel has influenced our literary culture in a big way.
For a look that's moody and gothic, start out with a long chiffon dress and a sharp suede jacket in easy fall colors. For a more glam and dramatic look, splurge on these amazing false lashes. On your feet, don these classic Mary Janes for a look inspired by a classic novel.
Time at Home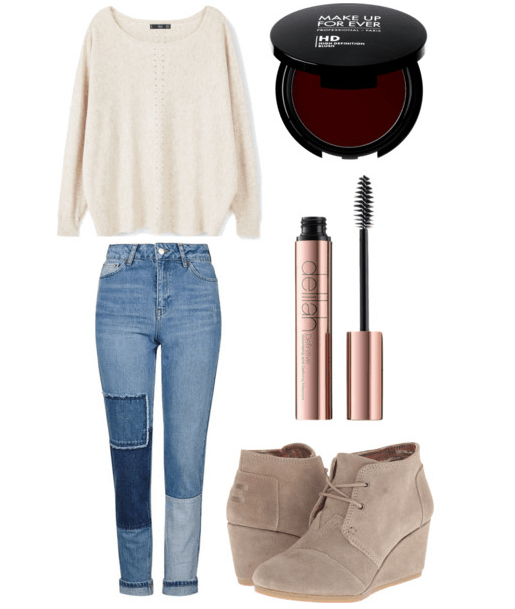 Products: Sweater, Jeans, Blush, Mascara, Shoes
In addition to being a big fan of nature and animals, Emily was very much a homebody. Of all the jobs she had – including governess, teacher, and poet – she loved writing the most, as it allowed to be at home and she got terribly homesick.
For an outfit that's easy to lounge in and inspire your writing (or your creative pursuit of choice) slip on a cozy sweater and jeans. If you need to pop out for some more pens and paper, put on those adorable shoes and sweep on some colorful blush and mascara before heading out the door.
Final Thoughts
Emily's life was a short and, save for her family, relatively isolated one. But she managed to produce one of the greatest works of the 19th century and help secure her family's legacy for centuries to come.
So what did you think? Which Brontë sister is your favorite? What look did you like most? What author would you like to see next? Let us know in the comments below!