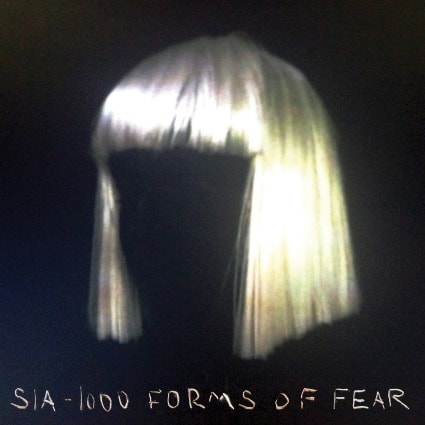 Official Album Cover
Sia recently released her sixth studio album 1000 Forms of Fear, and with the credits and experience she has, it's no wonder that this album is no exception to her many successes.
Aside from writing her own material, Sia has also collaborated with numerous artists, including Beyoncé, Katy Perry, Maroon 5, Celine Dion, and even Eminem! Her sought-after songwriting talent coupled with raw and powerful vocals made each track feel personal and full of emotion. One song not featured below that I think is definitely worth a listen is "Eye of the Needle."
If you're a fan of her previous work, you'll love this dynamic and moving album. Below are stylish looks inspired by some standout songs from Sia's 1000 Forms of Fear:
Chandelier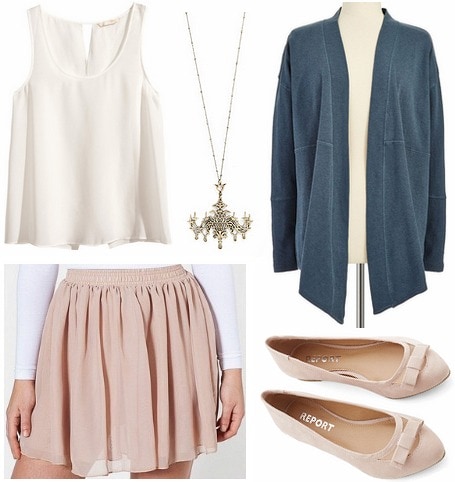 Product Information: Top, Skirt, Cardigan, Shoes, Necklace
This outfit is heavily inspired by the music video for "Chandelier."The neutral-colored skirt, top, and flats not only reference the leotard worn by the dancer and the subdued tone of the video, but they also fit the dismal lyrics. The muted blue cardigan corresponds with the gloomy setting around her.
Although at first the lyrics seem like they are about partying like there's no tomorrow, there is a very dark emotion to them, and this look captures the simple-yet-effective vibe of the video. The adorable chandelier necklace pays homage to the song title and adds a little sparkle to the ensemble.
Hostage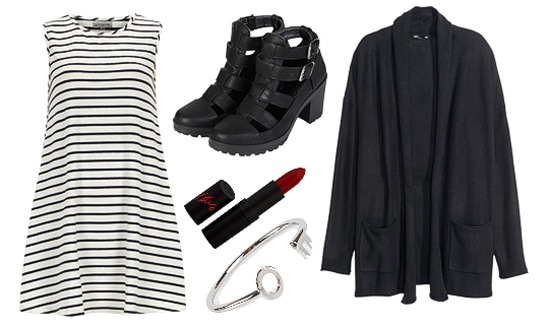 Product Information: Dress, Cardigan, Shoes, Lipstick, Bracelet
With all of the mentions of being 'locked up' and 'on the run' in "Hostage," one thing that comes to mind is an old striped prison uniform. Obviously you don't have to be a criminal to wear stripes, and this dress is definitely more flattering than a prison jumpsuit!
Make the dress more comfy and casual with a nice cardigan, and you can't go wrong with cut-out black ankle boots. Finish the look with some rebellious red lipstick and a cute bracelet (shaped like a key, of course).
Elastic Heart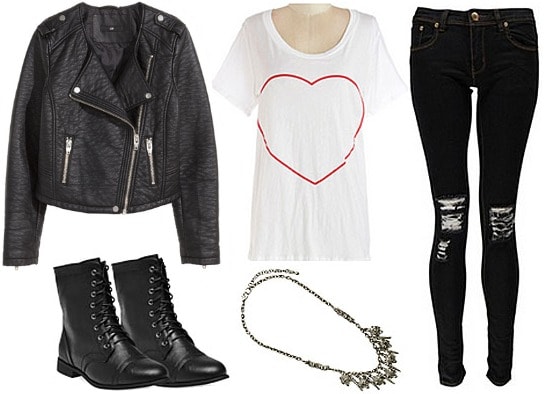 Product Information: Jacket, Shirt, Jeans, Boots, Necklace
Maybe it's the strong and resilient lyrics, or maybe it's the fact that "Elastic Heart" is featured on The Hunger Games:Catching Fire soundtrack, but this powerful song makes me feel very warrior-like. A leather jacket can make any girl look like she can take on the world, and when paired with combat boots, it feels like you can conquer anything.
Toughen up the look even more with ripped up skinny jeans and edgy jewelry, like this spiked "armor" necklace. Even if you wear your heart on your sleeve – or on the front of your shirt – with this outfit you can bounce back from even the toughest of battles.
Fire Meet Gasoline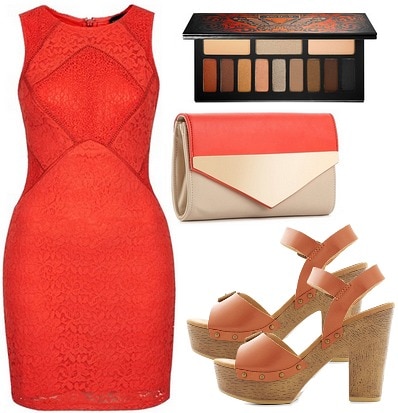 Product Information: Dress, Shoes, Eyeshadow, Clutch
In this song, Sia sings about love being explosive and chaotic like fire and gasoline, and nothing says fiery and bold quite like a bright red-orange dress. Add more warm-toned colors to the ensemble with these burnt-orange platforms (the heels even look like wood!), then use neutral eyeshadows to create a smoky makeup look.
No outfit is complete without an accessory, and a cute color-blocked clutch makes this outfit perfect for a date as romantic as the song.
What Do You Think?
Have you heard Sia's new album? Would you wear any of these looks? Would you like to see more posts like this in the future? Let me know in the comments!