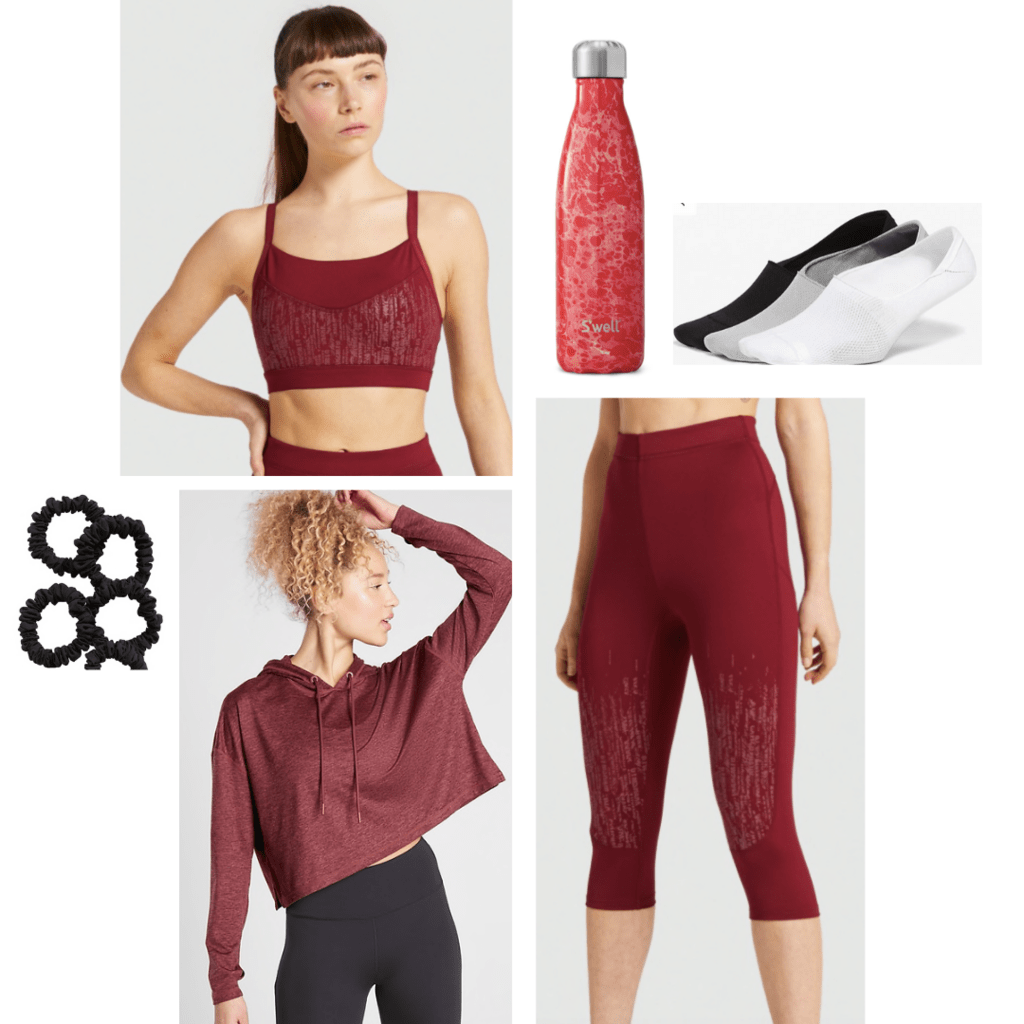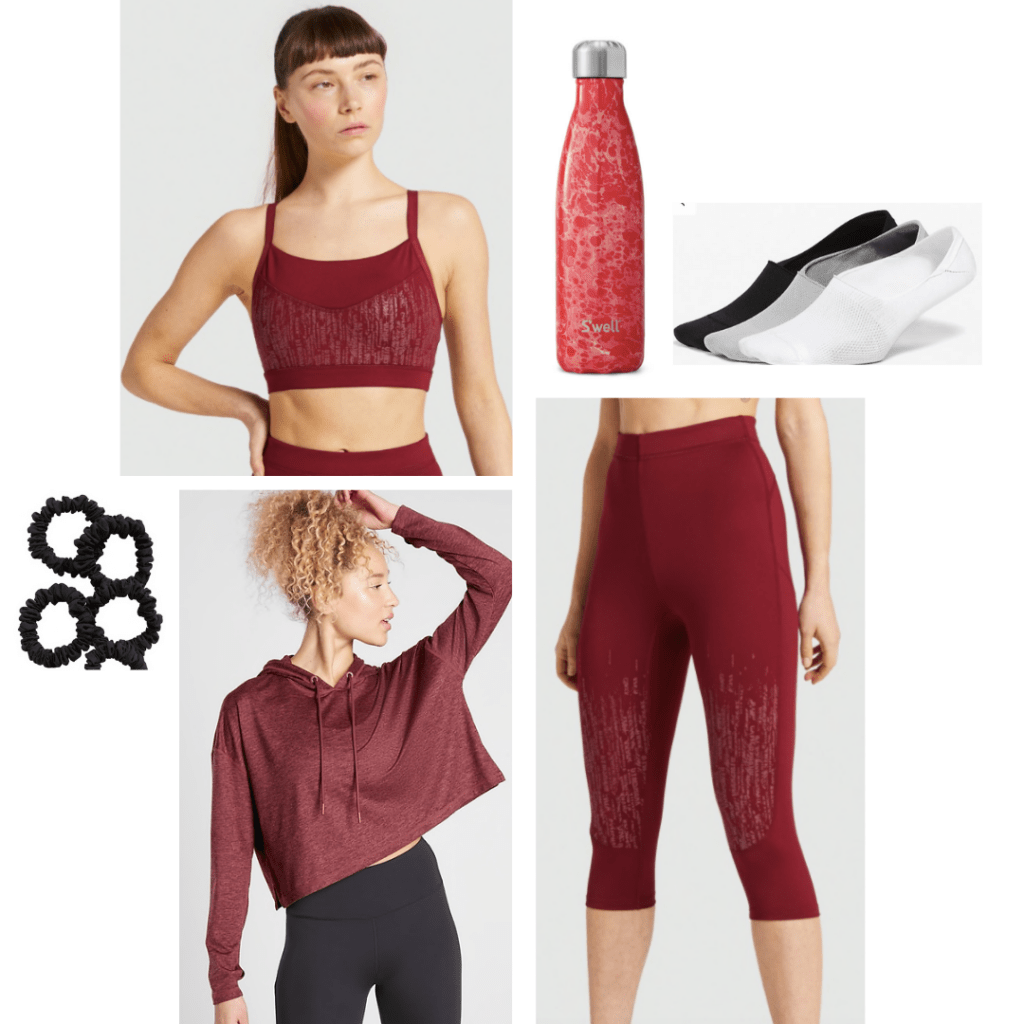 The majority of us have been stuck inside our homes for months now, and one of the best quarantine activities I have found is to binge watch all the Marvel movies.
But enough sitting around, it is time for us to get into shape and become our superheroes.
We have created activewear looks inspired by our favorite Marvel women to get us motivated. Keep scrolling to see the powerful styles!
Scarlet Witch
At Home Workout: Dance or barre
Person to Follow: Action Jacquelyn
Scarlet Witch is a complex character who harnesses all her strong emotions into her magical abilities. She is always seeking new ways to release her stress and anxiety in a positive way which is why we could see her trying out barre and dance workouts.
These types of workouts are great for learning how to move in a way that helps release any negative energy without feeling overwhelmed with too much cardio.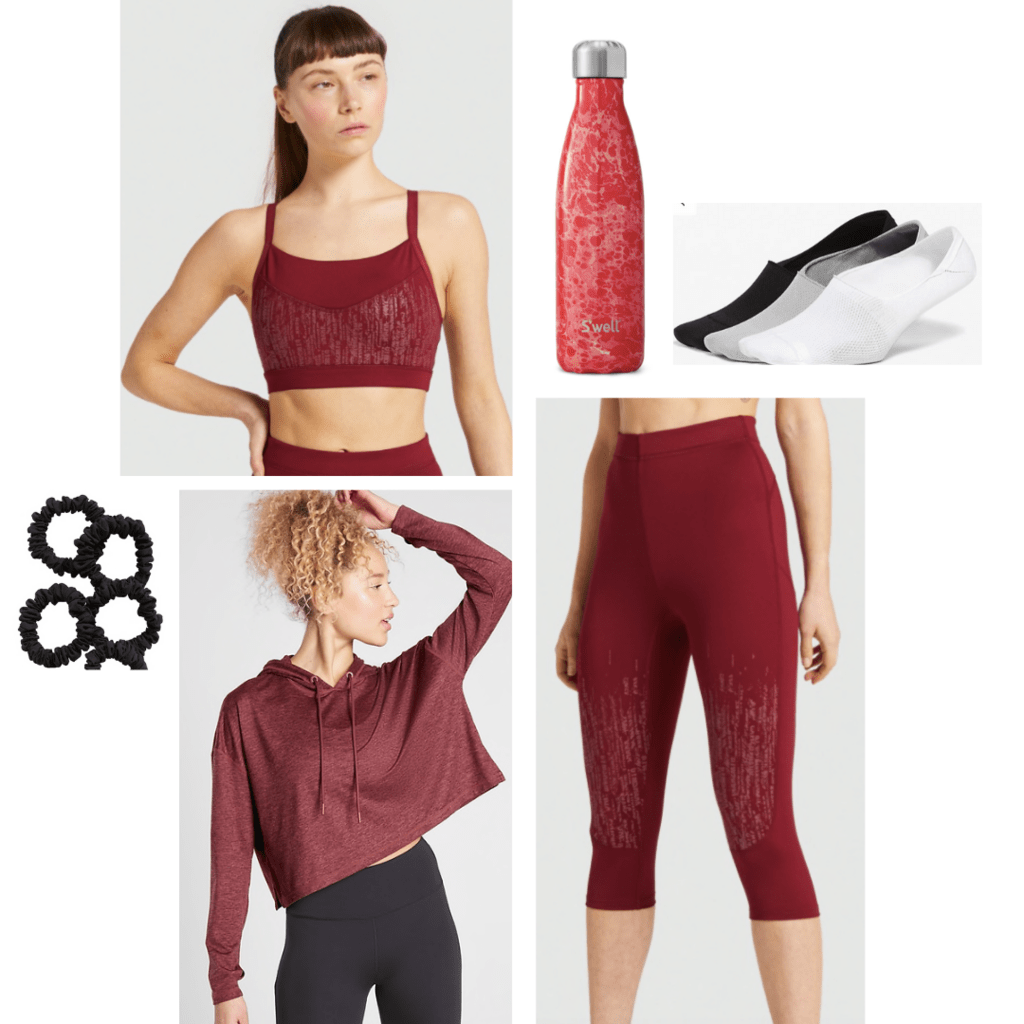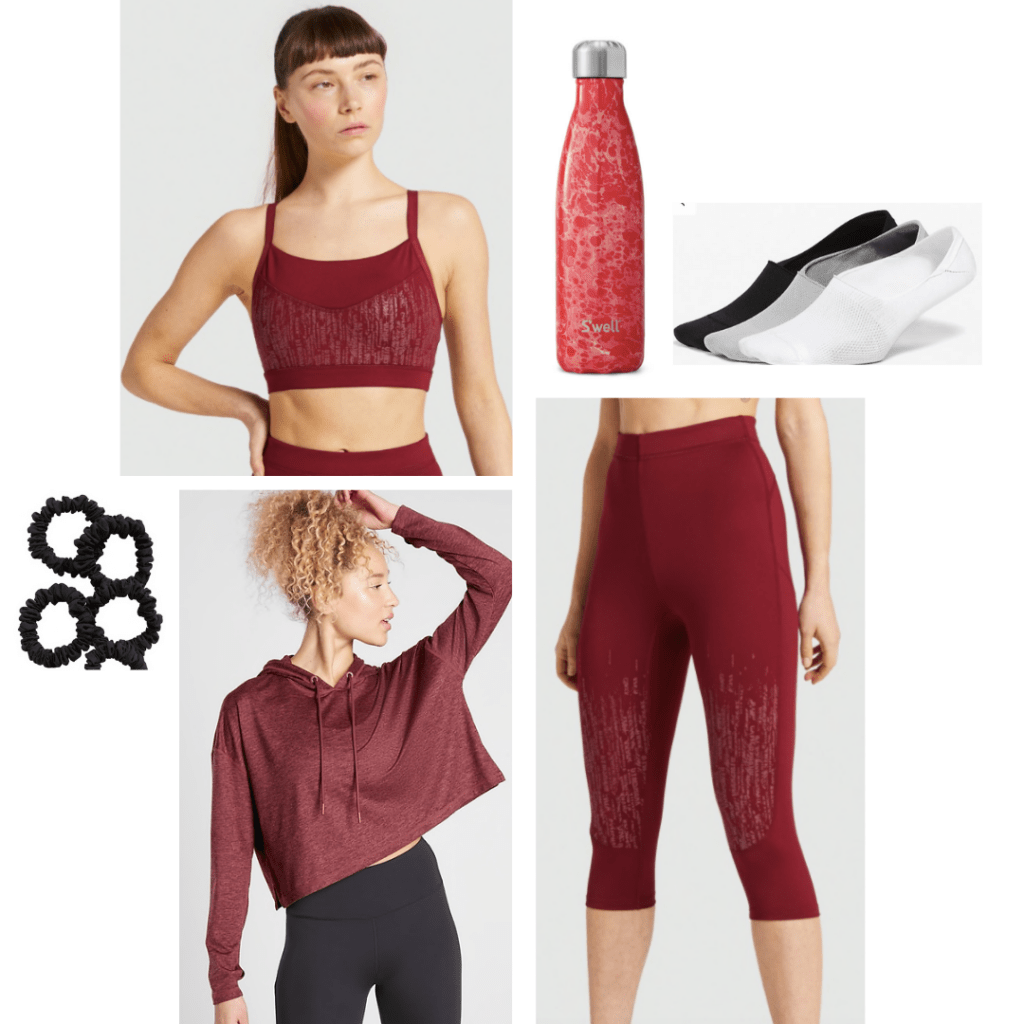 Product Information: Sports Bra – Gymshark, Leggings – Gymshark, Socks – Lululemon, Hoodie – Athleta, Water Bottle – S'well, Scrunchies – Athleta
For a Scarlet Witch inspired activewear look, definitely stick to her classic red color for the entire look. Start the look off with a marching sports bra and leggings combo.
For a barre cool down, put on a hoodie that goes well with the bra and leggings.
For dance and barre workouts, you don't need to worry about grabbing your sneakers, just a comfy pair of socks.
If you want to be a little extra with the look, grab a red water bottle!
Black Widow
At Home Workout: HIIT
Person to Follow: MadFit
Ever since Iron Man 2, Black Widow has been putting us in awe of her physical abilities. She is someone who does not possess superpowers, but her skills as a spy and assassin make her just as impressive as Captain America or Thor.
While at home, Black Widow probably partakes in HIIT workouts to build up her endurance and put her skills to practice. These workouts are great ways to make you feel like a badass.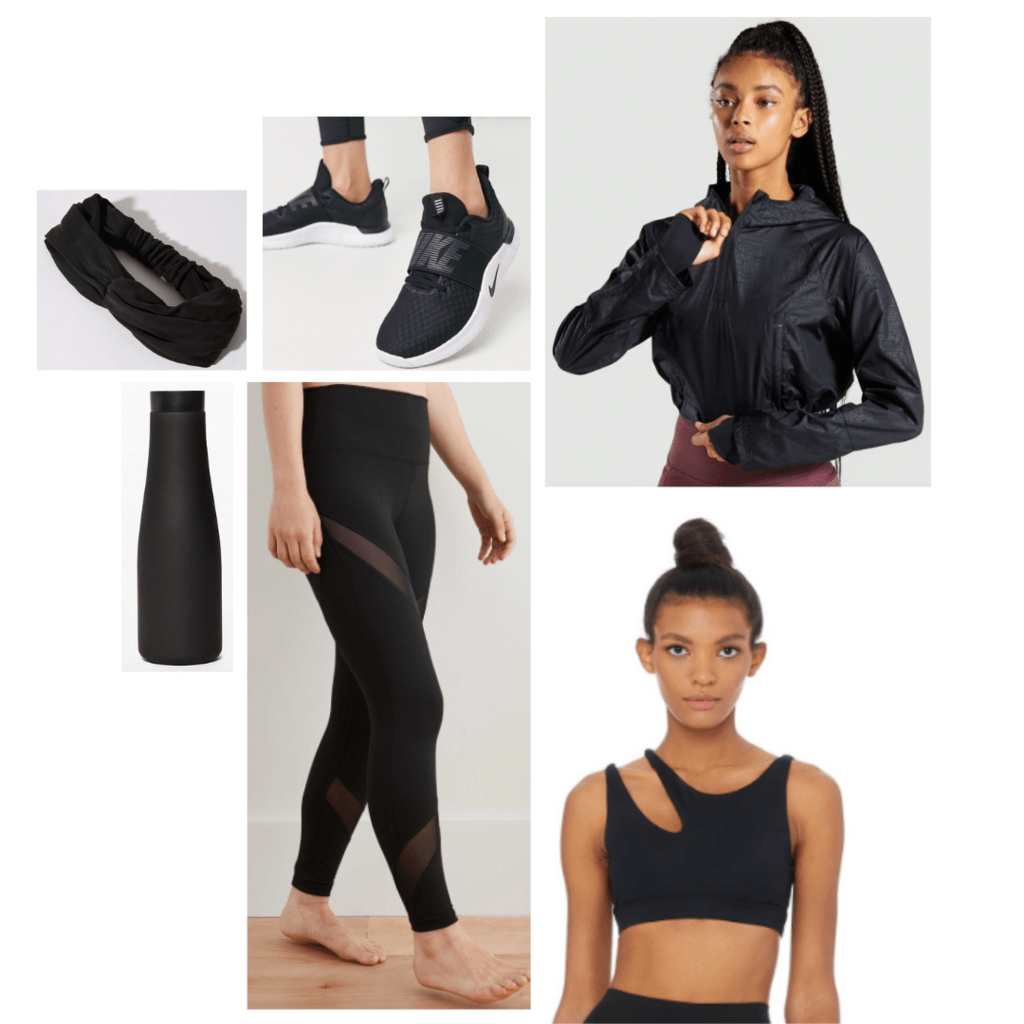 Product Information: Sports Bra – Alo Yoga, Leggings – Aerie, Shoes – ASOS, Jacket – Gymshark, Water Bottle – Lululemon, Headband – Anthropologie
When it comes to Black Widow's activewear look, go with all black. Start with a sports bra, that maybe has an edgy cutout, then put on some classic black leggings. Grab a cropped jacket to get you extra sweaty.
As for shoes, black slip-on sneakers will be perfect for a HIIT workout. Since you will most likely be getting super sweaty, grab a black water bottle to cool yourself down.
Captain Marvel
At Home Workout: Kickboxing
Person to Follow: POPSUGAR Fitness
Though Captain Marvel is a seriously powerful hero, she is also a pretty awesome physical fighter. Throughout her movie, we see her training to become a better fighter and to be seen more than just a silly little girl. She is great inspiration for any woman who has to work hard to be seen more than her gender and to establish herself as a leader.
A lot of her training is reminiscent of what you would see in a kickboxing workout. It is great for gaining strength and becoming more balanced.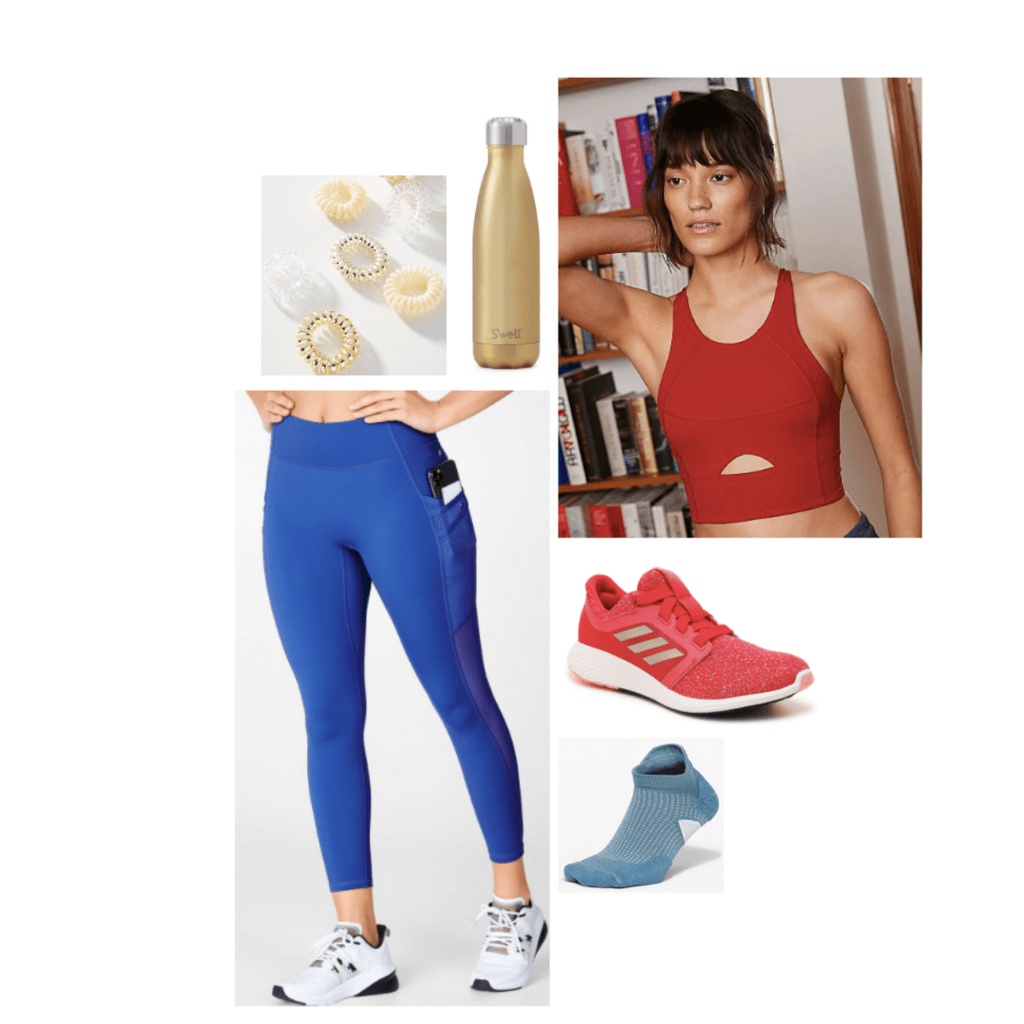 Product Information: Sports Bra – Free People, Leggings – Fabletics, Water Bottle – S'well, Shoes – DSW, Hair Ties – Anthropologie, Socks – Lululemon
Get ready to feel like a real superhero in Captain Marvel's activewear look, which is perfect for getting into some kickboxing.
For the activewear style, a red sports bra and a pair of blue leggings will capture Captain Marvel's classic look. Then add a pair of red sneakers with gold details to enhance the look even more.
For accessories, a pair of blue socks will pair nicely with the red sneakers, and gold hair ties are great for giving yourself a ponytail. Also, a gold water bottle is perfect for bringing the whole look together.
Which superhero-themed activewear look is your fave?
For more outfit ideas, see part 2 of this guide, featuring activewear inspired by Nebula, Gamora, and Mantis.
Which superhero would you like to see next? Is there a workout you look forward to trying out? Let us know down in the comments.