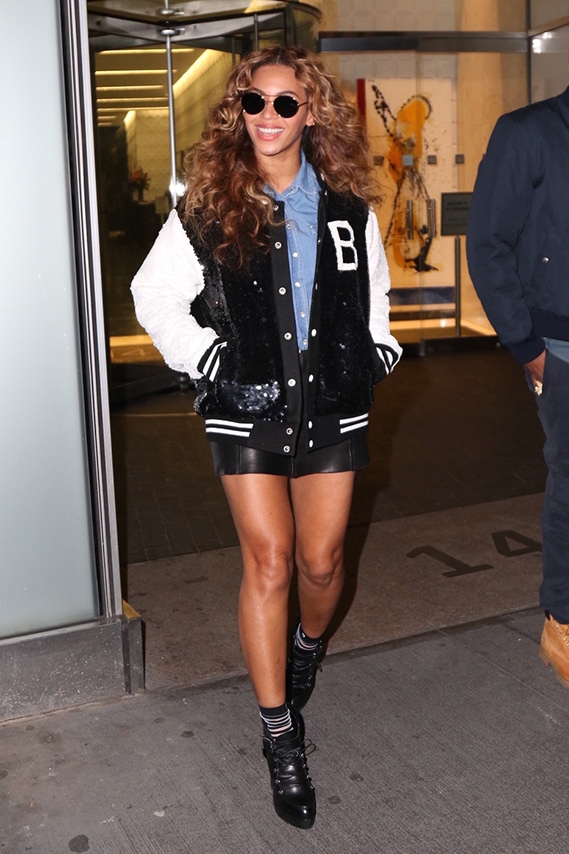 Who runs the world? Yonce! Beyonce is truly a multi-talented woman: From music, to fashion, to acting, she's done – and rocked – it all.
Whether she's on the big screen, the red carpet, or the streets of NYC, Bey owns it with her fashion choices. I know I'm not the only one who lives for her Instagram photos… #FLAWLESS all day! You can check out even more of her fashion choices in the September edition of Vogue.
Need some flawless in your life? Below, I've created a week's worth of outfits to help you channel your inner Queen Bey.
Monday: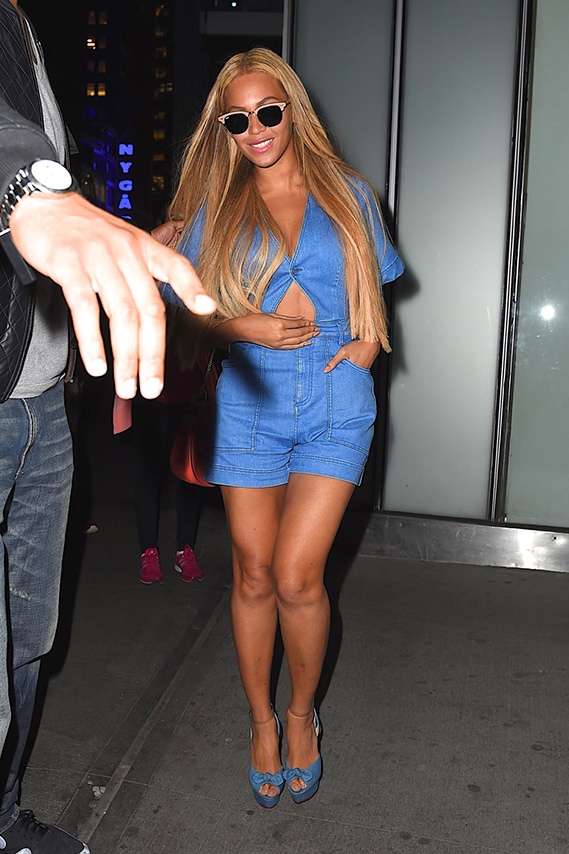 Beyonce starts of the week in style with this cut-out denim romper. For an updated take on denim-on-denim, pair the romper with denim wedges. This creates a modern and fun vibe. Finish with a cross-body bag and cool shades.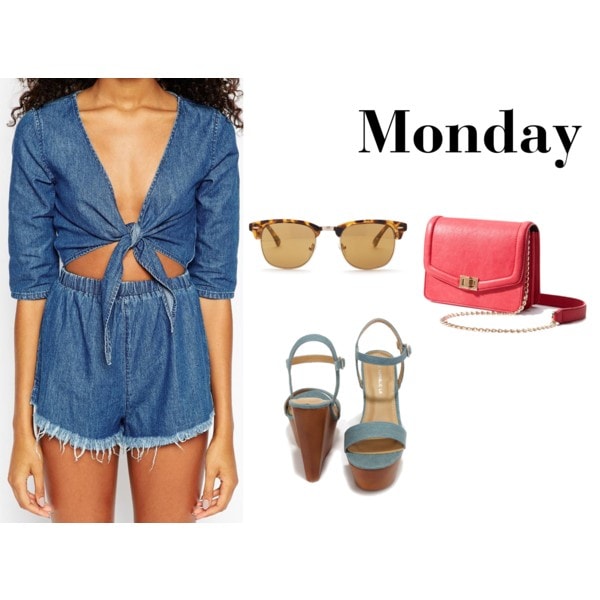 Product Info: Romper, Sunglasses, Purse, Wedges
Tuesday: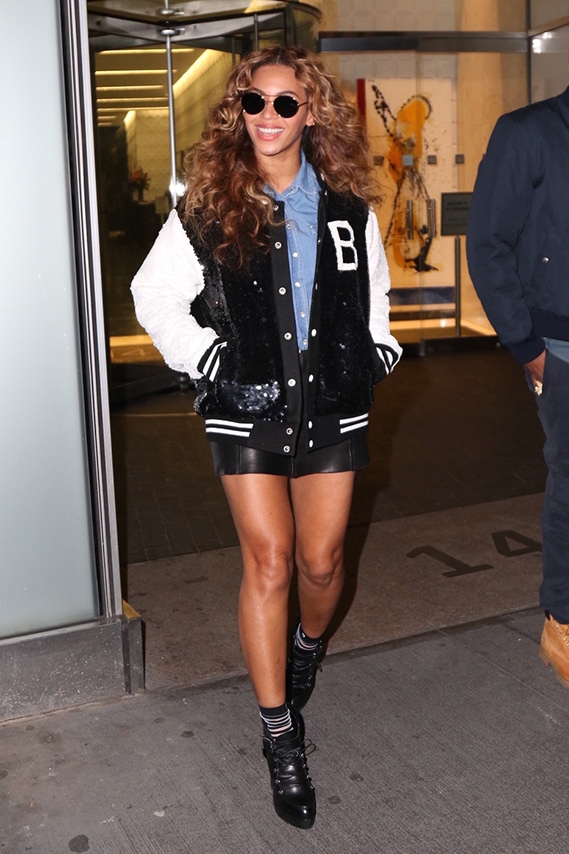 If you distilled Beyonce's street style into one outfit, this would be it. Mrs. Carter loves to pair trendy, sporty, and casual pieces together to make the perfect combo. Complete the look with a varsity jacket – we'll rock this one until we can find our own sequined 'Bow Down' jacket.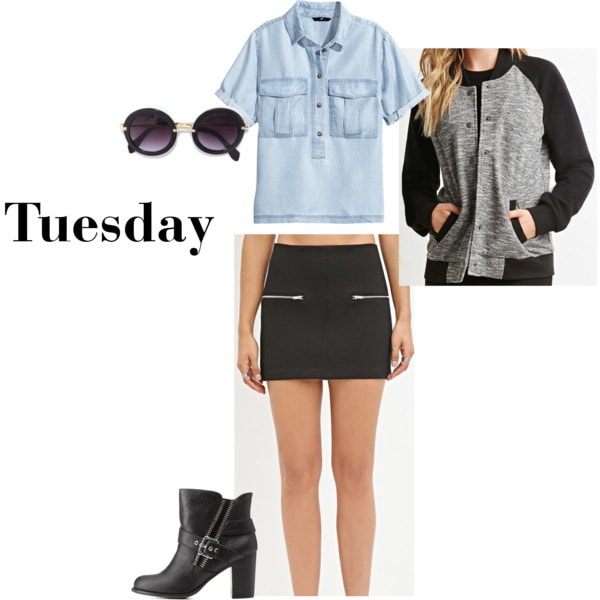 Product Info: Top, Skirt, Jacket, Boots, Sunglasses
Wednesday: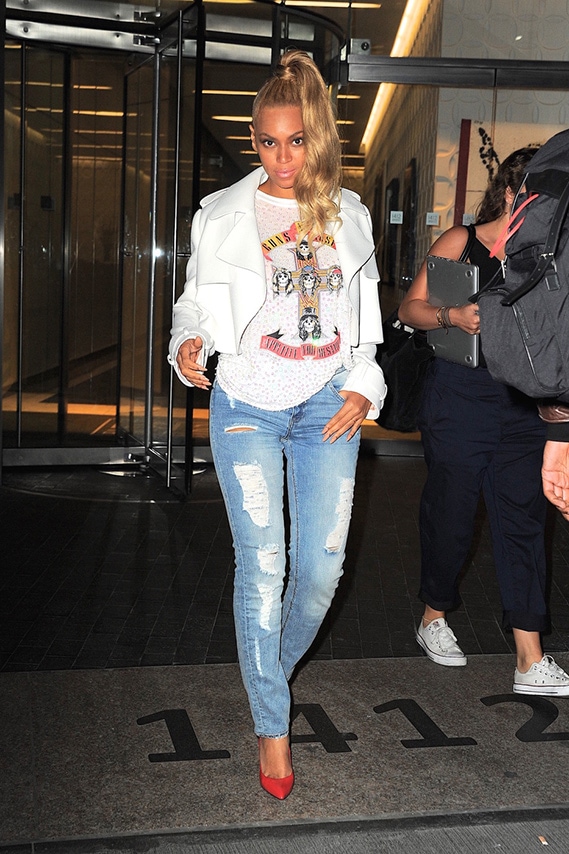 As we get older it's sadly less socially acceptable to walk around in band tees and sneakers. But you don't have to trade your beloved shirt for a boring pantsuit!
Here, Beyonce shows us how to have the best of both worlds. Pair your favorite band tee with a fitted blazer for the "I'm an adult, but not a full-blown adult" look. Stay on-trend with shredded jeans and pointy flats.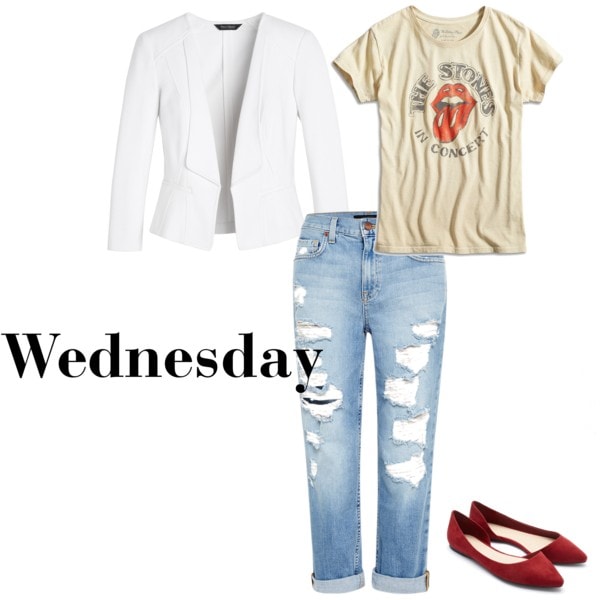 Product Info: Blazer, Jeans, Shirt, Flats
Thursday: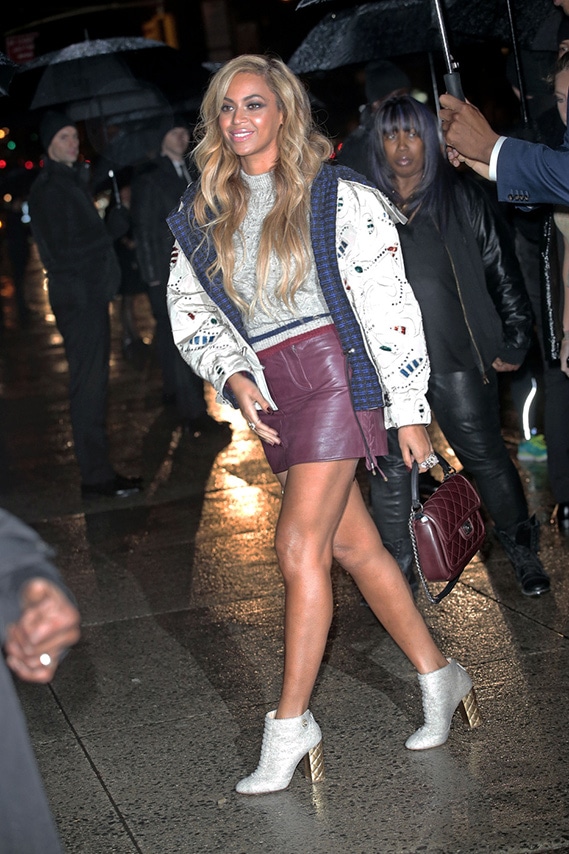 Beyonce understands the power of a good statement jacket. Find the perfect jacket for fall (we heart this acid-wash statement-maker) and throw it over almost any outfit for a great new look.
Keep the outfit simple and let the jacket be the focus. A fall-perfect burgundy skirt and cropped turtleneck top are easy pairings, while suede ankle booties will earn you major style points.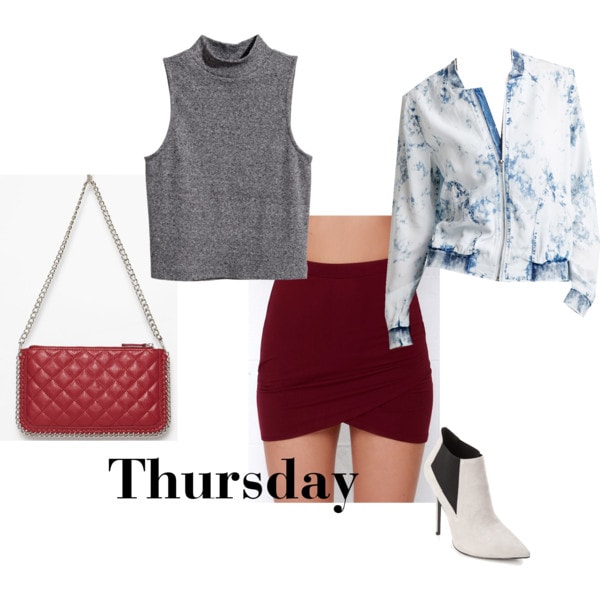 Product Info: Top, Skirt, Jacket, Purse, Boots
Friday: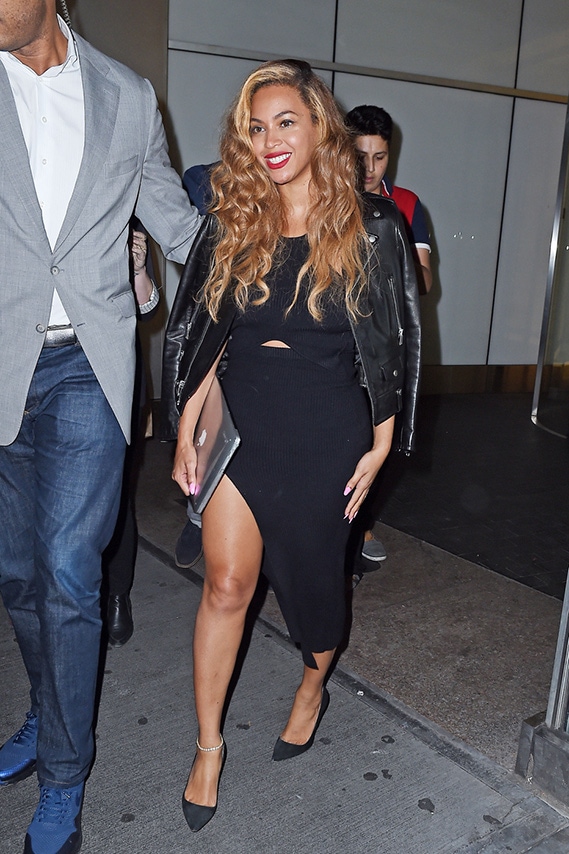 All the single ladies, put your hands up! This look is perfect for a girls night out.
Make like Yonce and take on the night in an asymmetrical LBD. To tone down the look and make it more wearable in cool weather, throw on a leather jacket. Classic pointy pumps complete the ensemble.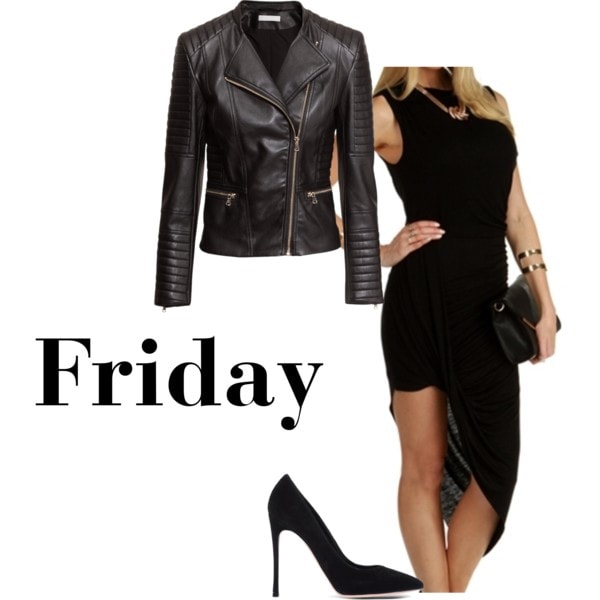 Product Info: Jacket, Dress, Heels
Saturday:
Bey proves that a simple color palette doesn't have to be boring with this outfit. How chic does she look?
A white top and skirt set is the perfect way to show off your figure without revealing too much. Throw on a cool black hat and heels and you have a fashion-forward look that's perfect for a party.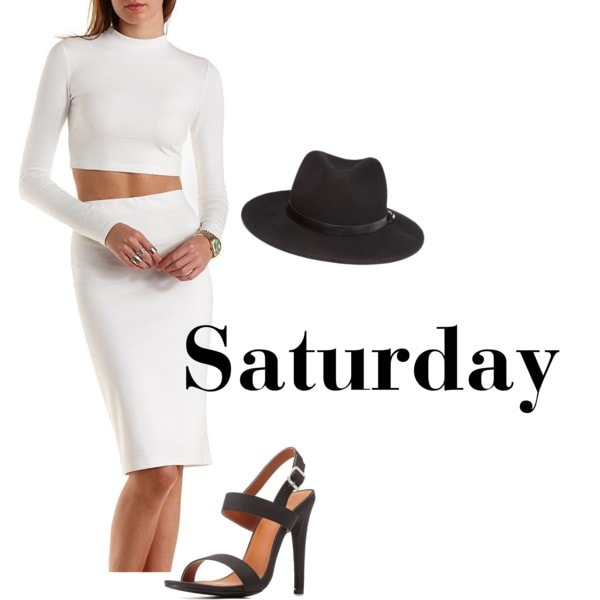 Product Info: Dress, Hat, Heels
Sunday: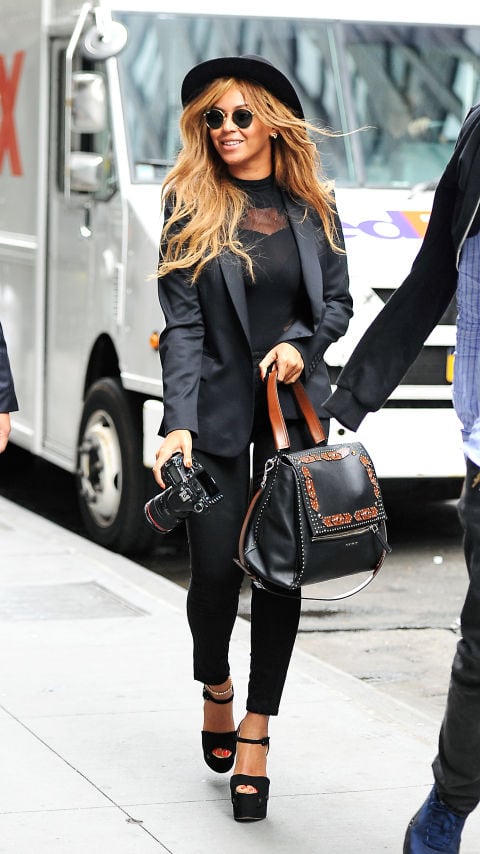 Beyonce rocks this black-on-black-on-black outfit, again proving that monotone looks don't have to be boring.
To get her look, pair a sleek black jumpsuit with a blazer. Complete the outfit with a floppy hat, fun shades, and some sky-high platforms.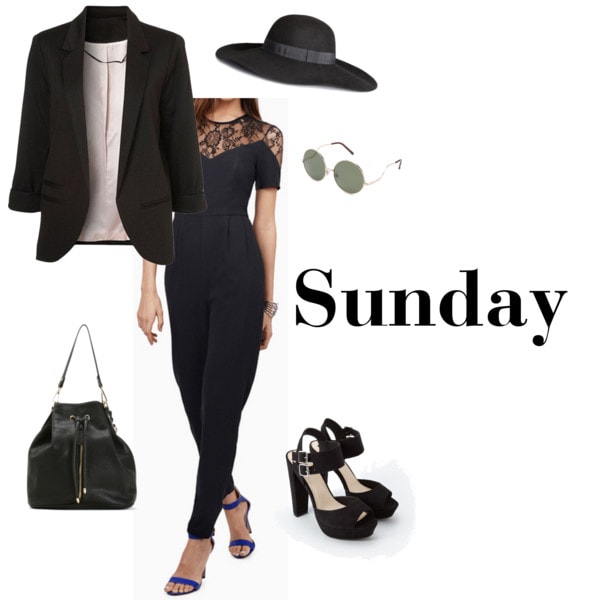 Product Info: Jumpsuit, Blazer, Hat, Sunglasses, Bag, Heels
Thoughts?
What do you think of Beyonce's street style? Would you rock any of her looks? Which outfit was your fave? Who do you want to see next?