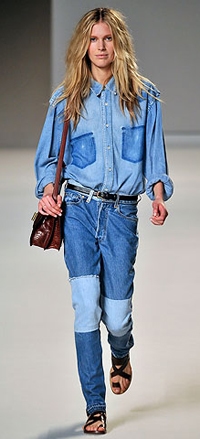 From left: Chloe runway, Britney Spears and Justin Timberlake in matching denim, Herve Leger runway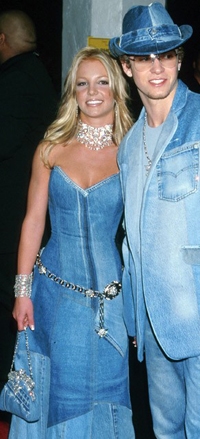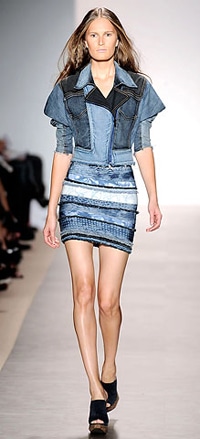 With the reemergence of 90s grunge and chambray, it would appear that denim is back on the rise for Spring. However, with scary flashbacks to Britney and Justin and warnings from Zephyr, is an all-denim outfit really the way to go?
The great thing about this look is that denim pieces are fun and playful and can be paired with just about everything. The downside, however, is that this look is tricky to pull off, and doing it wrong can provide a fashion failure of epic proportions.
The key to getting it right is in using different tones of denim. Wearing tones that are too similar to each other without being exactly the same just looks like a mistake. Playing with different weights will keep the look from looking too 90s, as well. For example, try pairing dark denim trousers with a light and lightweight denim blouse. Need more? I've created a couple of sample outfits below, so check them out!
Outfit #1: Crisp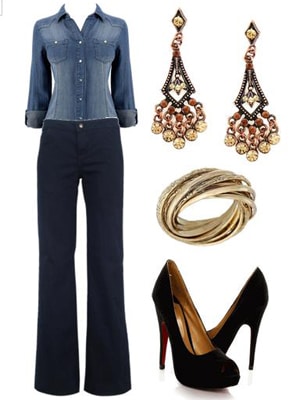 Product Information: Denim Shirt: Peacocks, Denim Trousers: Raleigh Denim, Chandelier Earrings: 1928 Jewelry, Gold Ring: Topshop, Suede Pumps: AMI Clubwear
Outfit #2: Playful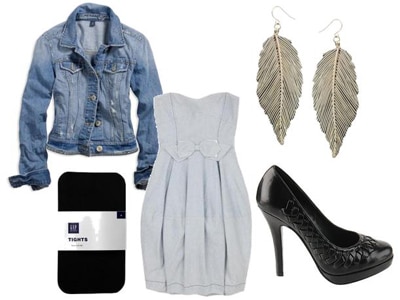 Product Information: Denim Jacket: American Eagle, Black Tights: Gap, Strapless Denim Dress: Paul Smith, Feather Earrings: ASOS, Black Pumps: Forever 21
Outfit #3: Pretty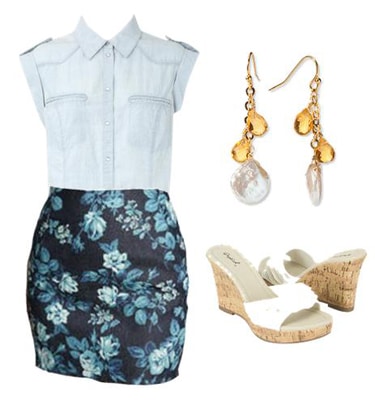 Product Information: Pale Denim Shirt: Oasis, Floral Denim Skirt: Urban Outfitters, Drop Earrings: Coldwater Creek, Wedges: Qupid Keila
What do you think?
Would you wear denim on denim? Or do you think the look should stay in the 90s? Do you like the resurgence of denim pieces and accessories? Let us know in the comments!