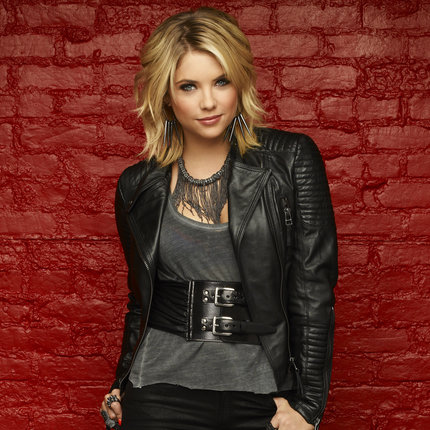 Our favorite sassy little liar isn't just a fashionista on-screen – Ashley Benson has some serious street style chops!
In case you haven't noticed, Ms. Benson has had an awesome year. She starred in the action film Pixels and of course she rocked the last season of Pretty Little Liars. I know I'm not the only one excited for the new season: 5 years later? YES, please! It's no surprise that through all of this, Ashley's outfits have remained on point – she's a fashionista through and through.
Below are a week's worth of outfits, perfect for the colder weather coming our way, inspired by Ashley's street style!
Monday: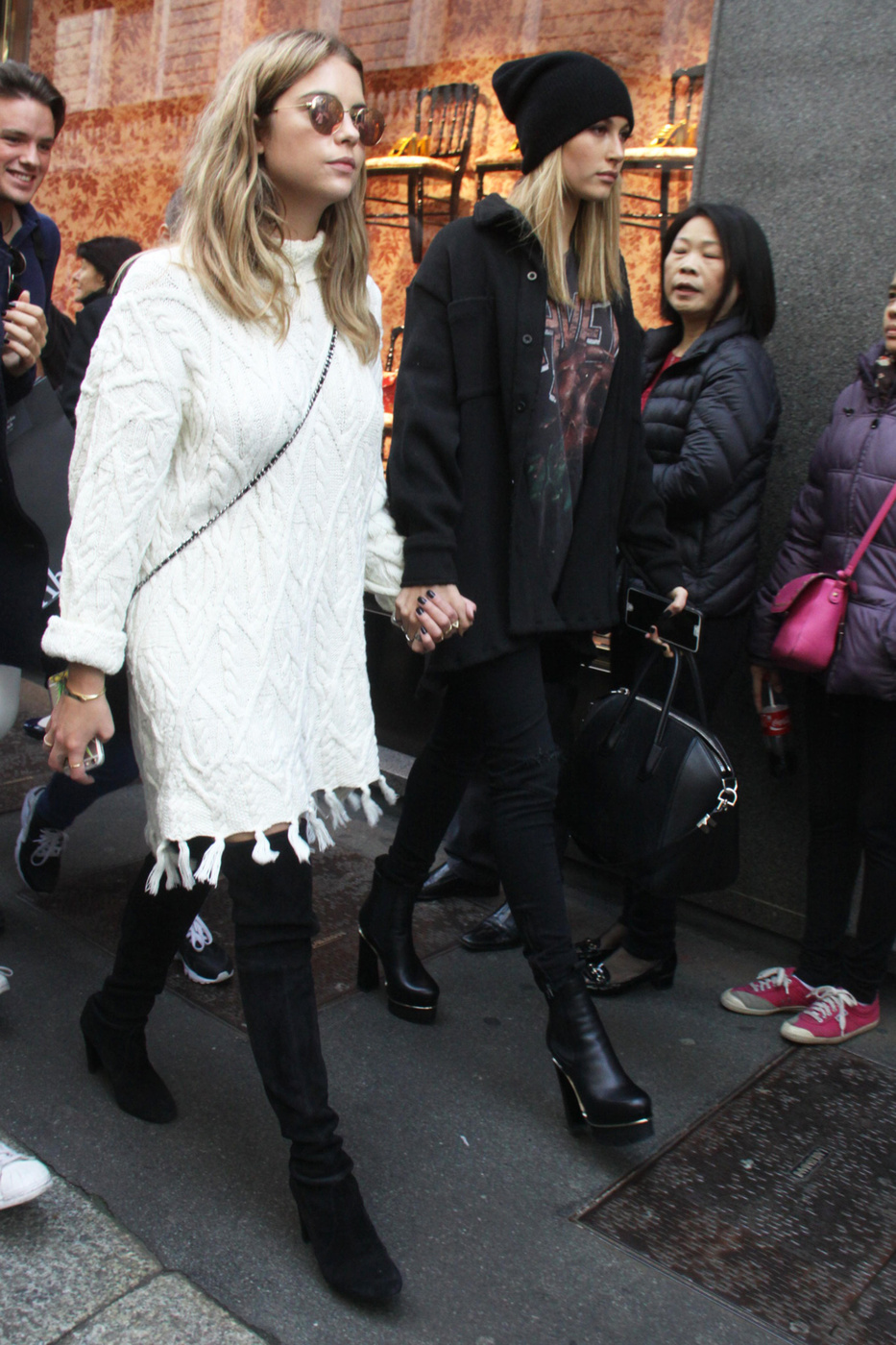 Oversized sweaters and over-the-knee boots are the ultimate combo this season, and Ashley is clearly showing us why! This is the perfect way to get the stylish look of a dress but still stay comfy and warm.
Sometimes wearing a turtleneck sweater makes you feel like you're drowning in fabric. Balance out the look by pairing it with boots to show a little leg and break up the fabrics.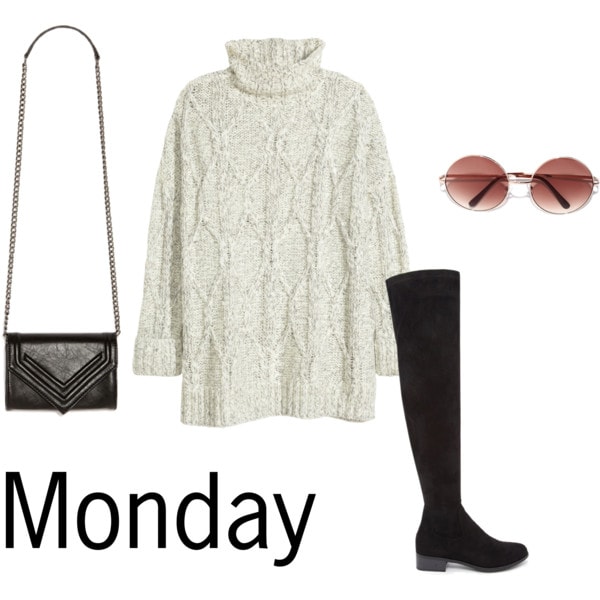 Products: Sweater, Boots, Bag, Sunglasses
Tuesday: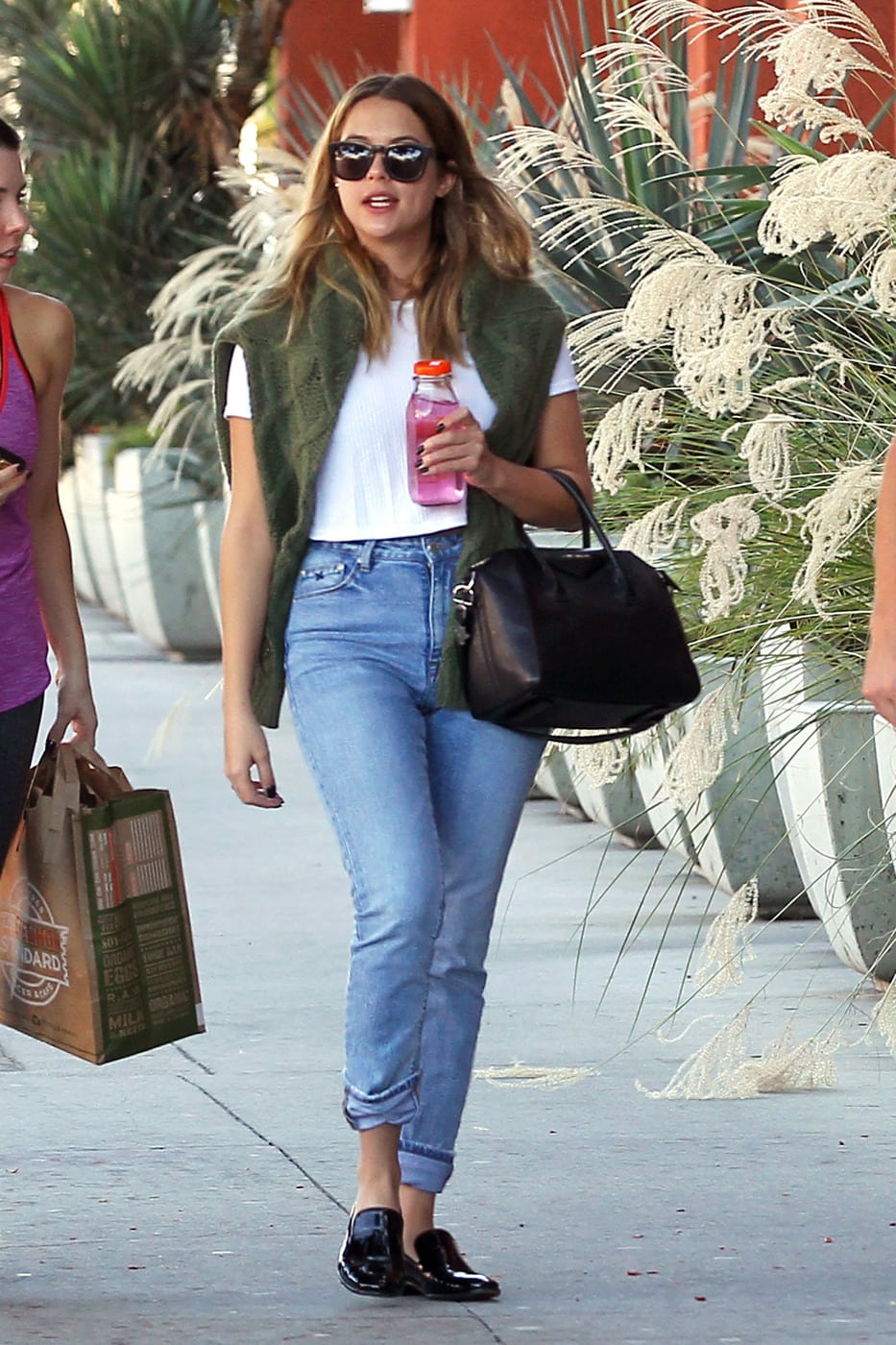 It seems like Ashley is up to speed on all the trends this season. Adding a vest to a basic outfit is the perfect way to get a stylish look with minimal effort. And let's get real: Who wants to put in a lot of effort before that 8 a.m.? You won't have a problem tracking down a vest this season; they can be found EVERYWHERE!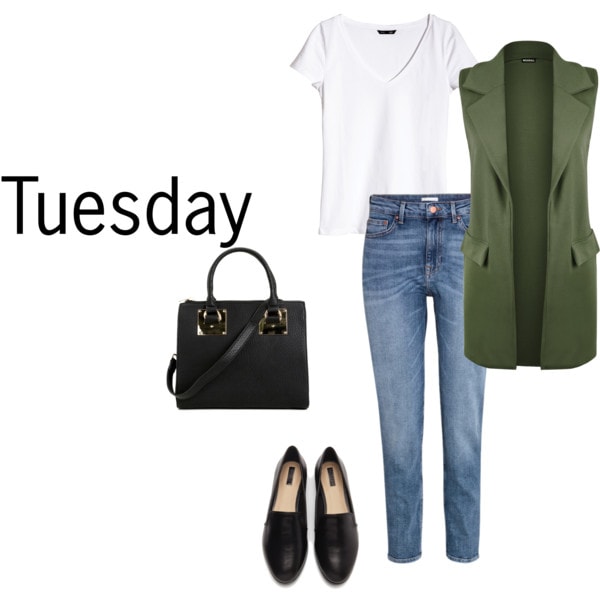 Products: Top, Jeans, Vest, Flats, Bag
Wednesday:
This outfit is reminiscent of something Ashley's PLL character Hanna would have worn last season – it's edgy, youthful, and cool. (We have to wonder: Did Ashley inspire Hanna's look or vice versa?)
This look is perfect for a casual day of classes. To get it, take your usual t-shirt and leggings a step further by adding a leather jacket and trading your sneakers for a pair of booties. Of course, finish the look off with a beanie, which is perfect when you are WAY too tired to even think about touching your hair.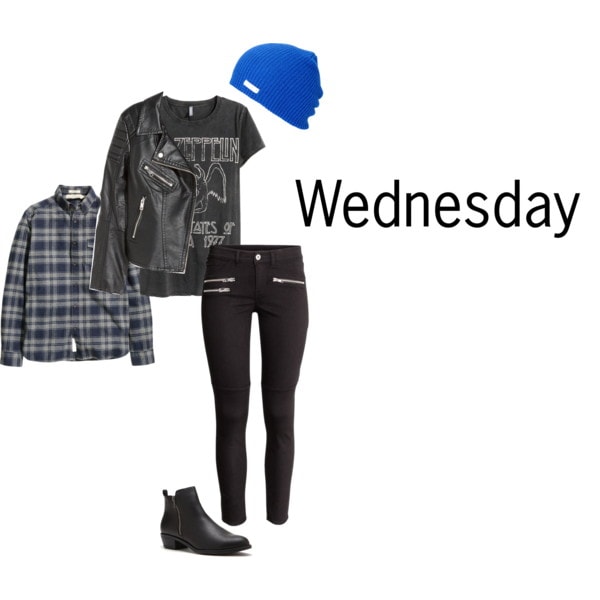 Products: Top, Jacket, Flannel, Jeans, Boots, Beanie
Thursday: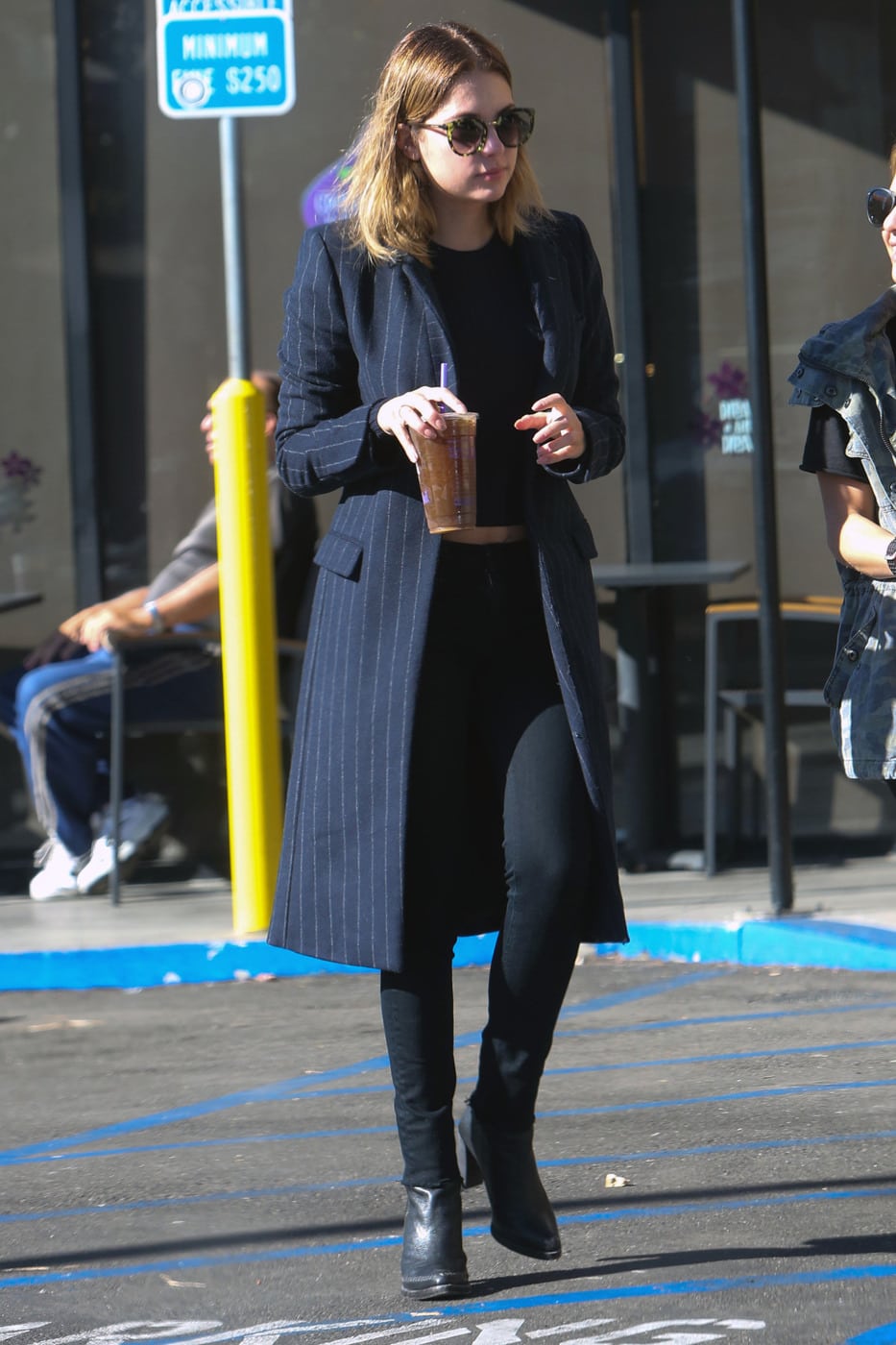 When the temperatures start to drop, our wardrobes tend to get a little darker. But you don't have to only wear black. Take a detour from the all-onyx ensembles and throw in some navy like Ashley does.
Adding a long navy coat over your all-black ensemble gives an unexpected twist and transforms your typical monochromatic look. Throw out the old fashion rules – you can totally wear these colors together and you'll look amazing when you do.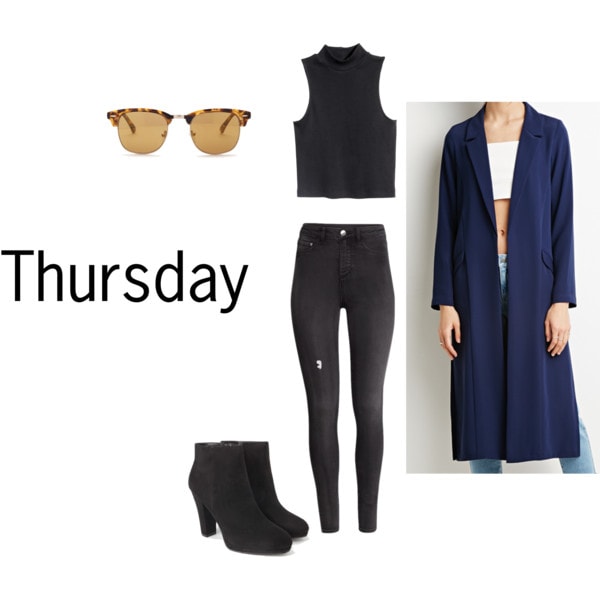 Products: Top, Jeans, Jacket, Boots, Sunglasses
Friday: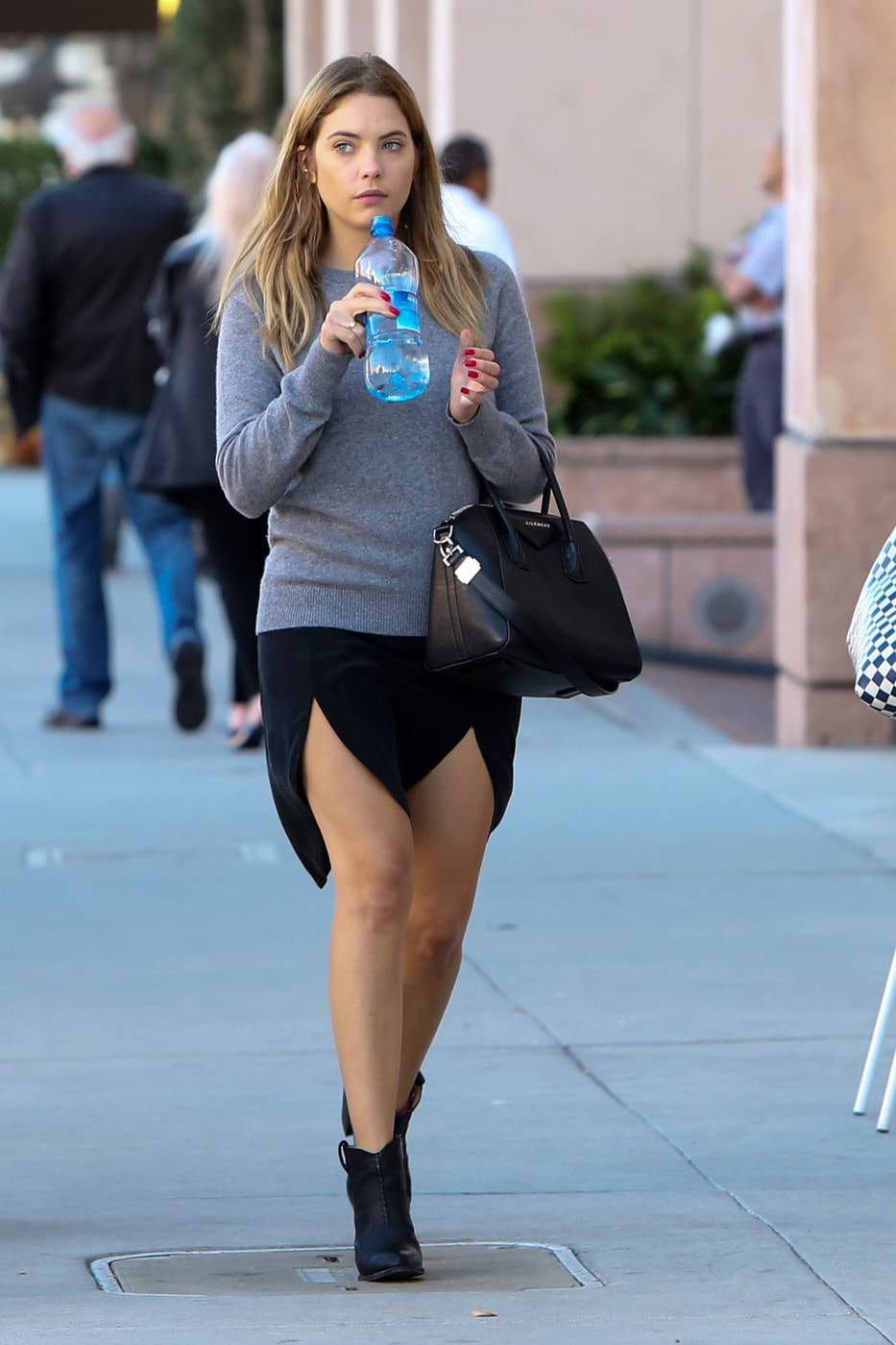 Ashley teaches us a valuable lesson about wearing our warm weather clothes into the fall – it's totally possible with the right styling tricks. Combine your fall, winter, and summer wardrobes to get even more outfits out of the clothes already in your closet. Savings!
To get this look, pair a simple fitted skirt with a loose sweater. This outfit is totally comfortable and easy but looks as if you put some effort in! Throw on some booties and you are good to go.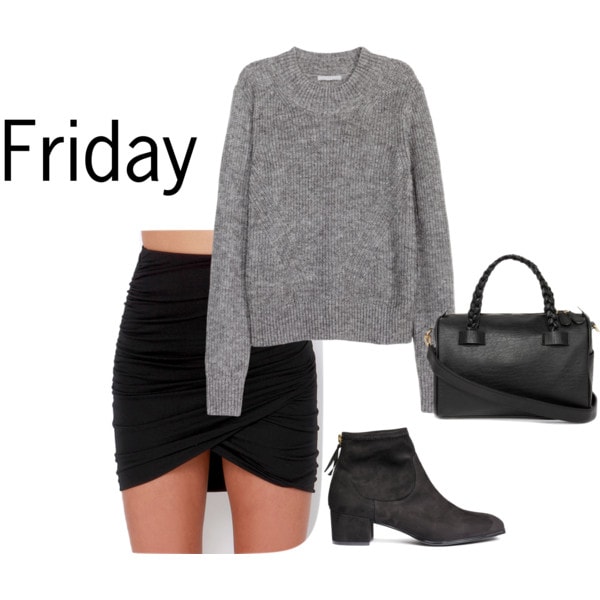 Products: Sweater, Skirt, Boots, Bag
Saturday:
With the holiday season quickly approaching, you will have endless opportunities to dress up and show off your style! This outfit is the perfect look for a holiday party.
Make like Ashley and take out that maxi skirt you wore all summer and pair it with your favorite sweater. Throw on some heels for a completely elegant look that took two seconds to put together.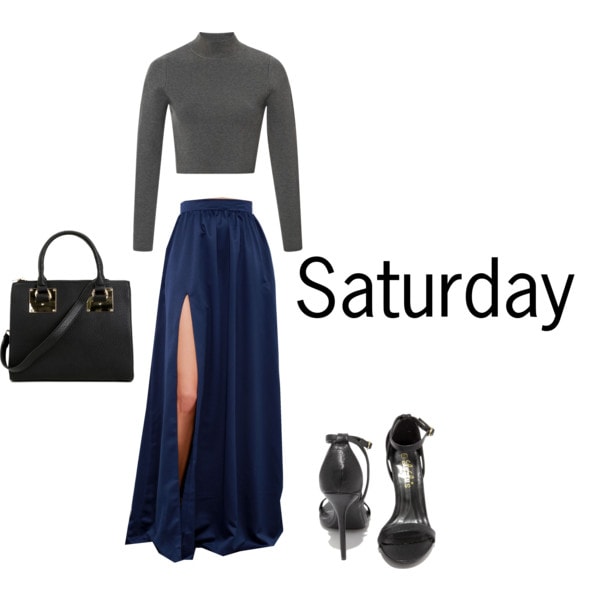 Products: Top, Skirt, Heels, Bag
Sunday: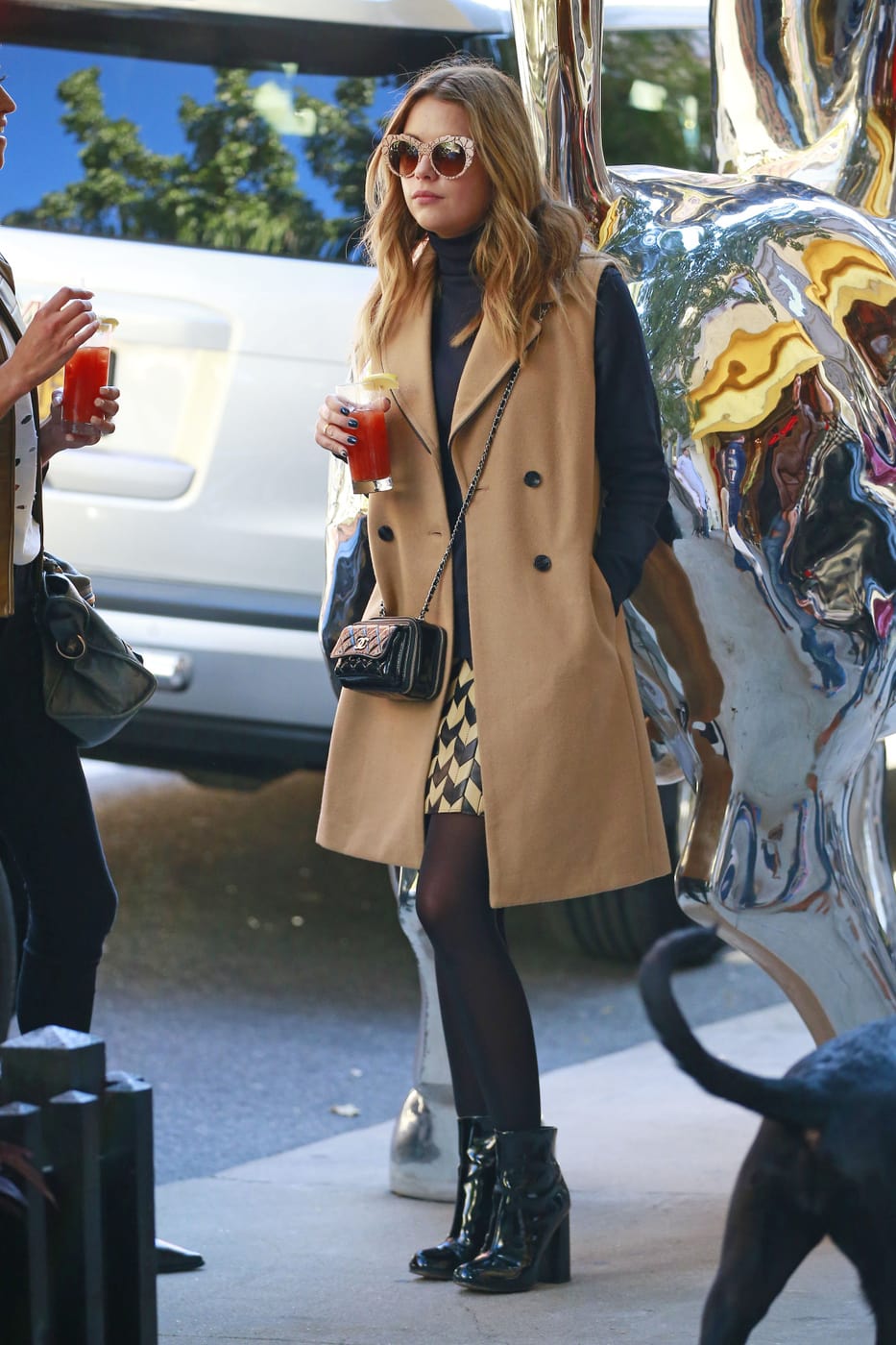 It's clear that Ashley isn't too different from her character on Pretty Little Liars when it comes to fashion. (Again, the chicken/egg question comes to mind!) I can totally see Hanna rocking this outfit.
A lot of times long winter coats can completely mask your outfit, and if you're spending time styling a cute outfit, you want it to be seen! If it's warm enough to get away with it, go for a long vest. This allows for your outfit to peek through while keeping you relatively warm. Pair a sweater and skirt underneath for the perfect look. If it is colder where you live, add some opaque tights!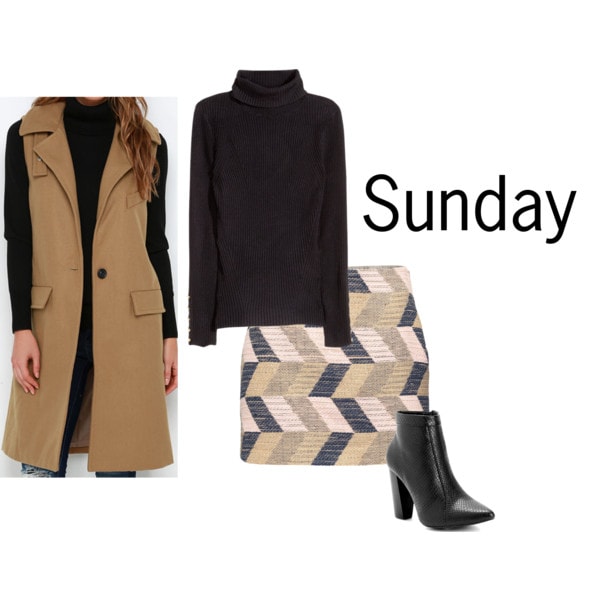 Products: Sweater, Skirt, Vest, Boots
Thoughts?
What do you think about Ashley Benson's street style? Which outfit was your fave? Do you prefer Ashley's style or her character Hanna? Who do you want to see next?