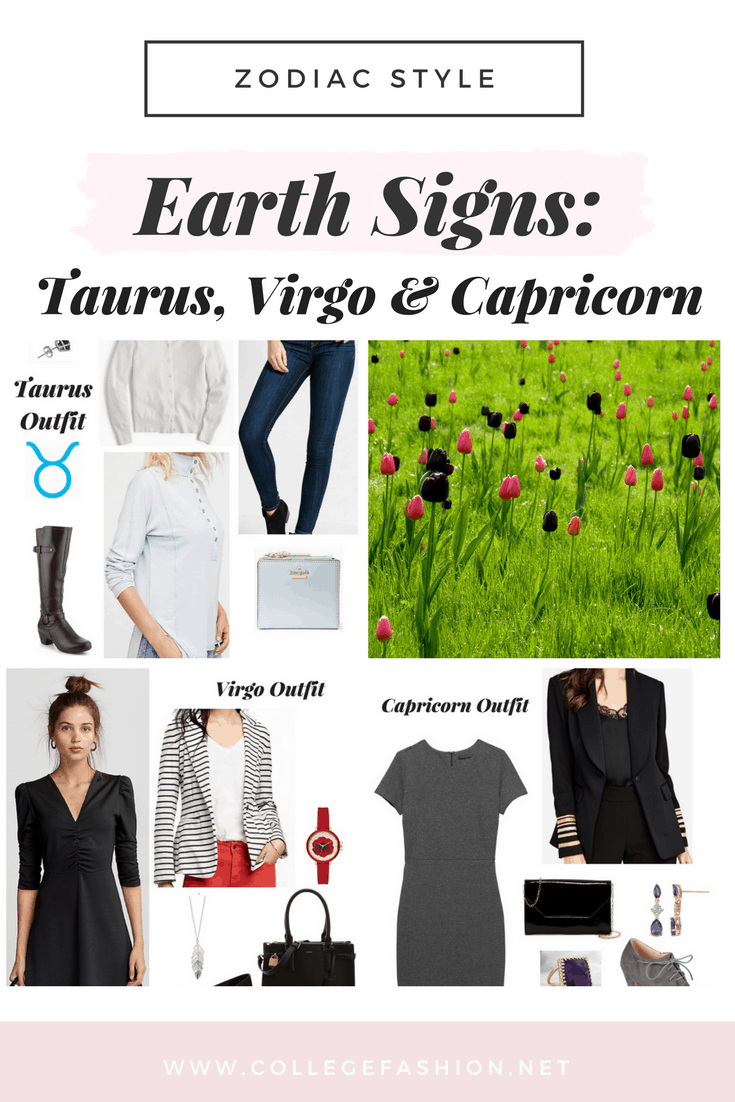 For the last month or so, we have been trying to discover if there truly is a link between astrology and personal style. While the results have varied from girl to girl, I think we can all agree that it has been a fun and interesting way to approach fashion.
In case you haven't seen the other three parts of this series, check out Zodiac Style: Air Signs – Aquarius, Gemini & Libra, Zodiac Style: Fire Signs – Aries, Leo & Sagittarius, and Zodiac Style: Water Signs – Pisces, Cancer & Scorpio.
For the final installment, we will be looking at the Earth Signs (Taurus, Virgo, and Capricorn) and learning about their personal style. Earth signs are known for being practical and detail-oriented, which often translates into their fashion choices. However, these are also girls that love to surround themselves with high-quality clothing, shoes and jewelry. Of course, these signs each have their own unique style, which you can learn more about below:
Taurus (April 20- May 20)

Symbol: The Bull
Traits: Hard-working, Resourceful, Reliable
Colors: Pink, Pastel Blue, Light Green
Fashionable Taurus: Jessica Alba, Christina Hendricks, Dianna Agron
Taurus girls love to wear classic, well-made clothing with unique detailing.
Tauruses love high-quality and expensive clothes, but are are willing to wait until a great bargain comes around before they buy anything.
The Bull rules over the throat and neck, so girls under this sign love highlighting this area with scarves and necklaces.
Taurus Outfit for Inspiration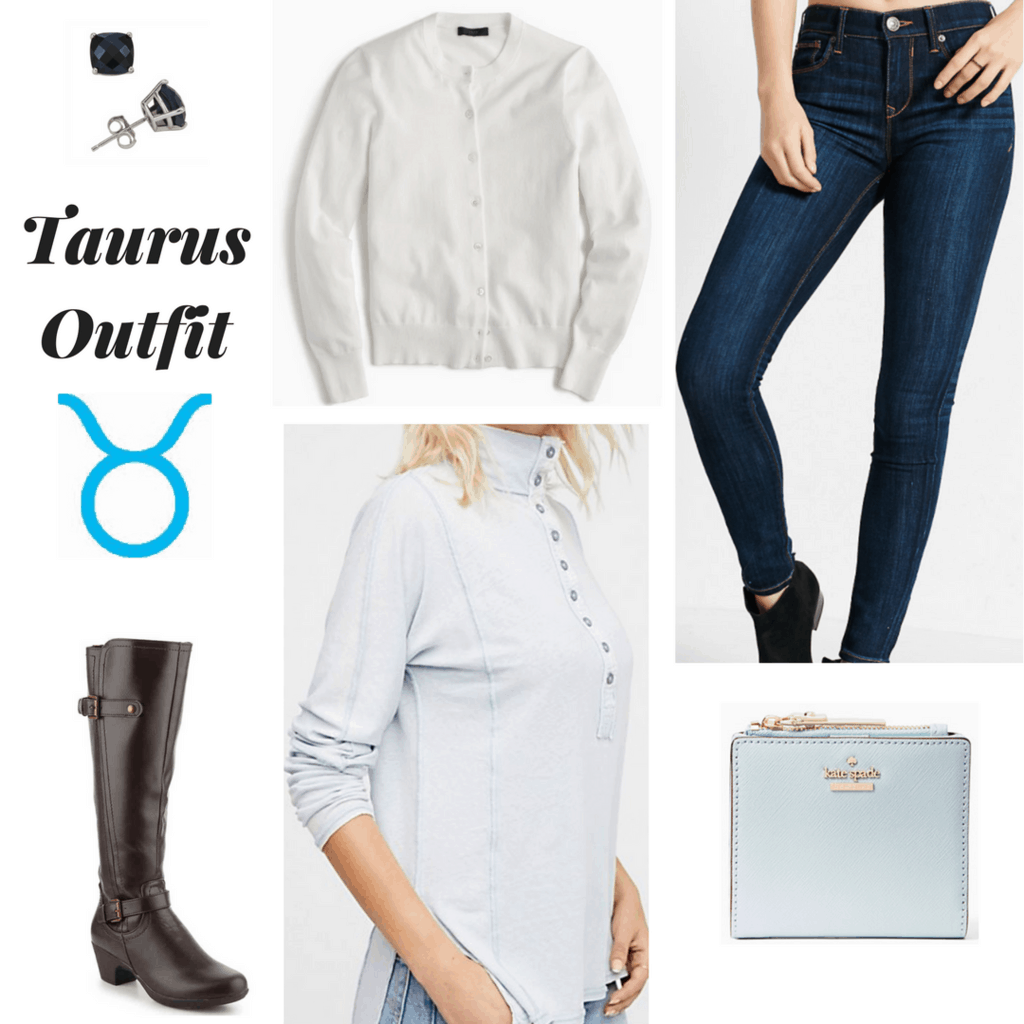 Products: Henley – Free People, Cardigan – J.Crew, Jeans – Express, Bag – Kate Spade, Boots – DSW, Earrings – Sam's Club
For this outfit, we opted for a classic look punched up with accessories that is sure to appeal to a Taurus girl. It's all about creating a high-quality ensemble without sky-high prices. At the center of the outfit are some basic jeans and a comfortable – but not basic – henley shirt. The button-up detail and high neckline will draw eyes toward the neck area. A simple white cardigan balances out the interesting shirt.
Bulls are usually big fans of leather (real or faux depending on your preference), so add some boots and a purse, which are both sure to please any headstrong Taurus. Add elegant, simple stud earrings for a pretty look.
Virgo (August 23- September 22)

Symbol: The Virgin
Traits: Organized, Thoughtful, Observant
Colors: Dark Brown, Navy Blue, Cream
Fashionable Virgos: Rachel Bilson, Blake Lively, Nicole Richie
Virgos pay a lot of attention to detail and always try to look neat and polished, even with the most casual outfits.
Girls under this sign love simple clothing and would never wear anything too flashy, too tight or too revealing.
Virgo girls are willing to try new trends, but usually opt to pair them with classic and timeless pieces.
Virgo Outfit for Inspiration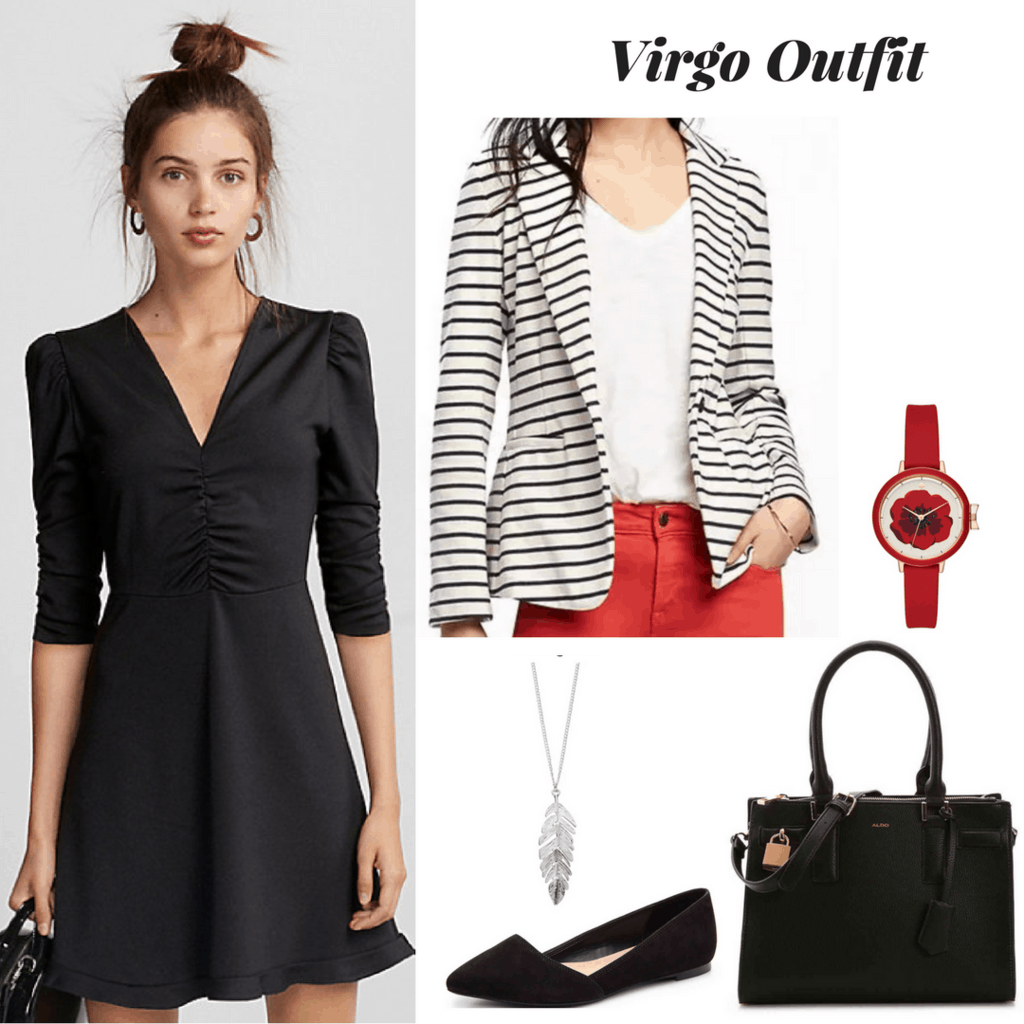 Products: Dress – Express, Blazer – Old Navy, Watch – Kate Spade, Necklace – Kohl's, Flats – DSW, Bag – DSW
Virgos like to look polished no matter where they go, and this outfit exemplifies that. It's hard to go wrong with a Little Black Dress and basic black flats. This dress should appeal to most Virgos due to its simple structure, which makes it easy to dress up with accessories. A fitted, classic striped blazer streamlines the look and a sturdy tote bag is roomy enough for all of your belongings.
A bold red watch is perfect for the ever-punctual Virgo. The black flats are a comfortable choice for day or night. Finally, accessorize with a fun necklace.
Capricorn (December 22- January 19)

Symbol: The Goat
Traits: Mature, Practical, Ambitious
Colors: Black, Dark Gray, Brown
Fashionable Capricorns: Zooey Deschanel, Sienna Miller, Kate Bosworth
Capricorns tend to stick with a neutral color palette and like vintage-inspired pieces.
This sign likes a no-frills wardrobe and is all about pieces that are both comfortable and functional.
Capricorn girls like simple silhouettes and a look that exudes understated elegance.
Capricorn Outfit for Inspiration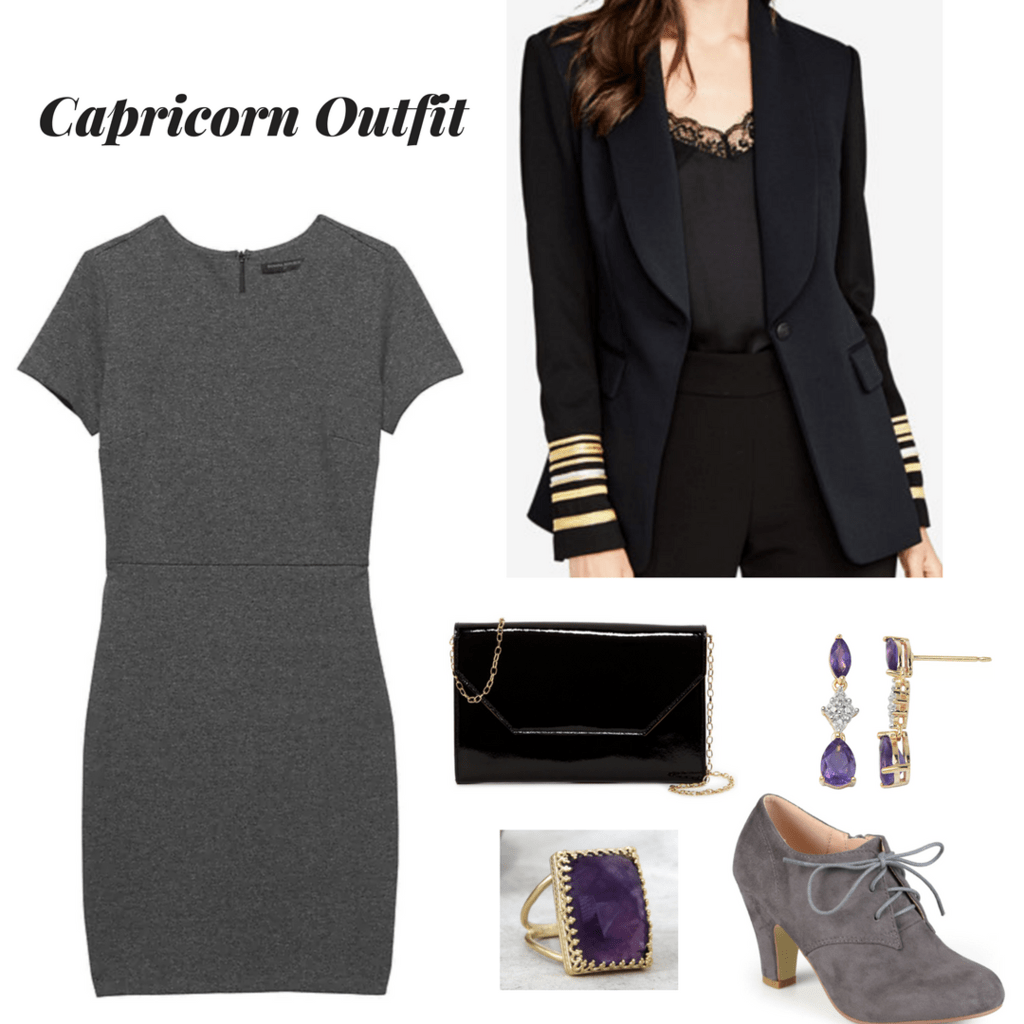 Products: Dress – Banana Republic, Blazer – Macy's, Shoes – Kohl's, Clutch – Nordstrom Rack, Earrings – Kohl's, Ring – Etsy
This look is all about sticking with an entirely neutral color palette while still looking practical and fashion-forward. The gray dress is comfortable, casual, and elegant. We've paired the dress with a subtly striped blazer to continue the understated elegance theme. In general, Capricorns are drawn to pieces that could also be worn in an office setting.
Finish the outfit with gray oxford heels for vintage-inspired styling. A functional and sleek clutch adds a formal touch. Accessorize with purple-and-gold jewelry to add small pops of color.
More in this series:
What's your sign?
Do you believe in astrology? Are you an earth sign? If so, does your style resemble your zodiac sign? Would you wear any of these outfits? Do you admire a celeb who shares your zodiac sign? Leave a comment to let us know and I hope you enjoyed this series!