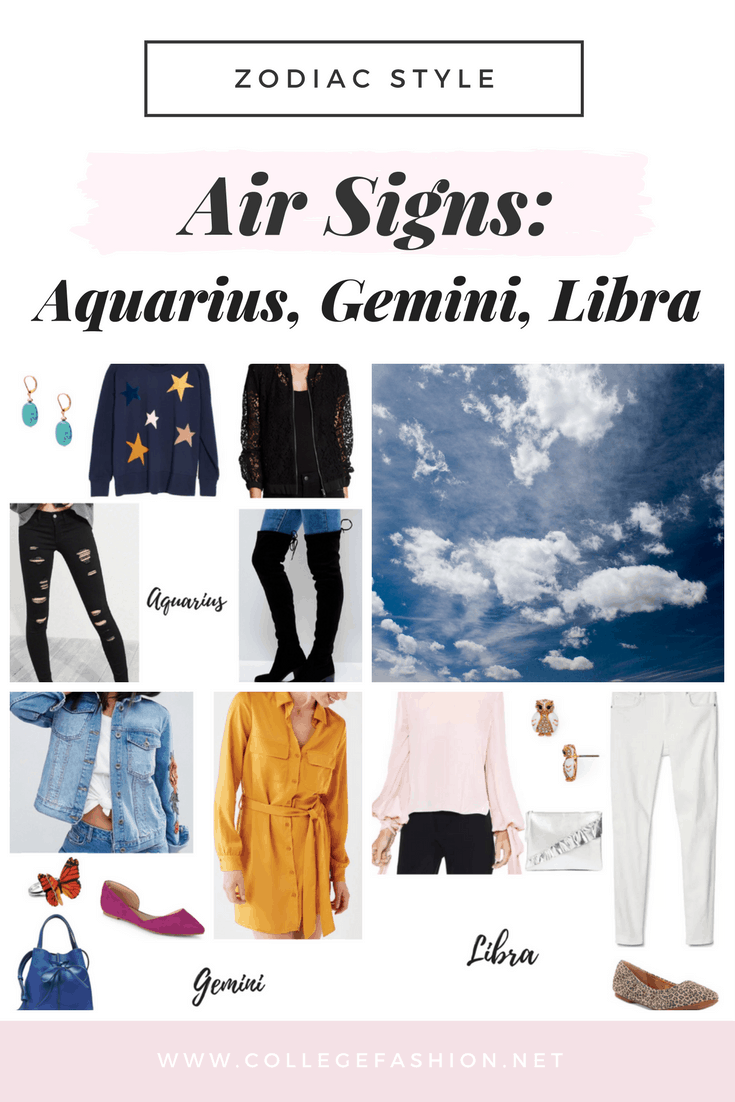 Do you believe in astrology? Whether you take it seriously or scoff at the idea, chances are you know your zodiac sign and have read your horoscope at least once in your life. Did you know that astrology can also go beyond personality traits and likes/dislikes? Some people believe astrology rules how we dress and partially dictates our personal style.
To explore the link between fashion and the stars, this column will break down the style of each astrological sign and include outfits inspired by the zodiac.
For the first installment, we will be looking at air signs (Aquarius, Gemini, and Libra). Air signs supposedly are good communicators, flexible, and set high standards for themselves — especially style-wise. However, each of these signs has their own unique style, which you can check out below:
Aquarius (January 20- February 18)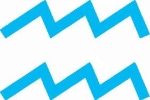 Symbol: The Water Bearer
Traits: Eccentric, Independent, Open-Minded
Colors: Violet, Turquoise, Blue
Fashionable Aquarians: Lauren Conrad, Chloe Grace Moretz, Alicia Keys
Aquarians have a unique sense of style that is best described as quirky and fashion-forward.
They are usually the first to rock a new trend and don't mind breaking fashion "rules" as long as they stay true to themselves.
Water bearers love bright colors and try to incorporate them into every outfit– even if it's just a small pop of color.
Aquarius Outfit for Inspiration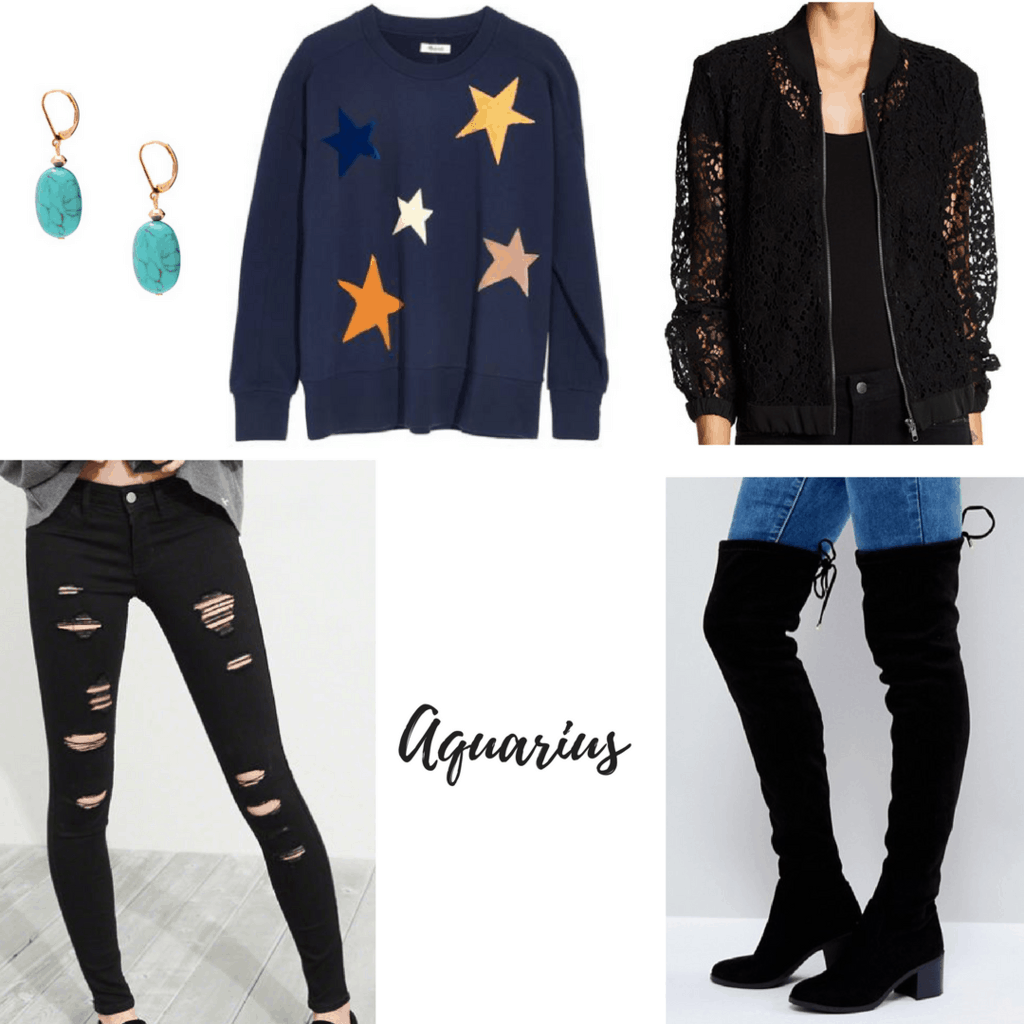 Products: Top – Madewell, Jeans – Hollister, Jacket – Joe Fresh, Boots – ASOS, Earrings – Ralph Lauren
This outfit captures the quirky and cute style Aquarians are known for. The sweatshirt has an adorable starry print which I paired with edgier ripped black jeans. Layer the top under a trendy black lace bomber jacket and add some ever-popular over-the-knee boots. The sweatshirt and jeans continue the laid-back look, while the jacket and boots maintain the fashion-forward vibe. Accessorize with some turquoise earrings to add a pop of color and pick up on the blue of the sweatshirt.
For more on how to dress like an Aquarius, see our ultimate Aquarius style guide.
Gemini (May 21- June 20)

Symbol: The Twins
Traits: Witty, Charming, Adventurous
Colors: Orange, Yellow, Magenta
Fashionable Geminis: Mary-Kate and Ashley Olsen, Zoe Saldana, Natalie Portman
Geminis embrace youthful, eclectic and funky styles.
Like their symbol suggests, Twins have dual personalities when it comes to clothing. Anything goes with them, but they especially love mixing casual basics with bold and one-of-a-kind pieces.
Girls under this sign like outfits that are playful and flirty yet still look put-together.
Gemini Outfit for Inspiration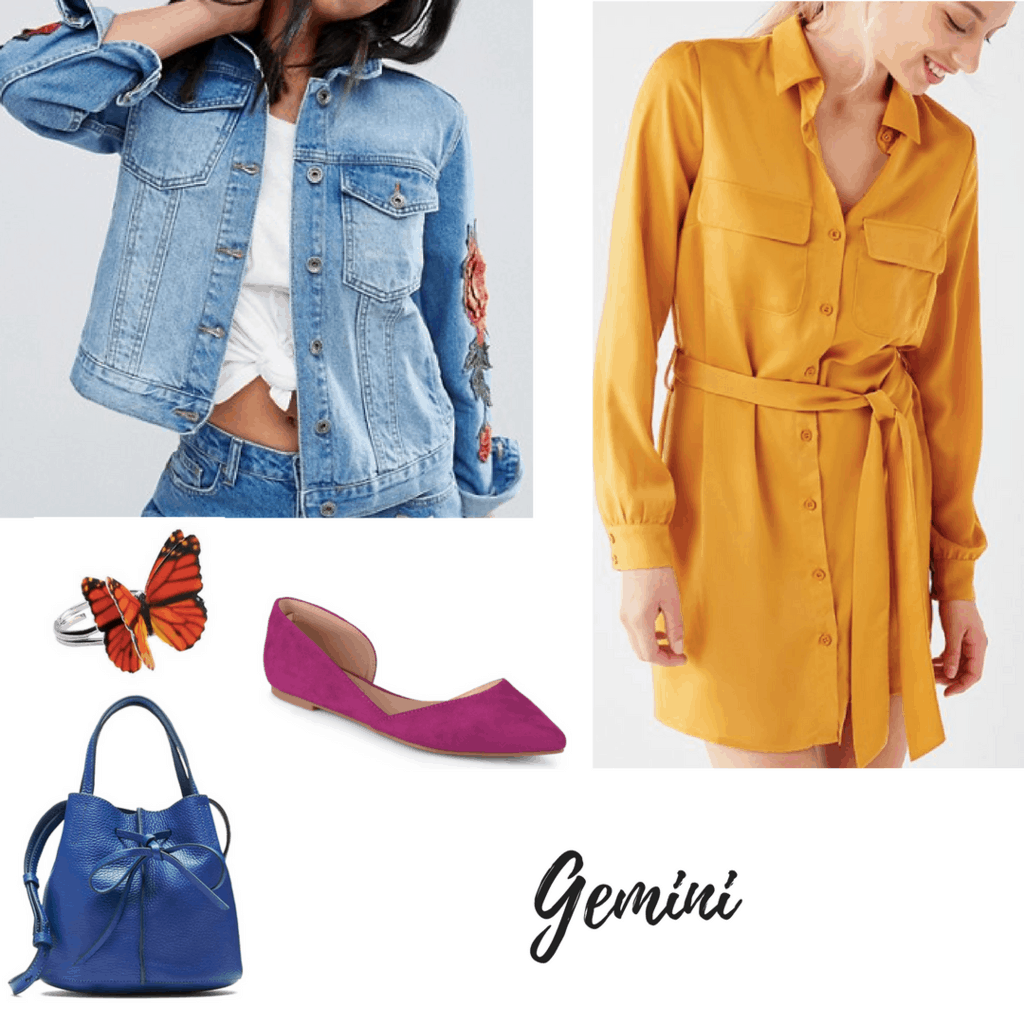 Products: Dress – Urban Outfitters, Jacket – ASOS, Ring – Etsy, Bag – Banana Republic, Flats – Kohl's
This sign loves to find the balance between casual and playful and this outfit does just that by taking wardrobe staples to a whole new level. Shirtdresses are anything but boring in bold, bright colors. The casual denim jacket is punched up with floral embroidery. Geminis rule over the hands and are an air sign, so I added a butterfly cocktail ring in a Gemini color. The bow bag is charmingly fun yet structured. Hot pink flats have the flirty and youthful look Geminis love, while still maintaining a simple shape.
For more on how to dress like a Gemini, see our ultimate Gemini style guide.
Libra (September 23- October 22)

Symbol: The Twins
Traits: Lovable, Sincere, Generous
Colors: Ivory, Pink, Light Blue
Fashionable Libras: Hilary Duff, Kim Kardashian, Gwyneth Paltrow
Libras have a feminine, romantic style and a love of all things luxurious.
They are very fashion-conscious and always try to look their best, but would never be caught dead looking too flashy or gaudy.
This sign strives to find the perfect balance between casual and glamorous, without breaking the bank.
Libra Outfit for Inspiration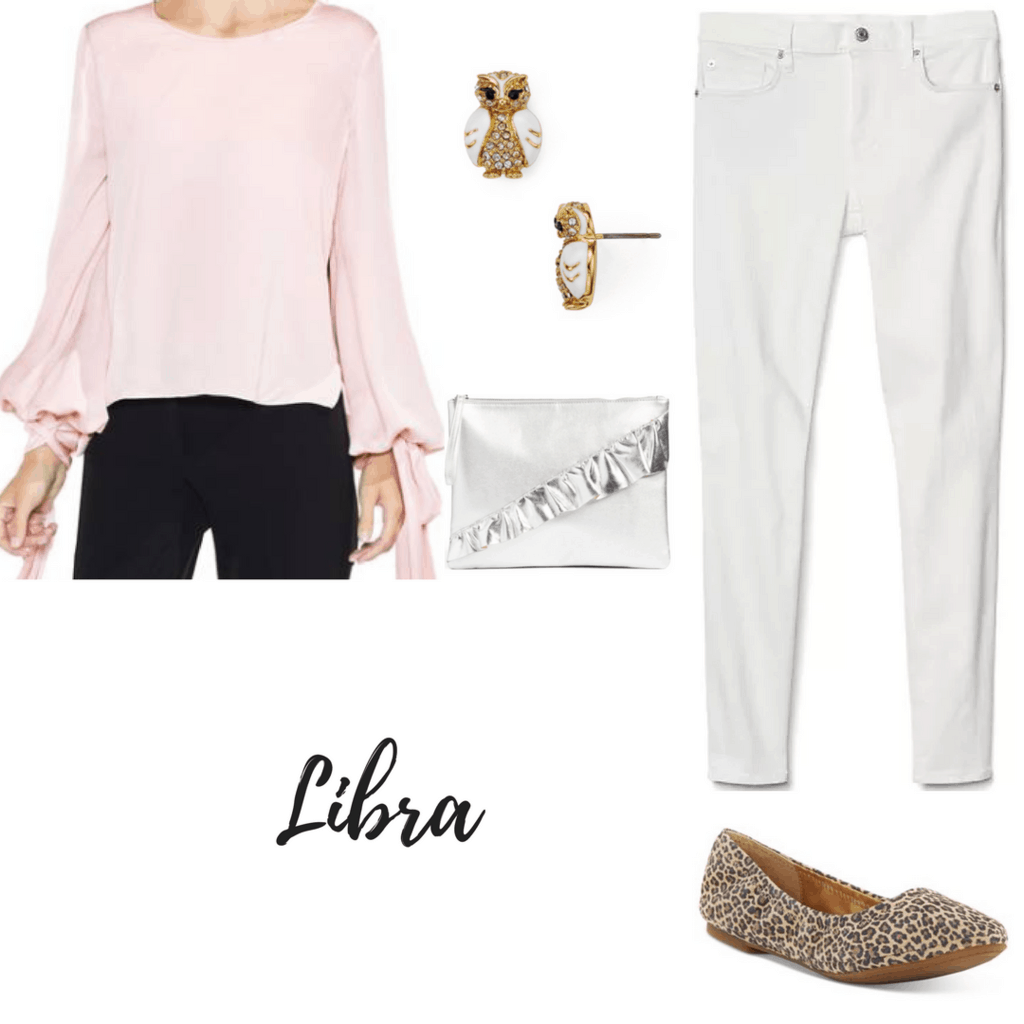 Products: Blouse – Vince Camuto, Jeans – Gap, Clutch – Nordstrom, Earrings – Kate Spade, Flats – Macy's
Libras are all about soft and romantic outfits with a professional feel to them. The blouse is made out of a luxurious-looking fabric with feminine detailing and is paired with classic white jeans. White jeans look great with the color of the top and are both elegant and comfortable. Add some leopard print flats and a ruffled clutch for a chic touch and textural interest. Finish this look with some cute earrings with an owl motif for a hint of whimsy.
What's your sign?
What are your thoughts on astrology? Are you an air sign? If so, does your style resemble your zodiac sign? Would you wear any of these outfits? Do you admire a celeb who shares your zodiac sign? Leave a comment to let us know and be sure to keep an eye out for the next installment!
Editor's note: This post was originally published in 2010; it was completely updated and revamped in 2018 by Sharon with new photos, outfit sets, and information.