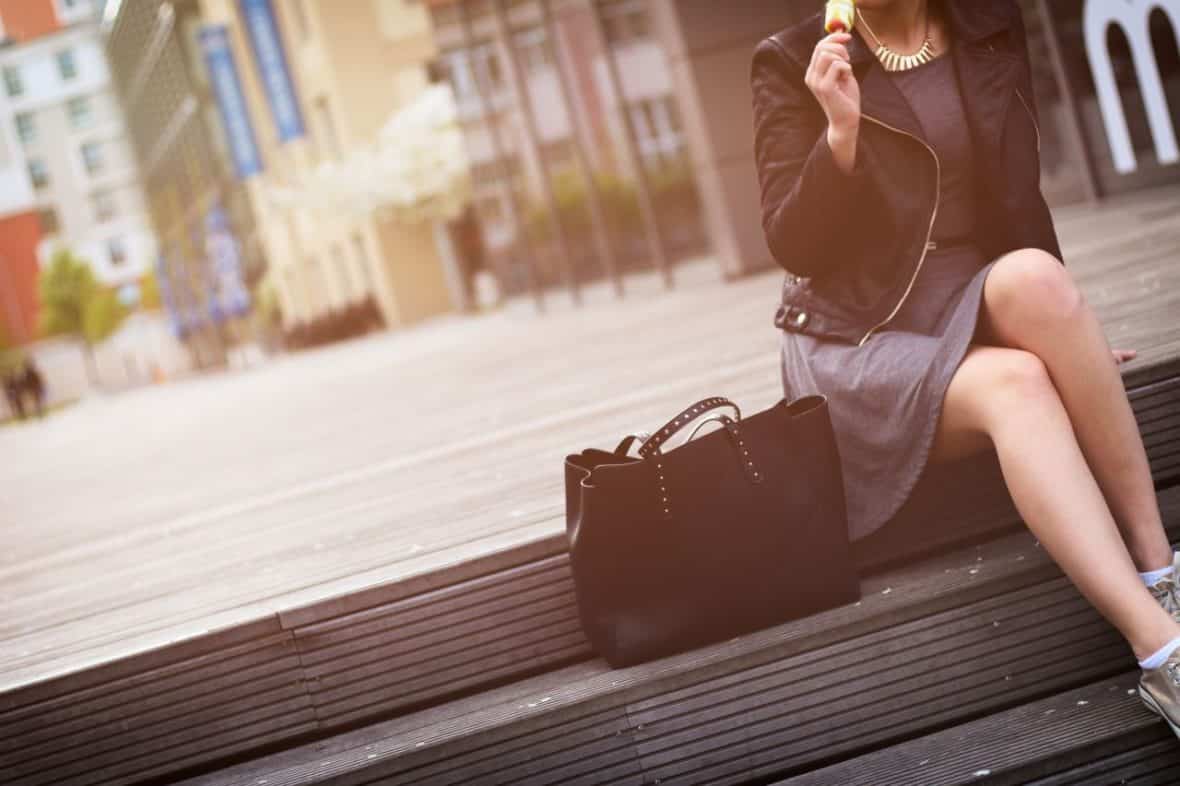 Of all the adulting things out there, running errands feels like the most Sisyphean task to me – like, how many times a month do I really have to run to the bank? How many times do I have to go to the post office? Get toilet paper? Groceries?
A lot, it turns out.
Even in college, I had to block out part of every weekend (and, let's be real, a couple of weekdays each week) to get the small ish done that allows me to, y'know, be alive and contribute to society.
And then, there's the question: What to wear to run errands?
It is very, very tempting to throw on a pair of ratty leggings and a giant sweater for running errands – trust, I've been there. But, over the years, I've found that dressing up a little – not a lot, just a little – makes running errands more bearable. Not only are you feeling yourself, but you're putting your best foot forward when facing your day. Plus, if you're already looking cute, you don't have to go home to change to meet your friends for brunch. #winning
Here are my favorite no-fuss outfits for running errands:
Outfits for Running Errands: French Girl Cool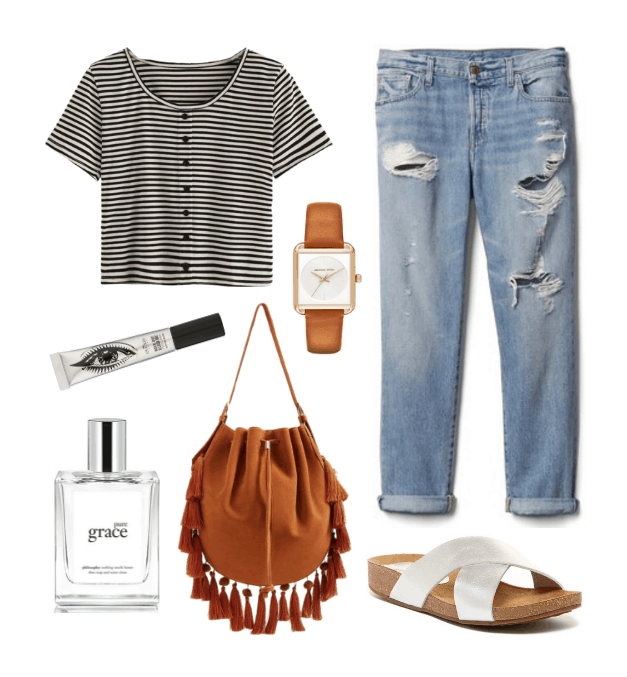 Products: Tee: Amazon | Watch: Nordstrom Rack | Jeans: Gap | Mascara: Selfridges | Perfume: Nordstrom | Bag: MANGO | Slides: Nordstrom Rack
Nothing is more effortless and cool than a slouchy striped tee paired with some artfully ripped boyfriend jeans. This is the perfect canvas for a casual-cool look that makes running errands a breeze.
Play up the French-girl cool vibe with a sleek but minimal watch, neutral slides, and a fun purse in a warm, sunny cognac color. These accessories make the look as functional and comfortable as it is effortless.
Finish the look with a fresh and crisp perfume and inky, long lashes – you never know who you'll bump into at the grocery store, right?
Outfits for Running Errands: Ooo, Shiny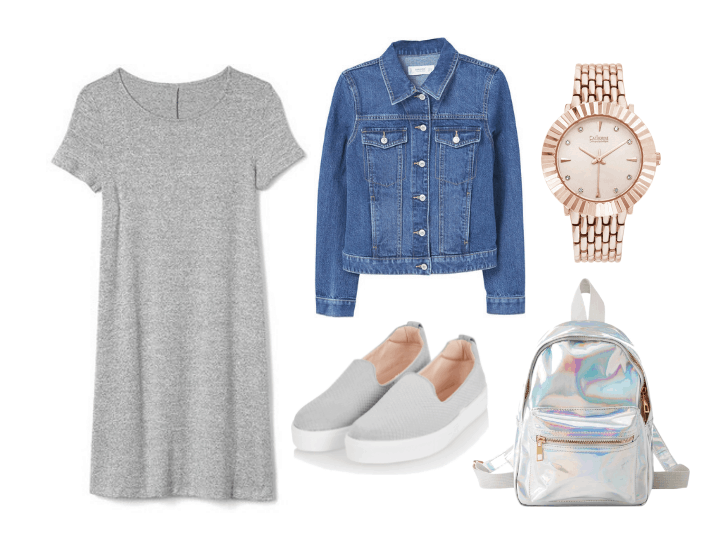 Products: Dress: Gap | Jacket: MANGO | Watch: Nordstrom Rack | Sneakers: TopShop | Backpack: Charlotte Russe 
If you're looking for something a little more fun and youthful, then try pairing a swingy but ultra-comfy tee shirt dress with a jean jacket (or a leather jacket, for a little more heft on chillier mornings)!
A tee dress in a neutral color like the dove gray above can be paired with anything, but fun accessories like a rose gold watch and a holographic backpack add a touch of whimsy and trendiness that may bring a smile to your face – even when you're standing in line at the DMV.
Finish with a pair of textured but neutral sneakers for an extra bit of interest that won't leave your feet sore – very important when you're running around all day!
Outfits for Running Errands: All-Black Everything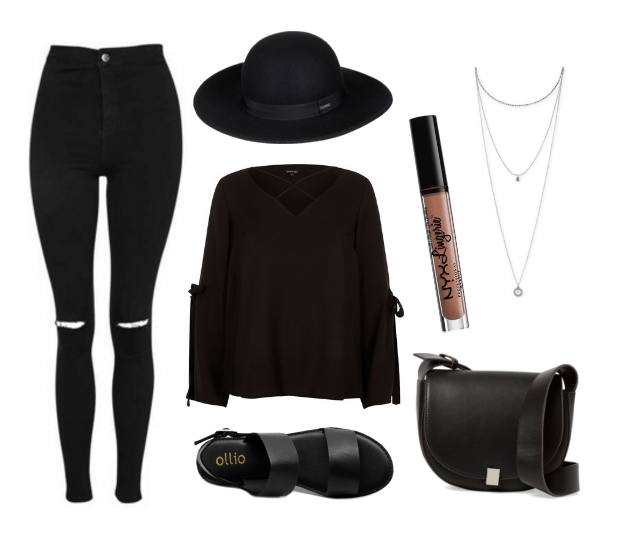 Products: Jeans: TopShop | Hat: Roxy | Top: River Island | Sandals: Amazon | Lipstick: Macy's | Necklaces: Macy's | Bag: Gilt
And then, there are the days where nothing but an all-black outfit will do (or you just want to get your Stevie Nicks on, which, hey girl, been there). Luckily, this chic and timeless look is perfect for running errands because it's stupid easy to pull together and looks absolutely effortless.
A floaty blouse with a trendy tie-up front adds a flirty vibe that tempers the severity of an all-black look, while ripped moto jeans add a little bit of edge. Wide-strap sandals are comfortable but functional in the best kind of normcore way, while a modern cross-body bag adds a sleek, polished element.
Finish the look with a couple of cute silver necklaces, a fashionable hat, and a pinky-nude lip for a boho-esque look that wouldn't look out of place at the bank or the farmer's market.
What do you think?
What do you wear to run errands? Which of these looks is your favorite? What are your go-to looks for other 'adulting' tasks? Let me know in the comments below!