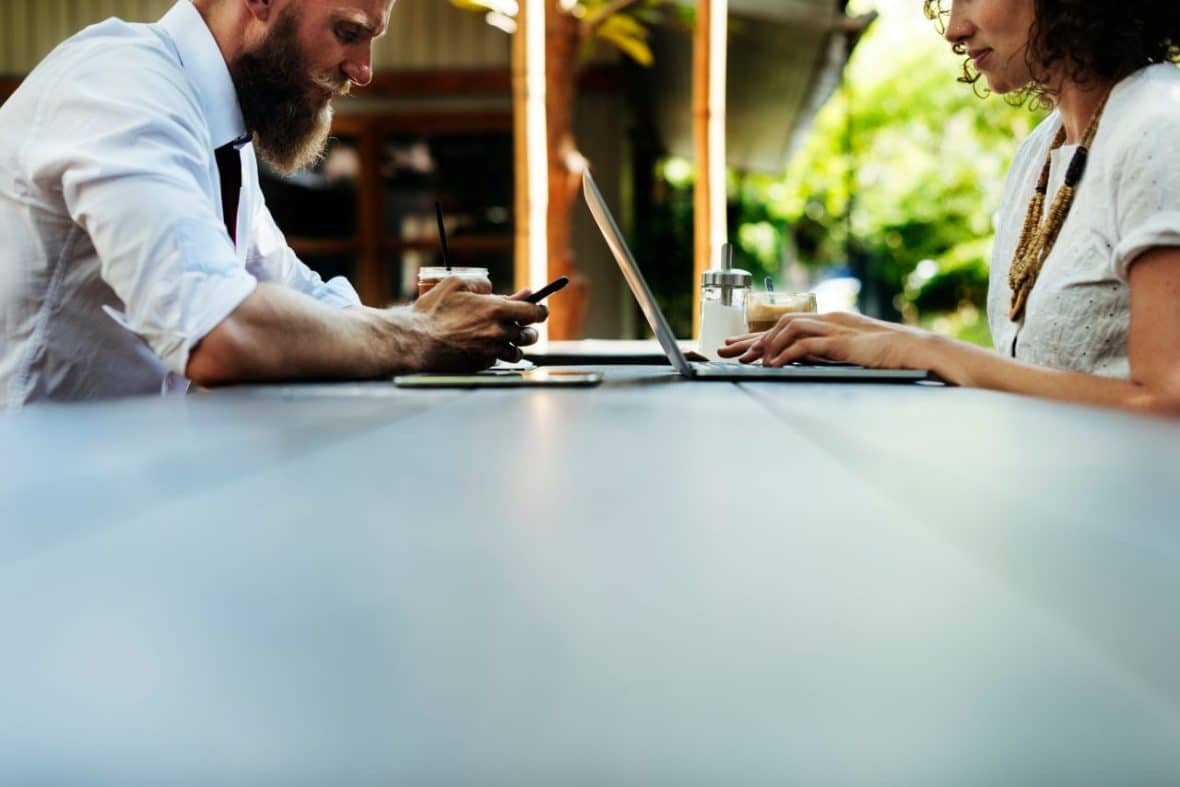 Whether you're working for a giant corporation or a tiny team, chances are you'll be invited to some off-the-clock bonding with your coworkers at some point. Whether you're team #noworkfriends or you've just moved to a new city and you're dying to find your new tribe, you should make it a priority to go to at least a few of these activities.
Think about it: you spend 40 hours or more each week with these people working towards the same goals. Chances are, you have some stuff in common that will make them good candidates for friends – or at least, a friendly relationship. Plus, it is soooo much easier to come in to work when you love being around your coworkers. So go get the drinks, go to the party, build great relationships, reap all the benefits. It's a win-win for you!
But then, another issue arises…what do you wear when going out with coworkers?
It's tricky to know what to wear out with coworkers: You're meeting these folks after hours, so your workplace dress code doesn't exactly apply, but you can't exactly dress the way you would when going out with your friends at college, either. It can be hard to strike that balance!
Below, I'll show you three outfit ideas for going out with coworkers. All of these looks strike the right balance of polished and laid-back, so you'll look perfectly appropriate.
After Work Drinks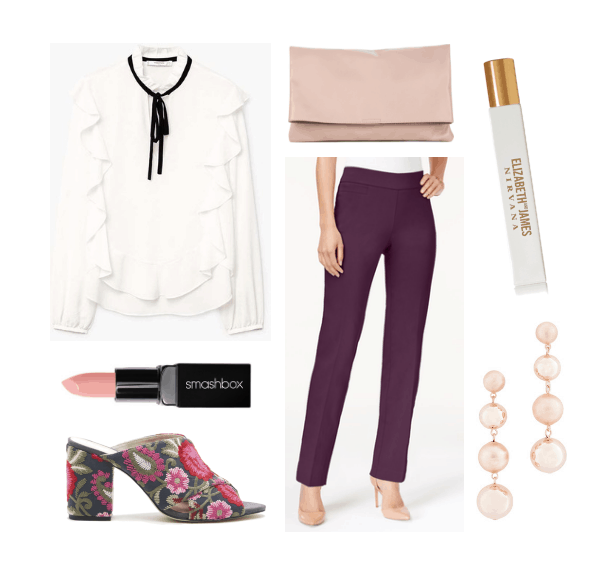 Products: Blouse – MANGO,  Bag – Sole Society, Perfume – Net-a-Porter, Lipstick – Gilt, Mules – Sole Society, Pants – Macy's, Earrings – ShopBop
Depending on your team, this is probably the most common invite you'll get – and often the most tricky to dress for.
If it's a last-minute invite or impromptu get-together, you'll just be working with what you wore to the office today (this would be a good opportunity to pull out your emergency heels), but if you have a little heads up (read: coworker's birthday, holiday get-together, goodbye drinks, etc) you've got some options.
I personally like incorporating pieces with flirty, not sexy, details, like ruffles, florals, bow-tie accents, or femme colors, or more daring trends (like the floral mules above) for a more fashion-forward and bold look. A confident and current look like this is dressy enough for a cocktail bar or downtown restaurant, but it's trendy enough for the hipster ramen place that just opened up.
Plus, pairing bolder pieces, like embroidered mules, with your regular office pieces, like colored trousers, will give your coworkers a sense of your style outside of work without pushing you past the boundaries of your office dress code.
Weekend Team Building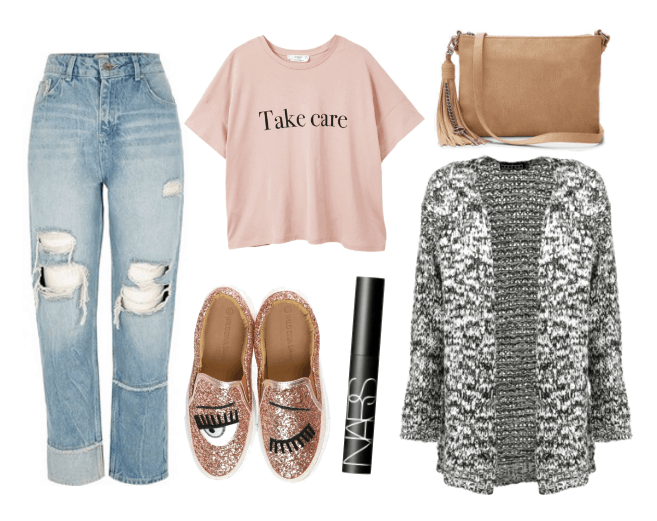 Products: Jeans – River Island, Tee – MANGO, Bag – Express, Flats – Traffic Shoe, Mascara – Sephora, Cardigan – Boohoo  
Weekend meet-ups are common in many workplaces. Some teams will have team-building activities over the weekends – especially in the fall, when pumpkin picking, orchard visits, corn mazes and sporting events abound. Or maybe you've hit it off with a coworker and they've invited you to a friend date, like a midday movie or boozy brunch. In either of these cases, you're looking for a casual and comfortable look that speaks to your weekend style but is still polished and somewhat conservative.
The good news is, you can play here with trends that might not fly in an office setting, like ripped jeans, statement tees, and sparkly flats. Again, all of these should be fairly toned down, comparatively (no invisible jeans, please), but, again, pairing them with familiar silhouettes (like the mom jeans trend) and extra cozy pieces (like the marled cardigan) will make these trends seem youthful and interesting, as opposed to too 'out-there.'
Coworker's House Party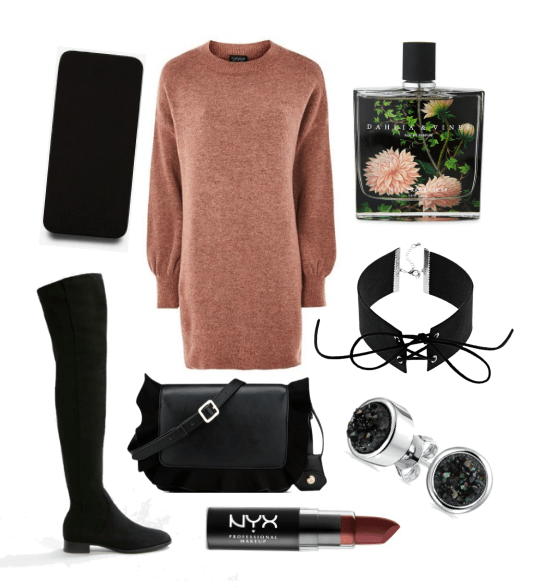 Products: Tights – Express, Sweater dress – TopShop, Perfume – Bergdorf Goodman, Choker – Kohl's, Boots – MANGO, Bag – Nine West, Earrings – Amazon.com, Lipstick – NYX
Once you get to the "I'm-willing-to-have-you-over-at-my-house" stage with a coworker, it's safe to say that you can pretty much rock your regular after-hours look. However, a party at a coworker's place could get a little tricky if other folks from work that you're not as tight with show up.
You have more leeway here than any of the previous looks (house parties aren't generally super formal), but it can't hurt to stick to more covered-up looks, even if you're veering more towards the casual (or night!) side of things – like pairing a shorter sweater dress and over-the-knee boots with a pair of opaque tights for a covered-up and streamlined look. You can also rock trendier accessories and beauty looks, like darker lipstick or a choker necklace – just avoid pairing these with super-sexy clothing or a lot of skin.
What do you think?
Are you friends with your coworkers? What are your tips for casual dressing when out with people from work? Would you wear any of these looks? Let us know in the comments below!