It's the week of Thanksgiving! The moment that you've waited for has arrived, and you are more than ready to head back home for the holiday. When it comes to packing for such a short break, packing light is almost required (especially if you're the jet-setting type).
However, that doesn't mean restricting your style! (If anything, look at it as practice in minimalism and improvisation.) Grab your favorite fashion stand-bys and get packing! Here's what to pack for Thanksgiving break:
Related reading: 20 Cute and Cozy Thanksgiving Dinner Outfits
Travel Outfit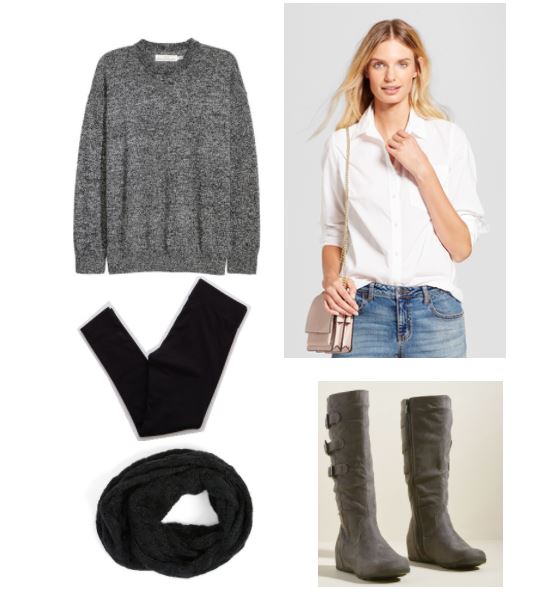 Products: Leggings – American Eagle, Shirt – Target, Sweater – H&M, Boots – Modcloth, Scarf – Nordstrom
When traveling, comfort is key. Whether you travel by train, plane, or automobile,  you'll be in a cramped space, sitting for hours at a time. You might as well be as comfortable as you can be, so grab your leggings!
If you're being subjected to a luggage limit (such as just one carry-on), layer up with your heaviest things, like your favorite sweater and boots. Layer a button-up under your sweater for a cute, preppy look. Finish with a chunky scarf and you'll be ready to cozy up during the in-flight movie!
You need to pack…a fancy dinner outfit
Products: Dress – Modcloth, Leggings – American Eagle, Booties – Charlotte Russe, Scarf – Nordstrom, Eyeshadow – Maybelline, Lipstick – Macy's
Repeat some details from your travel outfit in your dinner get-up to save some space in your suitcase! Just because the outfit is simple with only a few components doesn't mean that it's not cute.
The dark colors of the scarf and leggings let the dress and lipstick stand out as the awesome pops of color they are, and the booties keep things dressed up. Finish with a shimmery neutral eye (or a natural smoky eye, you do you) and you're ready to impress family or friends at the Thanksgiving table!
You need to pack…an outfit to chill in.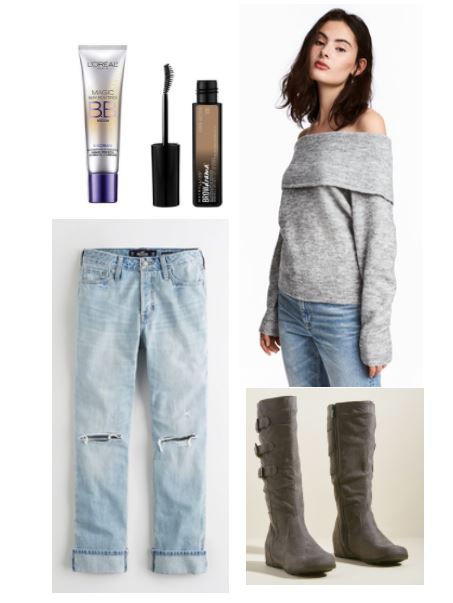 Products: Jeans – Hollister, Sweater – H&M, Boots – Modcloth, BB Cream – Target, Brow Gel – Target
While you still need to pack the essentials (toiletries, socks, underwear, maybe a few tank tops to layer under your outfits), there's still room for a whole outfit!
Even if this outfit is lowkey, you can't deny that it's fashion-forward, the off-the-shoulder sweater elevating the look to something purposeful, even if you don't plan to do more than chill around your house.
The loose jeans keep everything casual (while minding any bloat leftover from a great Thanksgiving meal). Throw on the boots you wore while traveling, swipe on some lowkey makeup (BB cream and brow gel are must-haves for me) and you're ready for a last-minute hangout with friends!
Related reading: 16 Thanksgiving Nail Ideas for This Fall Season
What Do You Think?
Are you traveling this Thanksgiving? What are your travel and packing tips? What events have you busy this month–and how can we help you dress up? Let us know in the comments!