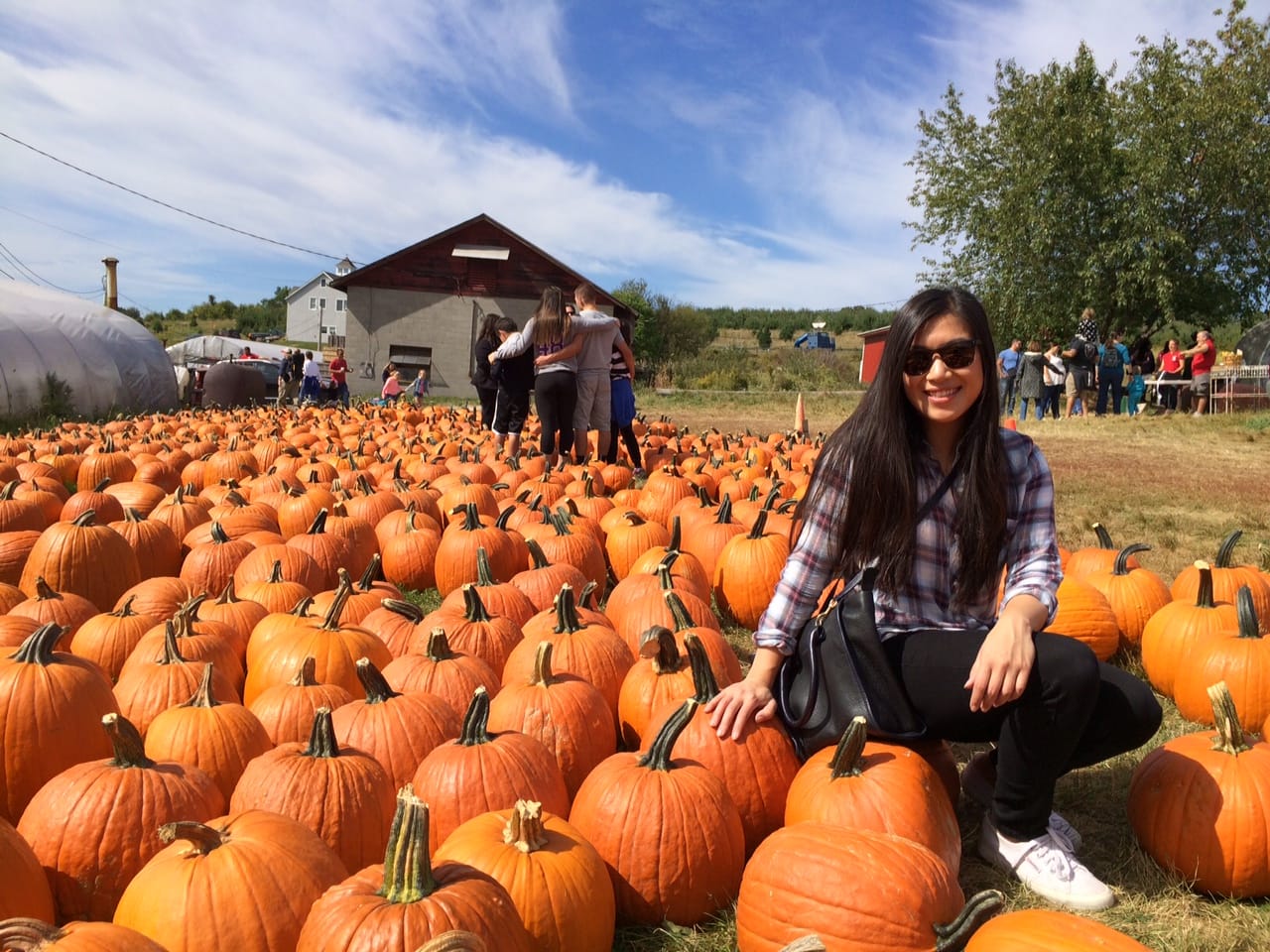 The days are getting shorter, the nights are getting chillier (and spookier!), the leaves are a-changing, the layers are out in full force, and the Pumpkin Spice Lattes are lighting up your tastebuds. (I've actually switched my allegiances to the new Toasted Graham Latte…yum!)
Even when I lived in California, autumn was always my favorite season, thanks to the triple whammy of Halloween, my birthday, and Thanksgiving. After relocating to the East Coast, I love autumn even more, since it actually gets colder here and the New England fall foliage is incredibly breathtaking.
Beautiful as it is, fall is fleeting. (Anyone remember when it snowed on Halloween a few years ago?) Take advantage of the cool, crisp weather and the many awesome autumn-associated activities this weekend!
What to Wear to:
Apple Picking or a Pumpkin Patch
Apple picking is the quintessential New England autumn activity.  The childlike glee at finding the biggest, juiciest apples and stuffing them into your bag, the fresh apple cider donuts glistening with sugar, the steaming cups of spiced cider: what's not to love? (If there aren't apple orchards in your area, try visiting a pumpkin patch!)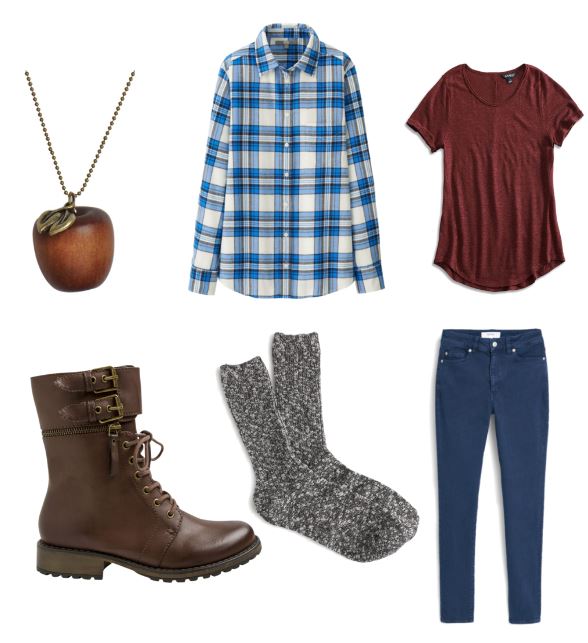 Products: Flannel, Tee, Jeans, Boots, Socks, Necklace
While it can get chilly in October, it's hard not to get sweaty lugging a heavy bag of apples around an orchard. Layer up with a cozy flannel and a soft tee to ensure that you don't get cold and/or overheat.  You'll be doing a lot of bending and reaching, so make sure you're wearing clothes are that easy to move in. Sturdy boots or sneakers are ideal for navigating the muddy and frequently uneven grounds. Lastly, avoid wearing delicate sweaters that can easily get snagged on branches.
Baking Delicious Treats
So you just picked 50 apples, which are now spilling out of the bag and onto your living room floor.  What now? The correct answer is: start baking! What better way to spend a golden autumn afternoon than by filling your kitchen with the tempting aroma of spices and caramelizing fruit? (So far, I've made an apple cake and a tarte tatin, given away apples to my neighbors, and I still have a bunch left over!)
I consider myself a pretty good baker, but I'm awful at keeping my workspace tidy; I rarely emerge from a baking session without flour smeared in my hair or batter clinging to my elbow. To combat my messy technique, I've started wearing a cute embroidered apron while I bake. While I don't have aspirations to achieve domestic goddess-hood, wearing an apron does make me feel like I've stepped out of an Anthropologie catalog! Here are some cute apron options for your next baking sesh: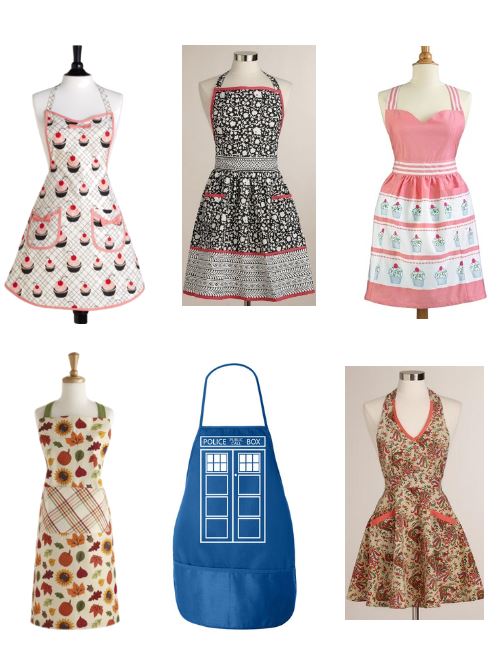 Products: Top Row L-R: One, Two, Three | Bottom Row L-R: One, Two, Three
A Haunted House
My idea of the ideal haunted house is one that is far, far away from me. While I'm an adrenaline junkie for roller coasters and other thrill rides, I'm the biggest baby when it comes to creepy corridors and things jumping out at me. Seriously, the Haunted Mansion at Disneyland still scares the living daylights out of me.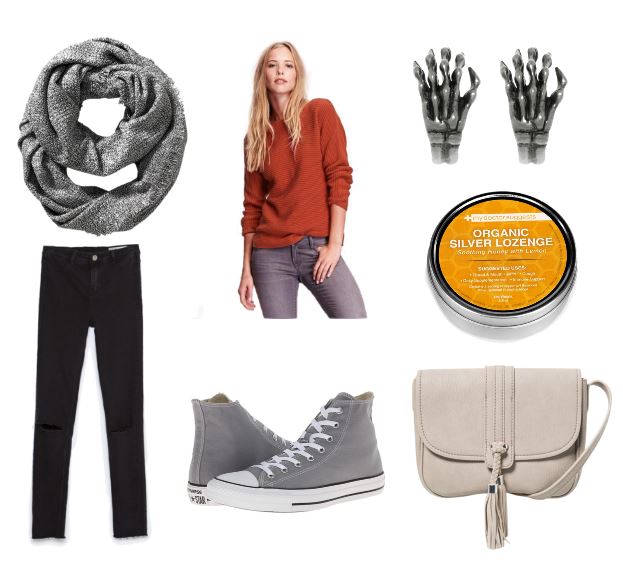 Products: Sweater, Scarf, Jeans, Bag, Shoes, Earrings, Lozenges
On the few occasions that I have been tricked/forced/guilted into entering such venues, my body's instant response has been to 1) run for my life, 2) shriek like a toddler being denied cookies, and 3) try my best not to pee myself. While you may be brave and not have quite such a visceral reaction, I still recommend a sturdy and reliable pair of shoes that will not fall off while you make a break for it.
While I have never been on a haunted hayride, my understanding is that you stay on the vehicle while things jump out at you. As such, I advise my fellow scaredy cats to bring along a cozy infinity scarf. Not only is it unlikely to fall off/get snagged on anything, it will make a handy face shield to hide behind when things get too scary. (This is the only way I can make it through any horror movie.)
What did you think?
Would you wear these outfits? What are some of your favorite things to do during autumn? Let us know in the comments!