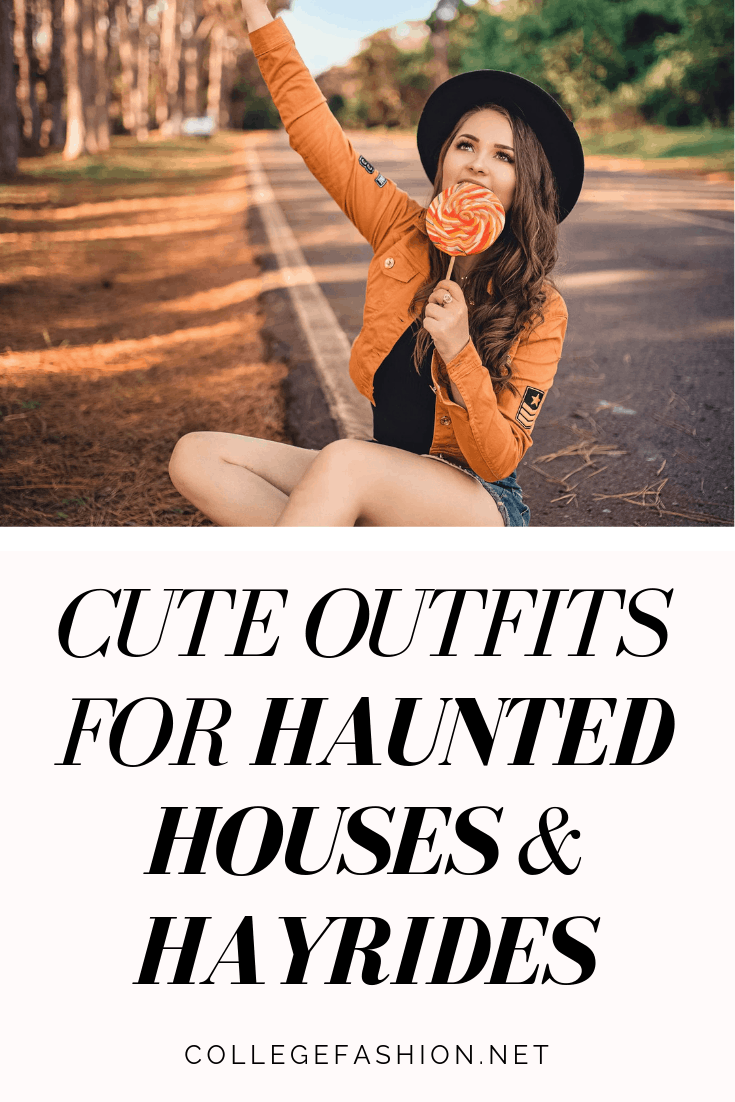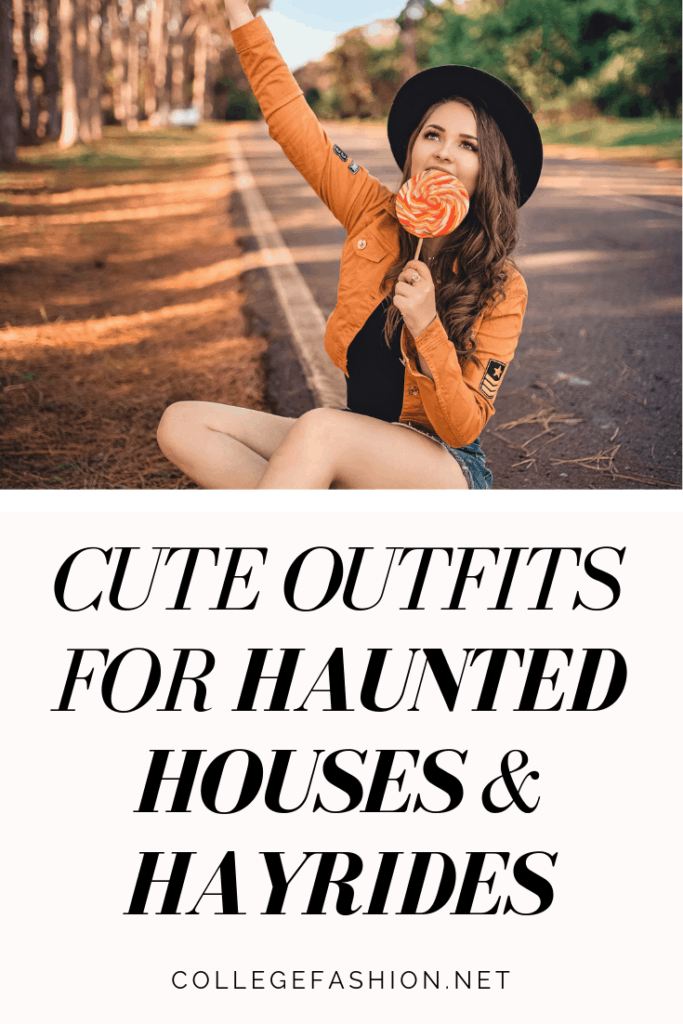 Let me just be honest: I'm not a massive fan of the spookiness that goes along with Halloween. I love many things about Halloween (and fall in general), namely carving pumpkins, eating all the candy my heart desires, and dressing up. But the scary stuff is NOT my forte.
Despite my lack of horror enthusiasm, I've been dragged to a few hayrides and haunted houses. I find haunted hayrides to be more doable, as you can sit in the center of everyone and avoid close contact with the scary guys. Haunted houses are worse – I literally bury my face into the back on the person in front of me and stare at my feet, ready to break into a sprint if a chainsaw guy appears.
With that being said, I'm sure many of you thoroughly enjoy haunted houses and will bravely lead a pack of your friends through the spooky hallways. So whether you are the fearless person that laughs at the scary people, or you are cowering behind a friend like me, I've put together three stylish – and spirited – outfits for you to wear to spooky Halloween houses and hayrides.
What to Wear to a Haunted House or Hayride – Outfit 1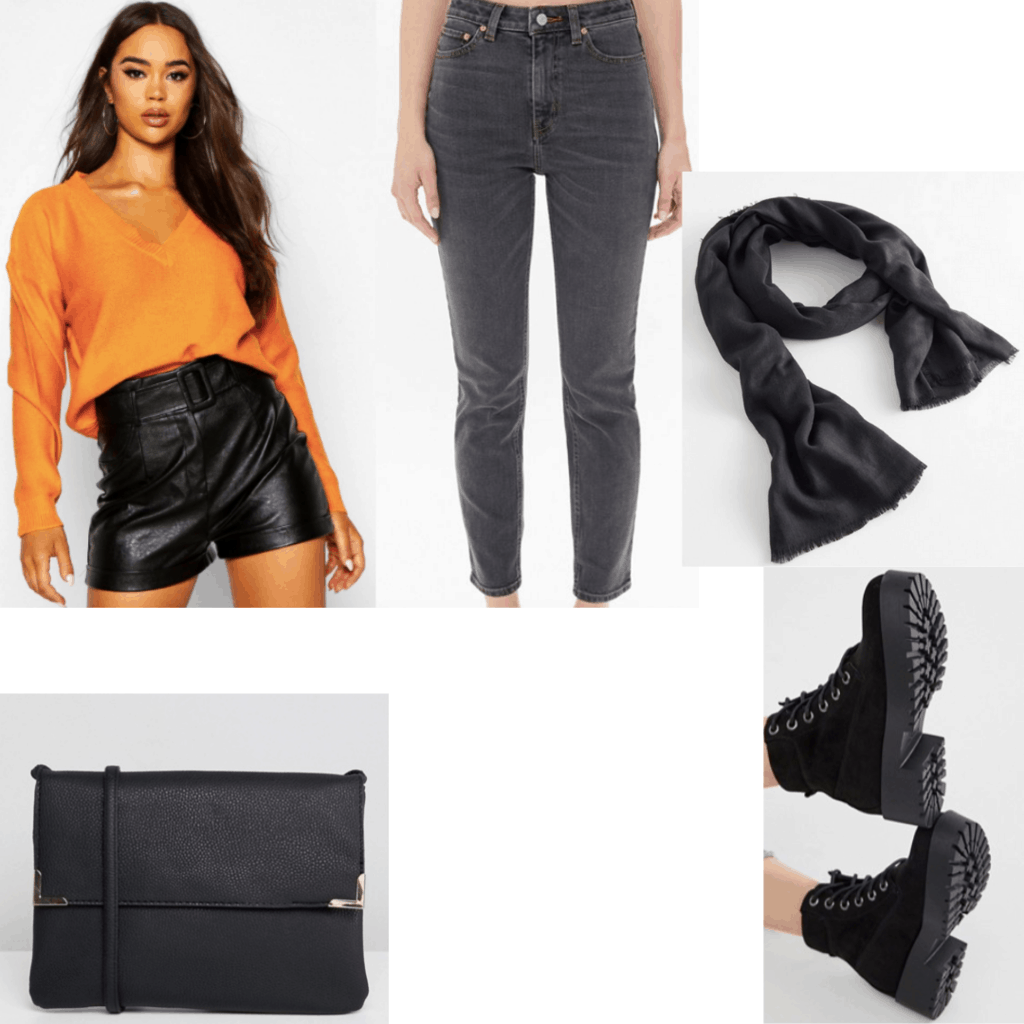 Products: Sweater – Boohoo, Jeans – Urban Outfitters, Scarf – Urban Outfitters, Bag – Asos, Boots – Asos
A bright sweater will keep you visible in case you lose your friends in the maze of hallways. (And it's really cute–that's a plus!)
The scarf is sort of like a makeshift "I'm so scared I'm going to bury my face so I don't have to look" mechanism. And it will keep you nice and toasty on a hayride. 
A cross body bag is a MUST. A clutch could easily be dropped while you're sprinting away from the chainsaw man and a big tote will just get in the way.
Finally, be sure to WEAR PRACTICAL SHOES!!! Some haunted houses have stairs or vibrating floors, or you may have to run, so stick with something grippy. These boots will be able to carry you safely throughout the haunted house.
What to Wear to a Haunted House or Hayride – Outfit 2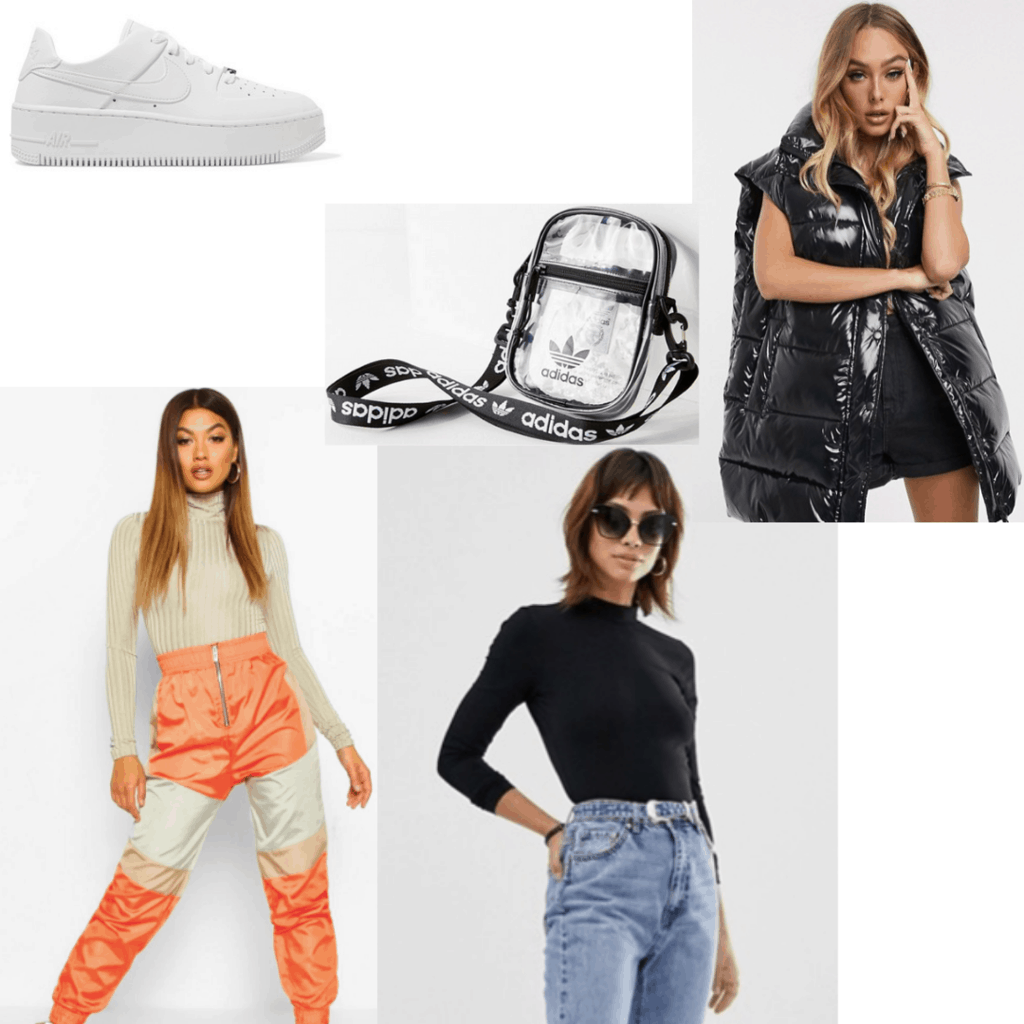 Products: Pants – Boohoo, Turtleneck – Asos, Vest – Asos, Sneakers – Net A Porter, Bag – Urban Outfitters
This trendy outfit would be perfect for a hayride, as these relaxed pants are comfortable to sit in for an extended period of time. If it's really chilly out, throw on some sweater tights underneath.
Double up on layers to keep you warm; here I did a turtleneck top and a puffer vest, but you could do a tank and blazer, t-shirt and bomber jacket, etc.
The sneakers are comfortable and will allow for easy haunted house navigation. Just grab your favorite black cross-body bag and you are good to go!
What to Wear to a Haunted House or Hayride – Outfit 3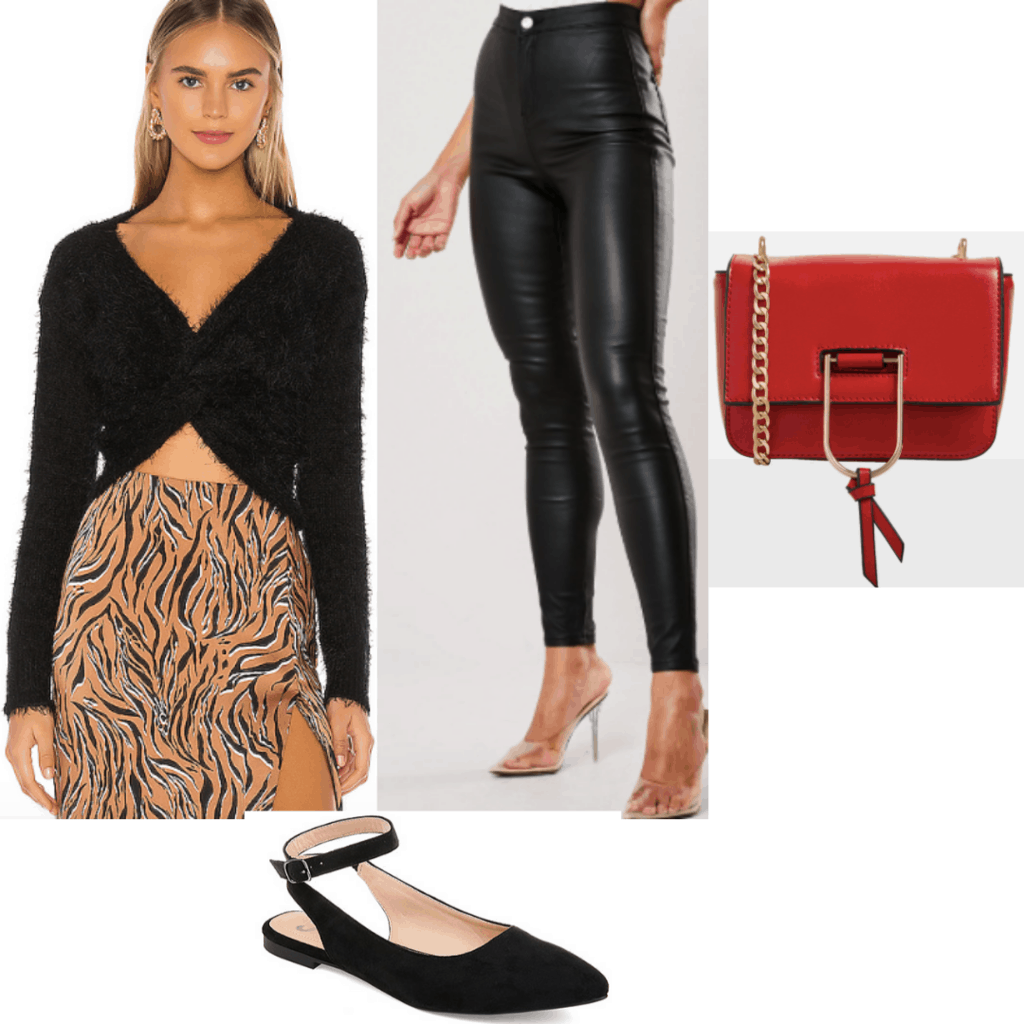 Products: Top – Revolve, Pants – Missguided, Shoes – JCPenney, Bag- Missguided
What could be more romantic than a walk through a haunted house? If you and your date seem to think that, then this outfit is for you. (Also, I think you are both slightly crazy.) This ensemble will easily transition from a nice dinner to a night full of spooks.
To start, these pleather looking jeans makes your outfit incredibly chic and will look cute for an event before the haunted house. This fuzzy sweater will keep you warm while also being totally on trend.
Again, stick to a cross-body bag and, when choosing your shoes, I would not recommend wearing flats without something that secures your foot to the shoe. Could you imagine losing your shoe in a haunted house and having to BACKTRACK TO FIND IT?! I would let the house take my shoe.
What do you think of our guide to what to wear to a haunted house?
Are you planning on visiting a haunted house this year? Which outfit is your favorite? Are you a scaredy cat like me? Or are you the fearless leader type? Do you prefer haunted hayrides or haunted houses? Let us know in the comments below!
Editor's note: This post was originally published in 2012; it was completely updated and revamped in 2019 with new photos and information.