This post may contain affiliate links, which means we may receive a commission if you purchase through our links. Please
read our full disclosure here
.
What Should I Wear…?! is a biweekly column that is here to answer that very question. If you have an event coming up that has you stumped fashion-wise, this is guaranteed to be your best source for outfit inspiration when you need it the most!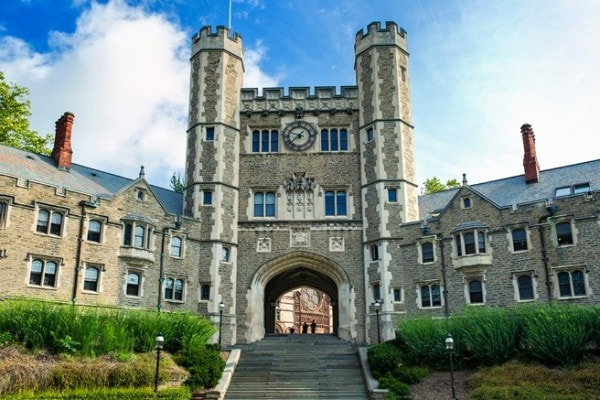 Photo: ELLE
Remember when picking out a first-day-of-school outfit was a stress-inducing task? Like when you were entering high school and just knew the shade of denim you wore on orientation day would impact the next four years of your life.
Now that you're older, wiser, and (hopefully) less self-conscious, you're probably more concerned about what to pack for your dorm rather than purchasing an entirely new back-to-school wardrobe. That said, whether you're an incoming freshman or a seasoned senior, the first day of fall classes still becomes one of those "What Should I Wear… ?!" moments.
All first day of class outfits need to be school-appropriate and communicate that you are ready for another school year to start, but should also express some of your personal style and show that you had an amazing summer break.
For this post, I drew inspiration from several fab summer vacation destinations, as well as a few of my favorite fictional high school/college students to create stylish looks that can be worn once you head back to campus.
Not only will these outfits help you "ace" those first impressions, but they also include a lot of pieces that will work throughout autumn. Scroll down to see all six looks:
Hamptons, Not Homework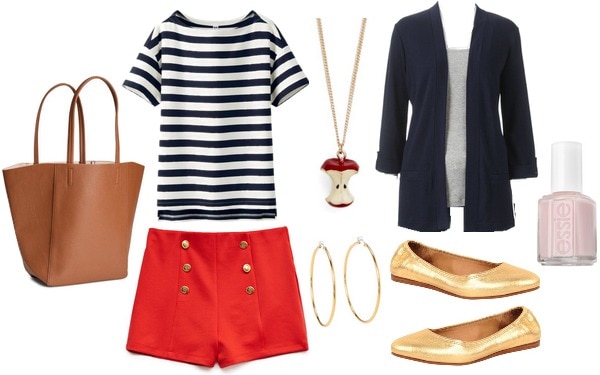 Product Information: Top, Bottoms, Cardigan, Shoes, Bag, Earrings, Necklace, Nail Polish
Whether or not you actually vacationed in the Hamptons this summer, this look is for the girl who loves preppy East Coast style so much that she gets extra credit for carrying it into her back-to-school outfits.
Classic wardrobe staples, such as the striped tee and cognac tote, are juxtaposed with fun and modern elements, like bright red sailor shorts and a necklace that symbolizes a half-eaten "apple for teacher." (Perhaps in protest to the start of the school year?) That preppy vibe is even carried into the aptly named "East Hampton Cottage" nail polish.
If this is your style, you're smart enough to know you need a cardigan for chillier classrooms ("setting the curve" for the other outfits to follow) and that flats are the preferred choice over sandals. After all, flats transition better into fall and provide a ready-for-school vibe rather than a "I'm ready for a sailboat ride!" one.
Queen B-each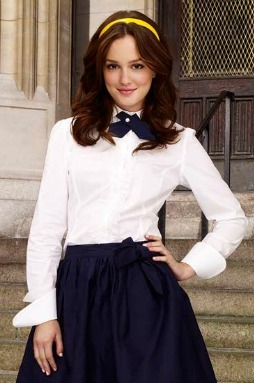 Official Promotional Image
Instead of the Hamptons, I'd like to imagine that Blair Waldorf spent her summer on the West Coast. Okay, at the most, she took a short trip before heading back to her beloved NYC.
But still, this made me wonder what a classic Queen B outfit with a bit of a boho flair would look like. Well, if you're more of a B than an S style-wise, then this California casual spin on the Constance Billard uniform will liven up your back-to-school look: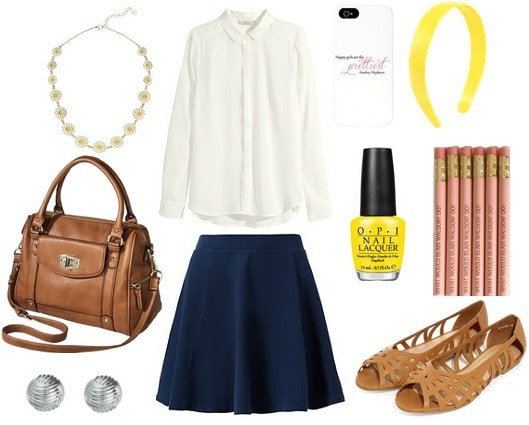 Product Information: Top, Skirt, Shoes, Bag, Headband, Necklace, Earrings, Nail Polish, Phone Cover, Pencils
As someone with a personality – and wardrobe – reminiscent of Blair's, I understand how this affects you. No, we will never own Vans or have hairstyles that use products with words such as "sea" in their names, but that does not mean we are limited when it comes to summery trends, or that we have to be paralyzed when the heat keeps us from layering (but I do miss you, tights).
The blouse, skirt, and satchel combo is classic Blair, but leave a few buttons undone to show off a boho-chic daisy necklace. A yellow headband will adorn your head like a crown, plus you can send Gossip Girl all of the first-day-back drama with a phone proudly displaying an Audrey Hepburn quote.
Continue those pops of yellow with a sunny manicure, then slip on a pair of casual cut-out flats. Lastly, don't forget to break out your favorite new school supply: "What Would Blair Waldorf Do?" pencils.
Outfits in the Media
If you thought Blair was sporting a lot of yellow, then you must have forgotten about the West Coast's own Cher Horowitz and her memorable plaid ensemble.
Though she resided in California, the presiding ruler of Beverly Hills High School was no beach bum. In fact, she had many similarities – in taste and otherwise – to our favorite brunette Upper East Sider (with just as much closet and outfit envy inspiration).
Head-to-toe yellow is just as cool as it was 19 years ago. | Photos: ELLE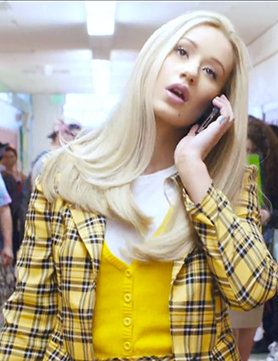 There's no doubt about it, the plaid outfits from Cluelessare iconic and that look is still emulated today. You couldn't turn on your car's radio this summer without hearing Iggy Azalea's "Fancy" and I'm sure you've all seen the music video – an homage to the classic '90s flick, with Azalea taking on the Alicia Silverstone-approved role of Cher.
While the yellow number above is oftentimes the first thing that comes to mind when you think of Cluelessfashion, it has a few too many layers going on for the still-hot August weather. (Jackets, vests, knee socks, oh my!) So, I decided to take inspiration from another one of Cher's stylish looks:
Although that relationship did not work out how Cher wanted, we all know this outfit was why Christian wanted to be her GBF!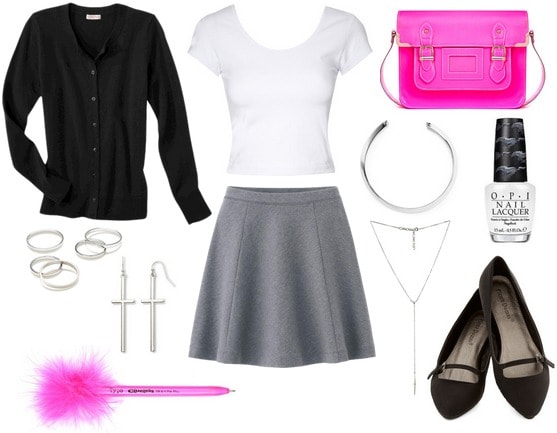 Product Information: Top, Skirt, Cardigan, Shoes, Bag, Choker, Necklace, Earrings, Rings, Nail Polish, Pen
Just like the first outfit, the cardigan is needed in chillier classrooms, but can be ditched once you're back outside. Everything else is pretty much a direct copy of Cher's look (why mess with a good thing?!), except for the comfy-chic Mary-Jane flats. You'll get much more use out of them than those '90s-esque white patent versions.
The messenger bag is practical, but also adds a bold dose of color to the otherwise neutral outfit. Also, check out this pen: it's meant to be a Clueless replica, and even has the movie's logo printed on it! For the finishing touch, paint your nails a modern white hue – a necessary update to the French manicure Cher sports throughout the movie.
Plaid Got Rad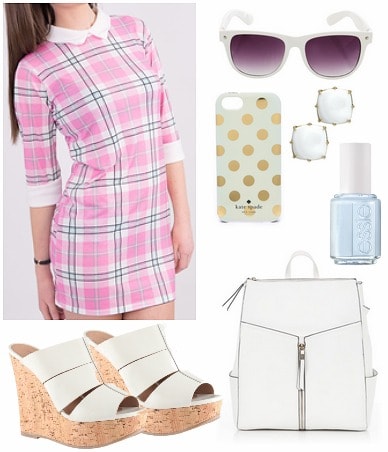 Product Information: Dress, Bag, Shoes, Earrings, Sunglasses, Nail Polish, Phone Cover
If you were really craving a plaid Clueless-inspired outfit, then this look will have your fashion soul contented. Dresses like this can easily enter "sexy schoolgirl" territory, so don't accessorize quite like Cher and Dionne. (That means no knee-high socks!)
Instead, opt for trendy and modern add-ons, like wedge sandals, oversize sunglasses, and a sleek white backpack. Accessorize with sophisticated stud earrings, grab a fun dotted phone case, then paint your nails a pretty pale blue to complete this getup.
Calypso Classroom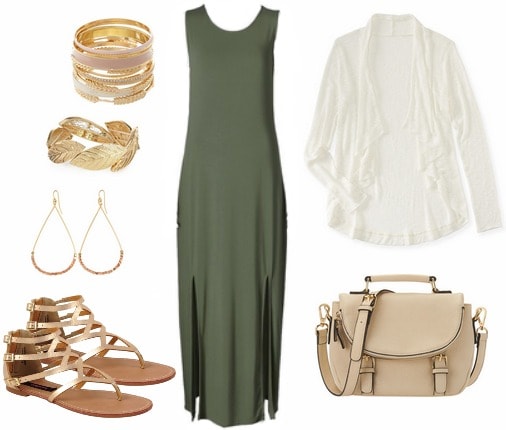 Product Information: Dress, Cardigan, Shoes, Bag, Earrings, Bracelet, Bangles
Want to channel a tropical vibe with your back-to-school ensemble? This outfit will have you looking like a chic island girl, even if you don't attend the University of Hawaii. Keep with earthy colors, like this "palm leaves green" maxi dress, but upgrade the foliage accessories (no lei, sorry) with gold counterparts.
Continue that island feel with metallic sandals, but bring the look back down-to-earth with a lightweight cardigan and a serious satchel. We all know summer can't last forever and we'll soon be bombarded with classwork, but hey, at least there's this glam look and the promise of Pumpkin Spice Lattes in the near future.
Orange is the New Pink
No, there will never be a pink replacement… whoever said that "was seriously disturbed." Next, I'm drawing inspiration from another fashionable movie character: Elle Woods. The fashion merchandising major graduated with a 4.0 before heading to Harvard Law School, and she schooled us on what to wear for those impression-making first days:
https://www.youtube.com/watch?v=3SVBRE5PgAM
More than just a daring dresser, Elle taught us to "always believe in [ourselves]" no matter what, and that what we want to achieve can always be reached with hard work, passion, and being true to oneself. To encapsulate those life lessons, I chose this tote, then created an entire look that has a Legally Blonde vibe: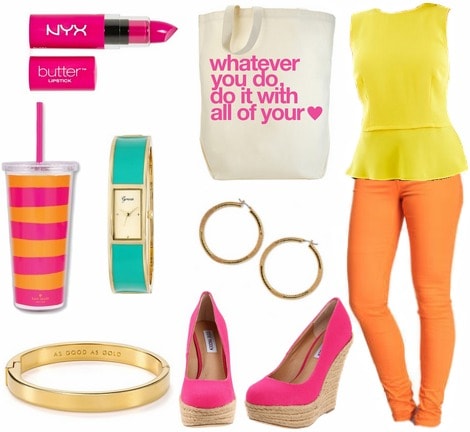 Product Information: Top, Bottoms, Shoes, Bag, Earrings, Watch, Bracelet, Tumbler, Lipstick
This outfit is for you ladies that are in an exclusive relationship with pants. Colored pants aren't as groundbreaking as they used to be, but these bold orange bottoms are unexpectedly cool.
Pairing bright pink and orange together (knowing it's place, orange is in an outfit with pink and not trying to be pink) was a momentary revolution, but also quickly became way overdone. So, how do we create an outfit that, like Elle, will still get you noticed? Add more colors!
The watch is reminiscent of Elle's, but bolder in blue, and the yellow top was chosen because of Elle's love for texture and extras in clothing design (like peplum). Carry that pink from head-to-toe with coordinated lipstick; it helps you wear the outfit, and not let the outfit wear you!
Tell me what you think:
What will you be wearing on the first day of classes? Did these outfits inspire you? Would you wear any of these looks? Which outfit was your favorite?
Let me know in the comments if there are any special events or occasions you would like to see covered in "What Should I Wear…?!".