Welcome to the latest edition of Ask CF! Every two weeks, we select a reader fashion question and answer it here on the site. Do you have a specific fashion question for us? Scroll to the bottom of this post to learn how to send it our way!
Ask CF Question
Hi!
I just moved to California from Oregon and this fall it has been really warm which is definitely not what I'm used to. I love all of the fall outfits you all post, but wearing a sweater and boots in 80-90 degree weather is not feasible (trust me, I've tried). Any ideas on how I can embrace fall fashion in a warmer climate?
Love,
Sweater lover
Our Response
Dear Sweater lover,
As I sit here writing this response in my freezing apartment (it's so cold right now that I have the heat on!), I can't help but want to trade places with you, at least as far as weather is concerned! However, I do get where you're coming from — it can certainly feel like you're missing out when there's a whole season's-worth of clothes that you can't wear because of the weather.
Luckily, there are ways to work around this problem that won't make you feel as though you're melting in the heat. All you have to do is to get a little creative with fabric and silhouette combinations.
So, without further ado, keep scrolling to see my ideas for how to dress for Fall in warmer climates:
Outfit #1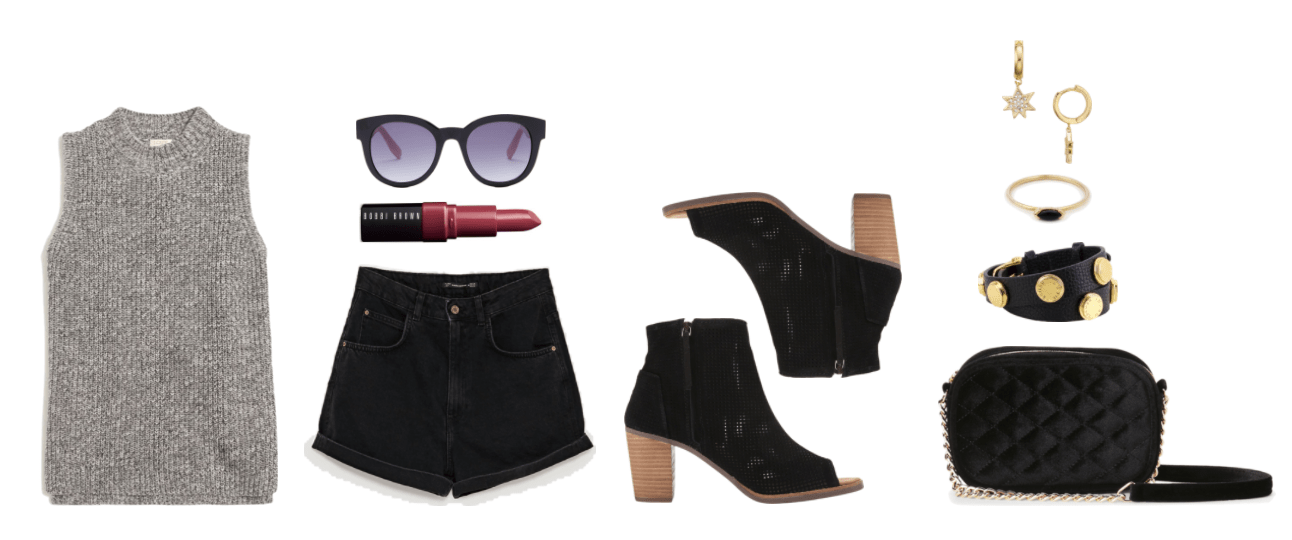 Products: Sweater – J.Crew Factory, Sunglasses – Nordstrom Rack, Lipstick – Macy's, Shorts – Zara, Ankle Boots – Amazon.com, Earrings – Rebecca Minkoff, Ring – Sole Society, Bracelet – Henri Bendel, Bag – Century 21
The goal with this look is to give you the feeling of wearing fall staples without actually wearing them.
For example, a short-sleeved or sleeveless sweater, like the one shown here, can give you the look of a "real" long-sleeved one, without you having to worry about becoming too hot.
Alternately, if the thick fabric of a sweater like the one in this outfit is still too hot, you could try looking for long-sleeved, short-sleeved, or sleeveless sweaters in lighter fabrics such as cotton or linen (although these may be easier to find in the spring or summer).
I've chosen to pair the sweater with some black denim shorts for a sleek look, as well as a pair of peep-toe ankle boots, which have a similar look and feel to normal ankle boots, except that the open toe and perforated material will allow your feet to breathe more.
Since bags don't touch your skin, feel free to experiment with heavier fabrics; here I've gone with velvet, but feel free to try tweed, wool, or patent leather — a huge trend for Fall 2017.
Add a pair of classic round sunglasses, a cute pair of star hoops, an edgy leather wrap bracelet, and a dainty gold ring with a cool black stone.
Finish off the look with a berry-toned lip color–a fall makeup go-to.
Outfit #2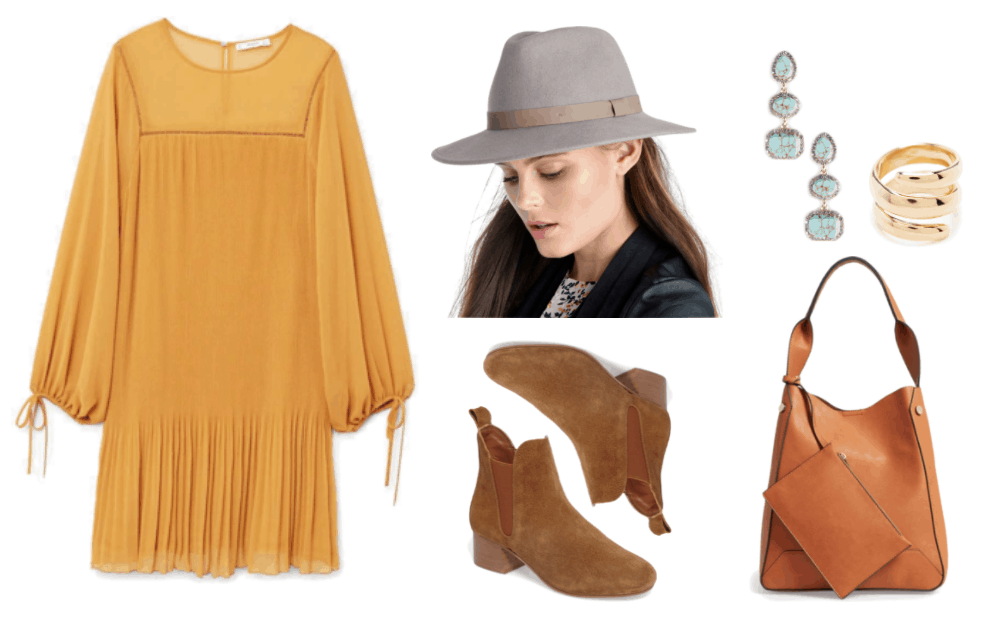 Products: Dress – Mango, Hat – Sole Society, Chelsea Boots – Nordstrom, Earrings – Sole Society, Ring – Sole Society, Bag – Nordstrom
Another great way to channel Fall in your everyday look is to wear fall colors — think mustard yellow, tan, orange, deep reds and purples, and all shades of gray and brown.
Here, I've chosen a gorgeous pleated mustard-colored dress. Since I'm assuming you'll be going bare-legged due to the climate you're in, I've chosen to style it with a pair of luxe suede chelsea boots. However, if it's still too hot to wear regular boots, this outfit would also look amazing with the peep-toe ankle boots from Outfit #1, or even a pair of knee-high gladiator sandals, which almost give off a boot-like vibe.
I love the way that turquoise looks with mustard, which is why I've chosen these pretty drop earrings to go with the dress.  A wrap-around ring adds a unique touch, while a roomy hobo bag adds to this look's boho-chic aesthetic.
Top everything off with a wool wide-brim hat, and you're all set to go!
Outfit #3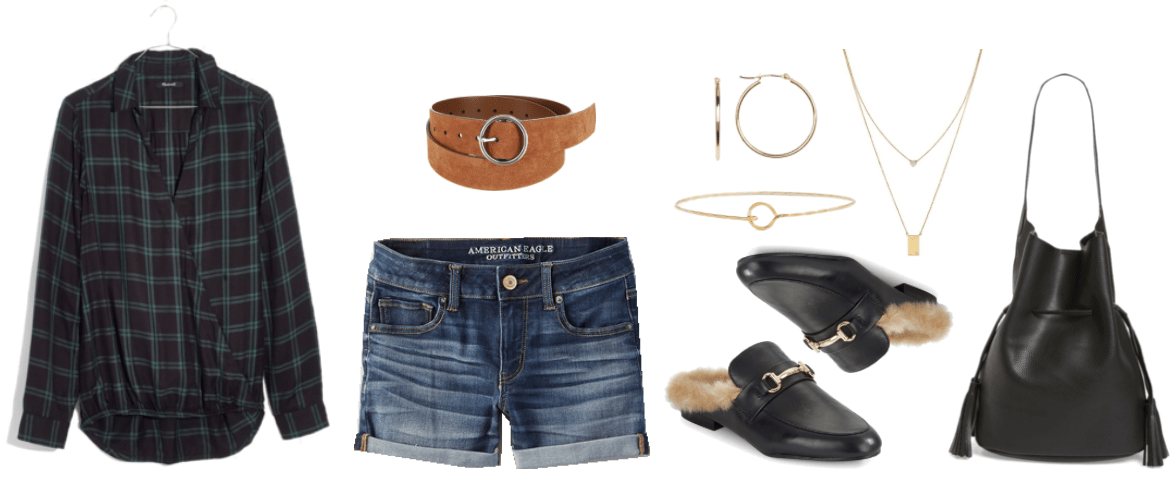 Products: Top – Madewell, Belt – Uniqlo, Shorts – American Eagle Outfitters, Earrings – Nordstrom Rack, Bangle – Nordstrom, Necklace – Lord & Taylor, Mules – Steve Madden, Bag – Nordstrom
Plaid is a classic fall print, and this wrap-front top, with its lower neckline and light material, lets you wear it without having to worry about sweating profusely like you probably would in a heavier fabric like flannel.
For a casual look, pair the top with some denim shorts and a suede belt.  Cool jewelry — like trendy hoop earrings, an elegant bangle, and a delicate necklace — lets you show off your personal style, and, as far as bags are concerned, you really can't go wrong with a timeless bucket silhouette.
Complete the look by slipping on a pair of seasonless faux-fur-lined mules.
Lastly, note that this outfit uses quite a dark color palette — another way to channel colder temperatures no matter what you wear!
Outfit #4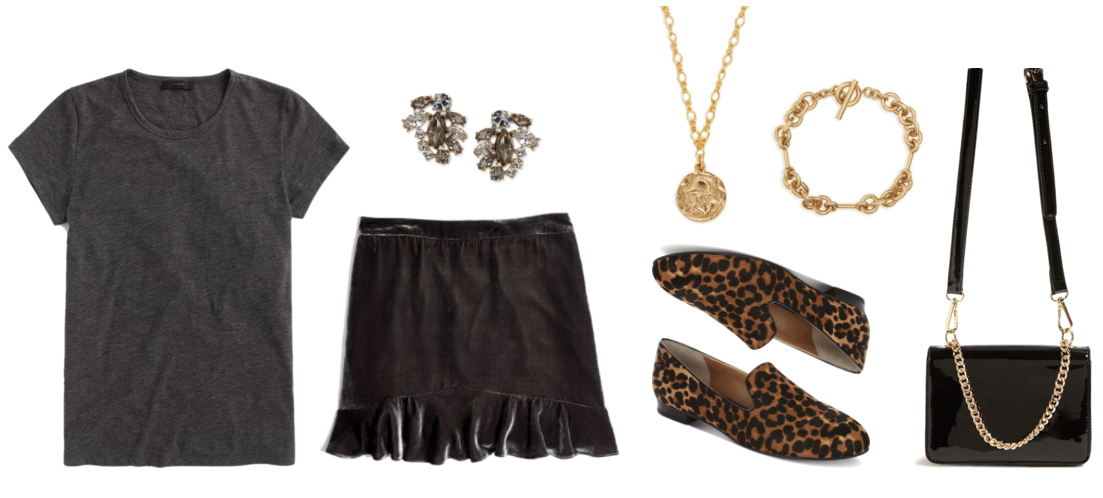 Products: T-Shirt – J.Crew, Earrings – Macy's, Skirt – Madewell, Necklace – Shopbop, Bracelet – Nordstrom, Loafers – Macy's, Bag – Forever 21
For the final and most formal look, I've also decided to go with a darker color palette, as it nicely complements the rich textures of this feminine outfit.
A basic charcoal-gray t-shirt contrasts well with a fancier velvet mini skirt, while leopard-patterned loafers add to the luxurious vibe of the ensemble.
Grab a sophisticated patent bag with a chic chain detail, and put on a pair of cluster stud earrings with stones in muted colors, a pretty gold coin pendant necklace, and a classy link bracelet with a toggle clasp.
I hope that these looks have helped to expand your wardrobe options and to show you that you can wear fall (or fall-esque) clothes in warm weather. Thanks for your question!
Do you have a fashion question? Send it to us!
Is there something in your closet that you want to wear but have no idea how to style? Do you need advice on what to wear to an upcoming event? Do you have a specific fashion conundrum?
If you have a fashion-related question that you would like to see answered in this column, simply email it to askcf @ collegefashion.net, and one day you might see your question answered right here on the site!
What do you think?
Do you live in a warm climate that makes it hard to dress for Fall?  If so, how do you deal with it?  What are some of your favorite ways to style cold-weather pieces when it's warm outside?
Let me know in the comments!