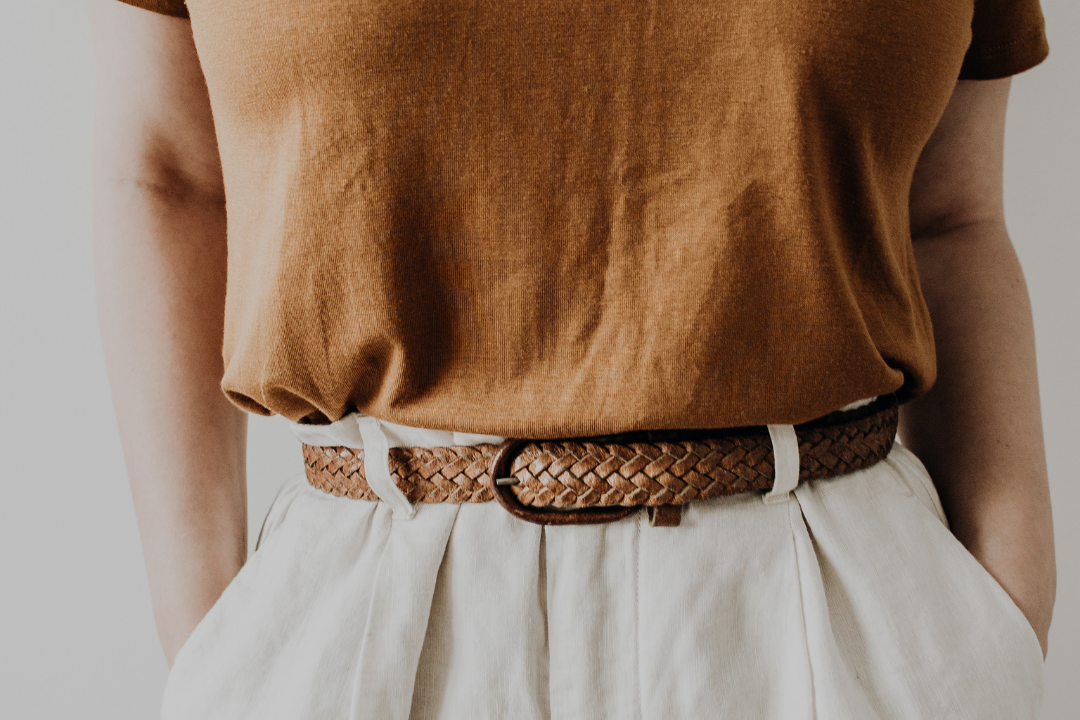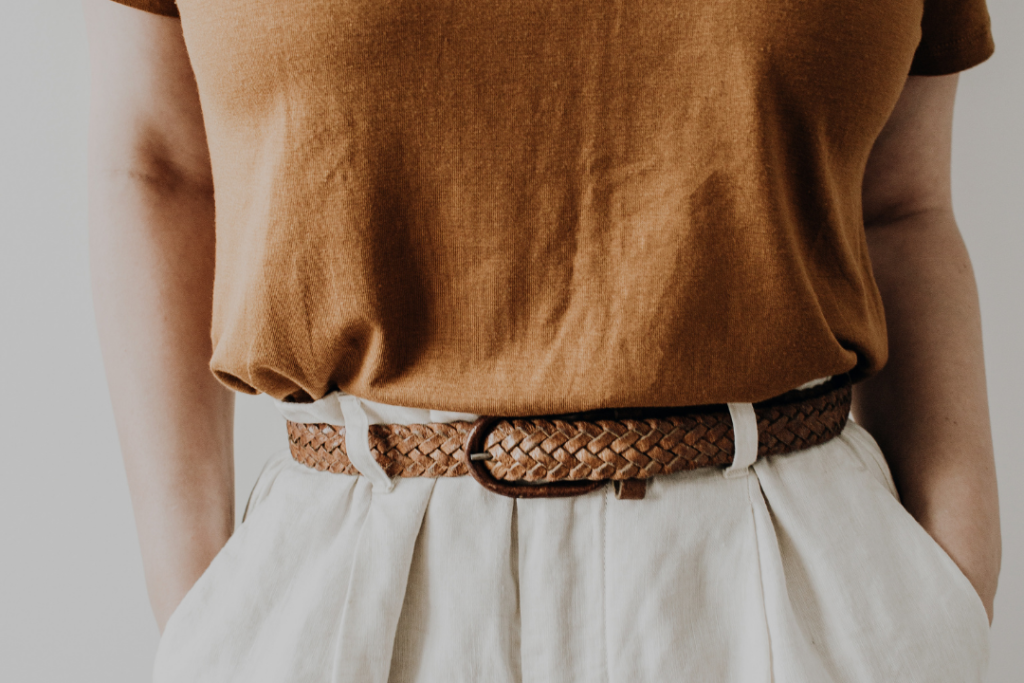 Welcome to the latest edition of Ask CF! Every two weeks, we select a reader fashion question and answer it here on the site.
Do you have a specific fashion question for us? Scroll to the bottom of this post to learn how to send it our way–including a how to submit your most pressing fashion dilemmas via Instagram!
Ask CF Question
Hi CF!
The days are getting longer and temperatures are rising. About time! I'm ready to welcome spring with wide open arms, but I could use some fashion inspo. I've never been one for flowing florals, pink pastels or chartreuse chiffon. How can I celebrate spring in my wardrobe in a more understated, minimalist way?
Thanks!
Our Response
While I love a good printed dress or frilly, brightly-colored top as much as the next girl, it's totally understandable that you'd want to switch things up and go for a more minimal look this Spring.
After all, Spring is often thought of as a season for refreshing our outlook–and our wardrobe–so it makes sense that one of the ways you might want to do that is by taking on a more understated aesthetic.
Furthermore, while it's common to think that dressing minimally means sticking to a strictly neutral color palette and only wearing the simplest of silhouettes, that doesn't necessarily have to be true. There are plenty of ways to celebrate Spring that are at once understated and exciting!
To see more of what I'm talking about, just keep scrolling!
Outfit #1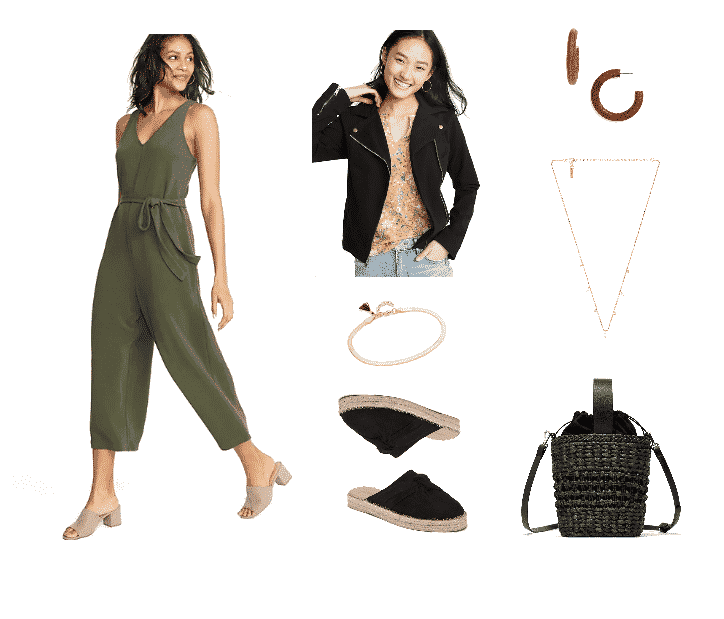 Products: Jumpsuit – Old Navy, Jacket – Old Navy, Bracelet – Shopbop, Mules – Old Navy, Earrings – Nordstrom, Necklace – Revolve, Bag – Zara
For Outfit #1, I thought it'd be cool to put together a look based around a jumpsuit, and this olive green one does the trick nicely: Not only is its color wearable for pretty much everyone, but its simple-yet-versatile silhouette makes it easy to dress up or down, depending on your mood.
Here, I chose to style the jumpsuit with a twill motorcycle jacket for a warm-weather twist on a classic style; as well as a pair of espadrille mules with a subtle knot detail that is just enough to add a bit of embellishment without looking overly girly.
Since large hoops are still going strong this year, I decided to pick this unique wooden pair to lend an earthy vibe to the ensemble (although you could definitely substitute them for something smaller if you don't like big jewelry).
To add some subtler sparkle to the look, I chose a delicate necklace with small dangling pearls and clear stones, in addition to a timeless gold chain bracelet.
Finally, to top things off, I went with a bucket bag that incorporates the wicker trend in a way that is sleek rather than kitschy.
Outfit #2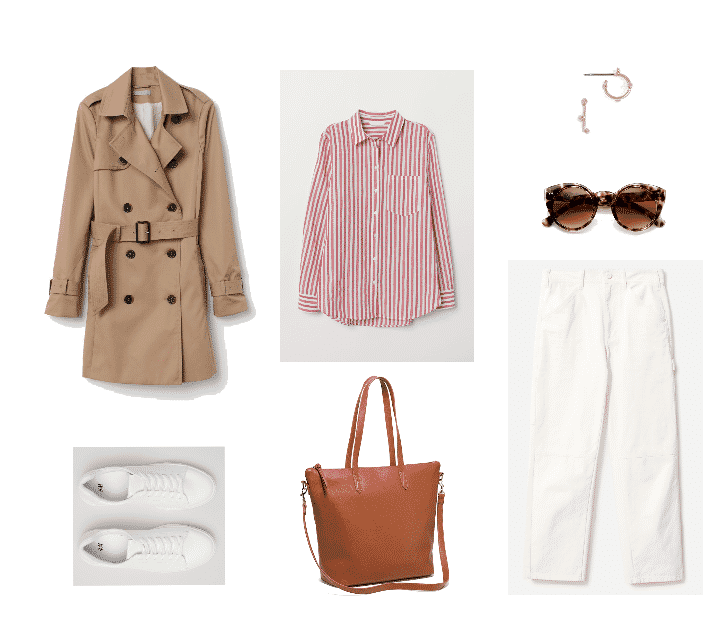 Products: Trench Coat – H&M, Sneakers, H&M, Shirt – H&M, Tote – Old Navy, Earrings – Shopbop, Sunglasses – zeroUV, Pants – Everlane
If it's a modern-yet-classic look you're after, then you're sure to like this fashionable outfit!
To get it, I styled a red-and-white striped shirt with a pair of wear-with-anything cropped, straight-leg pants in off-white.
Next, I added a classy beige trench coat, as well as some simple white sneakers, for a contrasting look that seamlessly combines sporty and elegant styles.
To complete the look, I picked out a versatile faux-leather cognac colored tote, in addition to a pair of chic rounded cat-eye sunglasses with a tortoise shell pattern and some on-the-ear gold hoop earrings with subtly quirky circular accents.
Outfit #3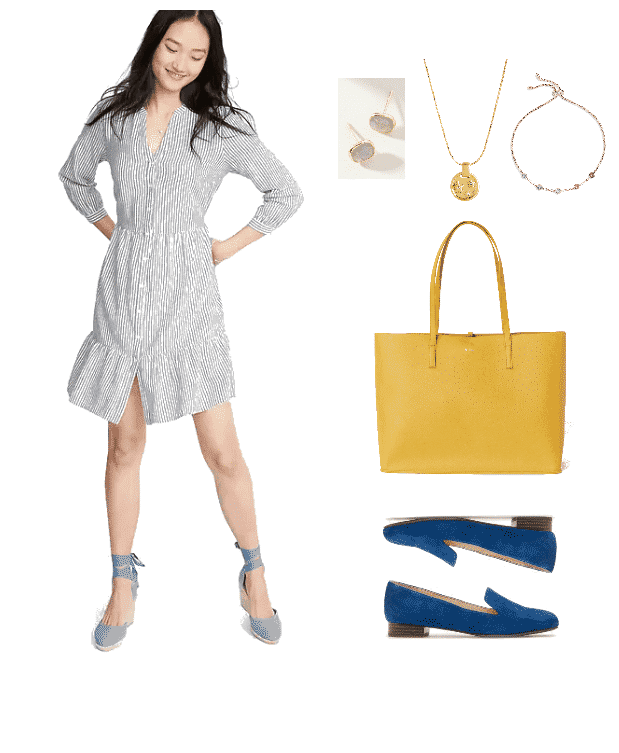 Products: Dress – Old Navy, Earrings – Anthropologie, Necklace – Nordstrom, Bracelet – Nordstrom, Tote – H&M, Loafers – Sole Society
For the last look, I decided to experiment a bit more with color for an outfit that is cheerful and Spring-ready, but not over-the-top.
I decided to style this lovely feminine striped shirt-dress with a pair of cerulean menswear-inspired loafers for some cool-yet-subtle contrast.
A sunny yellow tote adds a pop of color to the ensemble in a way that is fun, but still wearable for everyday.
Finally, for jewelry, I thought it'd be fitting to go for pretty pieces that stand out just slightly, such as pale green stud earrings, a subtly sparkly moon and star necklace, and an adjustable chain bracelet with stones in muted colors.
I hope that these looks have provided you with some inspiration for some cute, understated spring looks! Thanks for your question!
Do you have a fashion question? Send it to us!
Is there something in your closet that you want to wear but have no idea how to style? Do you need advice on what to wear to an upcoming event? Do you have a specific fashion conundrum? If you have a fashion-related question that you would like to see answered in this column, simply email it to askcf @ collegefashion.net, and one day you might see your question answered right here on the site!
Also, you can now message us your questions on College Fashion's Instagram account, @collegefashion!
What do you think?
Do you prefer to take a subtler approach to spring dressing? If so, what kinds of pieces do you wear to achieve an understated look? Which of these outfits would you be most likely to wear for Spring?
Let me know in the comments!