Whenever I spot my friend Delaney on campus at the University of Miami, I always think to myself, "This girl really understands the ins and outs of style." In a time where trends change week by week, it is rare to find someone who values a sustainable closet and shops clothes that will last, not just end up in the back of the closet. Delaney dresses in a very minimalistic style with neutral clothes and an occasional pop of color coming from her accessories or shoes.
Due to her unique approach to fashion (and numerous killer outfits), I decided to interview her about her style. Below, she shares her top tips for nailing the minimalist style without ever looking boring.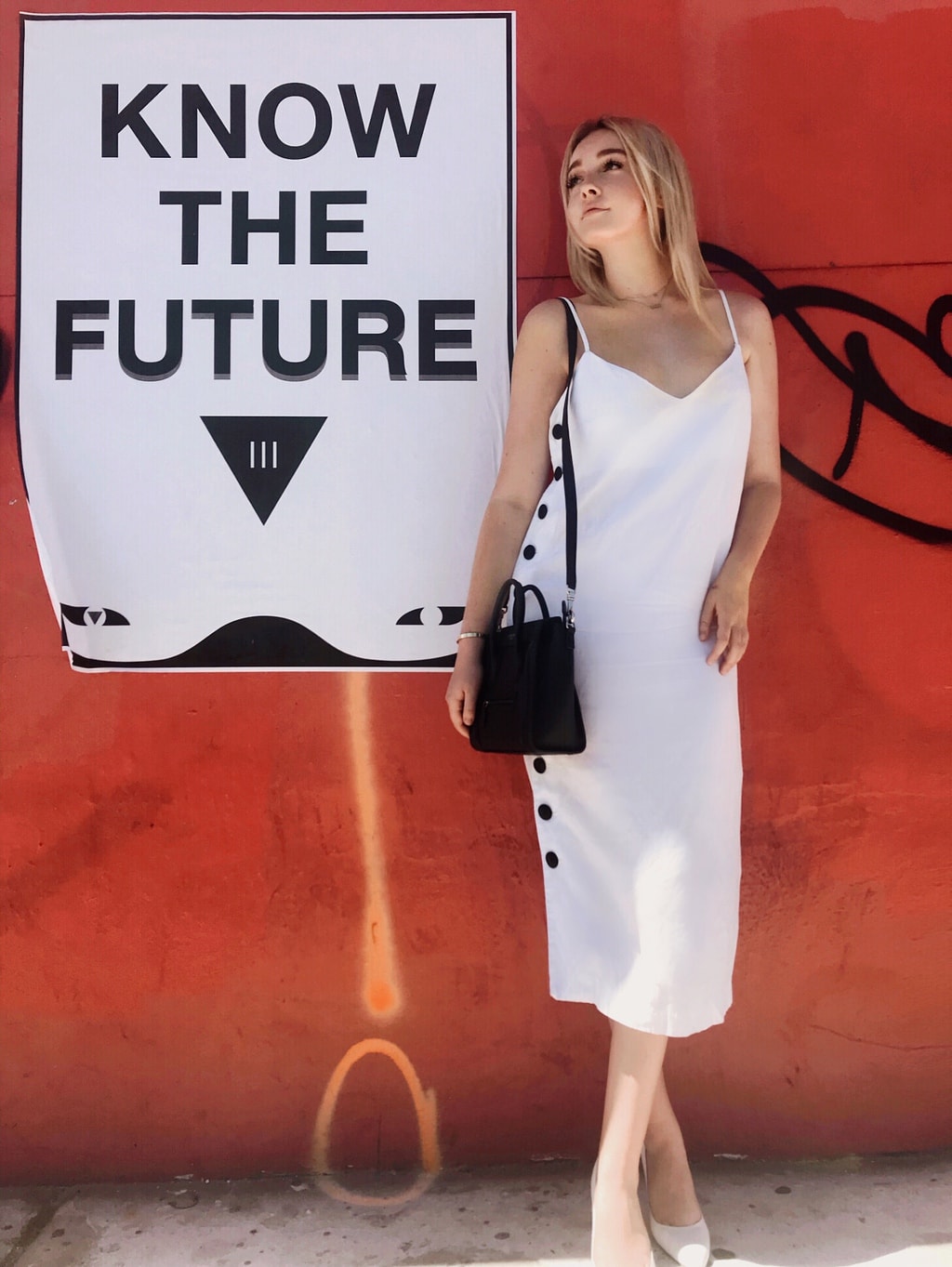 So, minimalism?
What made you choose minimalism instead of some of the bolder looks we're seeing on Instagram, etc. right now?
I love sticking to basic colors and creating a monochromatic look. Even though some people hear "minimalism" and think "boring," I feel like it is a great way to express myself because I still add a fun piece to make an outfit more exciting. As a result, my outfit reflects my personality: calm and sophisticated with a splash of excitement.
Related reading: How to Create Minimalist Neutral Outfits (+ Styling Tips)
One of the tenants of minimalism is investing in fewer, higher quality pieces. What's your favorite piece of clothing and why?
My absolute favorite piece of clothing is my leather jacket because it can be dressed up or down. Also, it's a piece that was expensive but so worth the investment. The jacket has lasted me so many years, and it honestly looks better every time I wear it. (Note: See why we advocate for investing in fewer, higher-quality pieces for more on this!)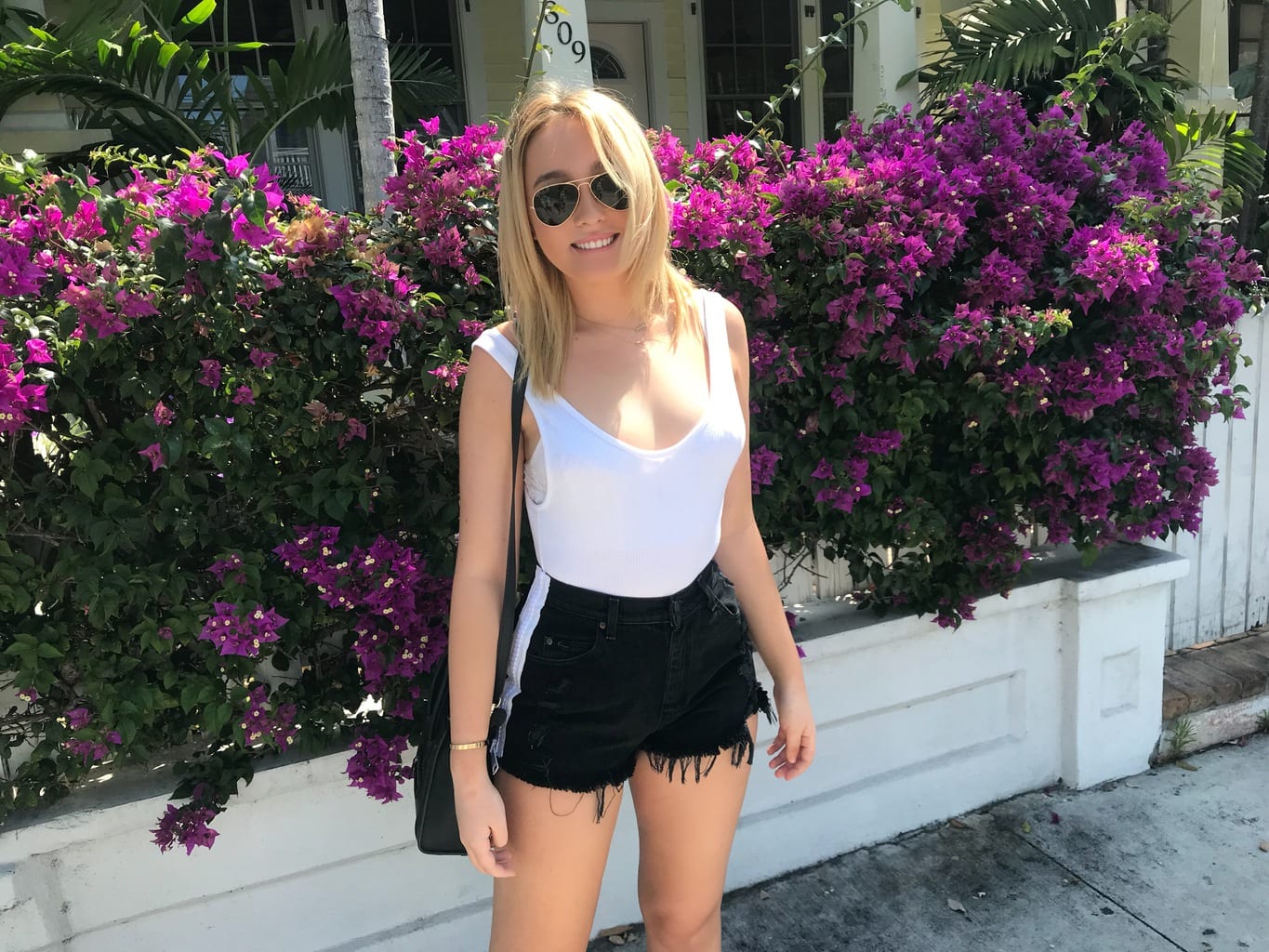 What is the outfit you wear when you don't know what else to wear?
I always wear a pair of flowy white linen pants that I got from a local boutique in Denver and a basic tee. To complete the outfit, I add some golden shoes. The all-white look is very popular in Miami, so I try to wear it as much as possible!
Fancy dinners are all the rage in Miami. What would you say is your go-to minimalist outfit for dinner?
Definitely a pair of black jeans from Good American. Jeans are the most basic piece of clothing and can be worn many times in different ways, that's why I love them. Continuing on, I wear a white geometric chunky heel, crop top or nice blouse and a leather jacket. Simple but chic.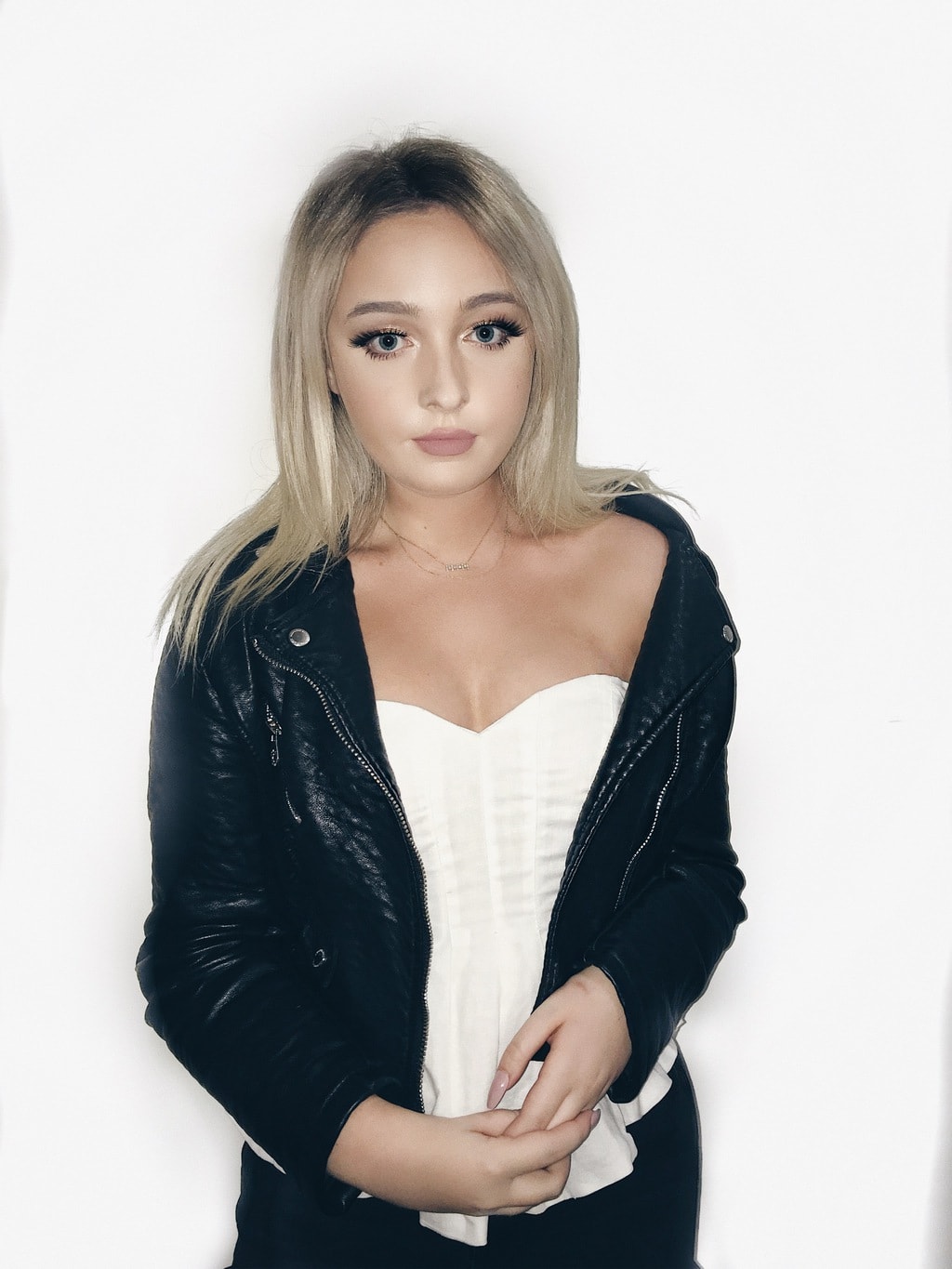 I know you follow fashion icons on different social media sites; who is your fashion icon and why?
100-percent Bella Hadid and Kylie Jenner. Bella Hadid [has a little bit of a] minimalist style but still sets trends. On the other hand, I respect Kylie's style because she pushes style boundaries but still has a consistent style throughout the year. All of her outfits are cohesive with one another.
Why aspire to dress your best each day, especially as a busy college student that is constantly studying?
Honestly, it is really hard to make myself look good each day. Some people say it is egocentric to care how you look but I think of it as dressing nicely for myself. If I feel good and look good, I can stand out and feel most confident in myself which overall makes me work harder in my studies.
If you could shop just one designer for the rest of your life, who would it be?
Saint Laurent, of course. As I previously mentioned, I love accessories and make them my stand out piece in each outfit. Specifically, Saint Laurent bags are pricey but last for years. They make timeless pieces that are high quality and have clean lines. Like my leather jacket, my Saint Laurent purse is an absolute must for my outfits!
Delaney-Inspired Outfit Pick: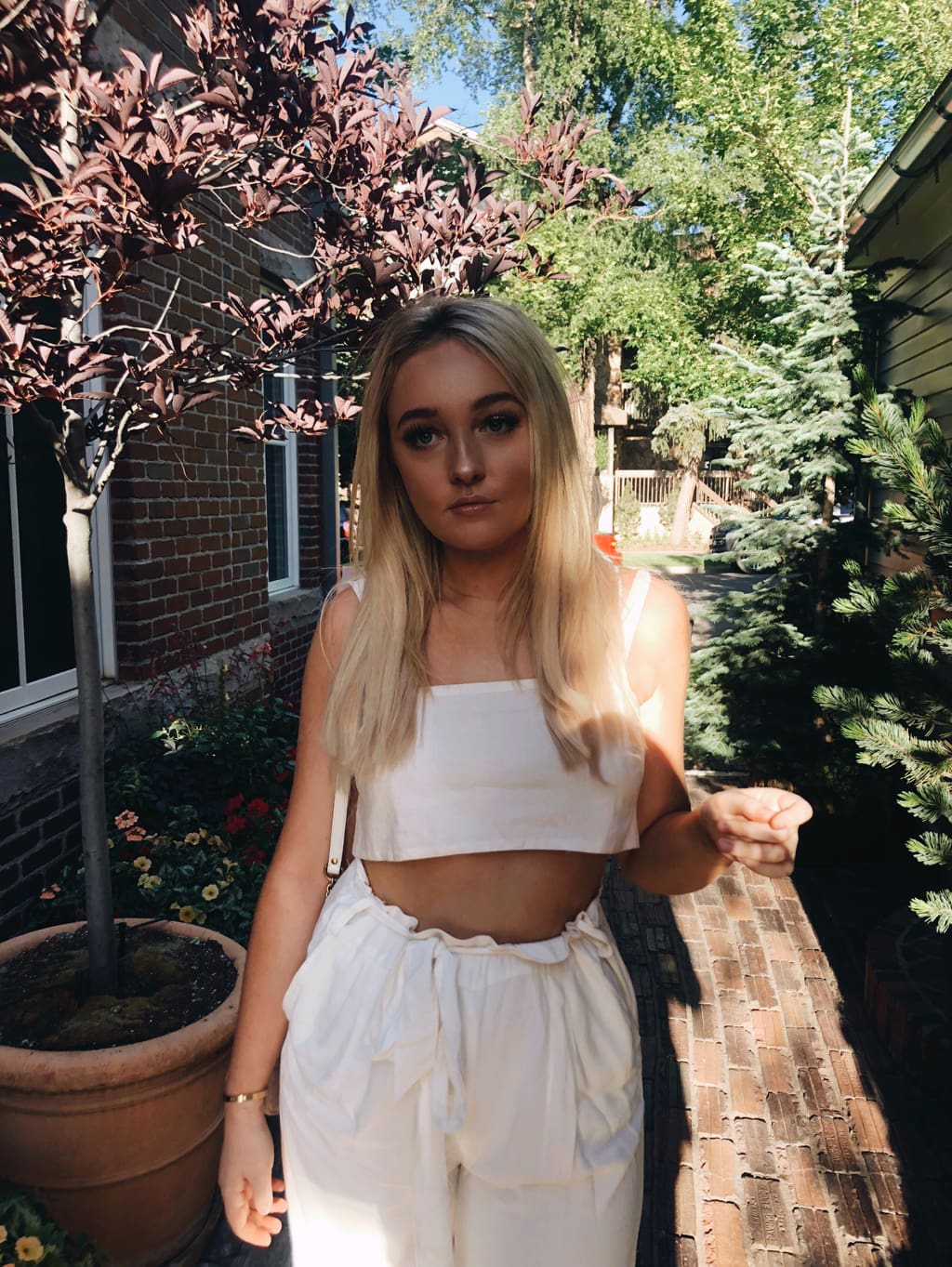 In Delaney's outfit, she wears her iconic all-white outfit with flowy white pants and a loose crop top. Although she's wearing simple pieces and a single color, she looks anything but boring — in fact, she'd stand out anywhere! That's the power of minimalism done right.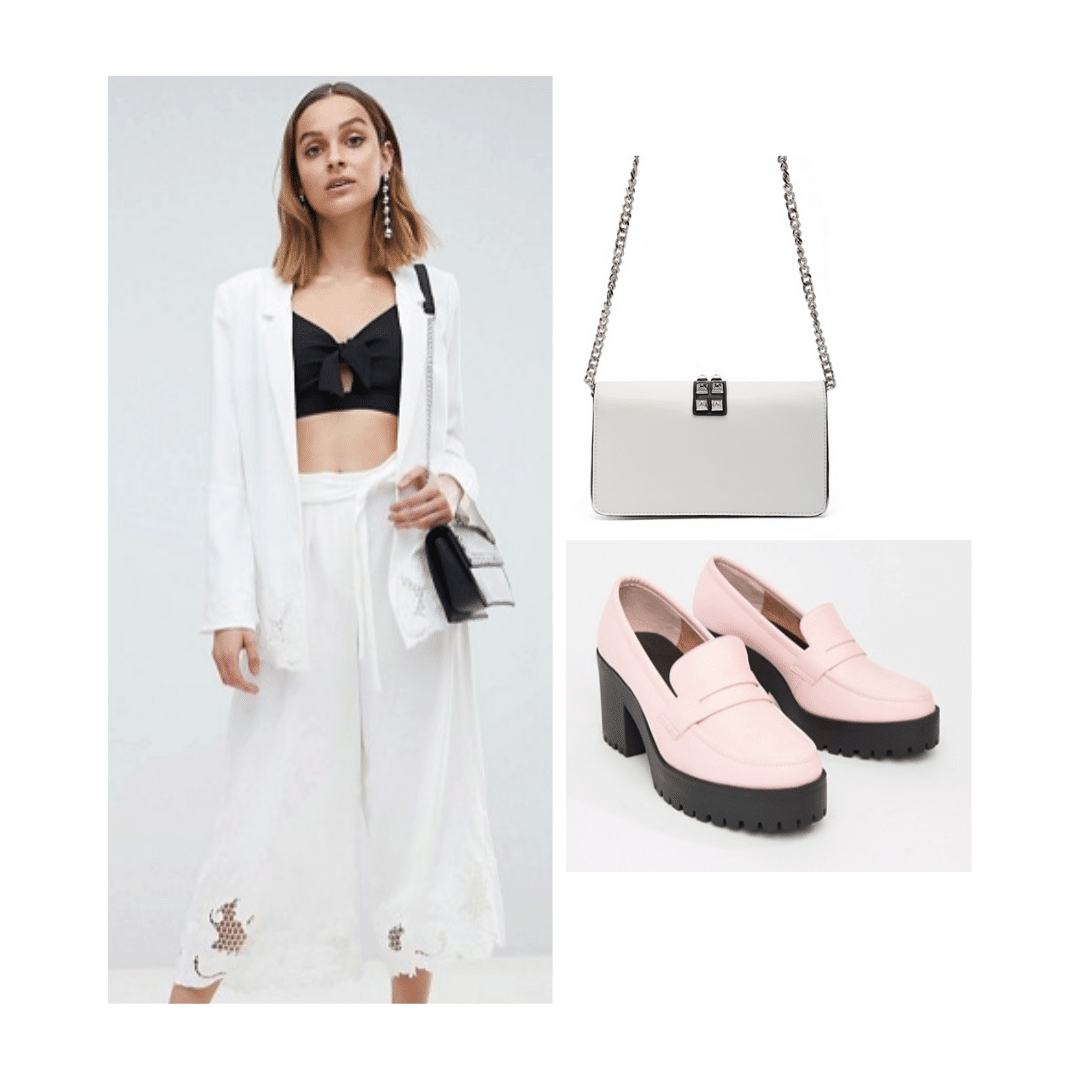 Products: Two Piece Set – ASOS, Shoes – ASOS, Purse – Forever 21
Taking inspiration from Delaney's casual look, I pieced together a more formal minimalist outfit. Keeping the similar white two-piece look, I added some modern chunky-heel shoes with a pop of color. The handbag is still a simple white with silver detailing to keep with the neutral color scheme but add texture to the outfit. This outfit would be great for a dinner or night out!
What are your thoughts?
For more on minimalism, be sure to see our 10 beginner tips on becoming a minimalist. It's a great guide to get you started.
Now we want to hear from you. Are you into minimalism like Delaney? What are your favorite minimalistic fashion pieces that you wear on the day to day basis? Let us know in the comments below.