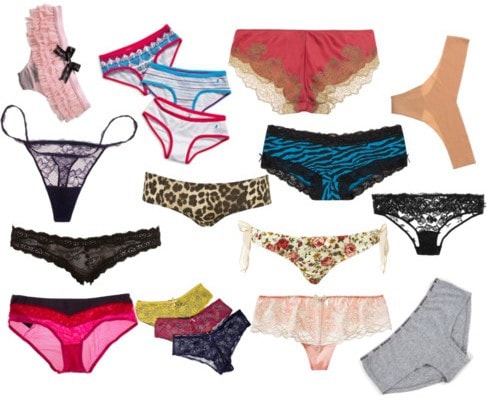 At the beginning of the previous semester, I dedicated a post to the top 5 bras every college girl should own. These bras, I noted, were essentials that could totally make or break your look.
In order to create the perfect foundation for your outfit, the panties you choose are equally important! If your lingerie drawer is in need of an upgrade, if you're unsure of what to wear under that new dress, or if you simply consider yourself a lingerie junkie like I do, read on! These five styles should be staples in every college girl's wardrobe.
1. Boy Shorts/Booty Shorts
Why they're a must-own:
Boy shorts are surprisingly great under skirts and dresses, or anything with a more flowy construction. A great pair of boy shorts won't show any traditional panty lines, so you can wear them underneath fairly tight pieces, too. Another reason they're great? Coverage. If you're wearing a skirt on a windy day, wouldn't you rather be wearing booty shorts than anything smaller?!
When buying boy shorts, make sure you pick pairs that are snug enough to hug your body, but not tight enough to cause the dreaded muffin top. Don't go too loose either, though! There is nothing worse than a saggy, baggy pair of boy shorts!
Top Picks:

Product Information: Sheer Lace Boyshort, Forever 21. Lace Striped Boyshort Panties, Charlotte Russe. Aerie Ultimate Tanga, American Eagle. Ruffle Mesh Boyshort Panties, Charlotte Russe.
2. Nude skinny/seamless thong
Why it's a must-own:
A nude thong is as basic and essential as you can get. It's a must for dressy events, or wearing under a pair of tight white or light-colored pants or leggings. If you're into this season's sheer trend, pick up one of these styles ASAP!
A skinny thong is likely to be your best bet with minimal coverage, while a seamless thong will create a similarly invisible look with a bit more fabric. If you're not into thongs, a nude pair of seamless boy shorts is a great alternative! Nude skinny and seamless thongs are also great to wear out shopping–they'll never conflict with anything you try on, from dresses to bikinis!
Top Picks:

Product Information: Aerie Lace Thong, American Eagle. Commando Better Than Nothing Tiny Thong, Journelle.com. La Perla Seamless Thong, Net-a-Porter. Seamless Control Boyshort, Forever 21.
3. Low-rise bikinis
Why they're a must-own:
Low-rise bikinis are many girls' "go-to" undies, and for good reason! They can be worn pretty much every day on campus. Low-rise bikinis fit perfectly under jeans, pants, and your favorite skirts, with more coverage than a thong but less than a boy short. Low-rise bikinis are comfortable, cute, and great for everyday activities, especially if you're a low-maintenance kind of girl. An added bonus: they're cheap and can be found almost everywhere!
Top Picks:

Product Information: Shimera Seamless Stripe Hipster, Nordstrom. Natori Bliss Brief, Nordstrom. Cheeky Lace-Trim Hipster, Victoria's Secret. Ribbon-Trim Hipster, Old Navy.
4. Hanky Panky-style lace thongs
Why they're a must-own:
THEY. ARE. SO. COMFORTABLE! In fact, Hanky Panky brands these one-size, stretch-lace, knit thongs as "the worlds most comfortable". Aside from the comfort factor, these thongs never create panty lines, as they lie perfectly flat against your skin, almost blending into it. As you can probably imagine, they work well under just about everything: with a drawer full of Hanks, you'd be set for any occasion.
Hanky Panky thongs are hands down the best underwear I have ever worn, and let's be honest–at almost $20 a pop, they had better be! This being said, because of Hanky Panky's success, other companies have started knocking off their design at a much lower price point–you can find full-lace thongs at Victoria's Secret, Gilly Hicks, and even Target. The St. Eve brand, often featured at Marshall's, makes a great knock-off, too. If thongs aren't your thing, shop around for stretch-lace trimmed boy shorts or hipsters instead.
Top Picks:

Product Information: Hanky Panky Original Thongs 5-Pack, Bloomingdales. Cheekiest Lace-Trim Thong, Victoria's Secret. Hanky Panky Vikini Bikini Panties, Nordstrom. Wide Waist Lace Thong, Tilly's.
5. Wild undies!
Why they're a must-own:
So far, my picks have focused on basics and essentials–must-have pieces that will work well under specific garments. Sometimes though, you just want to have fun!
Outrageous underwear can make you feel pretty, sassy, and flirty all at once! Pick your favorite cut, then get a few pairs in prints, patterns, neons, or even as a part of a matching set. Wild undies are an instant pick-me-up, and a secret shot of confidence – even if you're wearing sweats, you'll feel glamorous and sexy knowing you have fabulous lingerie on underneath. So have fun and work it, girls!
Top Picks:

Product Information: Sequin Butterfly Thong, Wet Seal. Spree Girl Set of 3 Lace Front Hipsters, Bluefly. Nylon Spandex Stretch Diamond Grid Lace Panty, American Apparel. Lace Bow Thong, Wet Seal.
What are your thoughts?
What is your favorite style of underwear? Do you own any or all of my picks? What other styles would you recommend? Let us know with your comments!