I love lingerie. I truly believe that a strategically placed hint of hot pink or dash of lace can truly influence how I feel and act. Whether you believe that or not, it's undeniable that a great bra can have a HUGE impact on how your clothes fit and, in turn, how you look.
If you haven't been bra shopping for a while, go get fitted! Then check out this list for the essentials. No matter your size, style needs, or price range, this list is a great starting point for expanding that lingerie drawer!
1. The T-Shirt Bra
The T-Shirt Bra is your basic, go-to, everyday bra. Generally, T-shirt bras are lightly padded, or simply lined, to create a nice shape. T-shirt bras look great under tank tops, button ups, and obviously, form fitting tees.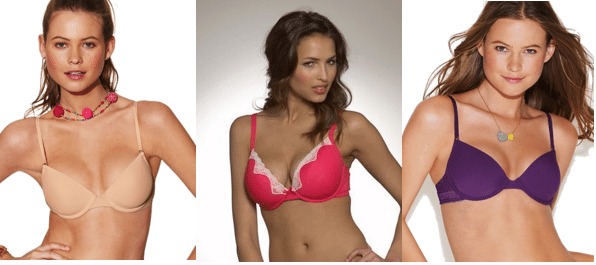 If you're looking for a great t-shirt bra, Victoria's Secret PINK is the perfect place to start. They have great t-shirt bras both in full cup and demi styles, as well as bras in fun colors with lace side panels. These bras also feature a tiny hook on one strap that allow them to be worn three ways: halter, crossback, and classic.
If you choose the demi bra, you can pick from sizes 32-24AA-C and 36B-C.
The full cup bra with lace panels comes in sizes 32 A-D, 34 A-D, and 36B-D.
If you need a bigger size, Figleaves Basics offers an adorable and totally affordable lace-trimmed t-shirt bra starting at size 32DD, all the way through 38G.
2. The Strapless Bra
We all know how uncomfortable an ill-fitting strapless bra can be. If you get the wrong size, you face a few fashion issues–it's too tight, it falls down, or it just looks awkward. A strapless bra that fits well, however, is your best friend. It will get you through strapless dresses, tank tops, halters, and one-shoulders without missing a beat.
When purchasing a strapless bra, it often helps to spend a bit more money and go to a department store to get fitted and find the best selections for your size. If you can, invest in a bra that is specifically strapless and not a convertible–in most cases, they tend have better construction and fit. Look for details such as internal gel strips, wire or plastic-reinforced side panels, and wide backs and sides for bras that will stay up and on.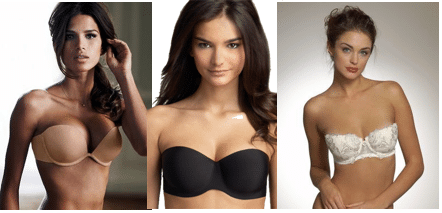 My favorite strapless bras on the market (pictured above) include:
Pour Moi? Elegance strapless bra (at Figleaves), which features lace embroidery, removable straps, and a rhinestone center in a variety of sizes, sizes 32, 34, 36, 38A-E.
Felina 'Hint of Skin' Underwire Strapless Bra (at Figleaves), a seamless, foam contour bra with subtle push-up padding, sizes 32, 34, 36 B-D.
Victoria's Secret Plunge multi-way bra with Gel-Curve, that creates a smooth line under any top, provides a great shape, and gives great cleavage, sizes 32-36A-DD, 38C-DD.
3. The Push-Up Bra
Every girl needs a great push-up bra. Whether you wear it to show off some cleavage, enhance your cup size, or just to treat yourself to a little sexy secret, a fabulous push-up is a wardrobe must.
Depending on your cup-size and what look you're going for, you can pick a push-up with no padding or a lot of padding. If you're looking for something on the more extreme end of the spectrum, there are bras filled with air, gel, and water that will increase your overall size and contribute to some killer cleavage. Because of these extra inserts, expect to spend a bit more on this type of bra.
There is so much variety in push-up bras now! You can have basic black or hot pink leopard print with lace – have fun with color and get something that makes you feel great.
Also, when it comes to picking your perfect push-up, make sure that you have classy (not smashed!) cleavage and lots of lift and support. The fit has to be right – if it's too tight or too loose, look elsewhere!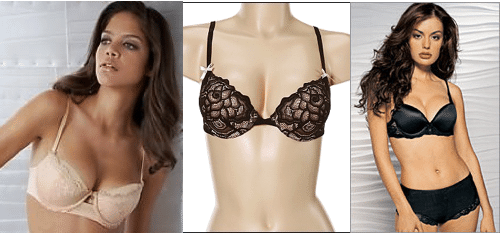 Some of my favorite push-up picks are:
Frederick's of Hollywood Liquid Lift Lace Bra, that promises to add a full cup size to your bust using liquid filled cups that warm to your body, sizes 32, 34, 36 A-C, 38 B-C, 40 C.
Betsey Johnson Rebel Rose Bra, a light pink bra with black lace overlay for rocker-edge with adorable bow accents, subtly padded, sizes 32, 34, 36 B-D.
Jezebel Coco Underwire Push-Up Bra (at Figleaves), a contoured push-up with removable push-up pads, mesh panels, and a keyhole center with a charm for elegance and romance, sizes 32-38 A-DD.
4. The Sports Bra
If you work out at all, you need to wear a sports bra! I cannot stress the importance of this enough.
A good sports bra keeps the girls in place and supports your back while you're feeling the burn. Not enough to make you wear one? Did you know that your breasts can fly almost 8 inches outward when you run? Or, consider the fact that you have ligaments in your breasts that stretch over the course of your exercise program–this stretching can lead to sagging! Put a sports bra on the twins and call it a day.
If you're a larger cup size, it can be incredibly difficult to find a sports bra that is supportive, comfortable, and fits correctly. Unfortunately, you won't be able to pick up any old sports bra at Target like smaller chested girls, but there are bras on the market that will work for you!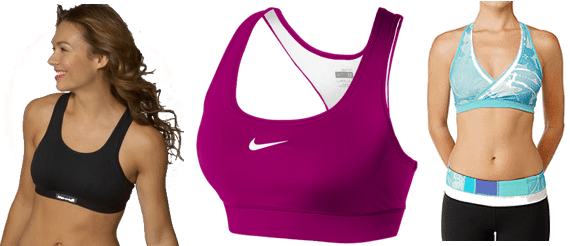 A great bra for small and full-chested girls alike is the Shock Absorber bra (available at Figleaves). Shock Absorber bras come in different support levels from 1-4, 1 for small cup sizes doing low-impact exercise, and 4 for large cup sizes doing "extreme" impact exercises like running or soccer.
For the college gym, the Shock Absorber Support Level 3 Crossback crop top bra is a great pick. The padded straps can be worn traditionally or cross back, the bra is made from a fabric that helps to wick away sweat, and it has internal cups with hidden layers. It also features a two-hook back with hook and eye closure. Shock Absorber bras are sized like traditional bras and the Crossback comes in sizes 32 A-D, 34-36 A-DD, and 38 B-DD.
Other great sports bras include:
Nike Dri-Fit Core Bra, a colorful, tagless,compression fit bra with flat seams to reduce chaffing, sizes XS-XL.
Lululemon Not So Deep V Bra, a bikini-style bra featuring mesh racerback and inserts in an adorable pattern, sizes 4-12.
5. The Wireless Bra
Wireless bras are great for comfortable support. If you don't like the feeling of that constricting, sometimes painful underwire, wireless bras are a great option for creating an almost identical look with a more relaxed feel.
Wear a wire-free bra as you would any other! They're lightweight but still look great under tops, wrap dresses, sweat shirts, and pajamas for those of you who wear bras to bed. If you're looking for shape, choose a wireless bra that is lined and has smooth fabric. If you like how wireless bras feel and aren't looking for support, lace bralettes are a great way to go.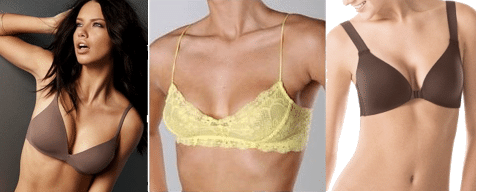 My picks for wireless bras include:
Spanx Bra-llelujiah! Wireless Front-Closure Bra (at Nordstrom), which promises to provide support and minimize unsightly back fat by conforming to your body, sizes 32-36 A-C
Victoria's Secret Ipex Wireless Bra, a smooth, light bra with great coverage and support in a variety of neutral hues, sizes 32A-D, 34-36A-DD, 38B-DD, 40C-DD.
Honeydew Camellia Lace Bralette (at Figleaves) is comfortable, pretty, and perfect for small chests, sizes S-XL.
Your Thoughts?
Are you a lingerie lover? What's your go-to, every day bra? Is it hard for you to find sizes or styles you like? Are you plain-jane or a wild girl with your unmentionables? Let us know with your comments!