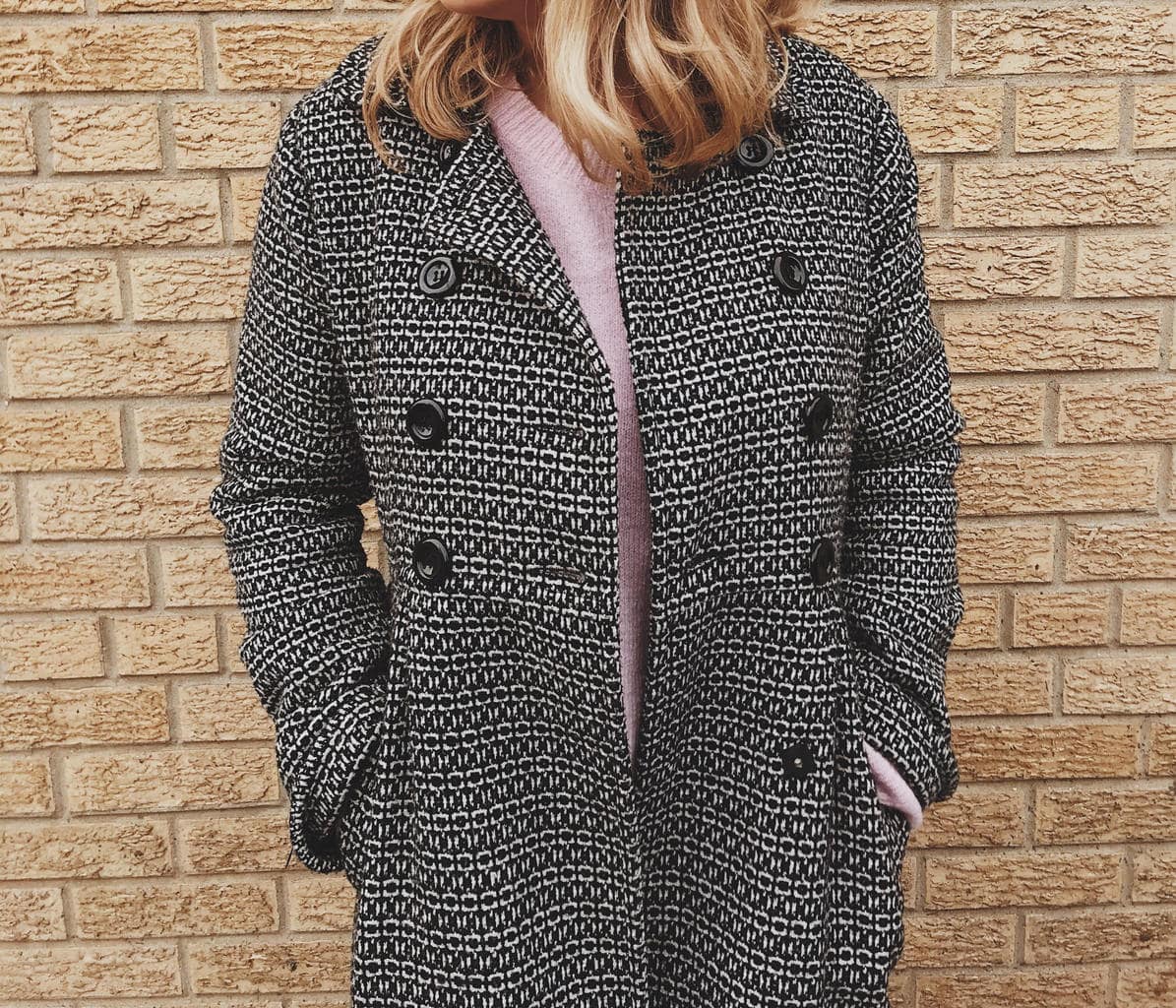 The statement coat is a staple of spring and fall attire. We usually see them styled with warmer tones in the fall and brighter pastels in the spring, but as soon as November rolls around, we put our fun and funky coats to rest until the sun shines bright again on a wet spring day.
November brings the black puffer jackets (nothing against them) as the dark and dreary days intensify. Our wardrobe meets the deeper tones and we bundle up in our thick, chunky sweaters and are left with nothing fun to sport.
So I'm here to bring back the statement coat for wintertime. If you don't have one of these yet, you're going to want one by the time you finish reading. (If you need one, see our guide to the 16 best statement coats you need in your wardrobe.)
To dress with a statement coat in the winter, there's only one rule. The key is that you don't want your outfit to divert the attention away from it: You want all eyes on the piece.
Below are four different statement coat outfits to help you learn how to style the piece in a warm, cozy (and affordable) way.
Outfit 1: The Business Casual/Heading to Work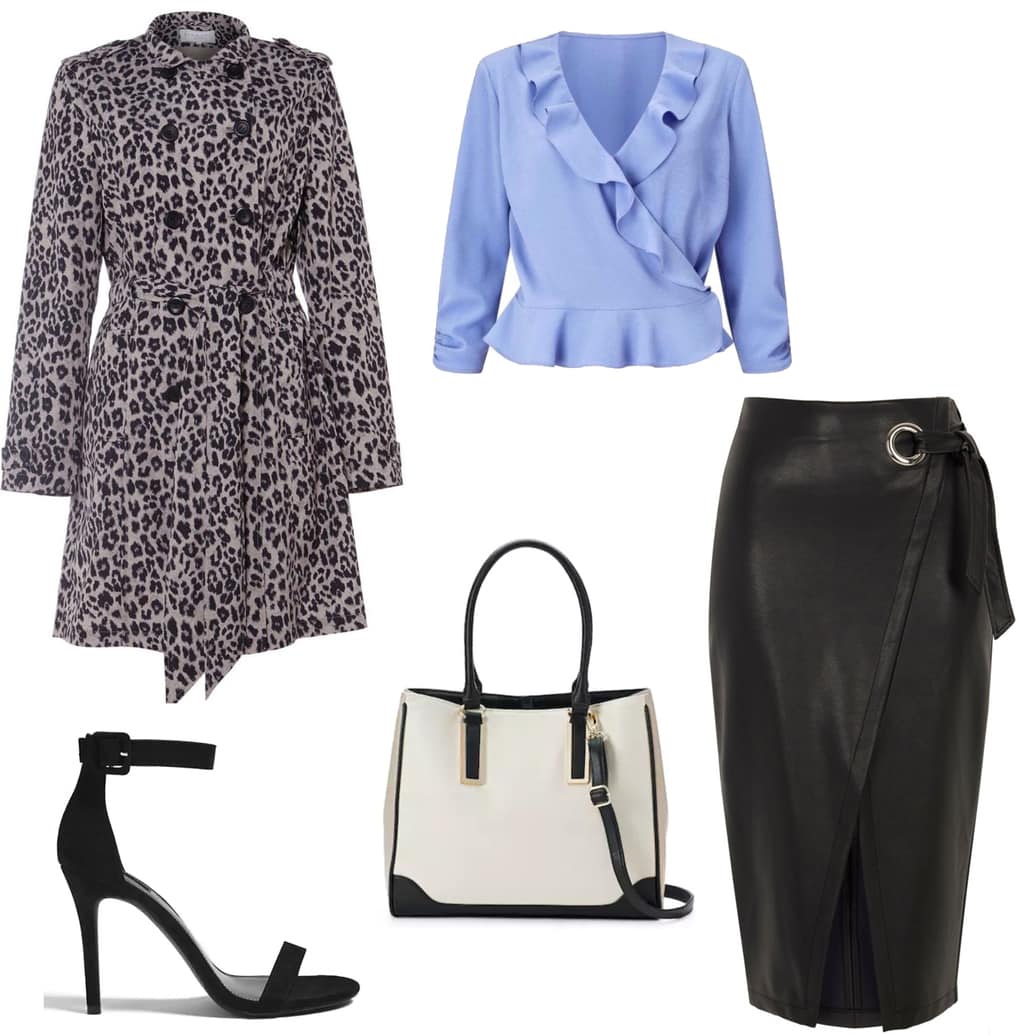 Products: Coat – John Lewis, Blouse – Miss Selfridge, Skirt – River Island, Heels – Forever 21, Purse – Kohl's
This leopard print trench coat works great for a business-casual events, heading into the office, or even a night out with friends.
Here, I styled the trench into a business casual outfit. The light blue blouse and the black leather pencil skirt will make a statement together on their own. They look even better, though, when worn together with the coat, which brings the whole outfit together. The black and white handbag matches perfectly and adds another pop of interest.
Finally, I added a strappy black heel to the look, perfect for a more casual fashion-oriented workplace, however definitely swap it for a black pump if you work somewhere more conservative.
Outfit 2: A Night in Town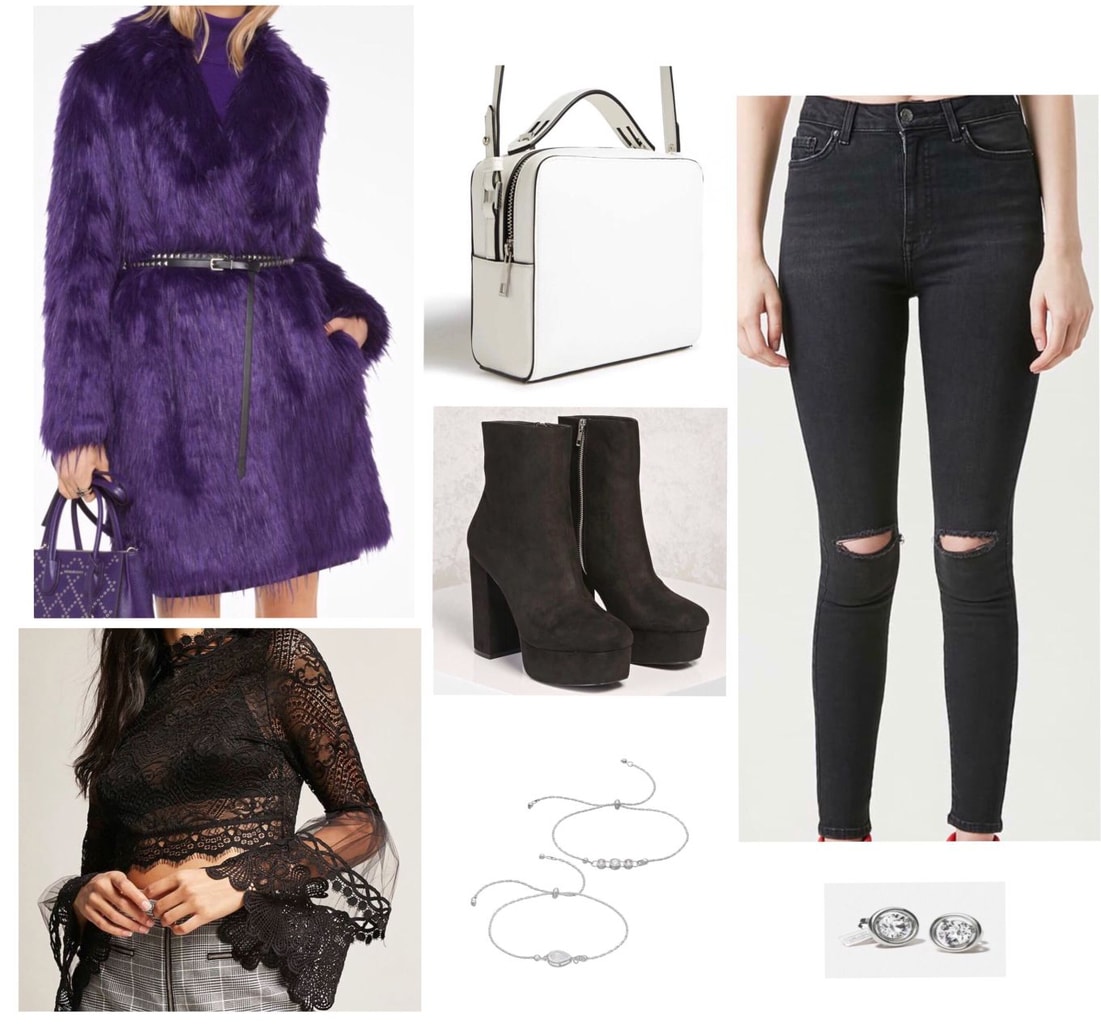 Products: Coat – Michael Kors, Shirt – Forever 21, Pants – Forever 21, Boots – Forever 21, Purse – Forever 21, Bracelet Set – Kohls, Earrings – Orchard Mile
What. A. Coat. This glam purple faux fur coat is one of a kind.
Paired with all black attire, this purple coat stands out as the outfit's main focus — which we want it to be. To add a little extra flare, the lace cropped shirt goes nicely with the plain black of the jeans and booties.
To balance the rich, dark tones of the outfit, the white purse adds a little brightness, but not enough to divert the attention away from the statement piece.
Outfit 3: The Casual Saturday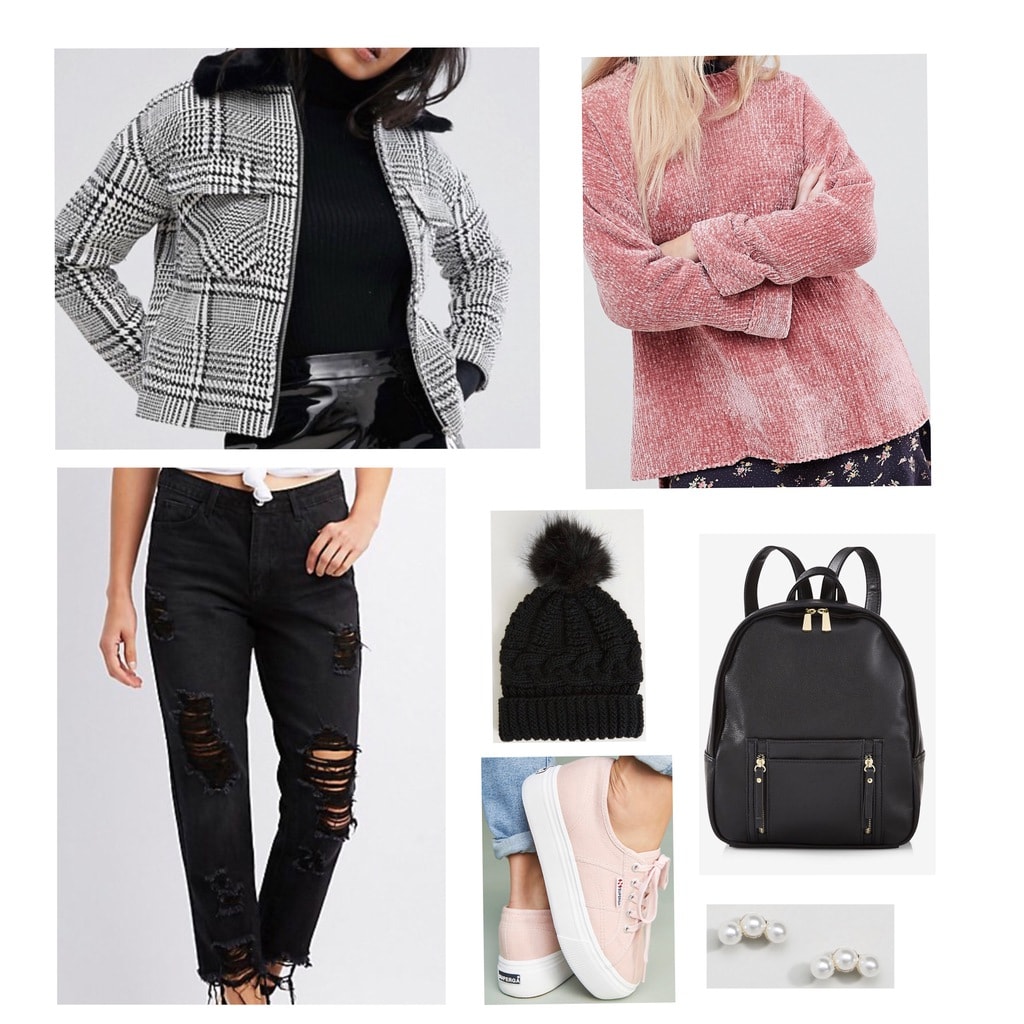 Products: Coat – ASOS, Sweater – ASOS, Jeans – Charlotte Russe, Beanie – Buckle, Sneakers – Anthropologie, Backpack – Express, Earrings – ASOS
This cute plaid coat at ASOS screams casual Saturday business. It can easily be worn with all black attire, but to add some oomph it's paired here with lighter pink tones in the form of a sweater and platform sneakers.
The boyfriend jeans add to the casualness of the patterned coat. To allow for the outfit to feel more relaxed, the beanie and backpack do just the trick.
Usually casual Saturdays don't require many accessories, but these pearl earrings from ASOS will add just enough to keep your look cool, calm and collected.
Outfit 4: It's Still Winter But It Feels Like Spring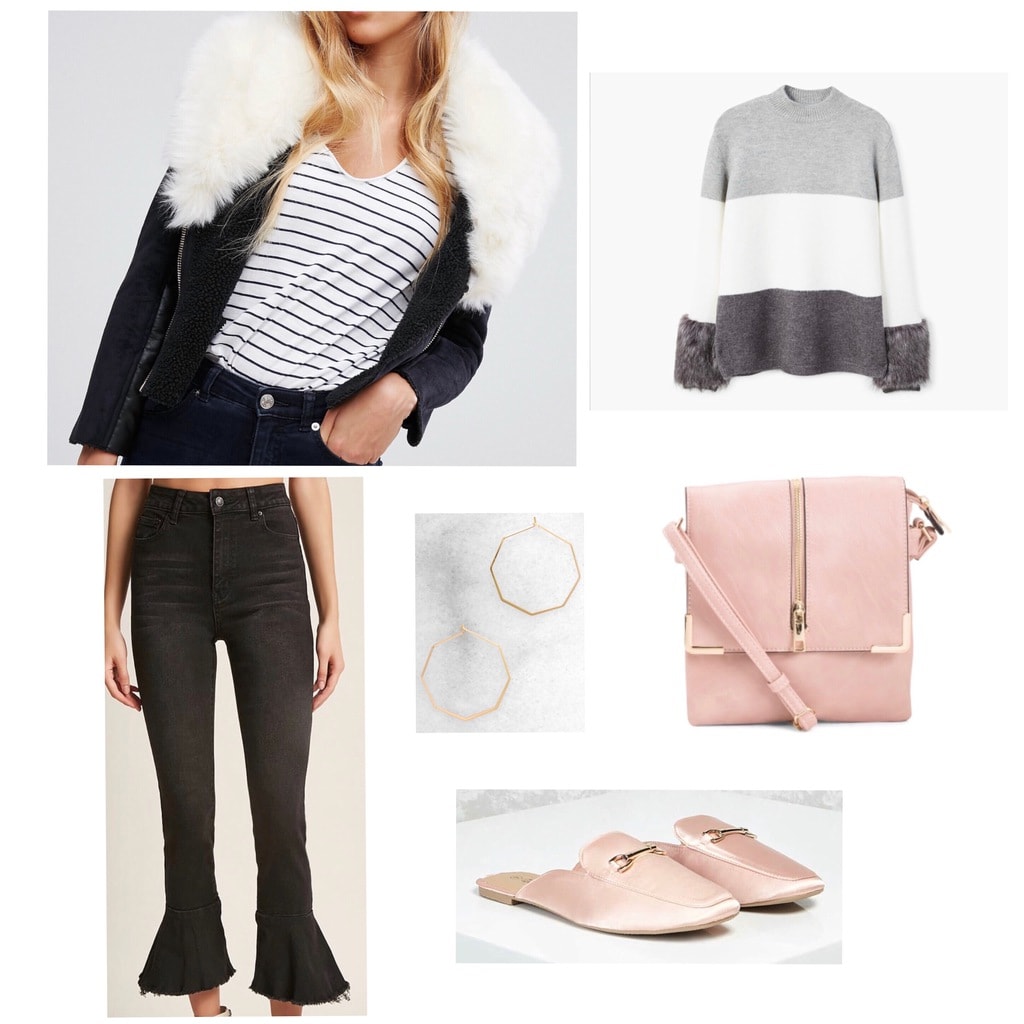 Products: Coat – ASOS, Sweater – MANGO, Jeans – Forever 21, Shoes – Forever 21, Purse – TJMaxx, Earrings – South Moon Under
The end of February and beginning of March are always full of peculiar days for dressing: Some days it's warm like spring and others it's snowing and icy. To find a balance between the two, this beautiful shearling coat with a faux fur collar is paired with colors that can be worked in the winter and accents that are sported in the spring.
The flare of the jeans adds to the uniqueness of the coat, and the color blocked sweater is basic yet interesting.
Gold and rose pink accents add a spark to the winter to spring outfit, tailoring in the dullness to a minimum.
All together, this outfit is perfect for the transition between winter and spring when the weather just can't decide what she wants to do.
Thoughts?
As you can see, statement coats aren't just meant for the fall and spring. The fun of a statement coat is to be able to work it at all times of the year. So spice up your winter look and embrace this trend, stat.
Feel free to drop a comment below on what you think of these sets or how you found your perfect statement coat!