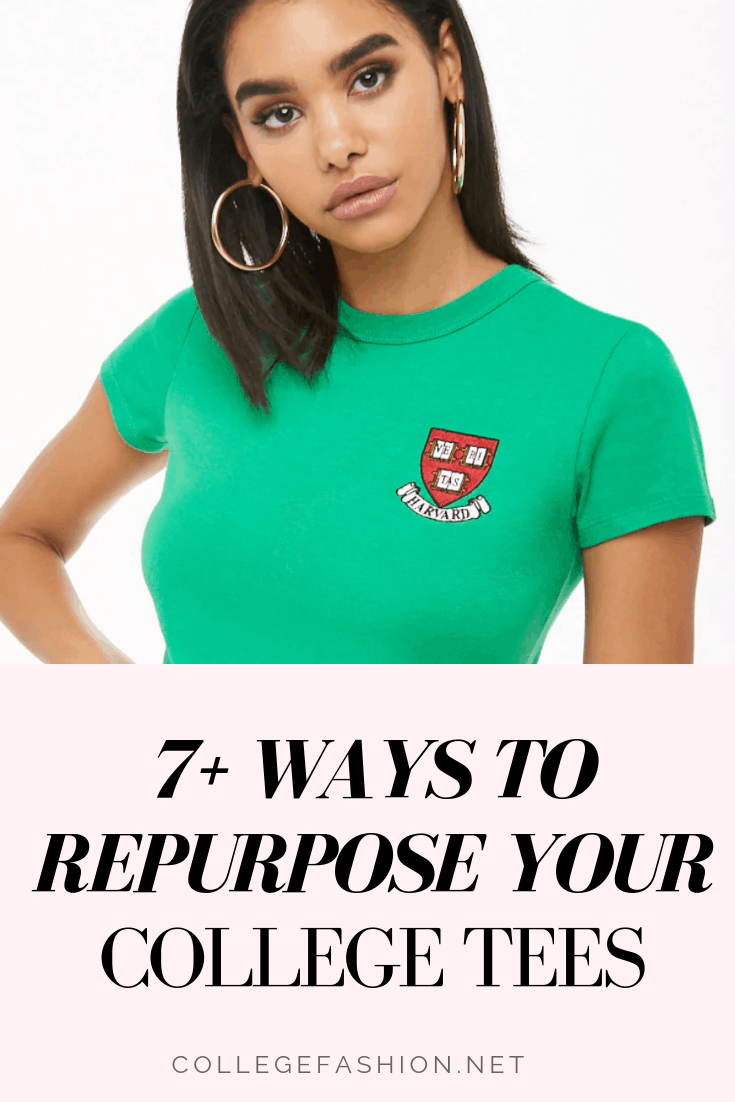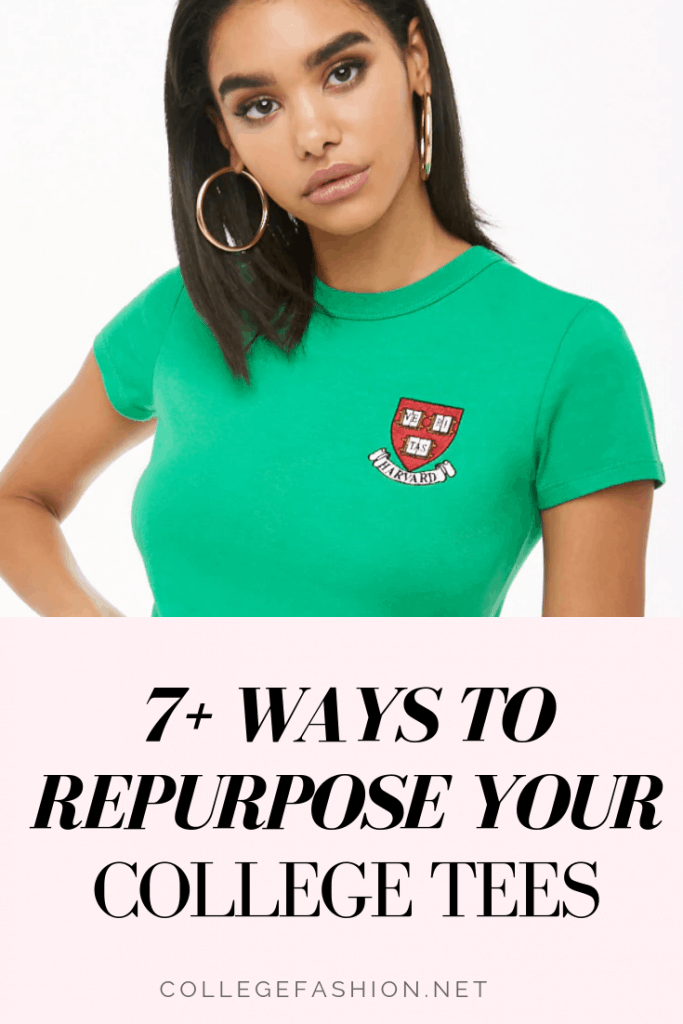 Upon getting my first IRL internship, I was confronted with a daunting task: shopping for new clothes. My business casual wardrobe previously consisted of only one blouse and some ill-fitting pants. I needed to sort through my closet and pick out the pieces I'd wear post-graduation.
The most daunting part of all? The volume of college tees I collected. In just three years, my day-to-day wardrobe transformed almost exclusively into oversized university tees and leggings.
I wanted to downsize my wardrobe to essentials and things I actually wore before completely moving out of my apartment. So, I needed to find more things to do with my college tees.
Related reading: How to Style Your Favorite Graphic Tees into the Cutest Outfits Ever
If you're also looking to makeover your wardrobe, here's how to repurpose your college tees:
How to Dress Up Your College T-Shirts: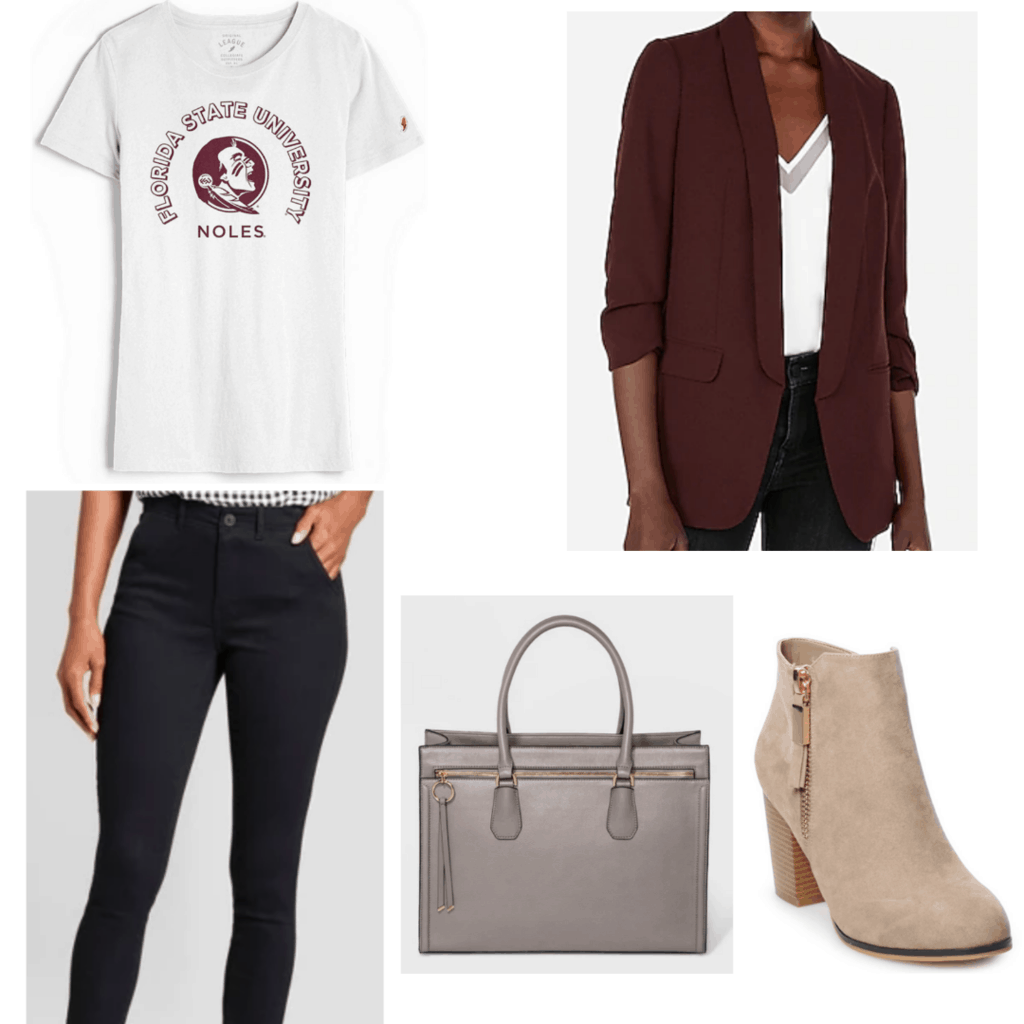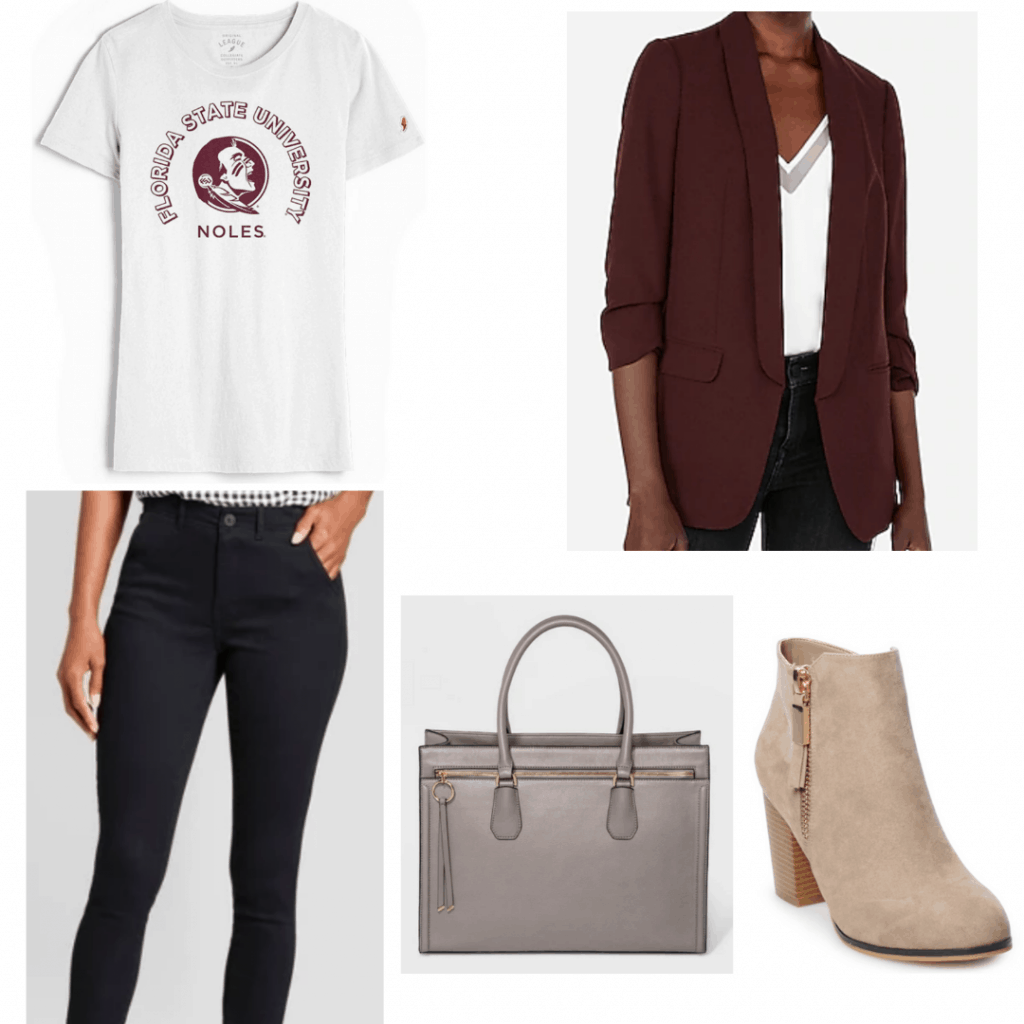 Products: T-shirt – Florida State University, Pants – Target, Blazer – Express, Shoes – Kohl's, Bag – Target
Make it business casual. If you've got tees with simple patterns (like just your school's name or logo), ones in muted colors or basic black, white and gray, you can easily style these up.
Many workplaces have a relaxed "Casual Friday" culture when you can proudly represent your Alma Mater in a professional setting. Pairing one with a blazer and pants or nice jeans creates a young but styled look. Work-appropriate accessories (and a tee that's in good condition) will immediately elevate the outfit.
But even if a t-shirt doesn't fit your career's style guidelines, you can still style them dozens of ways that feel put-together. Combine them with more professional or mature pieces to create a cute and leveled-up look for daytime or nighttime events. Try tucking one into a nice skirt with tights or pairing them with paper-bag waist pants.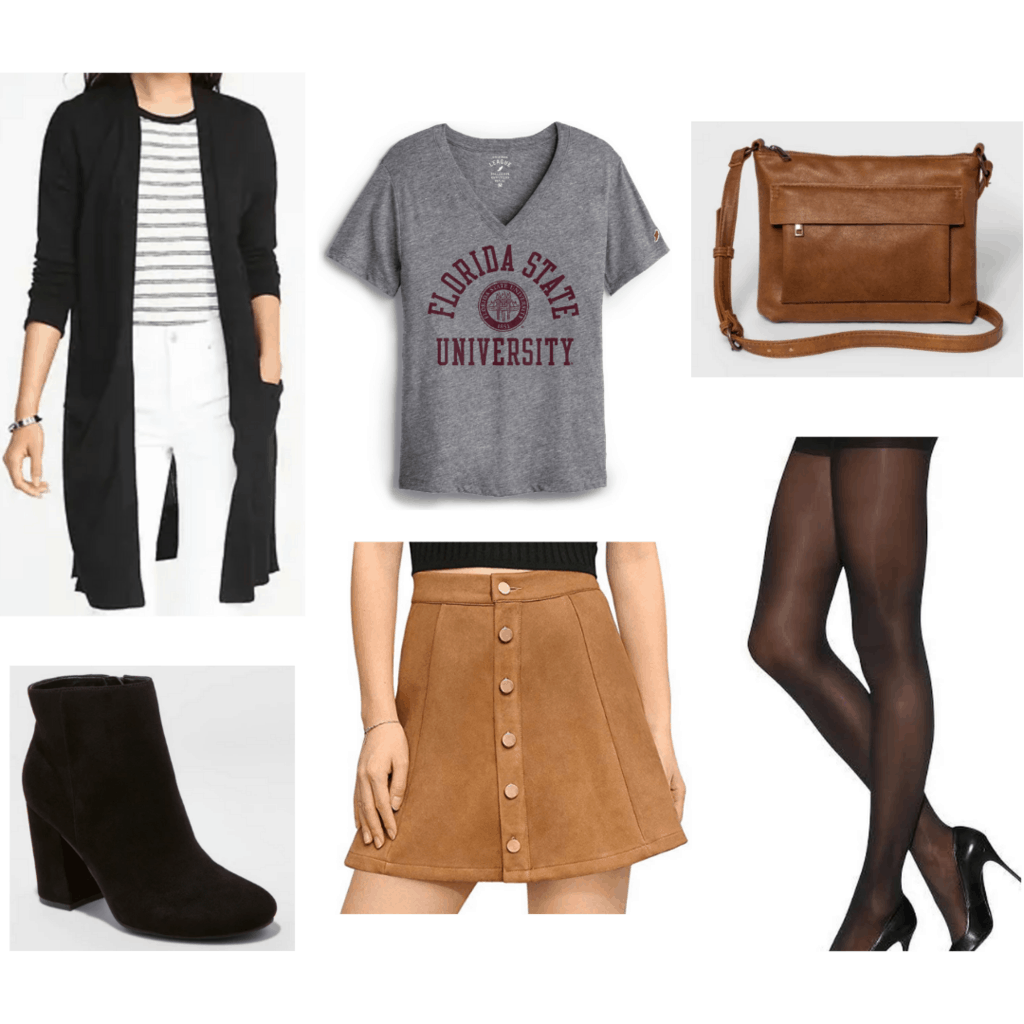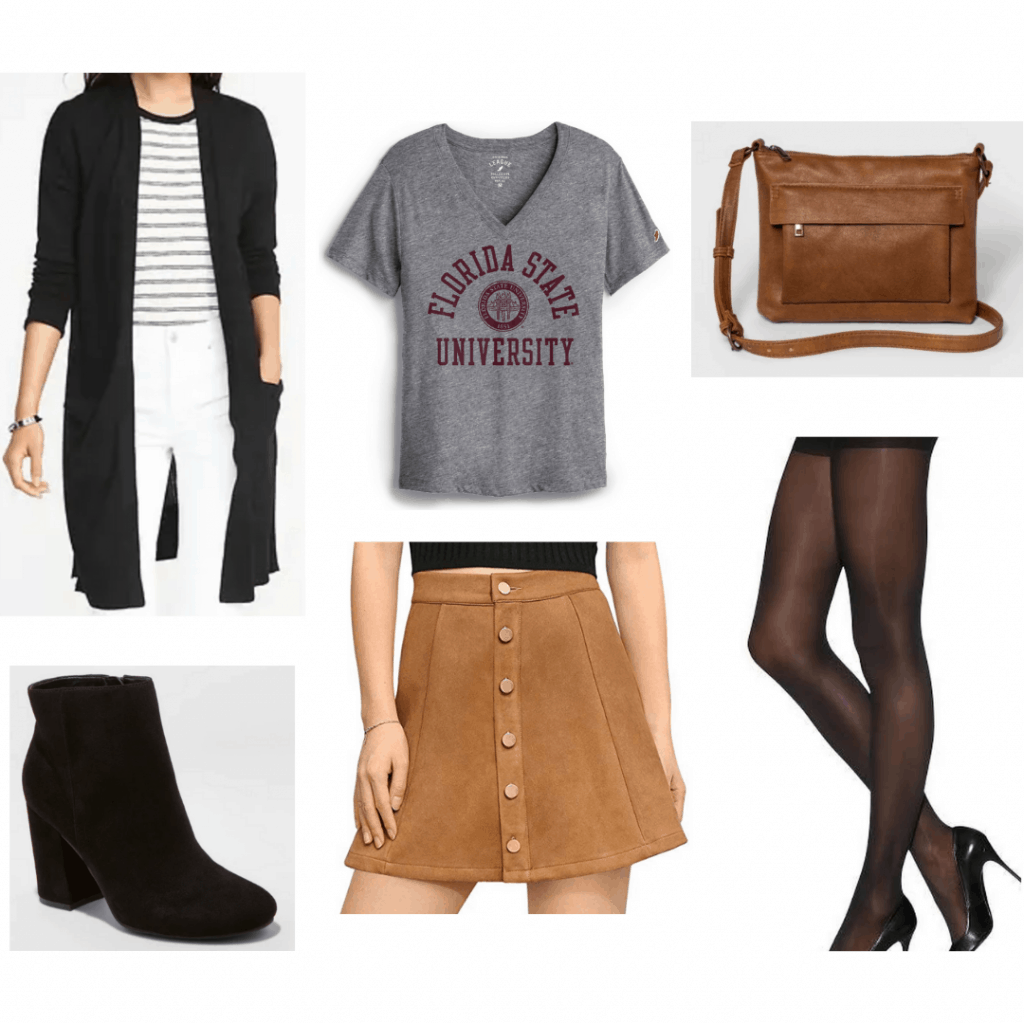 Products: Cardigan – Old Navy, T-shirt – Florida State University, Skirt – Amazon, Tights – Amazon, Bag – Target, Shoes – Target
Shopping Tip: When buying tees (or picking which to keep), think about the silhouette. This seems counter-intuitive because when going to classes, I truly don't care how my tee fits (it's destined to be paired with old leggings and gym shoes anyway). But, tees that fit a little loose can be French-tucked or tucked in for a more consciously-styled look.
The moral of the story? Challenge yourself to style them in different ways. I'd gotten so used to my uber-casual going to class look for my college tees, but I had a lot of fun mixing them with other more stylish pieces in my closet.
For more tips on styling college tees, check out our article on how to style college apparel.
However, if you don't want to wear your tees as-is anymore, there are other options…
How to Repurpose Your College T-Shirts: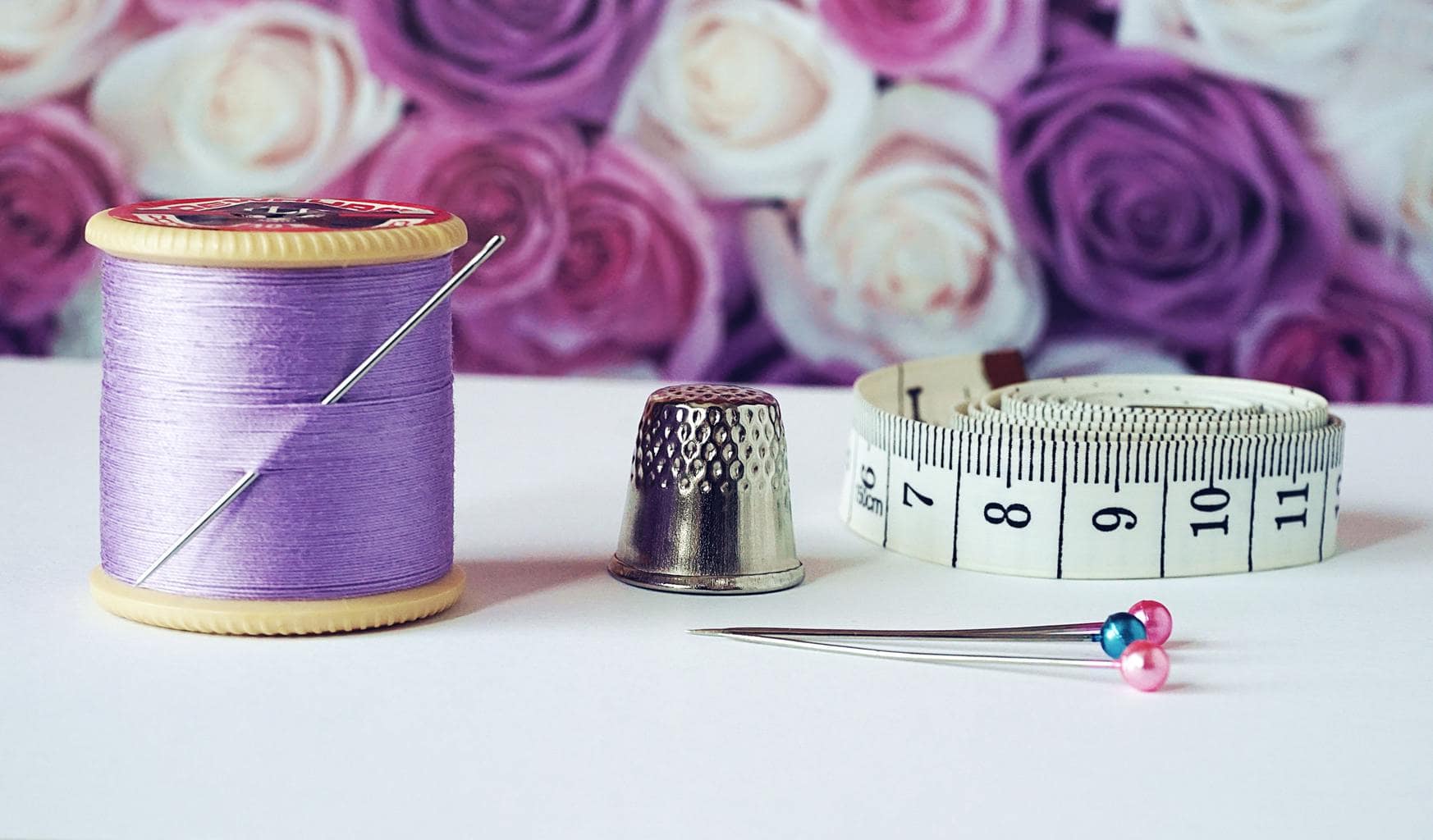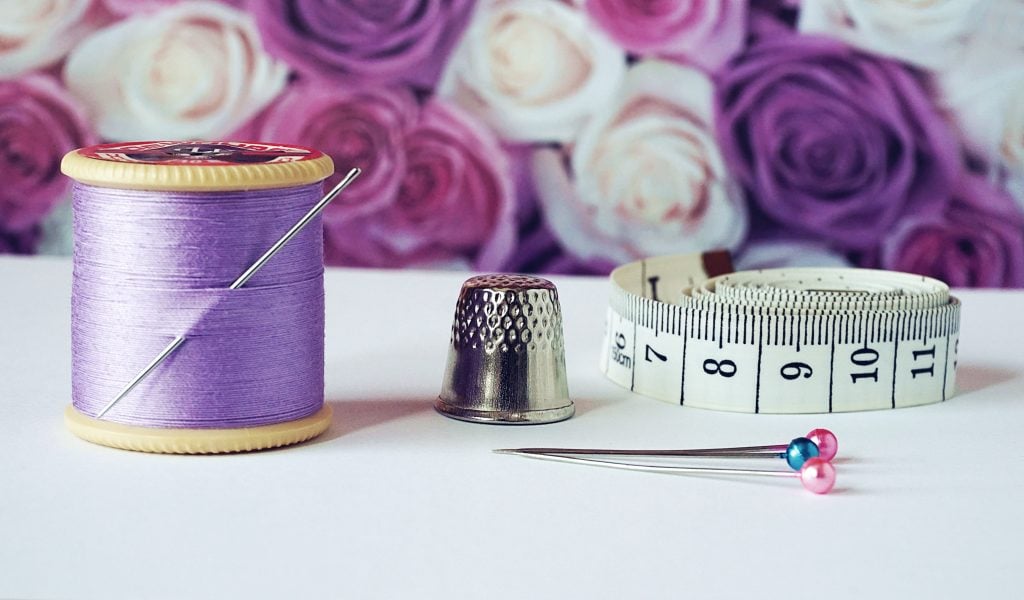 There are more ways to DIY a t-shirt than cutting fringe into the bottom or making braided sleeves. If you have a way with a pair of scissors and some basic sewing skills, here are some ideas:
Work Out Tank
You can transform a sleeved t-shirt into a tank top for a great work-out top. Of course, you probably already have a bunch of college tanks already, but this method of cutting off sleeves gives you an undone look that looks nice with other more rugged accessories.
Beach Cover Up
I was surprised by how simple it seems to turn a t-shirt into a swimsuit cover-up. I like this style because I think you could highlight a university logo or symbol already on the shirt. But there are dozens of different styles of tutorials you can follow that require little to no sewing experience. Making one out of a college tee adds a little personality and sentiment to it.
Pillow
I never thought to make a pillow out of a t-shirt, but it's so simple and cute. I like this tutorial because 1) decorative pillows are expensive, and 2) I love the idea of having a university pillow somewhere in my next apartment to remind me of my college home.
This tutorial uses a sewing machine, but if you're skilled at sewing by hand or have fabric tape, you might be able to get away without one.
Frame It
For an even more sentimental piece of decor, try framing a t-shirt. You can use a basic shirt frame or make a shadow box with other college mementos in it. This is an adorable way to bring a little school spirit with you wherever you land next.
Bag
You can make several different bags out of a t-shirt. There are so many tutorials online. A lot of them highlight the emblem on the t-shirt, which makes it a great way to show off your school pride.
Though these bags may not be the sturdiest, these tutorials provide an easy and sustainable way to create a reusable bag for pool days, grocery shopping or anything else you may need a quick tote for.
Hair Plop
If you want an even simpler way to repurpose an old cotton college tee, consider using them as a hair towel or in a hair "plop."
Many girls swear by using a cotton tee instead of a normal towel to dry their hair, saying it eliminates frizz and leaves their hair smoother.
For curly curls, a t-shirt plop is a method of wrapping your hair in a t-shirt when wet to define curls and dry the hair. It can also be a way to keep your curls frizz-free and popping overnight.
What do you do with your college t-shirts?
For many more ways to reuse an old t-shirt, try our bow back tee shirt tutorial or our tee shirt scarves tutorial. Also, see this list from Cosmo. So many cute ideas!
And, of course, if all else fails, there's the good old fashioned "turn them into pajamas" in which all you really have to do is fold them up and throw them into your PJs drawer.
How many college tees do you have? How do you like to style them or repurpose them? Let us know in the comments!