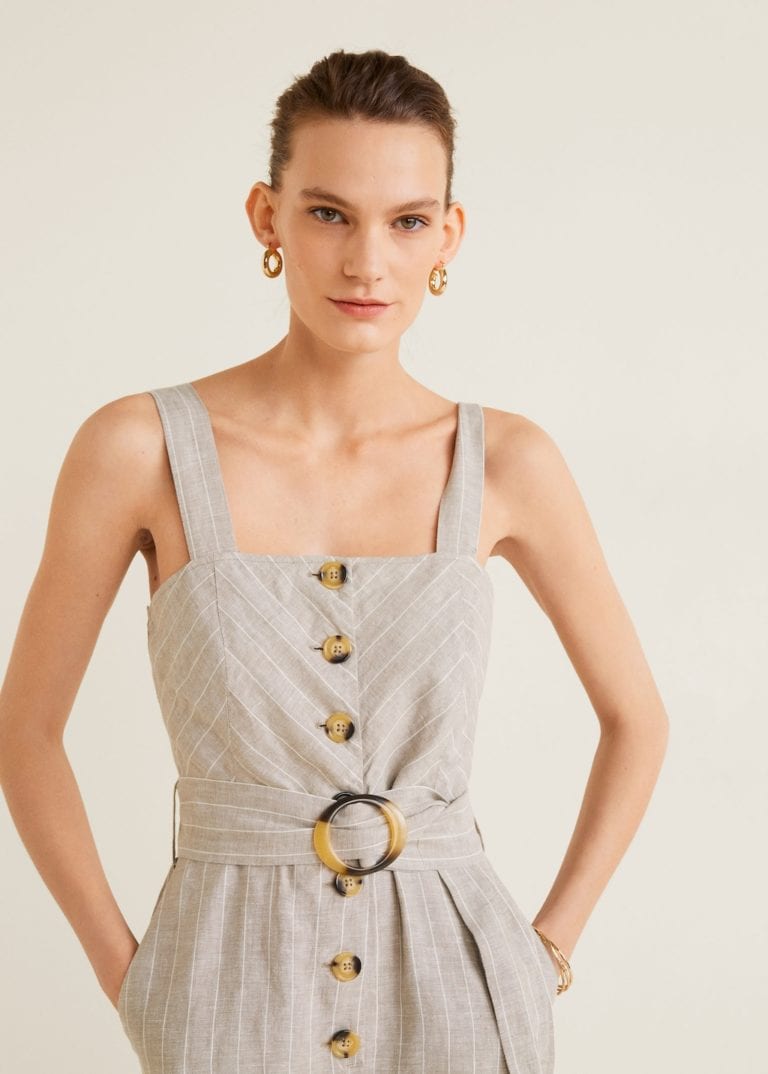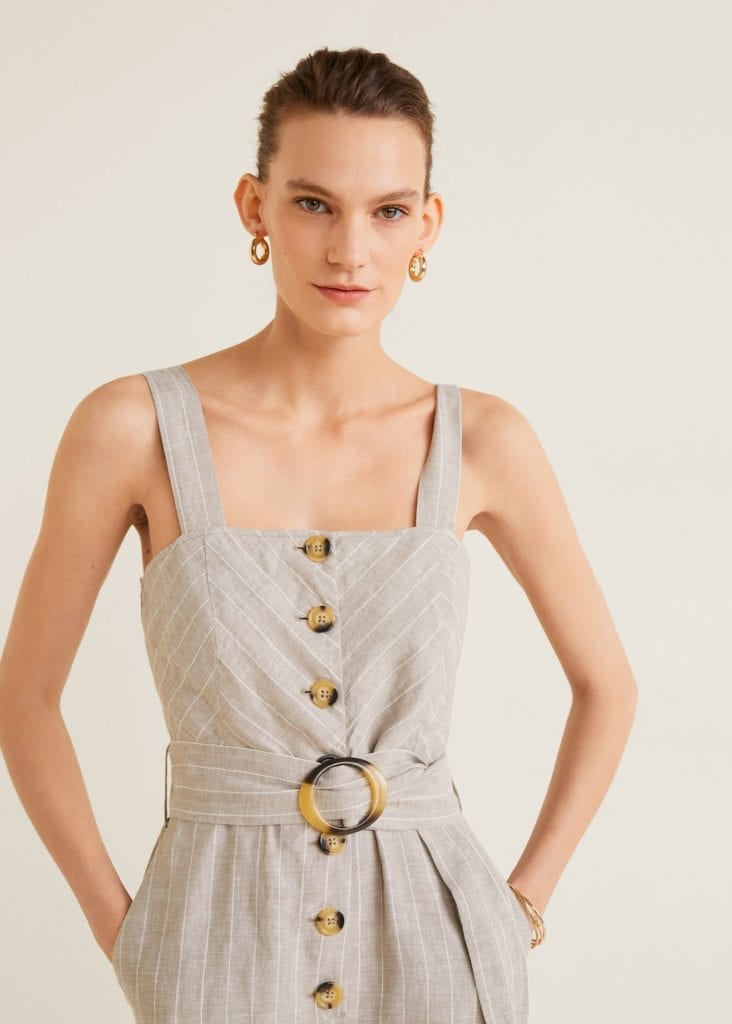 Welcome to the latest edition of Ask CF! Every two weeks, we select a reader fashion question and answer it here on the site.
Do you have a specific fashion question for us? Scroll to the bottom of this post to learn how to submit your most pressing fashion dilemmas via email or Instagram!
Ask CF Question
Hi College Fashion,
One of my professors has invited my class to their house for dinner to celebrate the end of the semester. I would like to honor the occasion by dressing up a little more than I usually do for class, but I also don't want to look too formal or overdone (it is their house, after all, not a black-tie event!) Also, for medical reasons, I prefer to keep my legs covered, so as much as I love the look of cute spring dresses, they aren't really an option for me. Do you have any suggestions? Thanks!!
Our Response
First off, I just wanted to say congrats on finishing the semester; I bet you're so relieved that it's over, and I hope you did well in your classes!
And, now that school finished for the time being, it's time to focus on more important things, like what to wear to your prof's end-of-semester party!
Personally, I think you're right in your thinking that it'd be a good idea to dress up a little, but not too much. However, because the idea of "dressed up a little, but not too much" means something different to everyone, it can be hard to decide exactly what kind of outfit to put together for the occasion.
So, with that in mind, I've styled three classy and put-together, but not over-the-top, outfits for you below; just keep reading to see them!
Dinner with Professor Outfit #1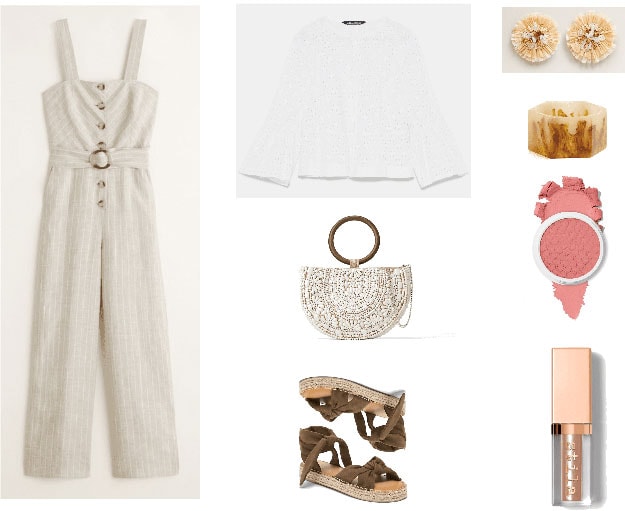 Products: Jumpsuit – Mango, Jacket – Zara, Bag – Zara, Espadrilles – Old Navy, Earrings – Mango, Bangle – Mango, Blush – ColourPop, Eyeshadow – Stila
For this look, I created an outfit that revolves around a jumpsuit, since you say that you don't wear dresses. Aside from wearing a skirt, a jumpsuit is the closest thing you can get to that dress-y feeling without actually wearing a dress, as it offers a similar sense of slightly elevated formality.
Personally, I love the subtle pinstripe pattern and fun retro-inspired silhouette of this particular jumpsuit from Mango, which is why I chose it for this look!
I decided to style it with a pretty embroidered eyelet jacket to dress it up further, along with an on-trend, beachy beaded crossbody bag with a wooden handle for an earthy touch.
To further amplify the retro/feminine/beachy vibe that this outfit's got going for it, I added a pair of olive green espadrille sandals with a low, flatform sole, as well as some quirky flower-shaped earrings (fyi, I do believe that these are clip-ons), and a wide resin bangle.
Since this look is completely neutral, color-wise, I added some sparkle via a shimmery, soft gold eyeshadow. I also added color in the form of a soft pink blush, in order to complete the ensemble.
Dinner with Professor Outfit #2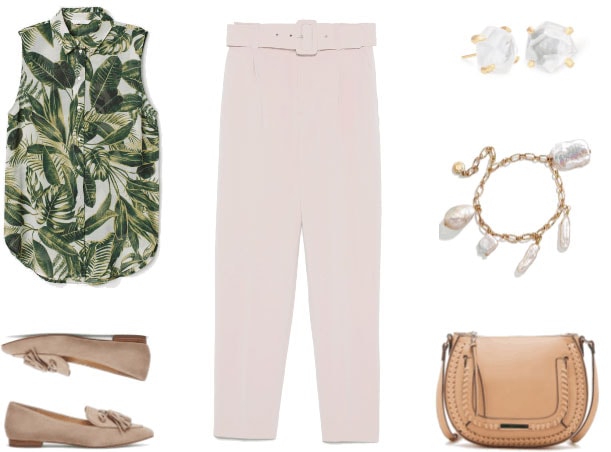 Products: Blouse – H&M, Loafers – Sole Society, Pants – Zara, Earrings – Kendra Scott, Bracelet – BaubleBar, Bag – Sole Society
The second look has a formal feel, but it definitely has an element of fun to it as well, making it a perfect choice for your dinner party.
To start, I mixed a tropical, palm leaf printed sleeveless blouse with a pair of belted pale pink high-waisted pants.
Next, I added some go-with-everything beige pointed-toe tasseled loafers, as well as a classic crossbody bag with whipstitching details.
To complete the outfit, I picked out a pair of faceted mother-of-pearl earrings, along with a gold bracelet featuring dangling of-the-moment baroque pearls.
Dinner with Professor Outfit #3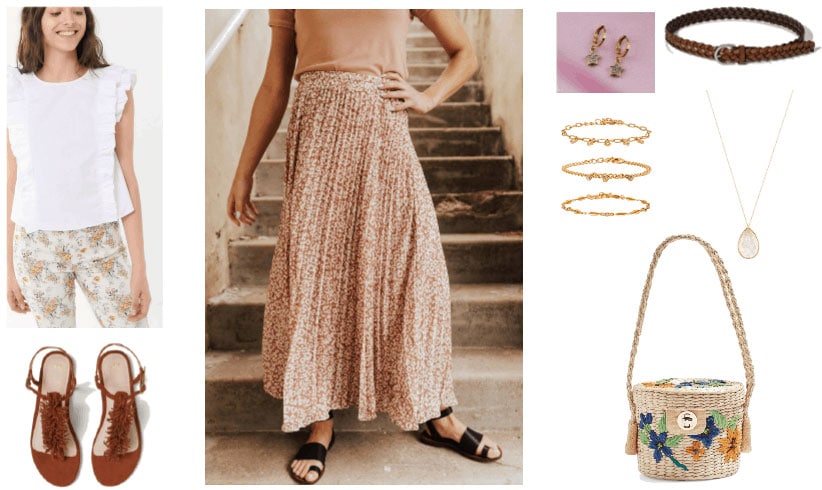 Products: Blouse – Urban Outfitters, Sandals – H&M, Skirt – Henly, Earrings – Frasier Sterling, Necklace – Revolve, Bracelet Set – Revolve, Belt – Target, Bag – Nordstrom
For the final look, I styled a leopard print maxi-length skirt which has all of the fun, feminine style of a summer dress, but also completely covers your legs so that you won't feel uncomfortable.
Here, I paired the skirt with a white ruffled blouse, as well as fringed sandals for a whimsical touch.
To emphasize the waist, I added a brown woven belt. I also added some boho jewelry — sparkly star drop mini hoop earrings, a gold bracelet set, and a long crystal quartz necklace.
As a finishing touch, I decided on a cute straw tote with blue and yellow flowers.
And there you have it–three easy, not-too-dressed up dinner-party-ready looks! Have fun!
Do you have a fashion question? Send it to us!
Is there something in your closet that you want to wear but have no idea how to style? Do you need advice on what to wear to an upcoming event? Do you have a specific fashion conundrum? If you have a fashion-related question that you would like to see answered in this column, simply email it to askcf @ collegefashion.net, and one day you might see your question answered right here on the site!
Also, you can now message us your questions on College Fashion's Instagram account, @collegefashion!
What do you think?
If one of your profs were hosting a dinner party, what would you wear to it? Do you have any other outfit suggestions for this occasion? Which of the looks featured would you be most likely to wear to a dinner party?
Let me know in the comments!