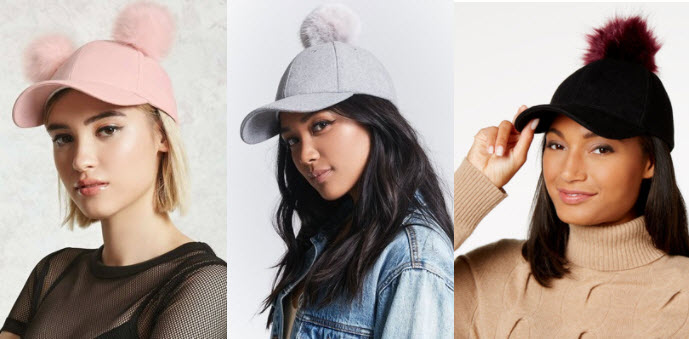 Products L-R: Forever 21, Forever 21, & Macy's.
Pom pom baseball caps are one of my personal favorite recent fashion trends. Whether there's two pom poms or one pom pom on the cap, it's all in the name of fashion — and it's all so cute. Pom poms have also been seen on t-shirts, accessories, bottoms, and even shoes lately, so why not try them on your hat?
You're probably asking CF, how can I style a pom pom baseball cap for class during the day and a night out? Well here's how.
Related reading: What to Wear to a Baseball Game
How to Style a Pom Pom Cap – Outfit for Class: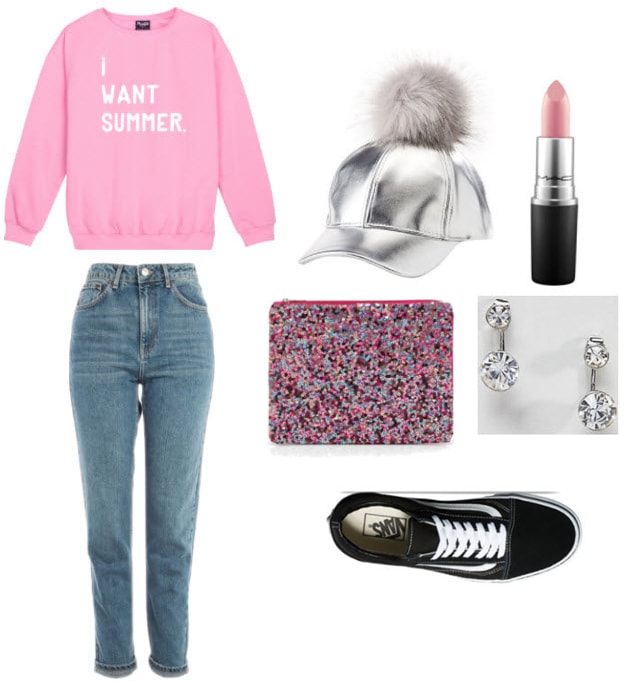 Products: Sweater – Etsy, Jeans – Topshop, Pom pom cap – Charlotte Russe, Lipstick – MAC, Clutch – Boohoo, Earrings – ASOS, Shoes – Vans.
By now, I think we're all screaming "I want summer" just like the slogan sweater, which is why I had to include it. It's also about that time where we want to wear all our cute sweaters before the weather switches up on us. The glitter clutch from Boohoo has different pinks and other colors in it that bring out the pinks in the top. It fits great into a backpack to hold your essentials.
Topshop's light washed Mom Jeans have a cuff at the bottom, which makes them perfect for pairing with low top Vans. (If you want a color that matches the sweater better, Journey's has a poppy pink version of the shoes above.) Finish off the look (and hide any bad hair days) with a metallic silver pom pom baseball cap .
How to Style a Pom Pom Cap – Outfit for Going Out: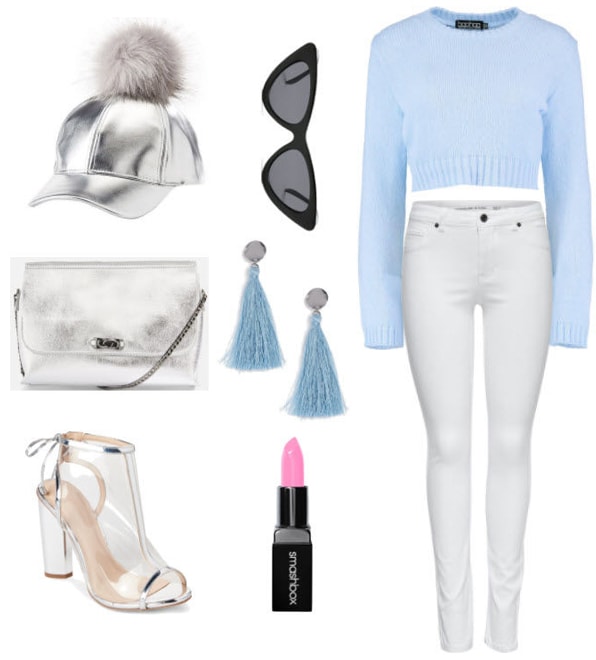 Products: Pom pom cap – Charlotte Russe, Purse – Topshop, Heels – Wild Diva, Sunnies – Amazon, Earrings – Topshop, Lipstick – Smashbox, Sweater – Boohoo, Jeans – M & Co.
For the going out outfit, a crop top baby blue sweater from Boohoo combines nicely with M & Co.'s white jeans.
These simple pieces blend effortlessly with the metallic pom pom cap, Topshop's metallic purse, and Wild Diva's clear open toed heels. The heels have a chunky heel that makes them easy to walk in and boast silver details that match with the other metallic accessories.
So what's your opinion about pom pom baseball caps?
Are pom pom baseball caps hot or hmm? How would you style yours? Do you think they'll be around all year or will they be a quickly dying trend? CF wants to hear from you so comment and let us know!