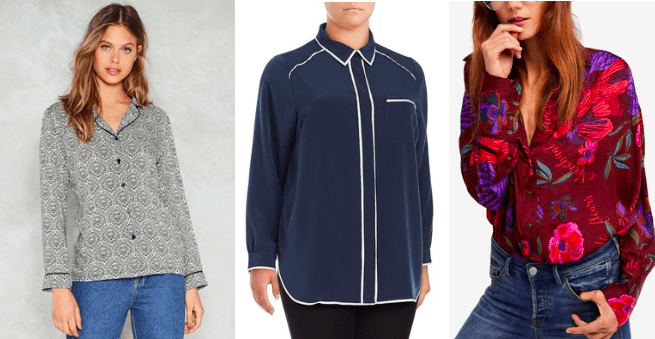 Items L-R: Nasty Gal, Lord & Taylor, Macy's
Wearing pajamas to class used to be THE last thing we'd ever do. So it's thrown us for a loop that pajamas are having a fashion moment. They're literally a red carpet trend now.
While a pajama top as a blouse might seem like an outfit you concocted after hitting the snooze alarm one too many times, this trend can easily fit any dress code you might encounter. Wether you're having a quiet night in Netflixing with friends or attending the hottest party on campus, a pajama top blouse can be transformed to fit any occasion.
How to Style a Pajama Top Blouse for Class: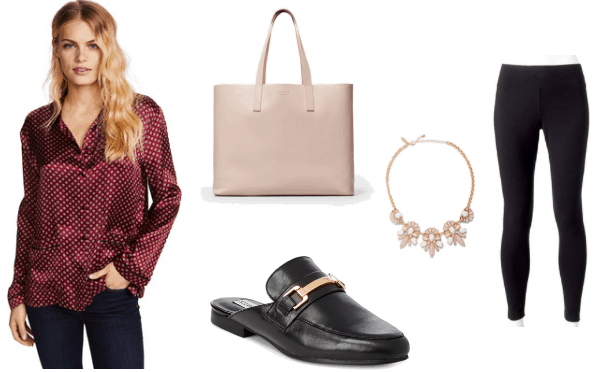 Products: Top – Madewell, Necklace – NY & Company, Leggings – Kohl's, Shoes – Saks Off 5th, Tote – Everlane
While you're still recovering from all those yummy holiday foods, this trend is the perfect pick. In the days after Thanksgiving, this top keeps you cute with minimal effort.
For this daytime outfit, pair your pajama top blouse with a pair of leggings. Be sure to grab a tote big enough to fit all your study materials — this one from Everlane is going to be your new BFF. If you just need to kick off your shoes after a long day of classes, these slip-on loafers are a perfect addition.
How to Style a Pajama Top Blouse for a Night Out: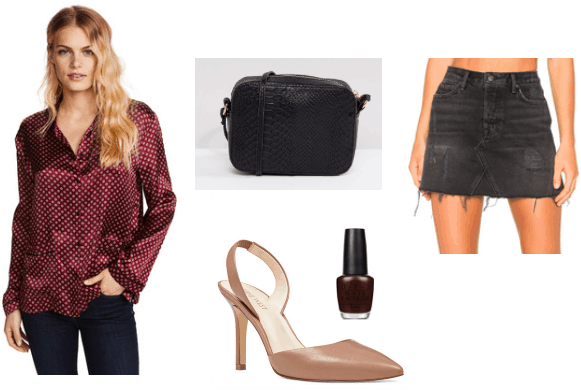 Products: Top – Madewell, Skirt – Revolve, Bag – Asos, Makeup Palette – Stila, Shoes – Nine West, Nail Polish – Amazon
A pajama top blouse is made for a night out. Don't believe me? This look proves it.
If a night out on the town is on your radar, pair your top with mini skirt. You can never go wrong with darker shade like black. Also, the denim fabric gives you some wiggle room if your event is a bit more dressed-down.
To elevate the look, add on these heels from Nine West. Complete the outfit with your best glam makeup: This Stila palette is great, as it's practically a full look in a compact.
What do you think of the pajama top trend?
Are you going to try it this season? Have you already been wearing it like crazy? Tell us in the comments section.