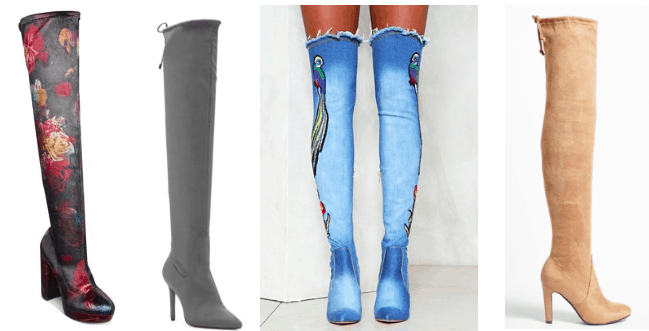 It may have the word "over" in its name, but this shoe trend is nowhere near out of style. Over-the-knee boots have evolved over the years and are now as popular as ever, and available in every material under the sun.
There's zero sign of this trend stopping anytime soon; it's just getting bolder and better.
How to Style Over the Knee Boots for Class: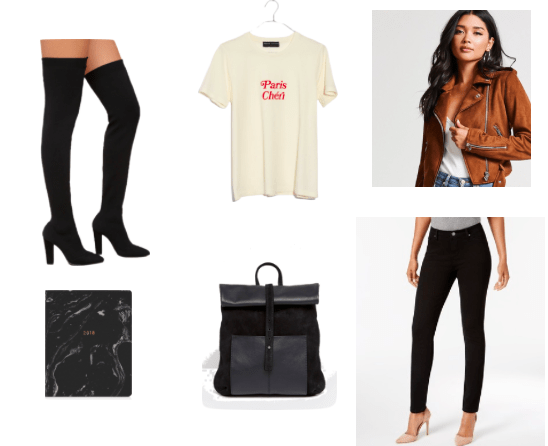 Products: Tee – Madewell, Jeans – Macy's, Jacket – Forever 21, Boots – Lulu's, Bag – Asos, Book – Bloomingdales
For class let's call this look your uniform with a twist. If you ever had to wear a uniform throughout your pre college years then you know the convenience of literally throwing on the same variation of clothes day in and day out. There was no fear of being an outfit repeater because, well, you had to be.
To showcase our over-the-knee boots for this more mature schoolgirl look, we're going to go for our favorite tried-and-true combo, jeans and a white tee. We're also going to throw on a moto jacket for extra cool girl points.
This effortless look allows for the over-the-knee boots to get the attention they deserve. The boots also give this basic look a much needed edge.
How to Style Over the Knee Boots for a Night Out: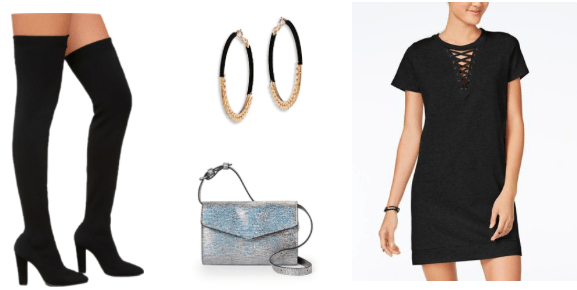 Products: Dress – Macy's, Boots – Lulu's, Earrings – Saks Fifth Avenue, Bag – Century 21
For this nighttime look, less is more. A simple black lace-up tee shirt dress is effortless and similarly to our day time look lets our boots do the talking. The great thing about over-the-knee boots is that they allow you to bring almost any short dress into fall. The boots add on a little extra warmth for these late nights out.