As a CF reader, I know you're all privy to the wonderful benefits that layering can bring to your cool-weather wardrobe. Well, one of my favorite layering tools located in almost every girl's closet is a cozy, worn-in flannel shirt.
In this post, we're taking everyone's favorite staple item and remixing to create a few new outfits with pieces you probably already own. Read on to check out some style tips!
Rustic Layering
The mere thought of a flannel button-down shirt makes me think of sipping hot chocolate by the fireplace in an earthy log cabin. And yes, I watch way too many movies.
Play up this wintery vibe by layering your flannel shirt with thick cable knit sweaters, utility jackets, denim, leather, or pretty much anything you find in your closet. A mix of different textures and fabrics will give you the most chic, street style-y kind of look. Below, I paired a red flannel shirt with a cream colored boyfriend cardigan, worn with skinny cargoes and topped off with a fur-lined denim jacket. Finish the look with a pair of boots and a few no-frills accessories, like this leather bracelet.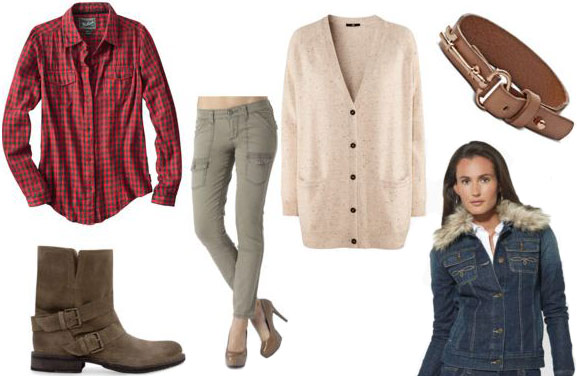 Shirt, Boots, Pants, Sweater, Jacket, Bracelet
Night On The Town
Most girls would never think of a flannel shirt as being appropriate for girls night out — but your most comfortable shirt can absolutely work: All it takes is a little bit of dressing up!
A flannel shirt can look amazing with the sleeves rolled up to 3/4 length, unbuttoned a bit (maybe even to reveal a lacy cami), and tucked into a skirt. Be creative with the skirt — anything from a fitted bandage skirt to a leather A-line skirt, or even a hi-lo skirt like the one pictured below can work! The two pieces juxtaposed together will look bold and funky, and will be even more awesome with statement earrings, heels, and a glamorous clutch. Just don't act too surprised when the Sartorialist appears out of nowhere to snap your picture!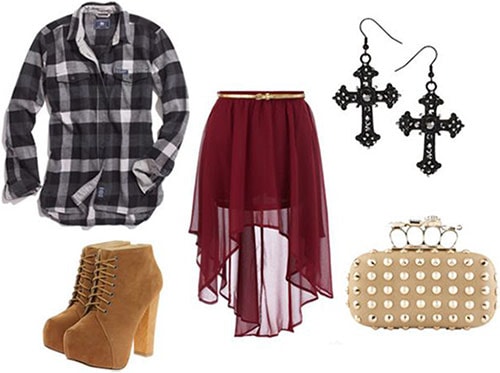 Shirt, Skirt, Earrings, Clutch, Shoes
'90s Throwback
If you look at my past CF posts, it's no secret that I'm absolutely crazy for the '90s fashion renaissance we've been experiencing. This, of course, is the era that flannel shirts are most closely associated with. There's a way to get a cool, grungy '90s look without looking sloppy or overly dated, though!
To start, try layering a flannel over your favorite graphic tee. If a concert tee is a little too Kurt Cobain-esque for your liking, go with any other graphic tee in your closet! Balance out the look with a pair of skinny-cut colored cords. Finish with a pair of sneakers and — if you're feeling really daring — a bowler hat.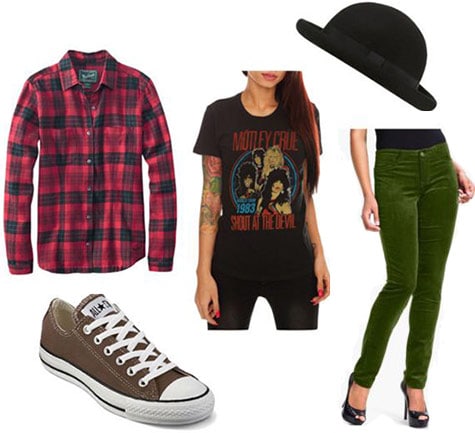 Flannel Shirt, Tee, Pants, Shoes, Hat
Outdoors and Cozy
Of course, probably the second strongest association people have with flannel shirts is a burly man chopping wood in the countryside. Well I know this sounds insane, but we can make "lumberjack chic" a cute look — I'll prove it!
Quilted vests are amazing for staying warm in harsh winds, and can be worn either inside or outside of most winter coats. Wear one on top of a flannel shirt for an outdoorsy and functional (but still super adorable) look. Finish with a pair of comabt boots, a beanie, and chic fingerless gloves. You'll look perfect for playing in the leaves, going to a bonfire, picking apples, or pretty much any fun (and slightly cliche) fall activity!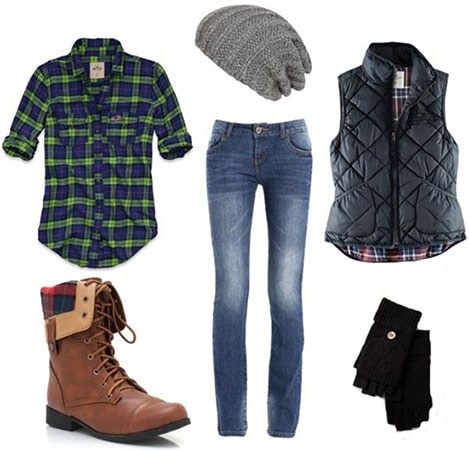 Shirt, Jeans, Vest, Beanie, Boots, Gloves
How do you wear your favorite flannel shirt?
I shared a few of my ideas, but now it's your turn. What do you like to pair your flannel shirt with? How do you feel about these outfits? What other winter staple can you not live without? Would you ever wear a flannel shirt with a skirt? What about open over a graphic tee, like the grunge '90s trend?
Leave us a comment and continue the conversation!