This post may contain affiliate links, which means we may receive a commission if you purchase through our links. Please
read our full disclosure here
.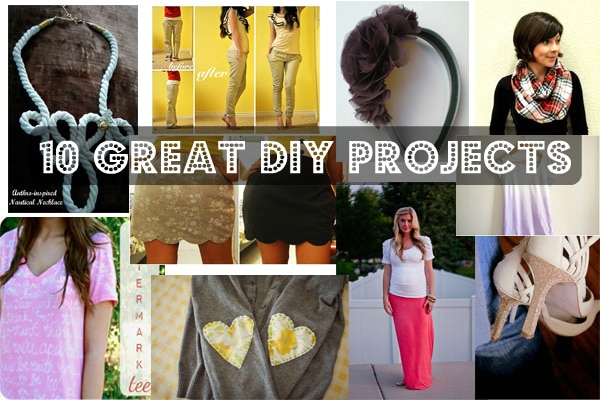 The year is coming to a close, with New Year's celebrations and resolutions right around the corner. To help wrap up 2011, we've rounded up ten of our absolute favorite DIYs of the past year. Although a couple of them were published earlier than that, we discovered them all this year and they have been so much fun for us to make and enjoy. So whether you're bored on winter break or looking to make some belated gifts, these tutorials are sure to help make your 2012 wardrobe fantastic!
The Top Ten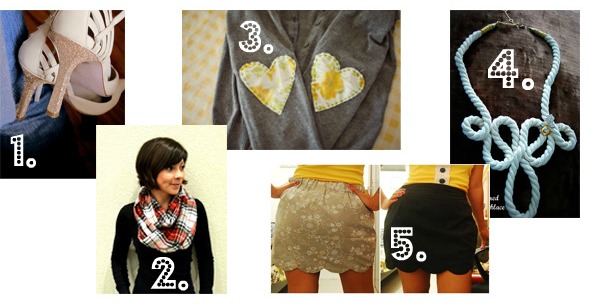 1. Glitter Heel Fix. If you're like me, the heels of your high heels don't always make it out of the party looking as good as when the night started. Between punching holes in wet and muddy lawns, scraping against the sidewalk, each other, and poorly placed grates, my heels usually need a little TLC after serious use. Glitter heels to the rescue! Check out the tutorial at Wobisobi.
2. Flannel Infinity Scarf. You know those flannel pajama pants that have been languishing in your bottom drawer? Turns out they can be made into something stylish. Check out the tutorial at Brittany Makes.
3. Elbow Patch Sweater. If you haven't visited the blog A Beautiful Mess yet, you're seriously missing out. This super cute DIY will teach you how to add adorable elbows patches to every sweater you own. Check out the tutorial at A Beautiful Mess.
4. Anthro-inspired Nautical Necklace. There's nothing as satisfying as making something that looks like it cost a fortune on the cheap and this necklace is no exception. It's perfect for summer and easy enough that you can make one for all of your friends! Check out the tutorial at Tatertots and Jello.
5. Reversible Scalloped Skirt. This DIY is nice and easy, but you also get two skirts for the price of one! Not only is the scalloped edge on this skirt perfect for spring, you can have two completely different looks with one skirt. Genius. Check out the tutorial at Bored and Crafty.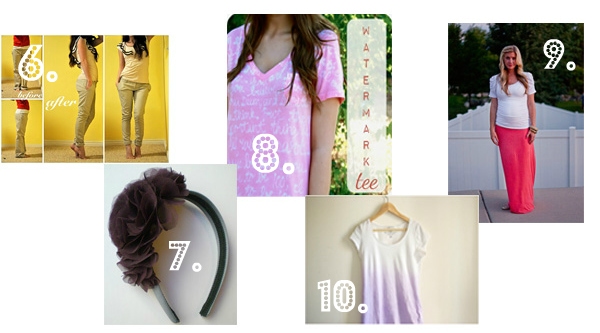 6. Skinny Jean from Regular Pants. If you're like me, skinny jeans off the rack don't always fit. So why not take a pair of regular pants that fit you well and convert them? It's easier than you think. Check out the tutorial at Cotton & Curls.
7. Fabric Flower Headband. These headbands were all over the place this year, and it's hard not to love the easy chic of a great hair accessory. Check out the tutorial at Ador.
8. Watermark Tee. This DIY makes a wonderful gift for your girlfriends because you can personalize each shirt with quotes, lyrics, or inside jokes that will make the gift extra meaningful, not to mention fun. Check out the tutorial at Ucreate.
9. Jersey Maxi Skirt. Leanne is one of my favorite crafty bloggers and this skirt is a total winner because it is easy, looks great on everyone, and is probably MORE comfortable than your pajamas. It's hard to beat all that. I am plotting to make one in every single color. Check out the tutorial at Elle Apparel.
10. Ombre Tee. Although the tutorial is for a tee shirt, you could apply this concept to just about any piece of clothing, and there's no doubt that ombre is hot right now! This blog also has lots of other great DIYs and inspiration from the runway. Definitely a talented blogger to follow! Check out the tee tutorial at A Pair and A Spare.
Let's hear from you!
What DIYs did you love this year? Do you DIY a lot? What's on your winter break to-DIY list? Let me know in the comments!