This post may contain affiliate links, which means we may receive a commission if you purchase through our links. Please
read our full disclosure here
.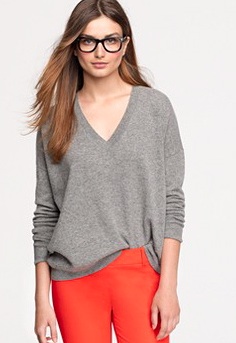 Last week, we gave you some tips on what to wear to class when it's cold outside but you still want to look fashionable. In keeping with this cold weather theme, I'm focusing on an updated winter wardrobe staple in this installment of "One Item, Four Ways." A boyfriend sweater is just oversized enough to be cozy, but not too big that you look like you're swimming in wool.
Whether you wear it loose or belted, layered or on its own, this menswear-inspired piece definitely deserves a place in your closet during the cooler months. Read on to see four different ways to style a boyfriend sweater.
Outfit 1: Stylin' in the Rain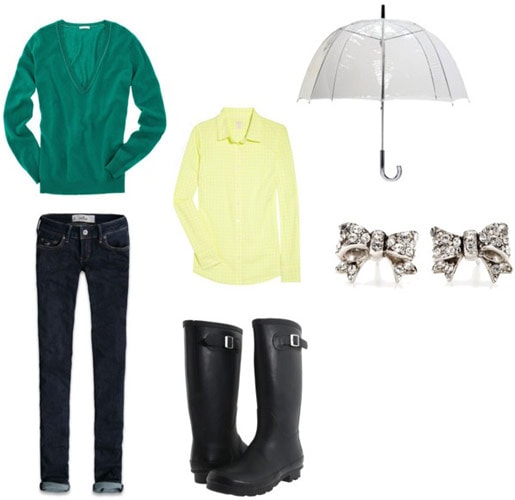 Sweater, Jeans,Shirt, Rain Boots, Umbrella, Earrings
Who says that you have to sacrifice style when it's raining outside? Layering a bright shirt under a cozy sweater will keep you warm in stormy weather, and skinny jeans are easy to tuck into rain boots that will keep your feet dry as you walk across campus. Don't forget your umbrella!
Outfit 2: Two for One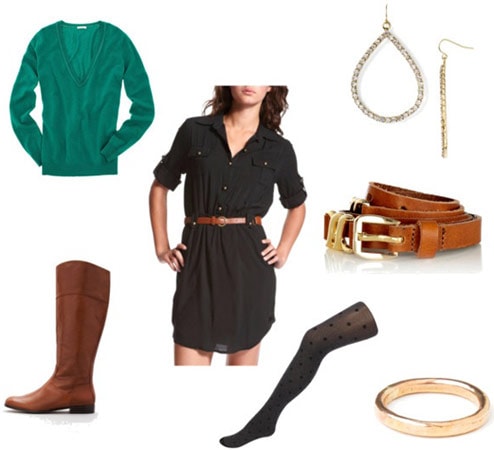 Boots, Dress, Tights, Earrings, Belt, Ring
Everyone knows that adding a cardigan or blazer on top of your dresses is a great way to transition them to colder weather, but have you tried adding a sweater on top? This can completely transform your dress to look like a skirt and help you get more wear out of both pieces. Be sure to belt the sweater to give your waist some definition, and add tights, boots, and some simple accessories to finish off the look.
Outfit 3: High Meets Low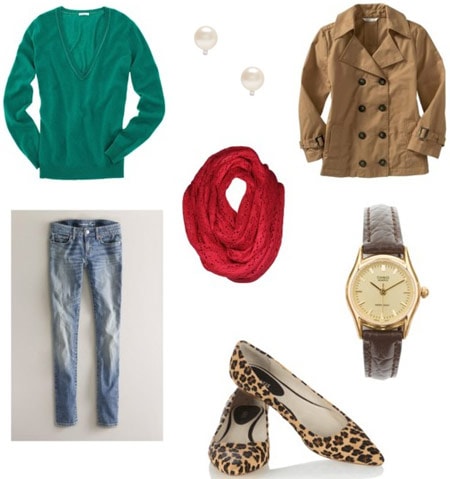 Jeans, Scarf, Jacket, Earrings, Flats, Watch
The loose fit of a boyfriend sweater means it's perfect for pairing with more casual outfits. In this outfit, I added some polished accessories to contrast with the relaxed aspects of the jeans and sweater for a look that's the perfect mix of high and low. This would be perfect to wear to class or for a day exploring your college's town.
Outfit 4: Dressed-Up Comfort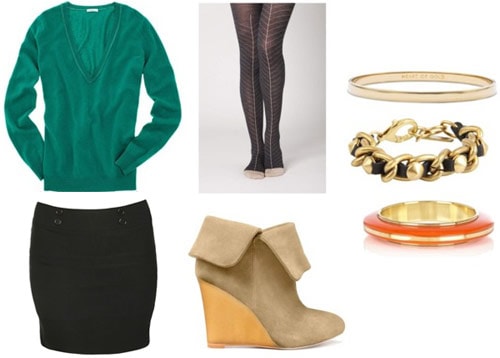 Skirt, Wedges, Tights, Gold Bangle, Chain Bracelet, Orange Bangle (similar)
This last outfit shows that sweaters don't have to be reserved for daytime wear. By pairing a relaxed sweater with a bandage skirt, tights, and a fierce pair of wedges, you get an outfit that's comfortable yet perfect for dressier occasions, like a dinner with friends. An armful of bangles finishes off the look.
What Do You Think?
Do you own a boyfriend sweater? Which outfit is your favorite? What's your favorite casual piece to wear when it's cold outside? I'd love to hear from you, so be sure to leave a comment!