(Editor's note: We've talked about modest fashion here on CF before, but today's guide will focus solely on warm weather modest fashion. Check out our other guide for more of a general overview!)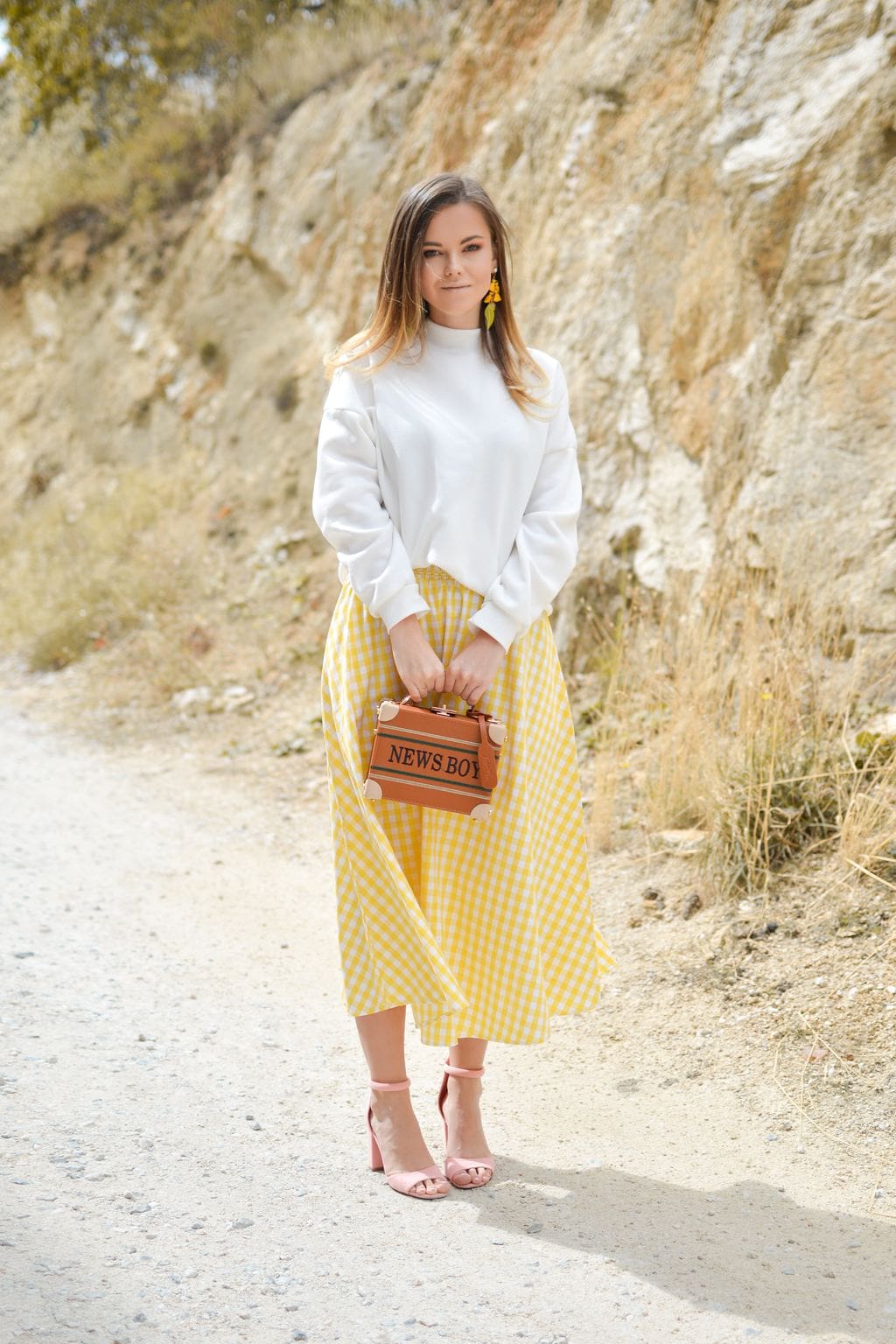 Welcome to the latest edition of Ask CF! Every two weeks, we select a reader fashion question and answer it here on the site. Do you have a specific fashion question for us? Scroll to the bottom of this post to learn how to send it our way!
Ask CF Question
Hey CF, I usually draw a lot of inspiration from you and while I know you guys are trend conscious, not everyone is into crop tops and bikinis. I applaud you for being inclusive with plus size and petite sized girls so why not include modest dressers in your inspiration every once in a while? Modest fashion is often overlooked as people are used freeing their bodies as a form of expression. But covering up is also a choice. It's a little disheartening to only seeing bikinis, crop tops, and minis in "summer inspiration".
Do you have any tips for dressing modestly in the summer months?
-Ava
Our Response
Dear Ava,
I definitely understand where you're coming from; even as someone who would consider themselves just slightly on the more modest side when it comes to fashion, I have had problems in the past finding clothes that weren't too revealing for me. Moreover, I realize that it can feel disheartening, as you say, to feel like the only options available for warmer weather are things that have minimal coverage — particularly when you still want to keep up with current trends.
This fashion struggle can be made even more difficult when you realize that everyone has a different definition of modesty. For example, some people might think that modesty entails not showing off any cleavage, keeping your shoulders covered, and wearing hemlines that go to the knee or lower, while others might think that modesty entails not showing any skin at all below the neck/chin area, and also not wearing anything that could draw attention to the shape of your body — both of which are perfectly valid, by the way!
Judging by your letter, I am assuming that your definition of modesty is closer to the first example, i.e., you want clothes that don't reveal as much skin as usual summer clothes, but that also aren't super tight and don't show off every line of your body.
And, luckily, that sort of look is easy to achieve — you just have to know what kinds of pieces to search for!
Below, see three outfits that I have put together for you, all of which are modest but definitely still fashion-forward!
Modest Summer Outfit #1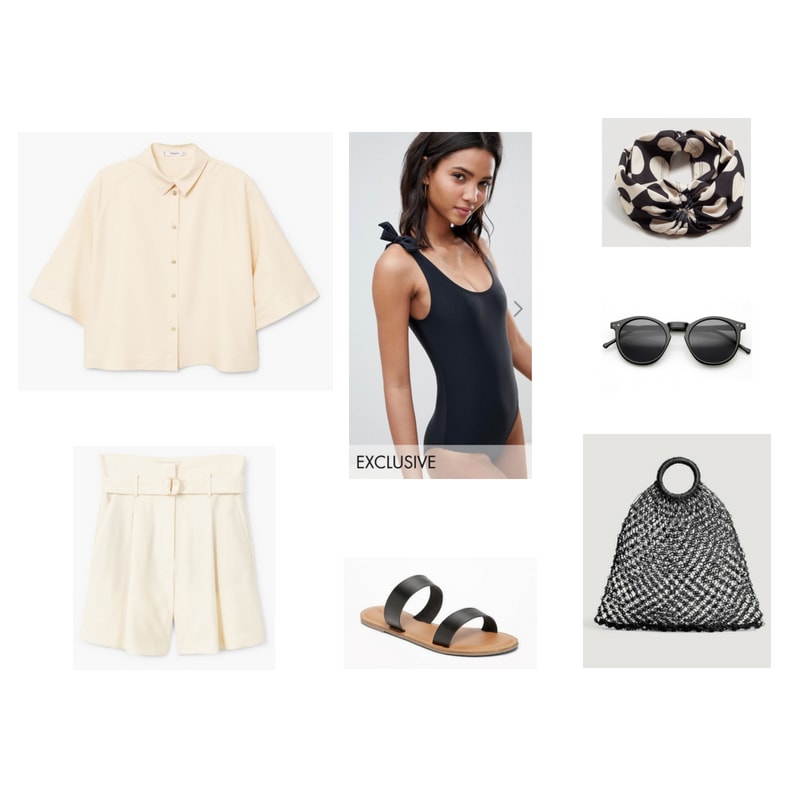 Products: Shirt – Mango, Shorts – Mango, Swimsuit – ASOS, Sandals – Old Navy, Headband – Mango, Sunglasses – ShopZeroUV, Tote – Mango
For the first look, I decided to put together an outfit that can be worn to the beach and beyond!
One-pieces are really having a fashion moment right now, so if you're planning on going to the beach, put on this classic black one-piece (it also comes in red) with feminine bows at the shoulder for a subtle twist on a timeless style. Next, add either the shirt or the high-waisted shorts (these hit just above the knee, though they look shorter in the photo above), as a cover-up.
When you're not at the beach, just ditch the swimsuit and wear the shirt tucked into the shorts to create a cute matching set that you can also mix and match with other pieces.
Add a trendy netted tote, some simple black sandals, cool round sunglasses, and a polka-dot headband that are all in keeping with a sophisticated cream-and-black color scheme for a modern and minimal look that you'll live in all Summer long!
Modest Summer Outfit #2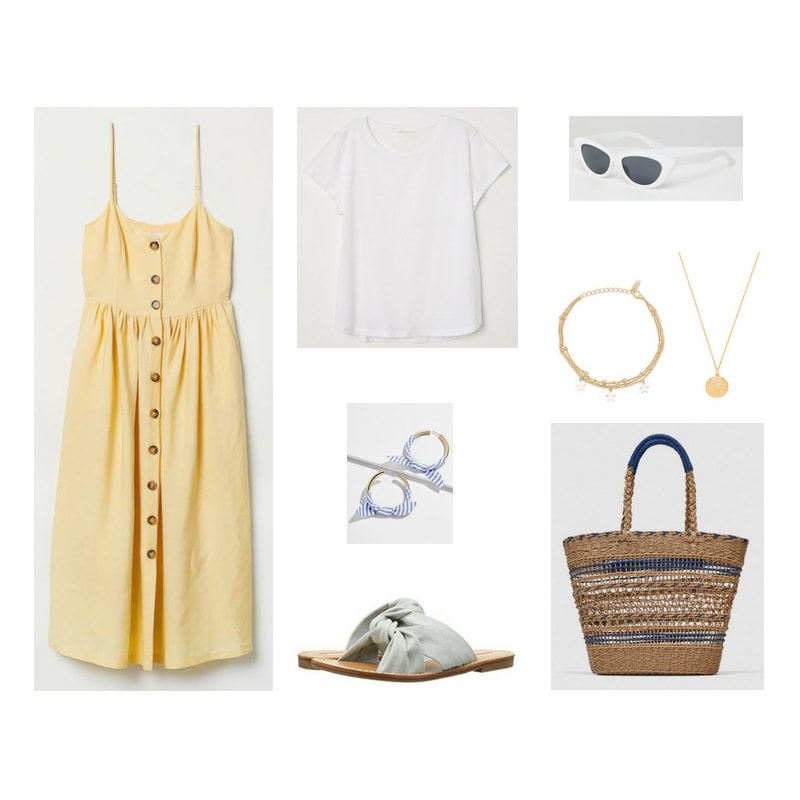 Products: Dress – H&M, T-Shirt – H&M, Earrings – BaubleBar, Sandals – Zappos, Sunglasses – ASOS, Bracelet – Revolve, Necklace – Revolve, Tote – Zara
This sweet and summery ensemble is proof that you don't necessarily have to show off your body to achieve a breezy, feminine aesthetic!
This lovely pale yellow dress is rather bare on top, making it a great piece to layer over a simple white t-shirt for more coverage. (Another super-chic way to get even more coverage? Layer the dress-and-t-shirt combo over a pair of cropped jeans, leaving the dress unbuttoned from the waist down — like this.)
Bright white sunnies are a great way to make any look stand out, so put on an on-trend cat-eye pair to elevate the outfit.
Add a few pops of blue with chambray knotted sandals blue-and-white ribbon-wrapped hoop earrings, and a basket bag with blue detailing.
Finally, a pretty layered star bracelet and a coin necklace bring some visual interest to the pastel colors of the clothes.
Modest Summer Outfit #3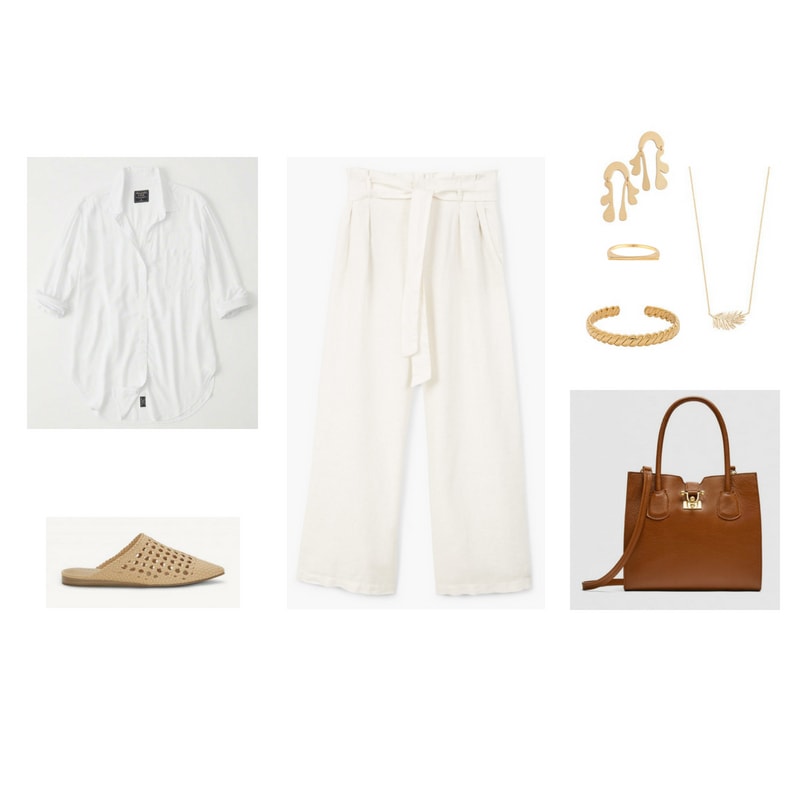 Products: Shirt – Abercrombie & Fitch, Mules – Sole Society, Pants – Mango, Earrings – Shopbop, Ring – Shashi, Bracelet – Revolve, Necklace – Shopbop, Bag – Zara
If you prefer to wear pants in the summer, don't worry — I've got you covered! (Literally!) Wearing head-to-toe whites in loose-fitting silhouettes is a super-elegant ways to dress modestly when it's warm out. To avoid looking matronly, pair more classic silhouettes (e.g. the button-up) with more modern ones (e.g. the tie-waist pants).
Get this classy look by tucking an oversized white button-up shirt into a pair of linen high-waisted pants. Then, add some of-the-moment woven mules for a beachy touch.
All-gold artsy jewelry — such as these abstract earrings, bar ring, twisted cuff bracelet, and palm-leaf necklace — adds a dose of creativity to the outfit; lastly, a structured brown bag brings everything back down to earth.
I hope that these looks have given you some inspiration on how to dress modestly yet stylishly for Summer. Thanks for your question!
Do you have a fashion question? Send it to us!
Is there something in your closet that you want to wear but have no idea how to style? Do you need advice on what to wear to an upcoming event? Do you have a specific fashion conundrum? If you have a fashion-related question that you would like to see answered in this column, simply email it to askcf @ collegefashion.net, and one day you might see your question answered right here on the site!