(Editor's note: We still love the advice from this guide, however we just published an updated guide on how to dress modestly in summer, perfect for the warm weather months! Check that out for more specific summer advice.)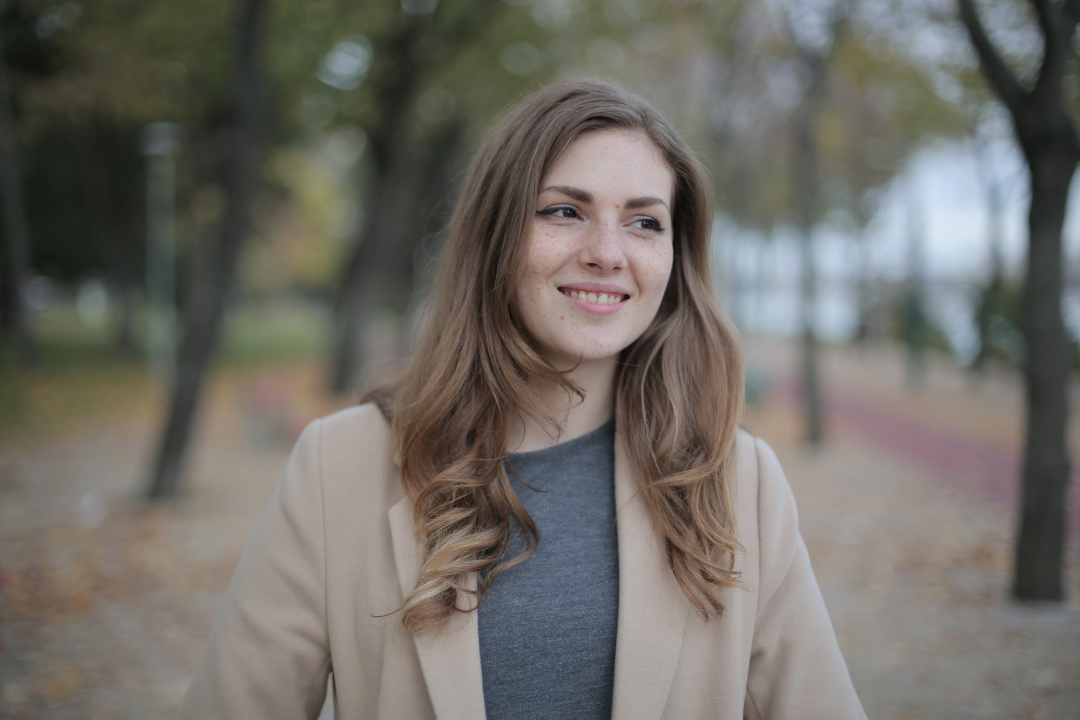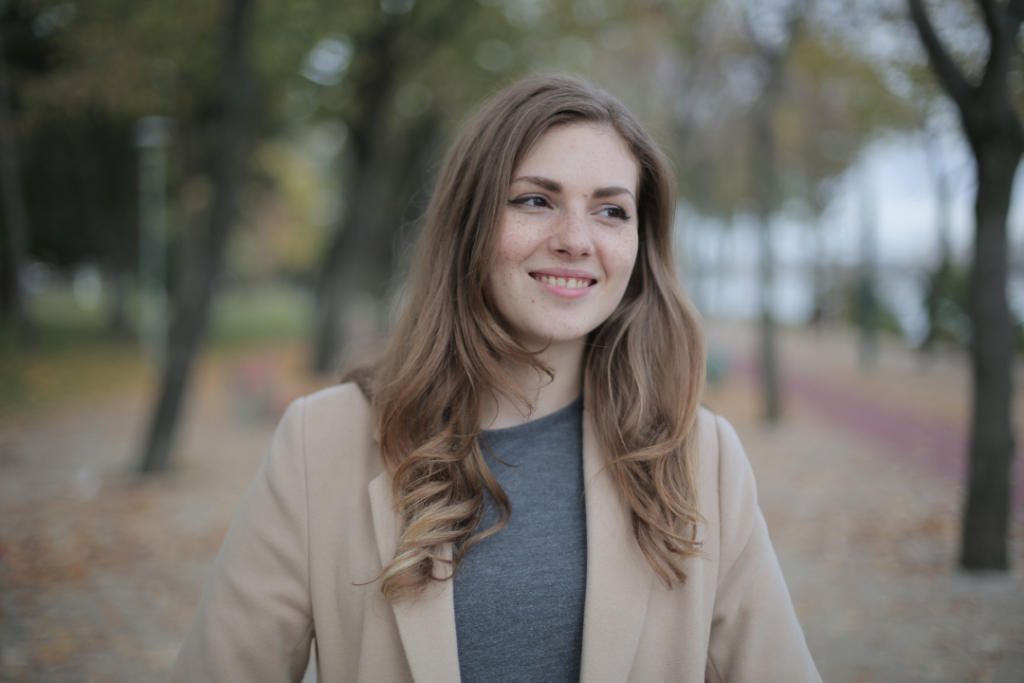 Welcome to the latest edition of Ask CF! Every two weeks, we select a reader fashion question and answer it here on the site. Do you have a specific fashion question for us? Scroll to the bottom of this post to learn how to send it our way!
Ask CF Question
Dear CF,

I find it difficult to come up with outfit ideas because I have to keep my entire body covered because of my religious beliefs. Could you guys do an article on modest dressing? I find I always get stuck in the same routine clothes because I can't wear shorts or short dresses – and I always end up wearing cardigans tops and jeans. It would really help! Thanks!

Sincerely,

Covered Up
Our Response
Dear Covered Up,
Thank you for your question! I have received a few questions from readers asking how they can dress without exposing a lot of skin so this question seems like something that would be helpful to address. Luckily, longer hemlines for skirts and dresses have been in style recently, meaning it's easier than ever to find modest clothing options in stores. And for days when you want to wear pants, there are also many more options to wear up top aside from cardigans. All it takes is a little creativity and experimentation to find what works for you and your lifestyle. Below, I have created a few outfits that can hopefully inspire you. Enjoy!
Sincerely,
Jessica
Outfit #1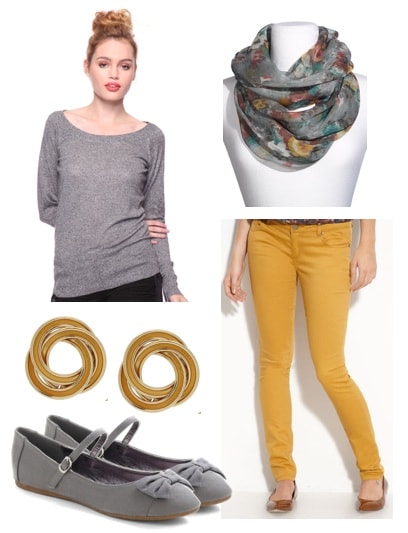 Product Information: Sweater, Scarf, Pants, Shoes, Earrings
One way to stray from your jeans-and-cardigan routine is to wear a bright pair of pants on the bottom and a sweater up top. I love the idea of wearing these bamboo yellow jeans with a grey pullover. To add some excitement to your look, add on a grey floral scarf like the one above. Simple post earrings and classic grey ballet flats pull the outfit together.
Outfit #2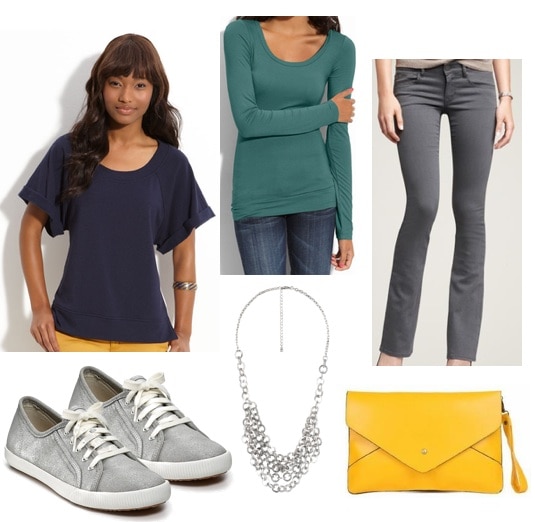 Product Information: Short sleeve top, Long sleeve top, Pants, Bag, Necklace, Shoes
Another great way to stay covered up without using a cardigan is to layer. Here, I paired this blue-green long sleeved shirt under this swingy navy top. Grey bootcut jeans keep the look classic and simple. Next, silver sneakers provide much-needed support for your feet during a day spent running around. Last, put on this pretty silver necklace and add a pop of yellow with a fun bag. If this clutch style is not appropriate for your day, you can easily switch it out for a larger bag.
Outfit #3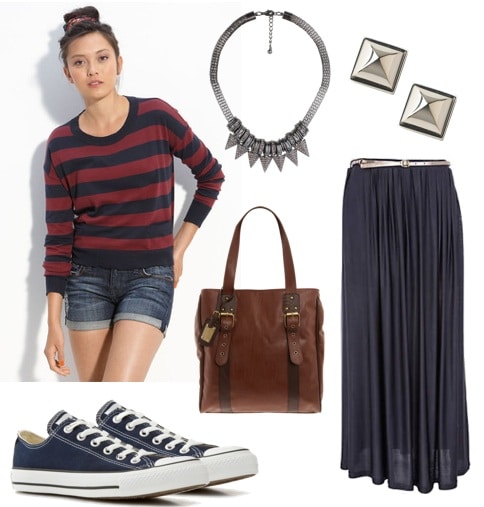 Product Information: Sweater, Necklace, Earrings, Skirt, Bag, Shoes
Another way to keep covered but still look stylish is to wear a maxi skirt. Maxi hemlines have gained popularity over the past few seasons, making them easy to find in stores no matter where you like to shop. I love the look of a pleated navy maxi skirt worn with a striped rugby sweater. A cool necklace like the one above will make you stand out in the crowd. And while many people often wear their maxis with sandals and heels, these options are not so practical for a college student during the fall and winter. Instead, try wearing a pair of navy Converse All-Stars. Lastly, finish the look with some studded post earrings and a simple tote.
Do you have a fashion question? Send it our way!
Is there something in your closet that you can't seem to figure out how to wear? Do you have an event coming up and need an outfit idea? Do you have a specific fashion conundrum you need help with?
If you have a question you want to see answered in this column, just send it on over via email to askcf @ collegefashion.net and one day you might see your question answered right here on the site!
Please note: We get A LOT of email and unfortunately we will not be able to respond to every single question. However, we will read through each question and then decide which ones will be most helpful to the most readers. Thank you for your understanding.
What do you think?
Have you ever found yourself in a similar situation? What do you like to wear to stay covered up? Do you like the outfits I picked out? Which one is your favorite? Please let me know by leaving a comment below!