Drawing inspiration from the 1970s as well as the runways, stores everywhere are stocking metallics like crazy right now.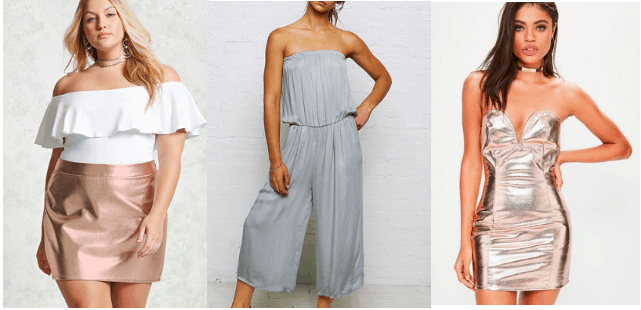 However, when styling metallics in an outfit, there is always the risk of overdoing it. Although we love the idea of channeling Zenon, we will admit that too many metallic pieces at once can give off a space cadet costume vibe. (This is the same advice we gave for styling the holographic trend.)
For our class to night transition, were going to showcase this trend in the form of a metallic skirt. While at first glance this skirt seems best suited for a night out, it can easily be made appropriate for any daytime look.
Here are some metallic skirt outfits you'll want to wear immediately:
How to Style a Metallic Skirt – Outfit for Class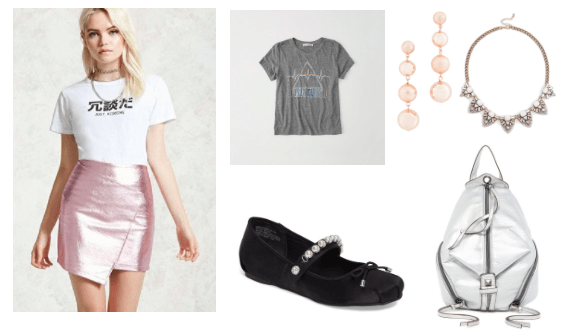 Products: Skirt – Forever 21, T-Shirt – Abercrombie & Fitch, Earrings – Shopbop, Necklace – Sole Society, Backpack – Nordstrom Rack, Shoes – Nordstrom
This metallic skirt outfit will definitely have you standing out on campus. For class, pair this pink metallic mini skirt from Forever 21 with a gray band t-shirt. This creates a casual, toned-down feel.
While you can definitely show your love for any of your favorite bands in this look (see our band tee outfits post for more on this), make sure you pick a dark colored tee to offset the bold metallic pink of the skirt.
Be sure to add on some pretty accessories to complete the look — I love this silver backpack for another hint of the metallic trend, and these pearl-embellished Mary Jane flats are cute and unexpected.
How to Style a Metallic Skirt – Outfit for a Night Out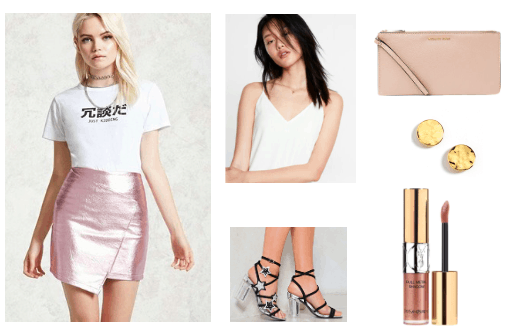 Products: Skirt – Forever 21, Top – Express, Shoes – Nasty Gal, Purse – Michael Kors, Earrings – Lord & Taylor, Eye Shadow – Barney's New York
Now that class is over, here's a perfect outfit for a party. It's time to turn up on this trend without overdoing it.
Start by adding a simple white cami in a v-neck shape — it keeps all the focus on the metallic skirt. Then bring in some "extra" with these glitter star heels from Nasty Gal. The translucent heel and embellishments feel very of-the-moment and are sure to garner tons of compliments!
Adding on some chrome eyeshadow is the perfect way to add another pop of metallic without going too crazy. Finish with simple studs and a millennial pink clutch.
What do you think?
Do you like these outfits? How do you style a metallic skirt? Do you like the metallic trend? Tell us in the comments below.