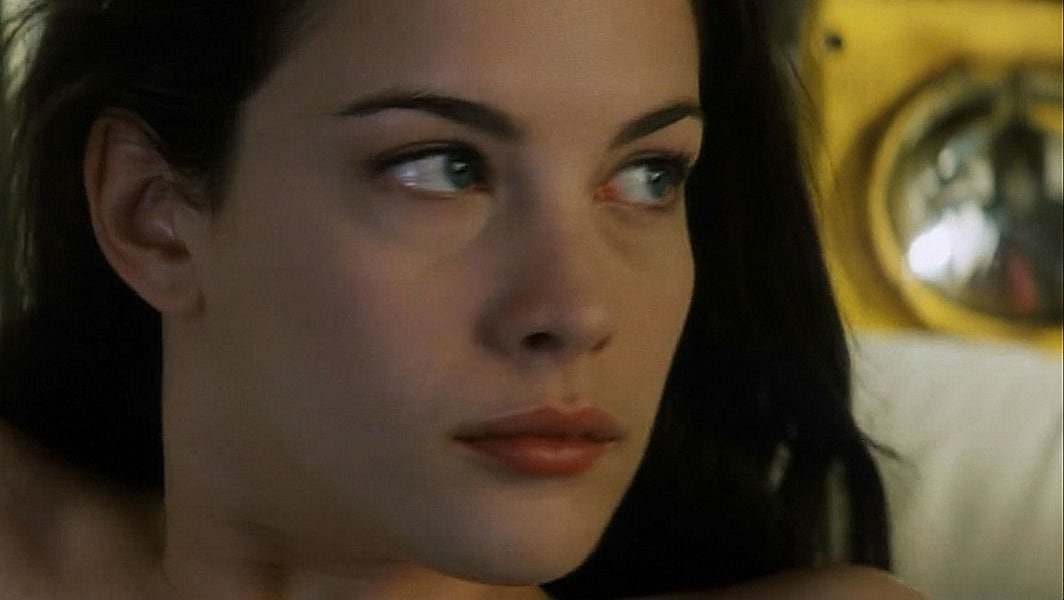 The '90s are back, and we've got you covered if you want to channel the decade in your wardrobe, or just learn a little something about its fashion stars. Previously, I listed the nine '90s fashion icons you need to know about, and each week I'm breaking down a new one. Last week, we went over '90s rock icon Gwen Stefani. Today it's all about actress, model, and '90s it-girl Liv Tyler.
Liv Tyler Biography
Liv's life is fascinating. She grew up in New York City with her mom, model Bebe Buell, and her mom's boyfriend at the time, rock music idol Todd Rundgren, who she believed was her dad.
When she was 11, Liv found out at an Aerosmith concert that her biological dad was actually rock legend Steven Tyler, lead singer of the band.
Liv and Steven formed a relationship, and she got her big break a few years later when she starred in Aerosmith's music video for "Crazy" alongside Alicia Silverstone.
The video is a little questionable by today's standards given Liv was in high school when she played the provocative character in it (and it was, you know, her dad's video), but she looks back on the experience today fondly, and she and Steven still have a good relationship.
Liv later starred in a couple different movies throughout the '90s, the biggest of which was blockbuster hit Armageddon in 1998.
But Liv's lasting legacy and greatest success came a few years later when she was cast as Arwen in the Lord of the Rings trilogy. Her performance earned her rave reviews, and she was praised for her dedication in learning a fictional language for the role.
But let's rewind to the '90s, as that's what we're here to discuss. Part of what made Liv such an icon back then was her incredible sense of fashion. If you're into fun, flirty looks that are just the right amount of retro, look no further! Here's how you can get Liv Tyler's style:
Liv Tyler's Style in the '90s
1. Skirts and Cropped Sweaters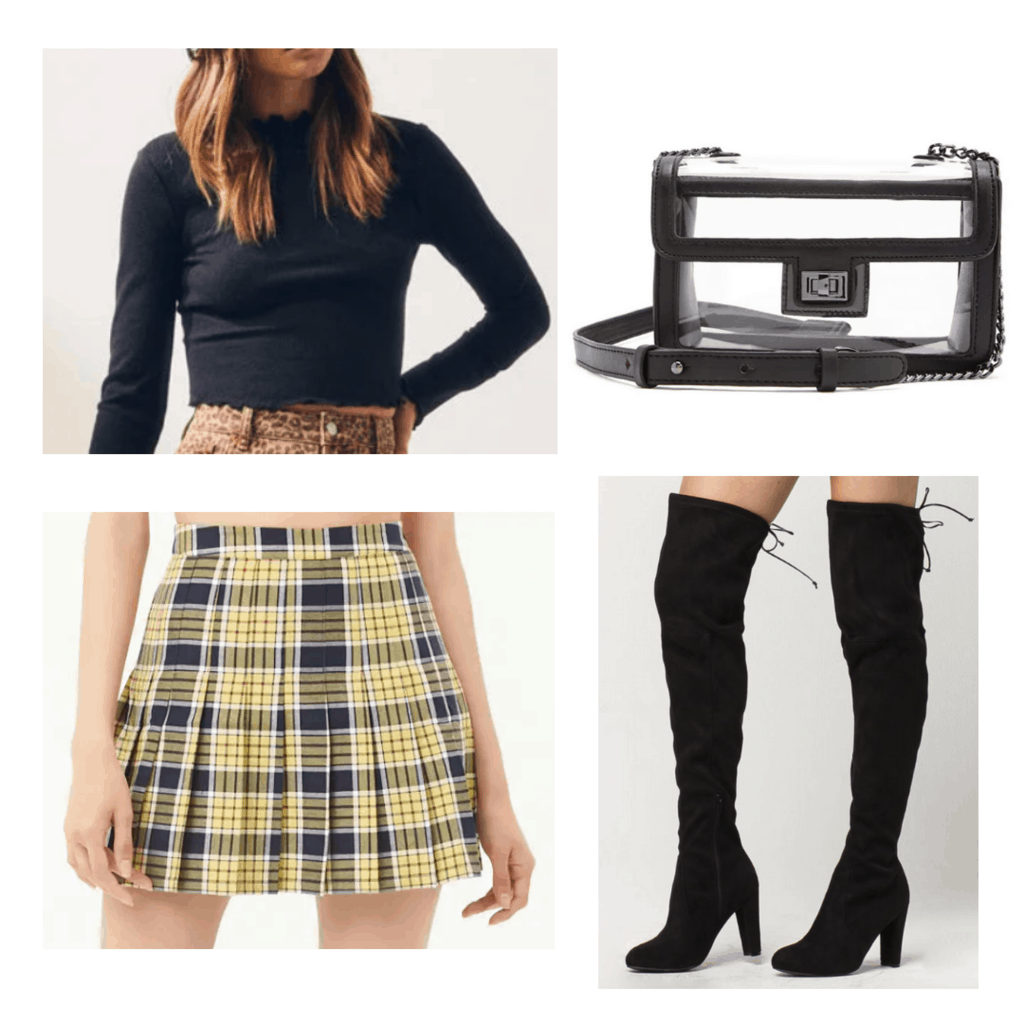 Products: Top – Pacsun, Skirt – Forever 21, Boots – Tilly's, Bag – Forever 21
A mini skirt paired with a cropped long-sleeve top or sweater is basically a formula for the perfect '90s look. Liv's style back then was known for being sweet with a sexy flare flare to it. Pairing a school-girl style plaid skirt with a crop top (think "…Baby One More Time") was a popular look back then, and you could totally still rock it today.
Over the knee boots are in right now, and I think they are a nice option to modernize the look. But for a more authentically '90s vibe you could try sneakers or mary jane's with knee-high socks, like Liv did in several photoshoots. Finish with a clear bag that's both '90s-chic and totally modern.
2. The Super Sweet Aesthetic
Products: Top – Urban Outfitters, Skirt – Gap, Socks – Modcloth, Shoes – Urban Outfitters
A big trend in the '90s was to wear super sweet and girly pieces that kind of resembled kids' clothes, like socks and mary jane's. The idea here is that you're contrasting a lot of modest, traditional pieces (like a button down skirt) with modern risque elements (like the exposed belly-button).
Soft colors like baby pink were totally in, and this baby pink look replicates one of Liv's most famous '90s photoshoots. It's got funky elements and timeless classics all mixed into one, and Liv's pink crop top look is one of my personal favorite '90s style moments.
3. Casual It-Girl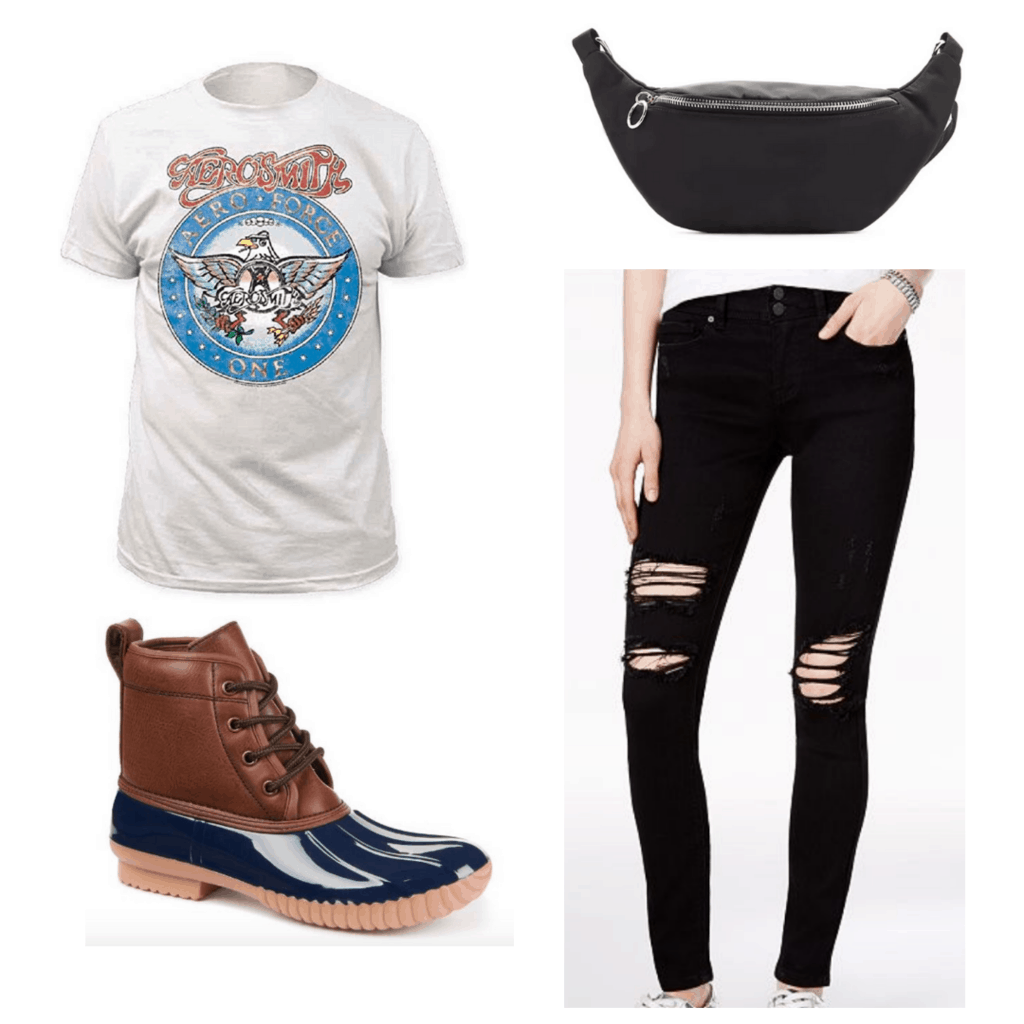 Products: T-shirt – Amazon, Jeans – Macy's, Shoes – Steinmart, Bag – Forever 21
What I really love about Liv Tyler's '90s style is how laid back it was. In a decade where people were mixing whatever colors, patterns, and textures they could together, Liv's style was always casual and effortlessly cool — never too try-hard or crazy.
For a timeless retro look, try mixing together staples you already have, like your best band t-shirt (I went for Aerosmith because obviously) and pair of skinny jeans mixed with a retro accessory like a fanny pack or duck boots (arguably one of the most aesthetically controversial pieces in fashion).
Will you be channeling Liv Tyler?
This gorgeous model and successful actress has style for days. Are you ready to pull out your mini skirts? Have a LOTR marathon? Let us know!
And for more information on Liv, check out these sources: