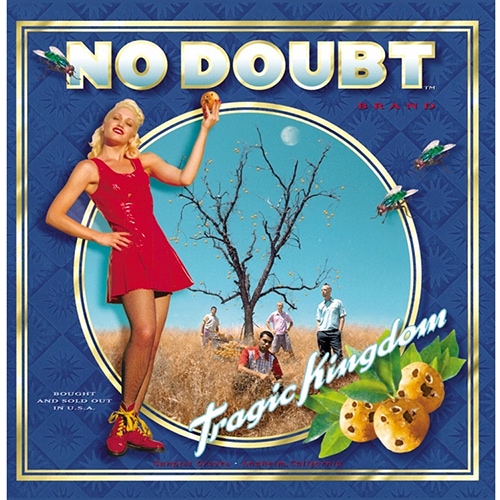 The '90s are back, and over the last few weeks I've been breaking down the nine '90s fashion icons you need to know about if you want to capture decade's look. Last week, we went over '90s television sweetheart Melissa Joan Hart. Today it's all about a tried and true rock diva, Gwen Stefani.
It was Gwen's brother Eric who started the band No Doubt with his friend John Spence. Eric reached out to his younger sister to sing back-up vocals back in 1985.
After John Spence tragically died, the band broke up for a little, then came back together and shifted roles. Gwen soon took over as the lead vocalist.
It wasn't until No Doubt's third album, Tragic Kingdom, released in 1995, that they really hit it big. By this time, Gwen's brother had left the band (but no worries, he became an animator on The Simpsons so success basically runs in the family).
Most of Tragic Kingdom, including the hit single "Don't Speak," was inspired by Gwen's breakup with the band's bassist Tony Kanal who she had dated for seven years.
The rock/ska/alternative band was a huge success and went on tour with the album. They released a follow-up, Return of Saturn, two years later to a lukewarm response.
But that wouldn't halt No Doubt or Gwen's overall success. The band took a hiatus in the early 2000s when Gwen would go on to pursue a solo career, bringing us hits like "Hollaback Girl" and "The Sweet Escape."
No Doubt reconvened in 2012 for another album, and in the years since, Gwen has been making music both with the band and as a solo act. Today, you can catch her on The Voice. (And if you're already in the Christmas spirit, she released a Christmas album back in 2016.) She's still one of music's favorite starlets, and that's partially because of her iconic and carefree style.
In recent years, Gwen has come under fire for cultural appropriation, and a lot of her '90s looks are problematic today. But there's plenty of ways to capture her layered street style without being offensive. So, if you're interested in Gwen's over-the-top funky look, here's how you can get it:
Gwen's '90s Style:
1. You MUST find an ultra-cropped tank top (and low rise pants to match)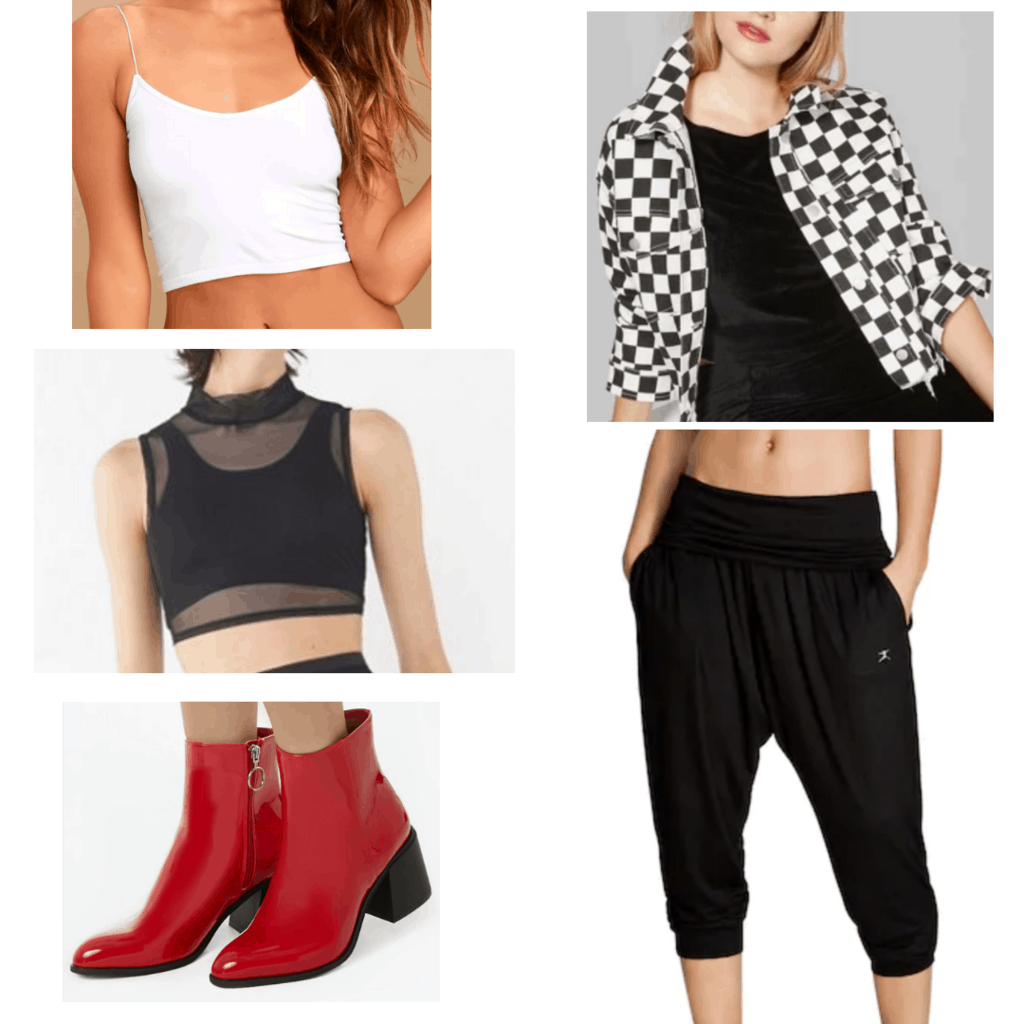 Products: Mesh top – Urban Outfitters, Bralette – Lulu's, Jacket – Target, Shoes – Forever 21, Pants – Kohl's
This was Gwen's go-to look back in the day. Oftentimes, in lieu of a crop, she went straight for a bra or bustier. Today you can get the best of both worlds with a longline bralette. Fun colors or patterns are a must.
For another authentic Gwen look, you could wear belted low-rise jeans. Go for baggy and/or distressed because this was peak '90s. The key to Gwen's look was lots going on, so don't be afraid to put loud colors together with loud patterns. As for makeup, Gwen could always rock a dark lip. And with the resurgence of space buns, there are plenty of fun ways to capture Gwen's youthful, spunky hairstyles.
Related reading: 15 Super Cute '90s Nail Designs That Are Trendy Again
2. Mixed and layer pieces that contradict each other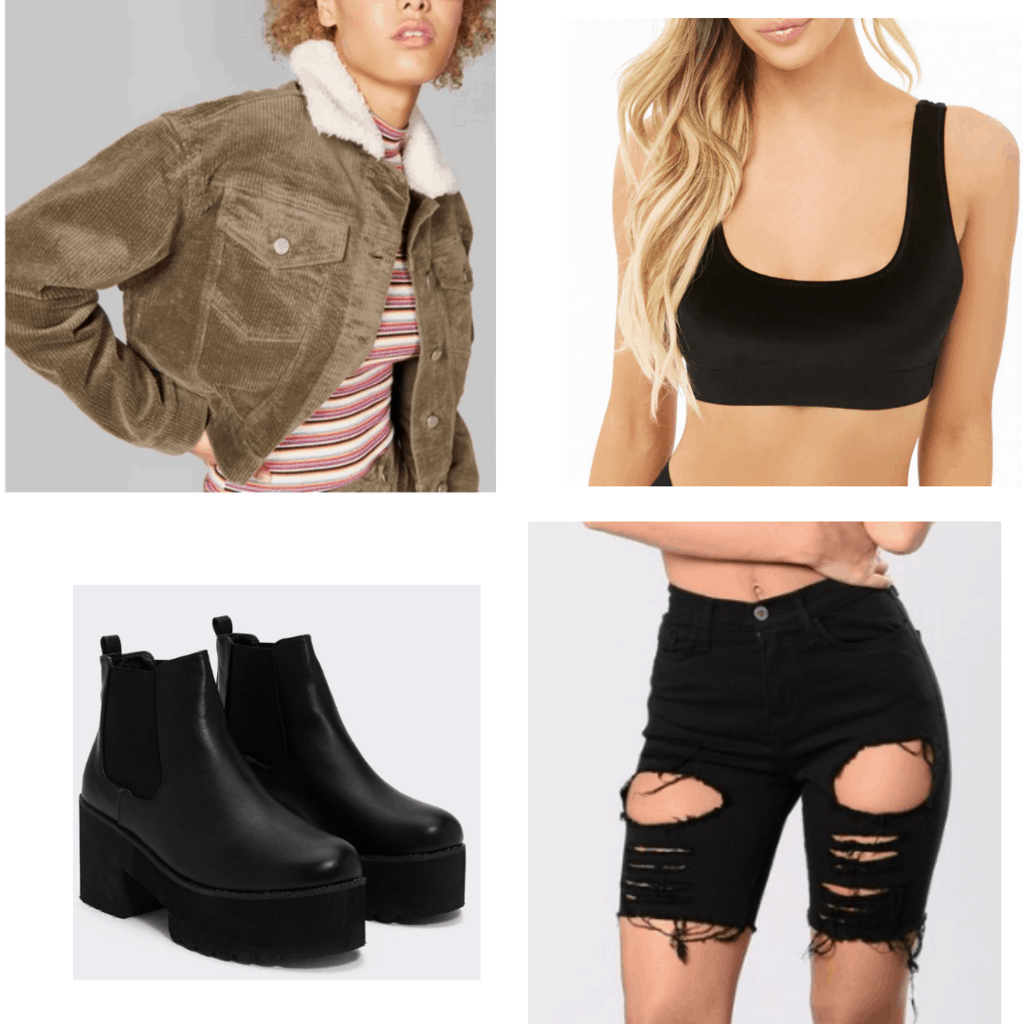 Products: Jacket – Target, Top – Forever 21, Shoes – Nasty Gal, Shorts – Fashion Nova
Gwen's looks were always layered. She could pair a crop top with a big fuzzy coat. The too-much gene was running rampant in the '90s, so even though it may seem a little extra, try adding some mesh over your tank top, wearing a winter jacket over summer clothes, or tying an extra layer around your waist for that added '90s bulk. A lot of her pieces didn't make sense together which is exactly what made them so much fun.
3. Get creative with texture.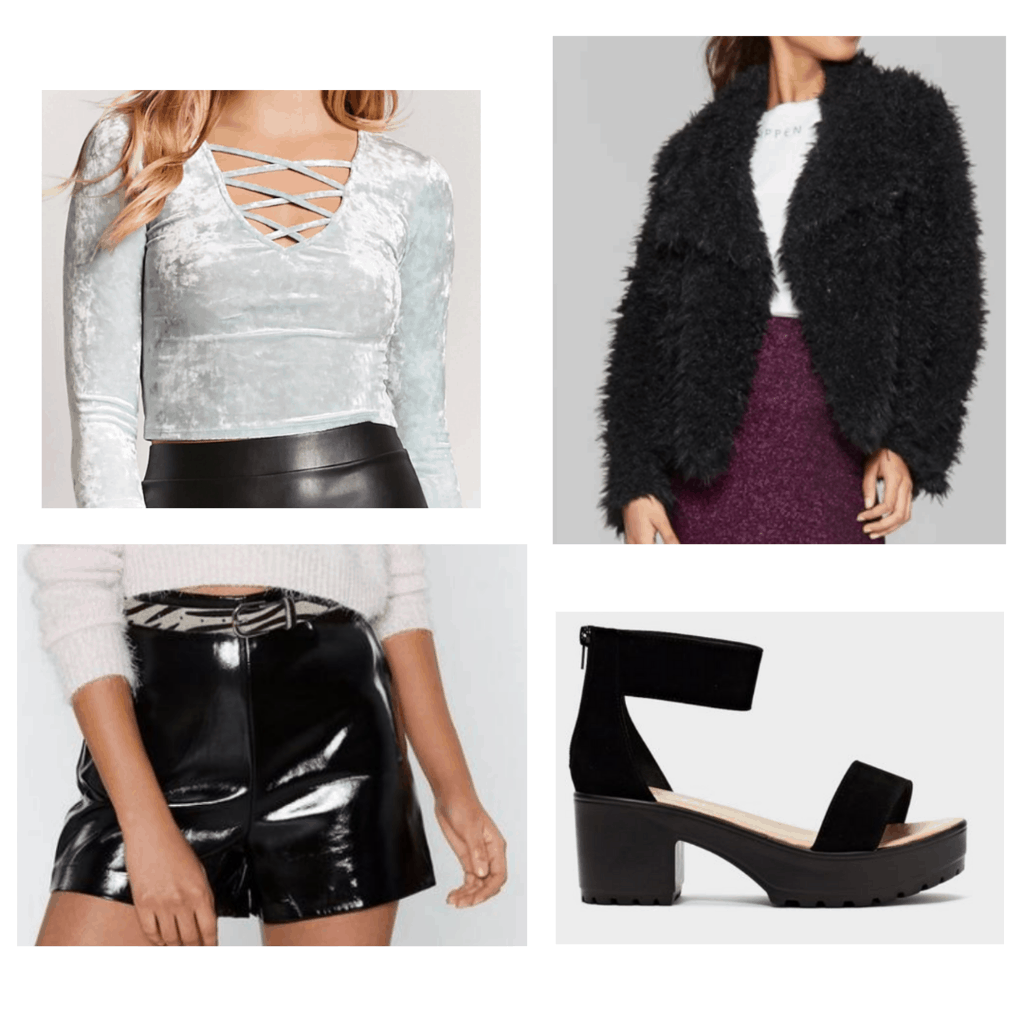 Products: Top – Forever 21, Jacket – Target, Shorts – Nasty Gal, Shoes – Nasty Gal
This was the most standout part of Gwen's look for me. It's what made her so trendy. Her layered pieces always had loads of unusual different textures that made for something interesting.
Now, I wouldn't necessarily advocate for crushed velvet, faux fur, and leather all at once. But, these are great examples of vibrant textures you can mix-and-match. They might look a little dated, especially in the midst of the minimalist fashion revival we're seeing right now, but Gwen's looks were always a little shocking. A fuzzy jacket, fishnet cardigan, or textured tights and socks can add that unique pop to your outfit just as well if you prefer a subdued version.
Are you inspired by '90s Gwen Stefani?
Her look was a lot, and she's definitely transitioned into a more traditional Hollywood glam in recent years. But her No Doubt fashion days were so much fun. Are you experimenting with wild platform shoes? Listening to "Hollaback Girl" again? Let us know in the comments!
And for more information on Gwen Stefani, check out these great sources: