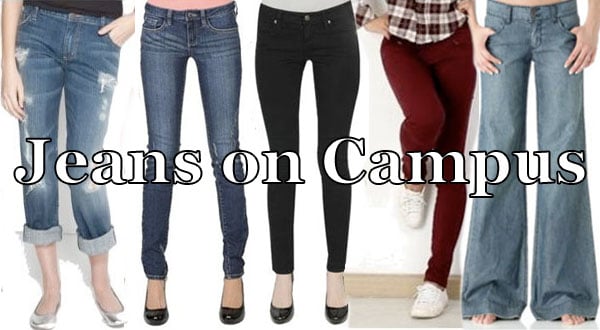 A few weeks ago in my Brilliant Blogger article, I called out all of you everyday-jean-wearers by challenging you to mix things up by wearing skirts and dresses. And while a lot of you liked this idea, a few of you mentioned how you found them to be somewhat impractical for school, especially those of you who are expected to wear jeans everyday or work with things like dangerous chemicals.
Because of this, I thought I'd whip out this article on jeans to give you some fresh perspective and ideas on how to wear them without sacrificing style for function. After all, just because you have to wear them every day doesn't mean you can't still look chic!
The Skinny Jean:
Skinnies have been all the rage for almost five years now, and I don't see them losing steam anytime soon. They show off your legs, are instantly slimming, and they can even make you look taller! I've chosen three types of skinnies to help aid you in your style quest.
Read on to find out how you can wear everyday denim skinnies, the classic black skinny jean, and the modern day colored skinny jean effortlessly on campus.
Basic Denim Skinnies: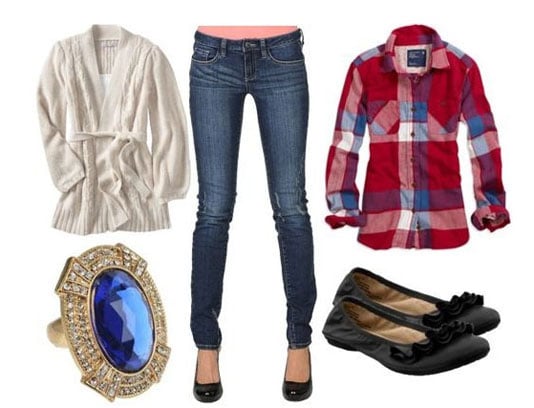 (Cardigan- Old Navy, Ring- Forever 21, Jeans- Forever 21, Flannel- AE, Flats- Old Navy)
Denim skinnies come in many different washes and colors. But if you are going for an easygoing everyday look, medium washes are best- especially for school.
To keep this light, breezy look going, I chose a cute red flannel to wear on top and a nice, cozy knitted cardigan to keep you warm. Finally, for your toes I chose some cute ruffled ballet flats and topped off the outfit with a shiny gold ring with a sparkly blue center stone.
This outfit is a perfect "Oh, this old thing? I just grabbed some stuff on my way out the door" look: stylish while still looking school appropriate, colorful, and best of all comfy.
Black Skinny Jeans:
(Moccasins- MilkShop, Shirt- Buckle, Jeans- Forever 21, Bracelet- Nordstrom, Scarf- AE)
Black skinnies are the ultimate classy piece of denim. They go with everything, are super sleek, and make your stems look nice and long.
While one could go the conservative route when wearing these jeans (ie: Risky Business style shirt + Pants), you could also opt for a cool rocker look to give the black skinny a nice modern twist. To do this, I chose a nice grey graphic tee and paired it with a black circle scarf (which you can learn to make for free! check out my tutorial on circle scarves here!). Then, I chose a silver studded bracelet to give your arm a little sparkle and edge. Lastly, I chose the cutest little fringe moccasins you've ever seen for you to slip your feet into. That's it! Whether you're off to a concert or "slappin' da bass" across campus, you'll be sure to turn heads.
Colorful Skinnies: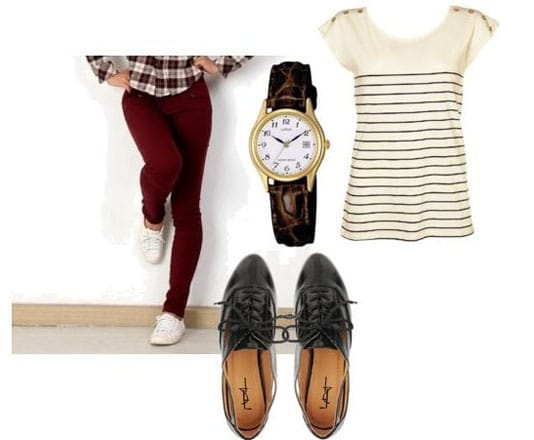 (Jeans- Yesstyle, Watch- Debenhams, Shoes- Forever 21, Shirt- Topshop)
The colored skinny is a fairly new addition to the skinny jean family. And while they can come in many, many, different colors, I for one believe that when it comes to selecting a colored skinny, you should show a little bit of restraint. Yes, those highlighter yellow, neon orange, and eye-watering lime-green skinnies may be calling your name, but it is of my humble opinion that those are far too flashy to be worked into a real person's wardrobe- leave those to Lady Gaga.
Don't get me wrong, colored denim is great; you just have to be careful about your choices. For this example, I chose the daring, yet still tasteful, burgundy red skinny jean. Pair those jeans with a cute striped shirt, pop a cute little watch on your wrist, throw on your pointy toed lace-ups and you'll be ready to roam the streets of Paris…or go to PoliSci.
The Boyfriend Jean: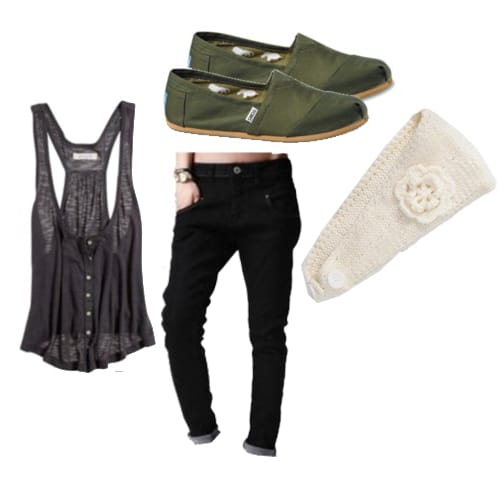 (Scarf- Modcloth, Bracelet- Modcloth, Tank- La Garconne, Jeans- Pacsun, Cardigan- AE)
Ah, the boyfriend jean: easy, loose and free. Perfect for those lazy days when you just roll out of bed and are too tired to wear something tight and confining.
Don't sweat this look, it's easy! Just slip on a black racerback tank, a cute red cardigan, slip your arm through a cool bangled bracelet and wrap a cute floral scarf around your neck. Yep… that's about it. Don't you wish Calculus was this simple?
The Wide Leg: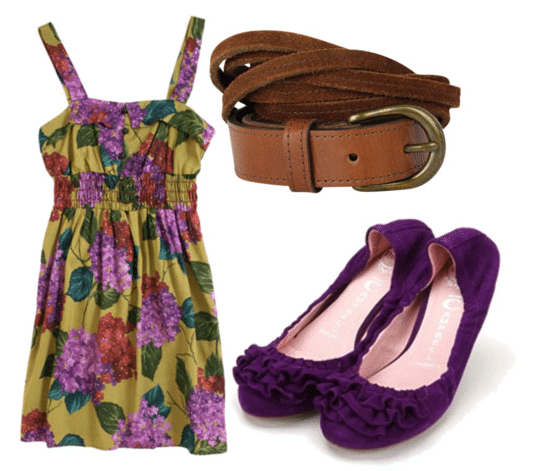 (Shirt- Old Navy, Necklace- Overstock, Beanie- Meshhat, Jeans- Alloy, Ring- HSN, Shoes- Toms Shoes)
The wide leg jean is one of those styles that I've coveted for a while, but never gotten around to trying. That's why I was so excited to make this outfit and live vicariously through you! While these jeans definitely make a statement, I think they are the most tricky to pull off, mostly because when you wear them you have to be aware of proportions.
Overall, it's safest to make sure the top half of your outfit is fitted so the bottom can be loose. I paired mine with a plain white tee (fitted of course), and a slouchy blue beanie. As for your feet, I chose a pair of comfy, yet stylish Tom's. (My latest purchase! They are SO comfortable!) Lastly, I picked some jewelry. I pulled a cute turquoise necklace and jade ring. These little details are important because since most of your outfit has no design, the jewelry gives your outfit some interest. And there you go: understated, stylish and so 1960's fabulous. Let your hair flow freely and you'll be the hottest bohemian chick on campus.
Thoughts?
What do you guys think of the looks I put together? Are they practical for your everyday jaunt around campus? What are your favorite types of jeans? Did I forget to include any type of jeans that you love? How do you wear your jeans? Let me know in the comments section, I love your feedback!