Hi ladies! It has been a hot minute since our last in-depth style guide. This week, we're talking about Irene Kim, otherwise known as @ireneisgood on Instagram.
And here is a better look at her face if you wish to stare at her (nonexistent) pores with me.
If you are not acquainted with her, here are some basic facts on Irene Kim:
She is 29 years old and an FIT alum.
Although she currently resides in Seoul, she was born in Seattle, and was raised mostly in the States (so yes, she does speak with an American accent).
She is an influencer who sits front row at many shows, so you have most likely seen her in NYFW photos.
She has been the face of brands like Estee Lauder for her flawless makeup skills.
She is also the host of television shows in South Korea, making her a triple threat at this point!
Now that you are better acquainted with her, let's look at Irene Kim's style and figure out how to emulate it best.
Irene Kim's Clothes:
As usual, let's focus first on Irene's clothing:
For this first picture here, I wanted to start by focusing on Irene's use of color. Irene's fashion color palette varies depending on the day – I have seen her wear head to toe black looks and wear every color on the rainbow the next day. In short, she doesn't stick to any group of colors, and she loves to mix them up.
Like many other style stars, Irene is an expert at mixing high and low fashion. While this whole look is designer based, she shows that she also mixes casual and dressy pieces, too. To get a similar look, I recommend playing with proportions – wear a long blazer with a miniskirt, or a maxi skirt with something tucked in and cut a slit into the skirt to wear booties, like Irene does here. Irene is all about making looks a little less basic and a little more fresh.
Second look time!
Here, I specifically chose one of Irene's more accessible looks for when you're running to class and you have literally five minutes to eat something, get presentable, and run to class.
In order to look chic yet approachable, pile on the monochromatic pieces! In this case, black on black on black. A crop top keeps you cool if you need a warm weather fall outfit. If you live in a cold area, layer with a mock neck long sleeve top, or a mesh one under a graphic tee. High waisted jeans or even leggings would work here. For shoes, rock high tops, low tops, or flatform sneakers. That's the beauty with this look: Anything goes, as long as it's all black.
A capsule wardrobe for Irene would look a bit like this: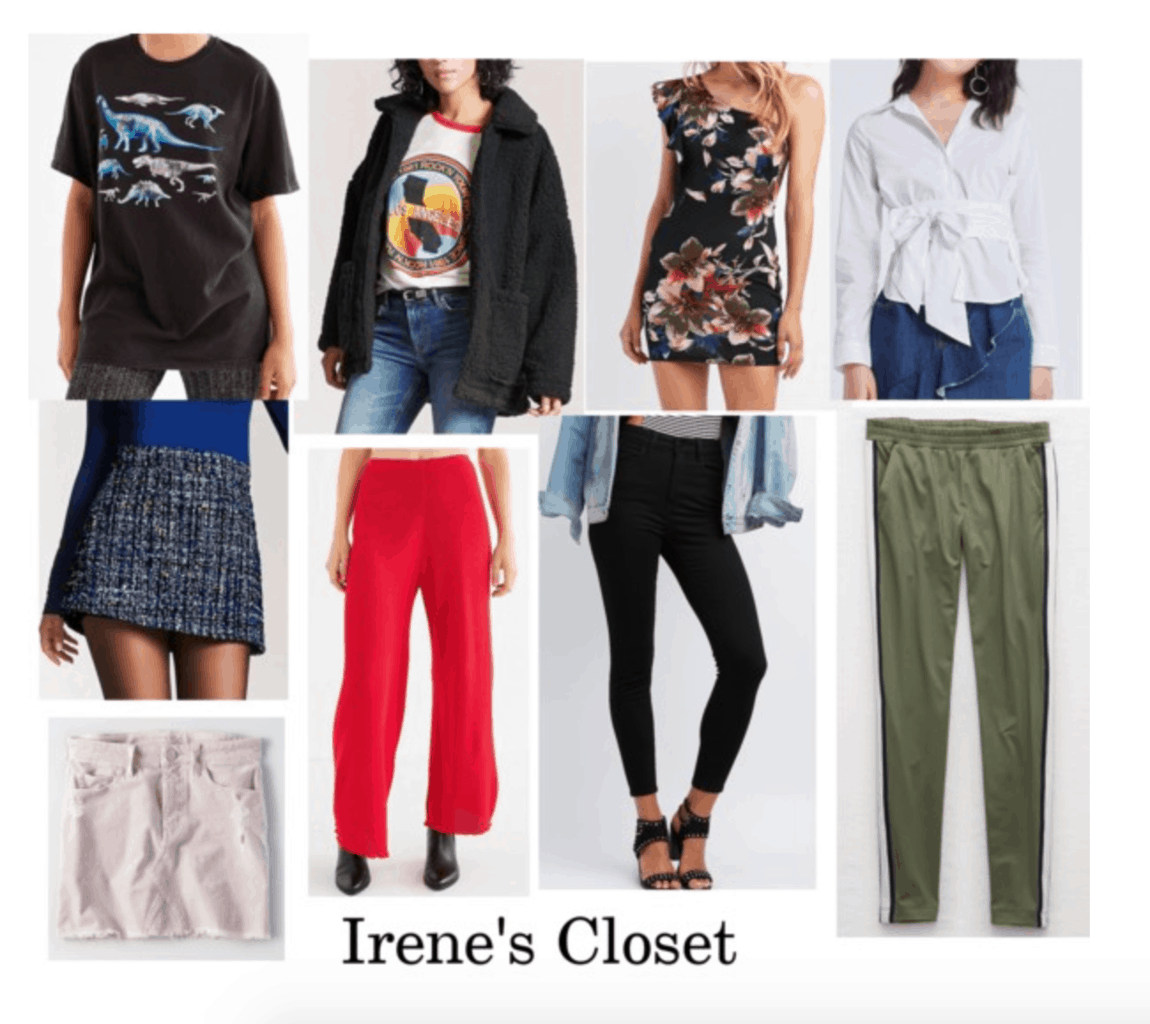 Products: Dino Tee – UO, Tweed Skirt – F21, Cord Skirt – AE, Red Pants – UO, Fuzzy coat – F21, Floral Dress – Charlotte Russe, Black Jeans – Charlotte Russe, White Blouse – UO, Track Pants – Aerie.
The items I found for Irene's style all magically work together. Every girl needs a white blouse to layer with things, and this one is gorgeous and has a flattering bow detail on the side. The graphic tee was necessary for this closet, since I know Irene would wear it with her Balenciaga boots or maybe her Converse and maxi skirts.
The idea here is to wear edgy things you might not normally put together, and embrace color. Channel Irene and go for it!
Irene Kim's Accessories & Shoes:
Next, let's talk about Irene's Accessories and Shoes!
In this photo, we have a perfect example of Irene's accessory arsenal. I know she has great style because she's able to wear tons of accessories at once, yet still keep them from overpowering her. I like to think of myself as a minimalist, but this photo is making me rethink that choice.
This photo gives us a watch – an essential for any college girl on the go. If you invest in a nice (or just nice-ish) watch now, you'll have it for years to come.
This look also offers us a chic neck scarf, which is a wonderfully easy way to elevate your look from lazy student to off-duty jet-setter gal, à la Irene. These small scarves are easy to find at thrift stores, so if you worry about being left out because you're broke (like me HA), never fear. Goodwill has your back.
The one trendy item I see is Irene's box bag. These were on the catwalks throughout 2016 and endured into the 2017 collections. From a student point of view, this is an item I would either try to thrift or buy secondhand, and I say that because I do not see this trend being super functional or lasting long. I think the bag is cute, but I would hesitate before buying one.
Lastly, let's just appreciate Irene's adorable sunnies, which I have seen at Urban Outfitters for great prices.
The second look I got for you guys might seem a bit harder to puzzle out because it is head to toe Miu Miu (*looks at bank account…sniffles*), but I still think it offers plenty of inspiration!
The hat, first of all – how groovy is that? I think hats are a great way to add spunk to any look. I have noticed that 2017 has been really great for hats, and I am loving it! Any hat goes: baseball caps if you're more of a Sporty Spice, a black beret if you're a Posh Spice type… Plus the start of fall brings the beanie back – I am too excited.
If you zoom in, you can see Irene is also wearing a single earring, which I find adds a cool visual effect to an outfit. I also adore the clutch she has in her hand – clearly, she knows which bags to use for every look.
A capsule collection of Irene's Accessories and Shoes would look like this: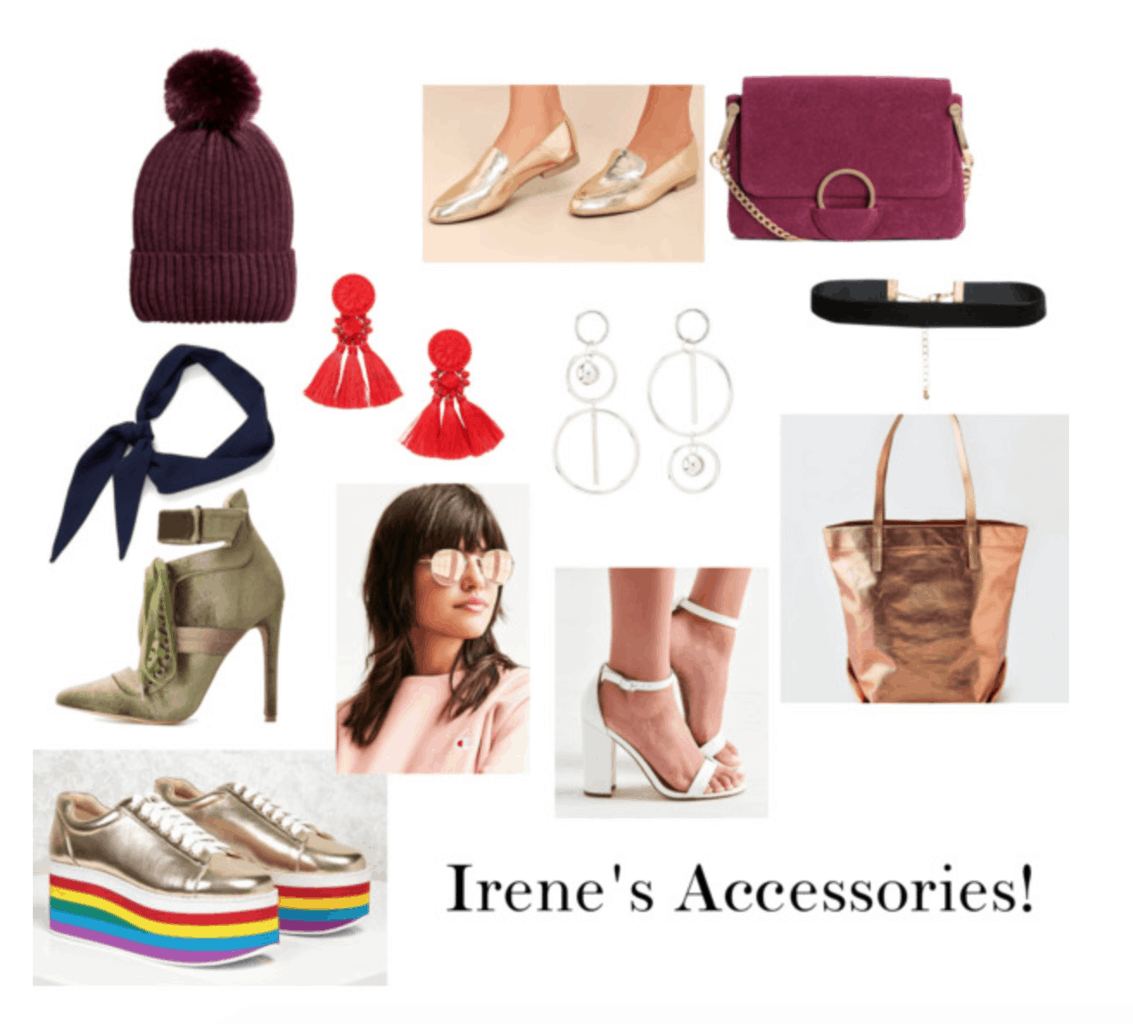 Products: Beanie – H&M, Neck scarf – Nordstrom, Olive Booties – Charlotte Russe, Rainbow Sneakers – F21, Gold Loafers – Lulus, Red Earrings – H&M, Sunnies – UO, White Sandals – UO, Funky hoops –Charlotte Russe, Purple bag – H&M, Choker – H&M, Rose Gold tote –AE.
This might be my favorite group of accessories ever, guys. So much color! So much vibrance in one assortment of items!
One of the things that appealed to me most when I first saw Irene on Instagram was her daring way of playing with accessories – I strongly recommend at least going out of your comfort zone once a week and just seeing how awesome it makes you feel. It's sure to help you narrow down your style personality.
To channel Irene, I chose a colorful group of shoes and bags that will take any outfit from 'blah' to 'WHOA, I wasn't ready.' The statement earrings can be worn with a graphic tee or you can be extra daring and wear just one like Irene. The bags can carry a lot of items for your classes, and the shoes…well… they speak for themselves. With those loud accessories, a black choker will suffice for your neck.
Irene Kim's Beauty Routine:
Finally, Irene's beauty and hair routine!
As an expert on Irene's Instagram life, I have been able to see many versions of her makeup routine.
For the most part, Irene has a glam squad, AKA a group of people who get paid to make her face and hair look like works of art. So I chose to focus on patterns in how she styles herself.
For starters, her hair. Is. Everything. Seriously, her looks seem to revolve around what color her hair is. If you are handy with dying your hair and can get your hands on cool colors of the diy box hair dyes, I would say go for it! (Here's a tutorial we did on a purple hair streak — you could totally expand that to your whole head!) Another part of her look is the lob hair cut she has going on. It's sleek and chic, and looks ultra modern.
And now for another look at her with a close up on her face:
In this photo, we see the Irene's go-to makeup vibe.
Irene tends to wear eyeliner every day, but she does not often draw wings with her liner. Her lips definitely have a stain on them here – I see that she likes to play with all sorts of lip colors, which I am all for since it is the easiest way to add a punch of color to your face. Any formula or lip product goes here.
As for her skin, she doesn't do much — girlfriend has gorgeous clear skin. I would invest in a great exfoliator, since her skin looks super soft.
Here are some essentials for her Skin/Beauty/Hair Regimen: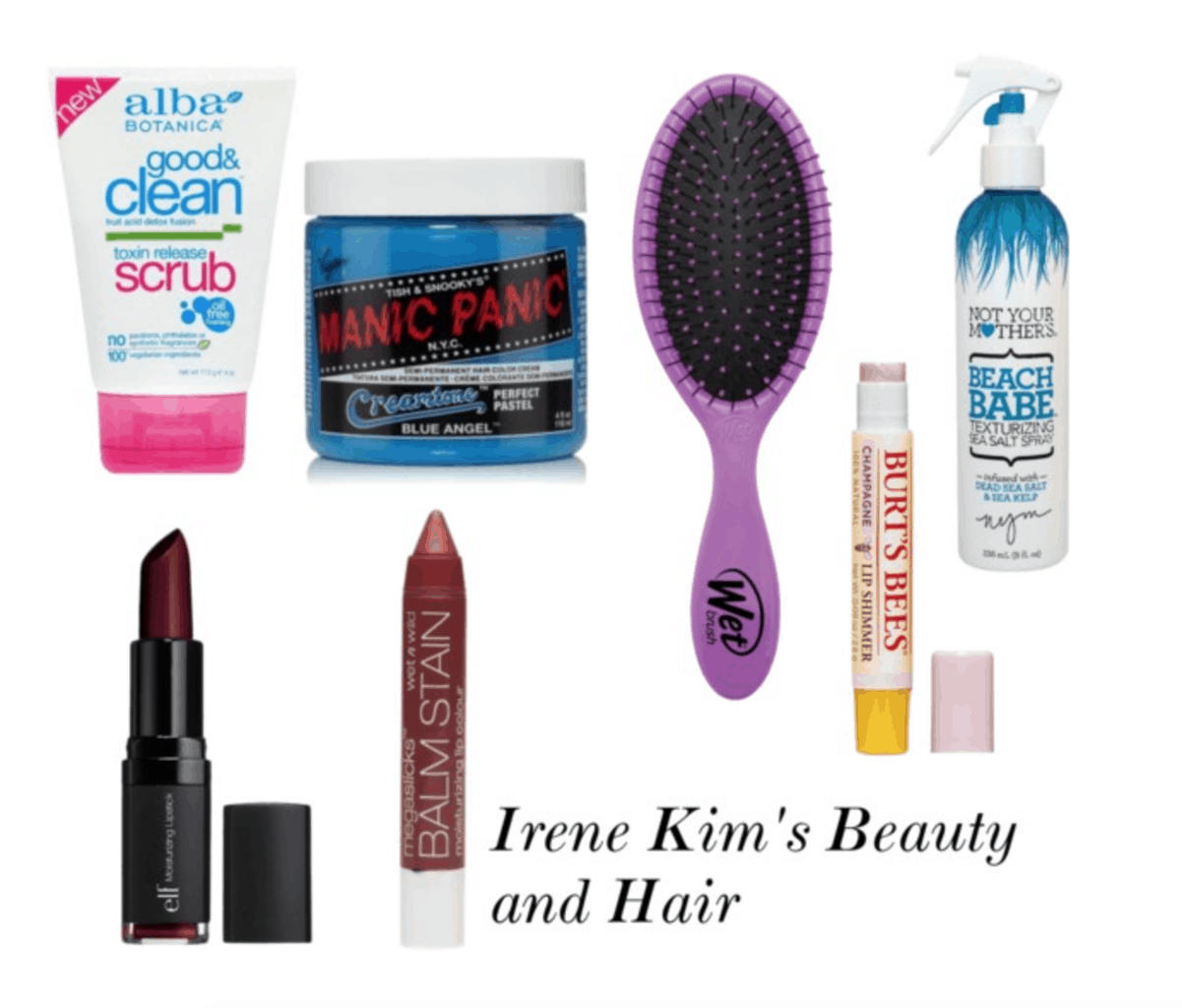 Products: Alba face scrub, Elf lipstick, Lipstain, Hair dye, Wet brush, Burt's Bees Lip Shimmer, Sea Salt Spray.
As a vegan, I was very excited to find these items so easily and at such great prices for you guys. Most of these items are cruelty free, except for the Not Your Mother's salt spray. (If anyone has a vegan, cruelty free option, please let me know!)
Otherwise, here are the items you need to get Irene's look! I chose a group of lip products to show you the variety of ways you can go to follow in her footsteps and have cool lips.
The brush is there to explain that she doesn't do much to her hair besides brush it on her off days. The hair dye is there, because as we have seen, Irene loves dying her hair, and people tend to remember her for it.
The face scrub is there as an option for you guys, but any sort of way to get your skin clear or going foundation-free would be great for this look.
Irene Kim's Style 101:
So to recap:
Wear colors, guys. Irene loves them.
The same goes for prints and textures in clothes. Give it a try and don't be afraid to mix things up.
If you want to dip your toe into her style, try wearing a funky accessory — or three — instead of going for the bright colors.
Show your personality, whether it be in your beauty or in your haircare.
Don't be shy! Work it!
That's it! I hope you guys enjoy this look. Let me know if there's another girl you want me to create a guide for!