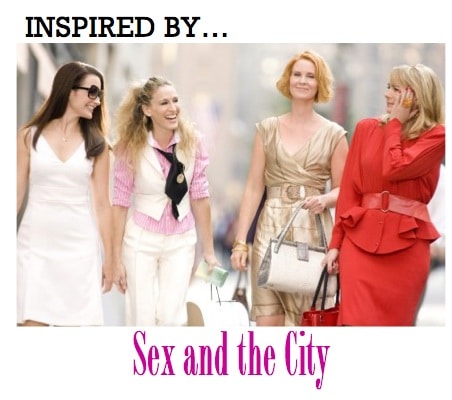 The Sex and the City movie was greatly anticipated after the show ended its reign on HBO. Sex and the City is inspiring for numerous reasons. First, both the show and the movie gave audiences a taste of New York City lifestyle that many find intriguing. (Even if it's not the most realistic portrayal!) Second, each of the four friends has her own personality and style, so we can all find at least one girl we can relate to!
The movie is centered around Carrie Bradshaw (Sarah Jessica Parker) and her wedding to the infamous Mr. Big. From wedding bells to baby plans to relationship turmoil, Sex and the City will keep your eyes glued to the screen!
I will review each major character's style, including some must-have items inspired by the characters.
1. Carrie Bradshaw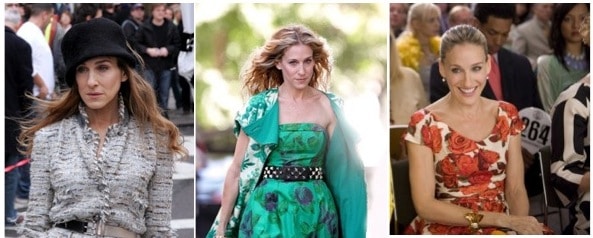 Carrie is the protagonist the audience loves to watch because her mannerisms are quirky and girly. She is known for her open writing style, addiction to designer shoes, and her on-again/off-again smoking habits.
Her outfits frequently mix high-end "splurge" items with vintage/"save" items, and always have a pop of color or an interesting texture. I also noticed that Carrie's wardrobe in the movie also had a floral motif! Here are my favorite Carrie-inspired items: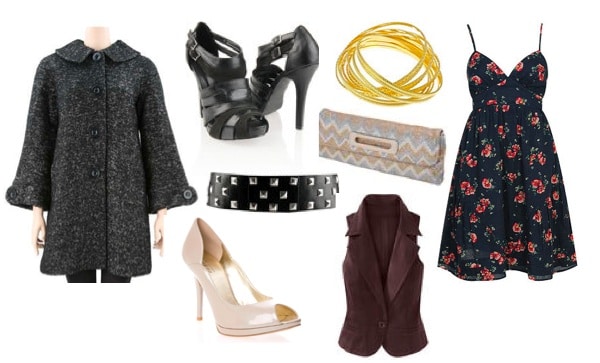 Product Information: Voile Floral Dress- Forever 21, Gladiator Heels- Forever 21, Wool Slub Funnel Neck Coat- Max Studio, Pyramid Studded Belt- Forever 21, Valtorta Clutch- Aldo Shoes, Blu Bijoux Gold Bangles- Max & Chloe, Signature Stretch Vest- Spiegal, Nude Peep Toe "Face" Pumps- Guess
2. Samantha Jones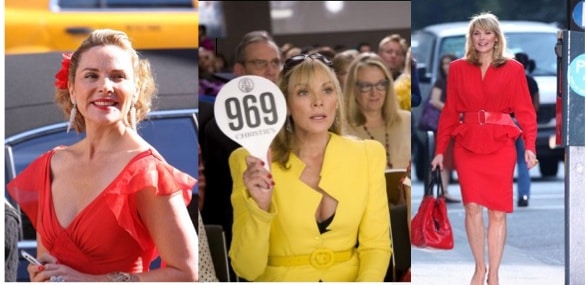 Samantha Jones is everyone's favorite sexually promiscuous gal pal. Her style is a refection of her "man eating" and fun-loving ways: full of sex appeal and figure-flattering pieces.
In the film, Samantha had two signature colors: canary yellow and a brick/orange red. However, throughout the show Samantha wore a variety of bright hues. Here are my favorite Sam-inspired items: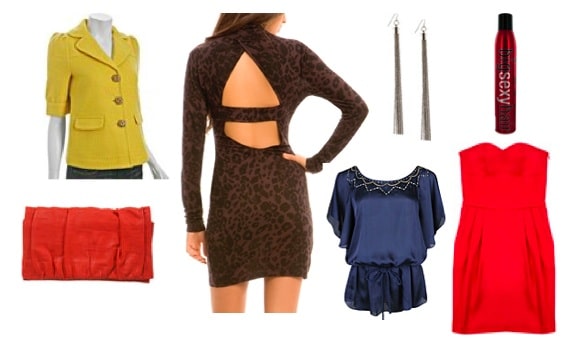 Product Information: Juicy Couture "Glim" Yellow Wool Blazer- Bluefly, Ruched Flap Leather Purse- Top Shop, Leopard Print "Lolita" Dress- Guess, Linked Chain Tassel Earrings- Forever 21, Sweetheart Bustier Dress- Fred Flare, Iridescent Beaded Top- Forever 21, Big Sexy Hair Mousse- Target
3. Charlotte York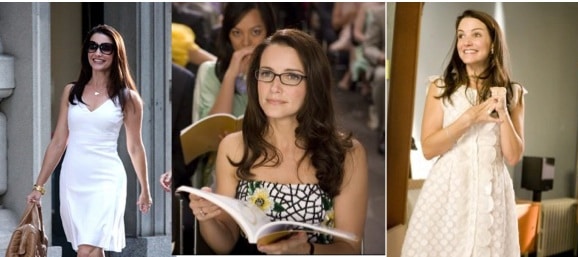 Charlotte is the most conservative of the four friends. Throughout the series, she is struggling with the desire to have a baby, and in the movie, some exciting things happen that bring her closer to her dream.
Charlotte's style is very classic and polished. She isn't ever flashy, but her femininity and her detailed-to-perfection accents make her style my personal favorite! Here are some Charlotte-inspired items: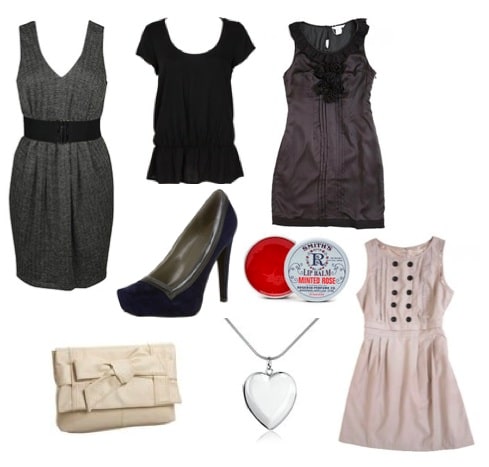 Product Information: Belted Chevron Dress- Forever 21, Khaki Reporter Dress- ShopRuche, Cafe Noir Roses Dress- Shop Ruche, Black Crochet Top- Charlotte Russe, Sweetheart Locket- Blue Nile, Sarah Bow Clutch- Chinese Laundry, Square-Toed Suede Navy Pump- Charlotte Russe, Minted Rose Lip Balm- drugstore.com
4. Miranda Hobbes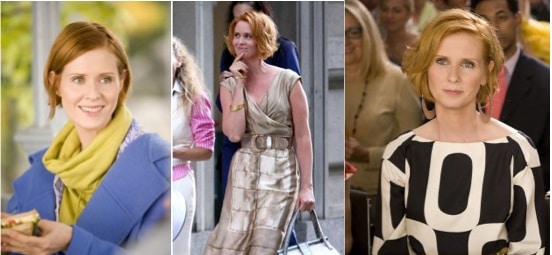 Miranda is the fiery red head who reminds me of the type of friend who would have your back in any troublesome situation. Miranda is the queen of separates, which comes from her working wardrobe. However, her nighttime looks often include an interesting pattern or print. Here are my favorite Miranda-inspired items: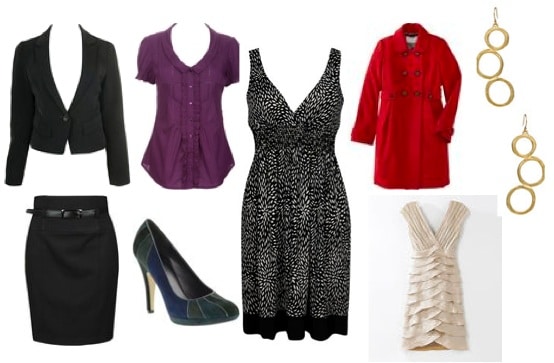 Product Information: Gabadrine Blazer- Forever 21, Black Solid High Waist Skirt- Forever 21, Ruffle Pintuck Blouse in Deep Purple- Charlotte Russe, Sleeveless Almond Minidress- Forever 21, Nine West Gouda Pumps- Zappos, Wool Blend Tab Coat- Old Navy, Tiered Ivory Dress- Newport News, Rings Earrings in Gold- Max & Chloe
**All photos from imdb.com**
Tell Us What You Think!
Did you see the Sex and the City movie? If so, did you notice any fashion motifs? Which of the four characters do you identify the most with style wise? Let us know by leaving a comment!!