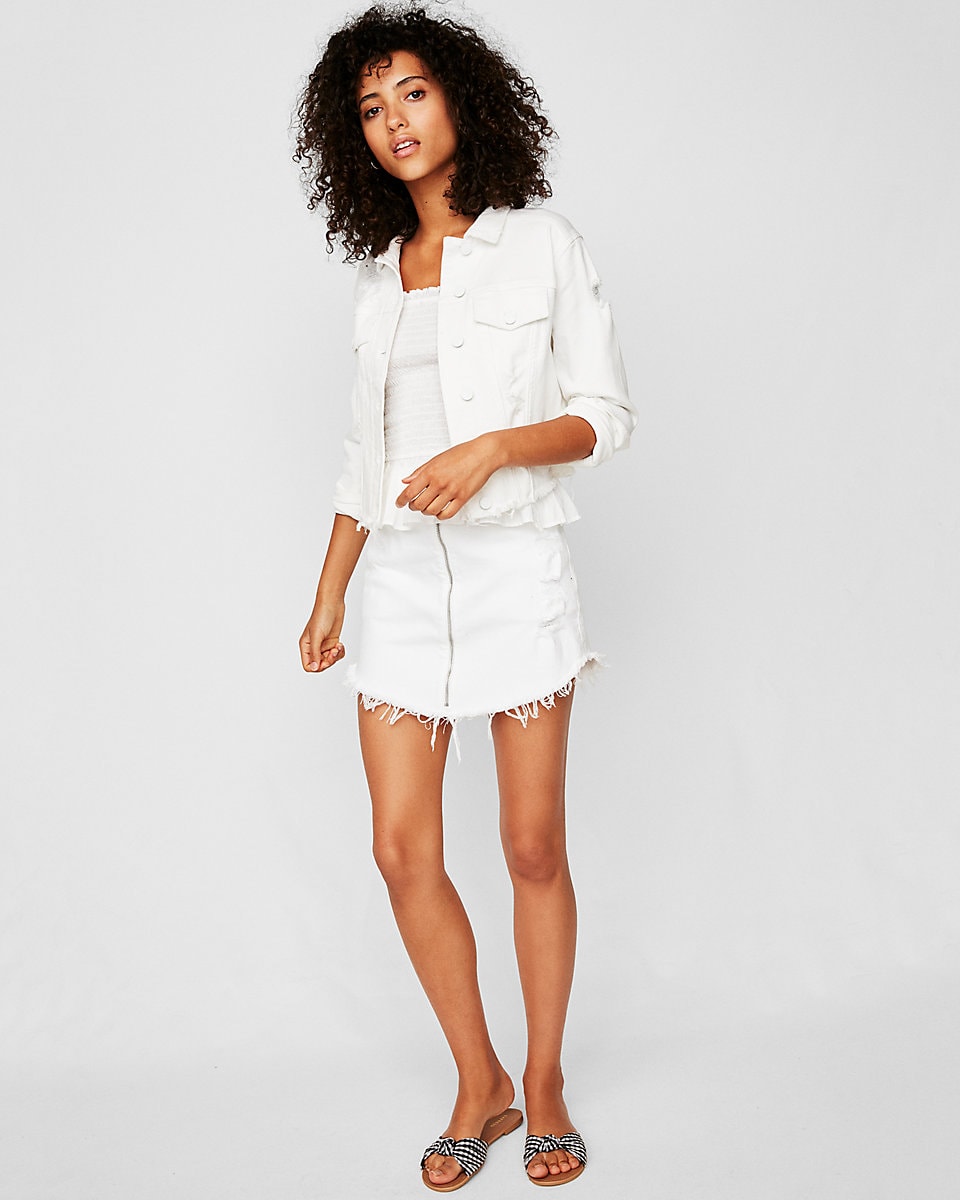 Spring has officially sprung, meaning it's officially time to break out your white denim.
We usually see white denim taking the form of jeans (naturally), but over the years, the white denim jacket and skirt have grown in popularity. We're loving all three styles — for us, white denim in any form is a fashion "yes."
Below are three different ways to wear white denim, with everyday looks that can work with whatever type of style you have.
Related post: The Best White Jeans Outfits for Women
Outfit 1 – The White Denim Jacket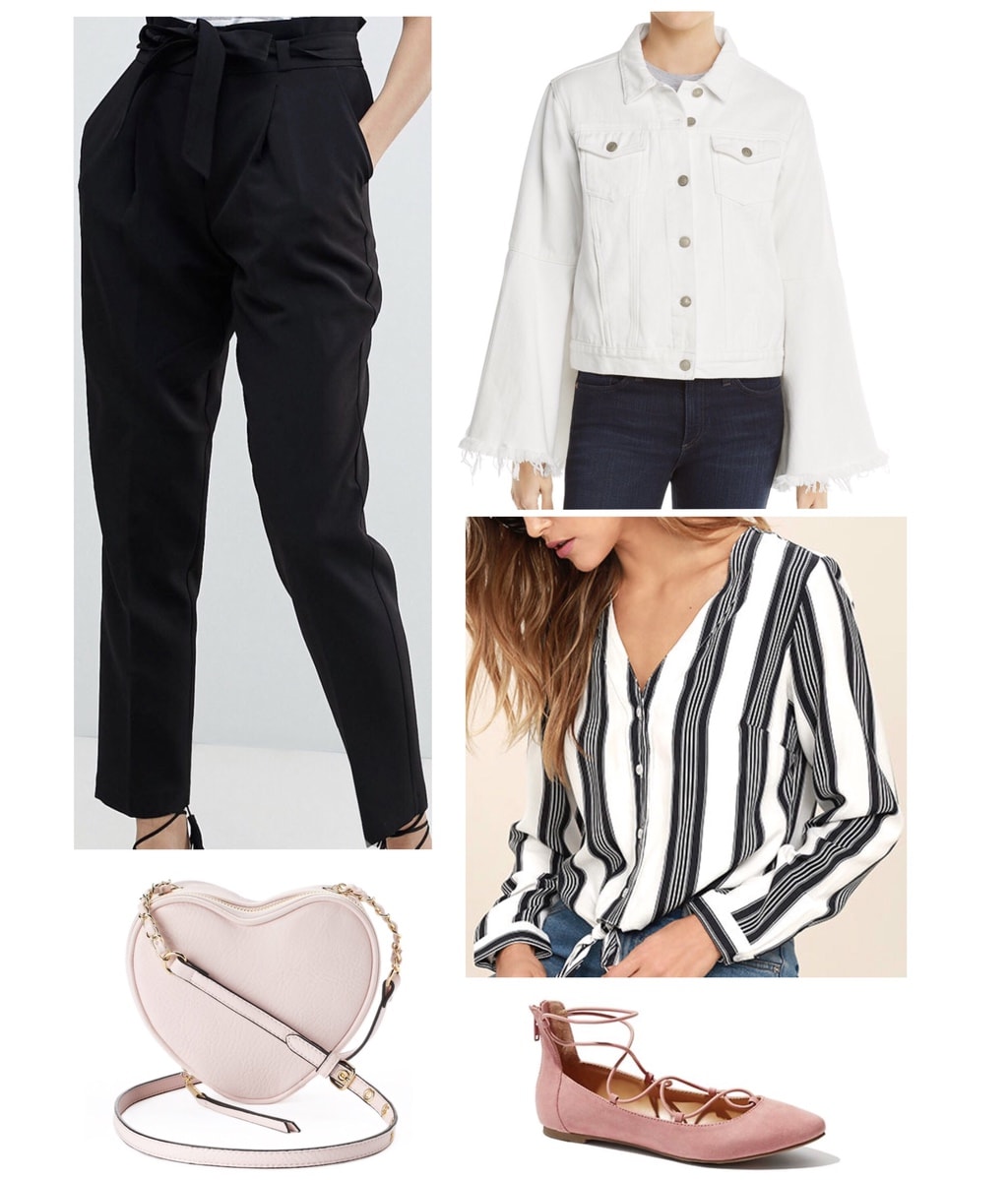 Products: Pants – ASOS, Jacket – Lulu's, Blouse – Lulu's, Purse – Kohl's, Shoes – NY & Company
Here you'll see white denim in the form of a jacket, styled into this neutral toned outfit with a slight pop of color in the purse and shoes.
For a chic look, I began with tie-waist paperbag trousers, then added a striped button-down blouse, which makes this outfit great for a business-causal occasion.
To take away from the business-y side of things, though, I chose this denim jacket — it's anything but basic thanks to its trumpet sleeves and distressed seams. It adds an element of fun to the outfit.
The heart-shaped purse also plays into the fun side of the look, but if you are aiming for a more sophisticated outfit, a purse like this would be a great alternative.
Outfit 2 – The White Denim Skirt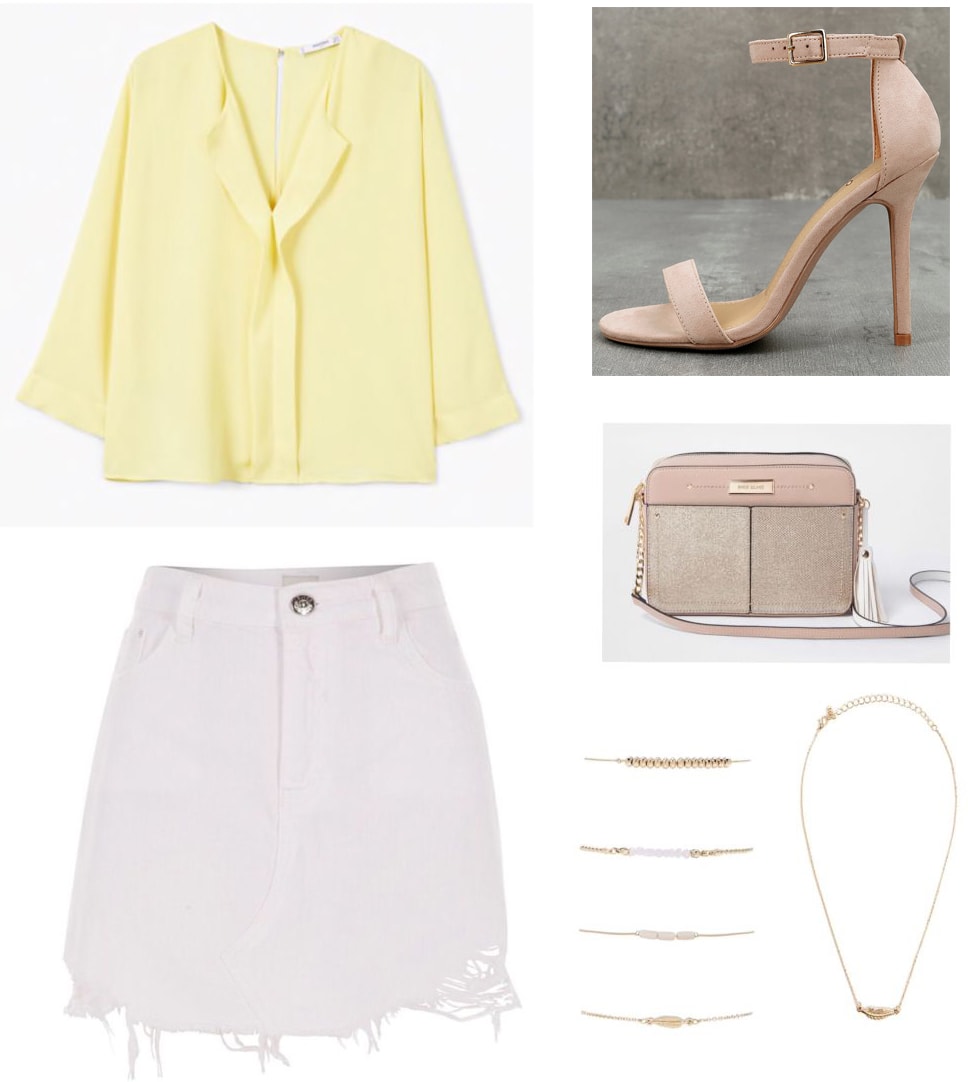 Products: Blouse – Mango, Skirt – River Island, Jacket – Bloomingdale's, Heels – Lulu's, Bracelets – Forever 21, Necklace – Forever 21, Purse – River Island
In lieu of pants, we're styling a white denim skirt in this look. To follow a neutral toned pastel theme, I paired a light yellow blouse with the skirt, giving the outfit a natural, clean look.
In keeping with the simple theme of the look, a cross-body purse is an ideal neutral addition, while the matching bracelets and necklace polish things off. I then added nude heels to finish the outfit.
Outfit 3 – The White Denim Jeans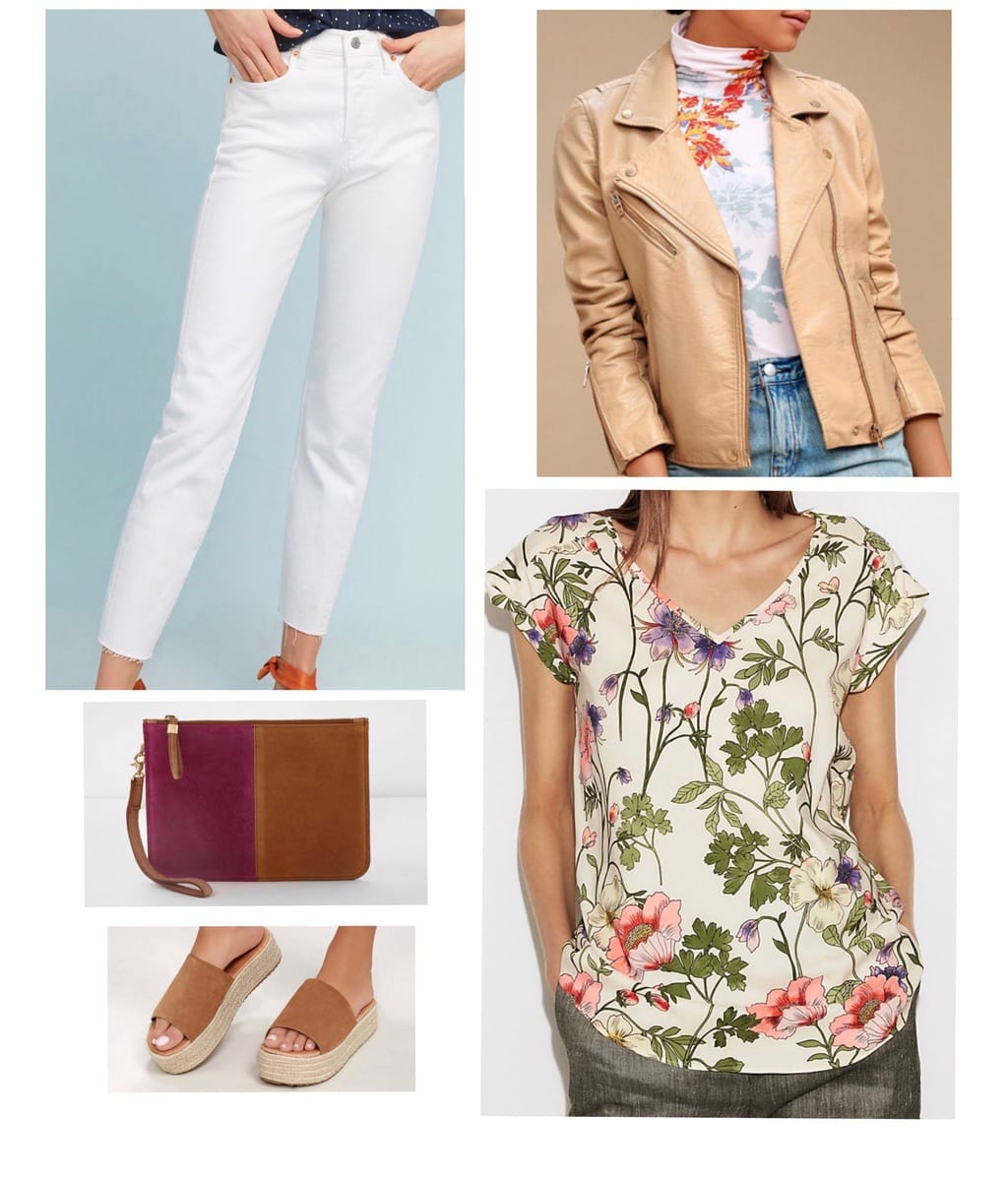 Products: Jeans – Anthropologie, Shirt – Express, Jacket – Lulu's, Purse – River Island, Sandals – Lulu's
Throwing it back to basics, this outfit incorporates classic white jeans. These high-waisted jeans look great with a silky floral v-neck shirt tucked in. This would be a great "day out" look or office look for casual Friday.
For colder spring days, I added in a beige faux-leather jacket to bring out the pastel pinks and greens of the shirt (and also to keep you warm, of course).
As for the shoes, the tan suede sandals follow the sandy tones of the entire outfit, balancing it from head to toe. To accessorize without detracting from the look, I chose this tan and pink bag, which matches the color of the sandals and adds an extra hint of pink to the look.
Thoughts?
What are your favorite ways to wear white denim? Leave a comment below!