This post may contain affiliate links, which means we may receive a commission if you purchase through our links. Please
read our full disclosure here
.
As most of you probably know, Spring/Summer 2011 fashion is all about bright colors. It's time to put away your safe neutrals and embrace these fun, optimistic hues. After all, it's pretty hard to be miserable when you're wearing bright orange or turquoise!
Of course, bright colors aren't the easiest to pull off, and can be a little daunting to wear if you haven't delved into brights before. But never fear – that's why you have CF! We're here to show you how to make them work.
Before We Begin… Tips for Wearing Brights
The best thing about bright colors is that there are so many hues to choose from. If bright yellows and oranges scare you, how about a pea-pod green or a tropical turquoise?
Making these work also comes down to which shades you choose: I'm super-pale so I tend to avoid bright lemon yellows, but I love more muted mustard yellows. Similarly, orange can be tricky for me to pull off, but coral is a perfect in-between shade and is perfect with any skin tone. For more on which shades will work best for you, see our post, How to Find Your Perfect Colors.
Brights are also a fabulous trend to try because you don't have to buy anything new (unless you want to!). Pull out those old, bright pieces from last season and put them to new use.
Finally, brights can be as bold or as subtle as you like. Want to make them your whole outfit? Go ahead! Want just a splash of color? Choose bright accessories or makeup with a simple outfit.
Now that you've seen those quick tips, here are some of my favorite ways to wear brights this season…
Color Blocking
top / skirt / heels / necklace / belt
If you liked our post on color blocking, you'll love this look. Wearing the color block trend is super easy (and you don't have to buy color block pieces to do it) – just pair bright colors together!
I love this mustard top with the pink skirt because they're both bright without being too bright. The skirt would also look great with a black top, or the top would work with a simple neutral skirt or jeans. I decided to add a little bit of uniformity by matching the belt and the shoes, but you can introduce a whole new color, too if you like – the brighter the better!
Monochrome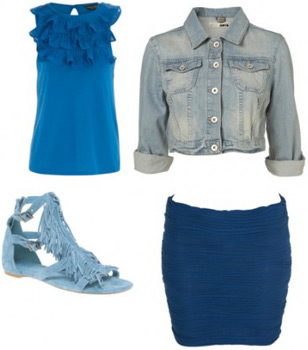 top / skirt / jacket / sandals
I loved the bright, tropical blue of this top and really wanted to try it as part of a monochrome outfit. This look is really simple to achieve – just choose pieces that are all in the same color group, but try to avoid being too matchy! If you love monochrome looks, check out our previous post on monochromatic fashion.
Bright Prints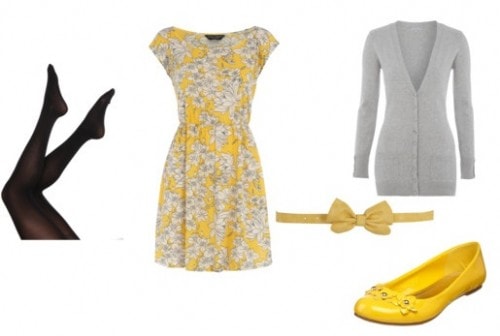 dress / cardigan / tights / shoes / belt
If you're not quite confident enough to go all-out in brights, how about trying a bright, printed piece? The print detracts from the bright yellow color but you're still totally on-trend for this season. I added the lemon yellow shoes for an extra bright pop.
Pair with Neutrals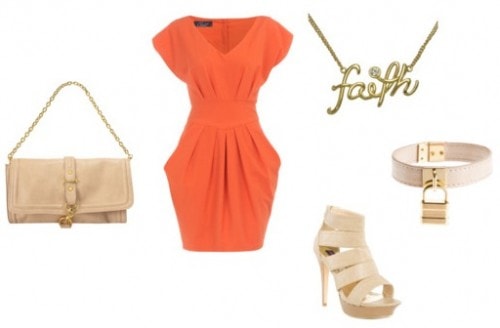 dress / shoes / clutch / bracelet / necklace
If you're anything like me, you went wild for nude pieces last summer only to find bright colors replacing them! Never fear, however – neutrals and nude tones are a great base for bright colors.
I love this outfit because the bright color of the dress allows it to stand out and still be a really simple dress, and the nude accessories complement it without overwhelming it. Neutrals like orange and yellow look great with navys, greys and browns, while pinks, blues and greens look great with black.
Bright Accessories
black dress / blue tights / yellow shoes / orange shoes / blue purse / scarf / orange bag/yellow belt
I just picked a really simple LBD here to show you a few ways you can brighten up a simple black dress with a bright piece. I love the look of bright shoes or colored tights with a simple dress like this – bright accessories offer a great way to get extra wear out of your winter LBD and still feel summery.
Your thoughts?
Do you love the brights trend or will you be sticking to neutrals? How will you be wearing brights this season? Let us know in the comments!