Blazers are all the rage right now. What used to be something that was worn solely in professional settings is now a closet staple. Lately, you can find blazers in all different cuts, colors, and materials! There really is a blazer for everyone.
Now I know what you're thinking, "there are only so many ways that you can wear a blazer". Maybe a few years ago that was true but with today's trends you can style a blazer is so many ways.
Need some blazer inspo? I'm gonna show you 3 of my favorite ways to style a blazer today!
Related reading: What to Wear with a Blazer: 10+ Outfit Ideas for Women
Pair One with Jeans
Here is Sabrina Carpenter looking so chic in a basic bright red blazer, some jeans, and heels. So simple, easy, and flawless.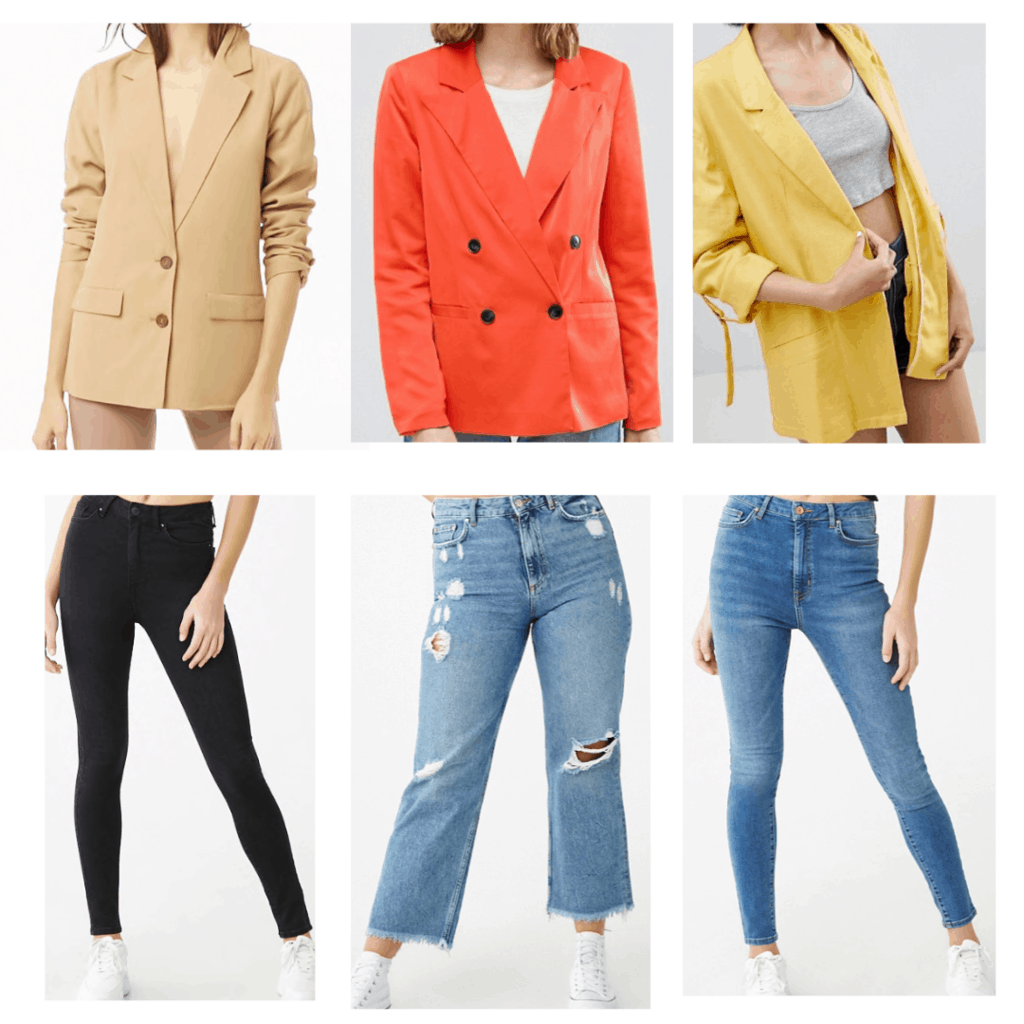 From left to right: Tan Woven Blazer – Forever 21, Black Skinny Jeans – Forever 21, Coral Blazer – Asos, Frayed Ankle Jeans – Forever 21, Mustard Linen Blazer – Asos, High Waisted Skinny Jeans – Forever 21
Remember how I said that a blazer used to be worn for professionalism? Well, it still is but now you can make a blazer look casual too!
If you're wondering how to wear a blazer casually, one of the most current looks around is a cool boyfriend blazer and a pair of jeans.
Try pairing your favorite blazer with some looser fit jeans like Sabrina's or size up in your blazer and rock with some skinny jeans! The combinations are endless; it's really up to whatever style you prefer! Try adding a blazer to your casual outfit — you won't regret it.
Try a Matching Set
Ariana lives for monochromatic outfits so it's no surprise that she had this little tan blazer number up her sleeve. Notice how Ariana is wearing a set, a blazer and a matching skirt.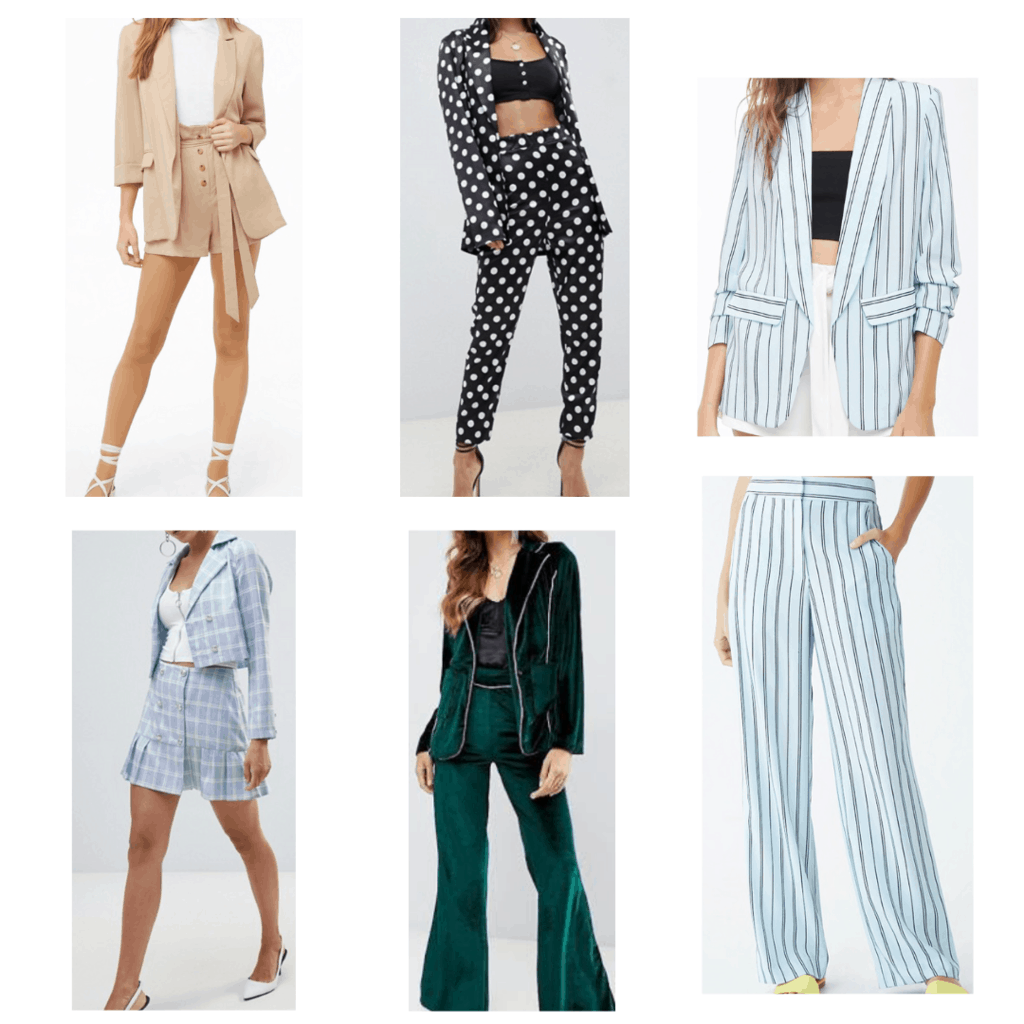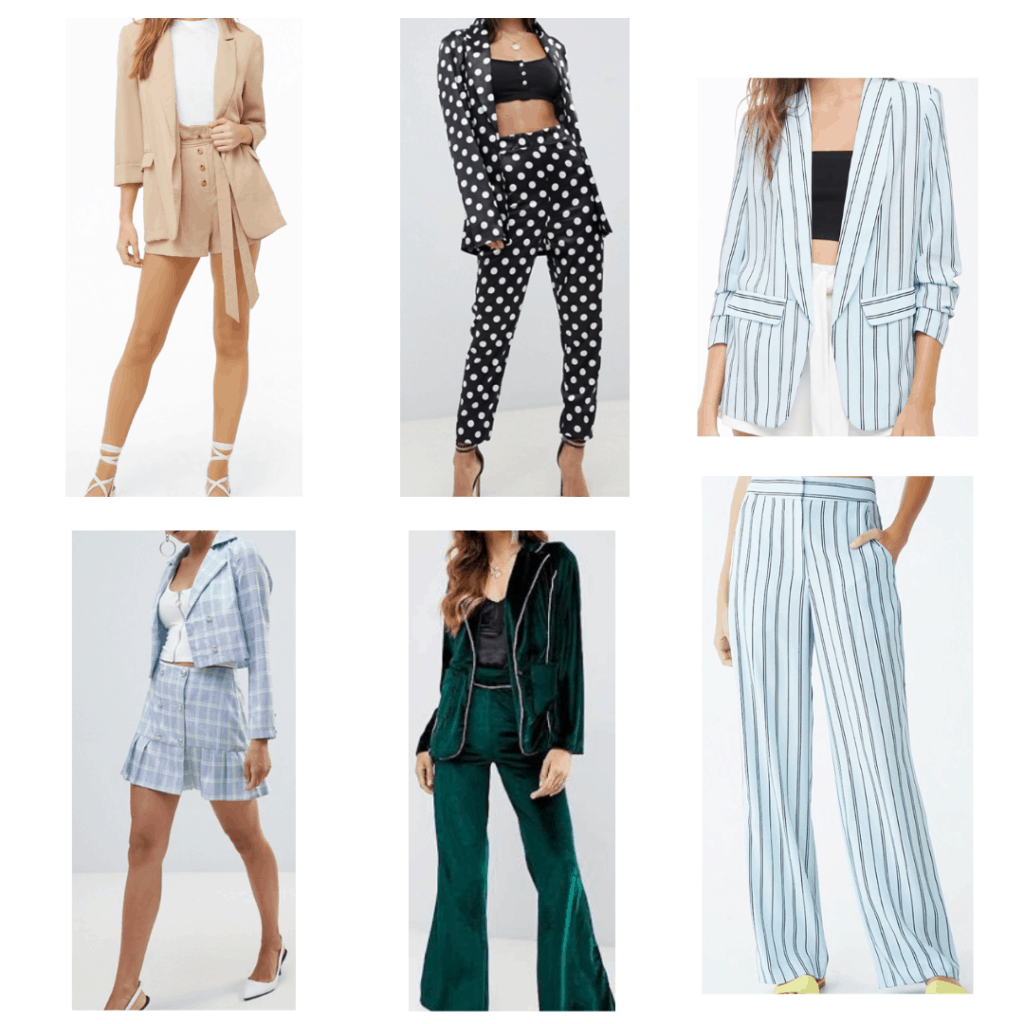 From left to right: Blazer & Paper Bag Shorts Set – Forever 21, Cropped Blazer & Mini Skirt Set – Asos, Polka Dot Blazer & Pants Set – Asos, Velvet Blazer & Pants Set – Asos, Blue Pinstripe Blazer & Pant Set – Forever 21
Styling your blazer with matching bottoms is so cute and on-trend right now. (Note that this is different than your typical suit set: The bottoms on these sets are typically unexpected, whether they're ultra wide leg or flare pants, shorts, or mini skirts.) Luckily, these monochrome looks are very trendy right now so you can find them just about anywhere.
What's great about these sets is that they are just so easy. You don't even have to think about what jeans, shorts, skirt, etc you are going to wear because the bottoms are literally given to you!
Try wearing your blazer as a matching set! Here are some cute, affordable options that you can shop or you can search for your own. Because pretty much every set is unique, it's fun finding one that fits your personal style.
Dress it Up
Bella Hadid is killing it on the runway in this blazer dress! This is the perfect picture to introduce our 3rd blazer style.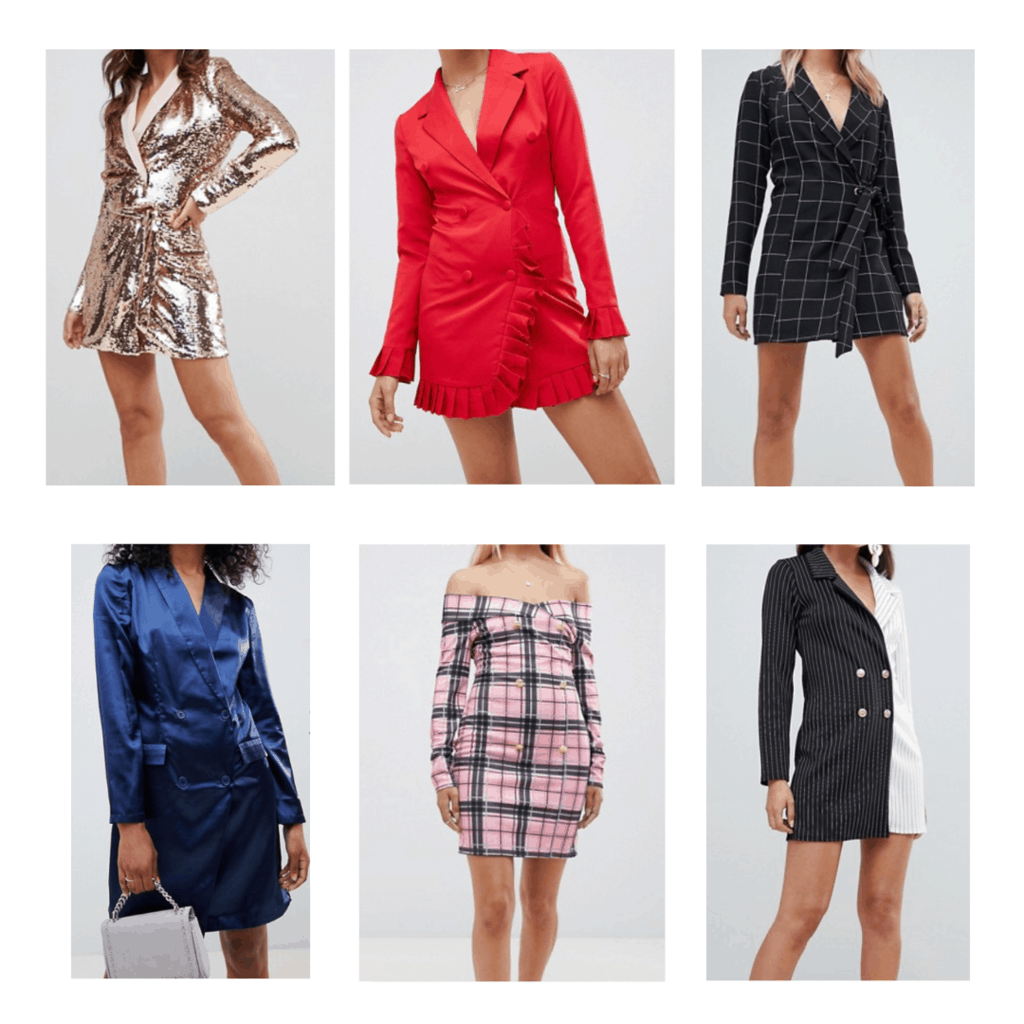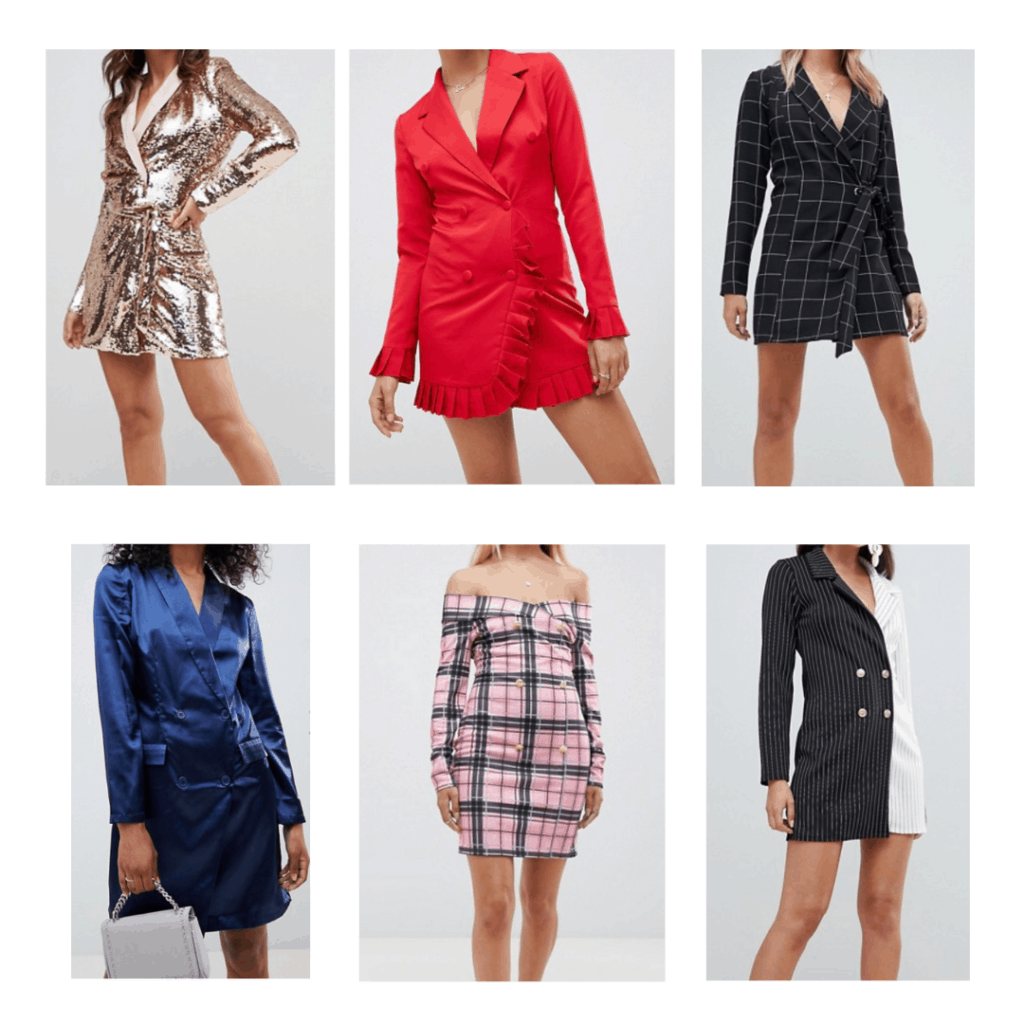 From left to right: Sequin Blazer Dress – Asos, Satin Tuxedo Blazer Dress – Asos, Pleat Trim Blazer Dress – Asos, Off the Shoulder Blazer Dress – Asos, Side Tie Blazer Dress – Asos, Contrast Blazer Dress – Asos
The blazer dress is the perfect adaptation of the basic blazer and is SO trendy right now. Depending on what you accessorize yours with, you can wear a blazer dress in a professional setting (maybe for a work party) or even for going out.
As you can see in these examples, there are so many different styles of blazer dresses out there! Next time you need a dress for an event, try styling a blazer dress!
What do you think?
Which of these 3 styles is your favorite? Do you have a favorite way to style a blazer other than these mentioned? Let me know in the comments!