This post may contain affiliate links, which means we may receive a commission if you purchase through our links. Please
read our full disclosure here
.
Tis the season for falling leaves and dropping temperatures, and as tempting as it is to roll out of bed, crank up the heater, and go to class in your slippers and sweatpants, it's scientifically proven that you have a better day when you feel like you look better:
"A woman applying makeup is sort of like a man donning armor to prepare himself for battle. Makeup gives you confidence. It helps you exude the best possible version of yourself."
Now whether or not you choose to add a little extra gloss or mascara to your morning routine is up to you and your alarm, but there is one thing you can do to get that confidence boost this winter – spice up your wardrobe! As easy as it is to dress drab (but warm) we have a simple solution: meet the sweater dress.
The sweater dress is everything you've been searching for in a fall/winter outfit, and so easy to work with. There are hundreds of styles and patterns, long and short, turtleneck and scooped, long sleeve and sleeveless. With so many opportunities to flaunt your fall fashion style, we've created four examples of ways to wear a sweater dress to prove how much this piece can change your entire season!
Sugar and Stripes: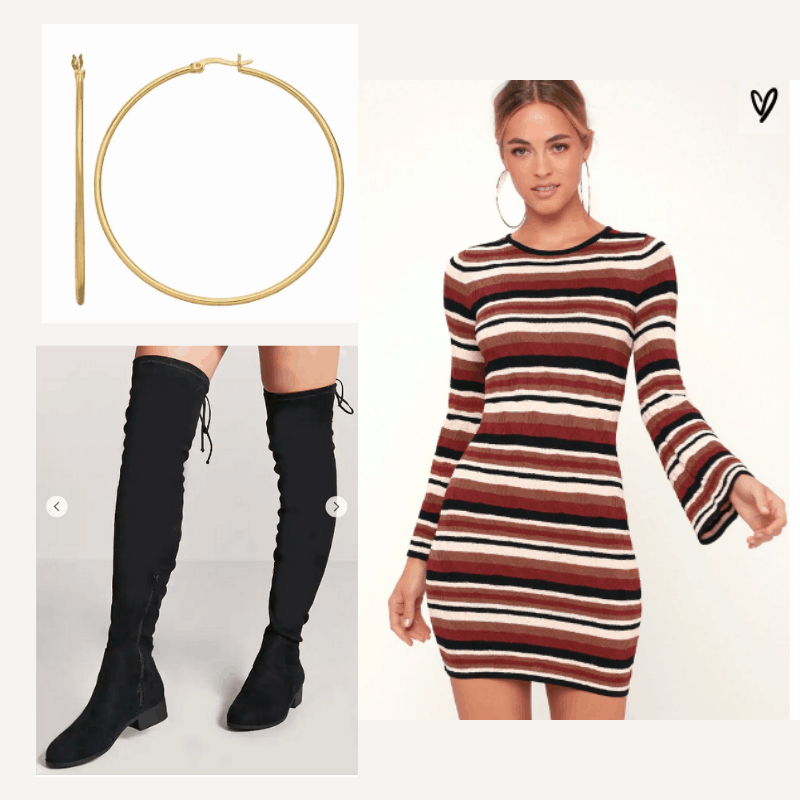 Products: Boots – Forever 21, Dress – Lulus, Earrings – Kohls
A formfitting sweater dress like this one is a must-have piece this season. It's no secret that thin stripes are trending, and this color combination practically screams fall. Due to its boldness, this sweater dress packs its own punch and doesn't need much accessorizing.
That being said, tall black over-the-knee boots (another must have for this season) always look fantastic with a sweater dress, and will tie in with the black stripes. Finally, these gold hoop earrings are simple and clean, the perfect accessory to keep the focus on the pretty dress.
Spicy Mustard: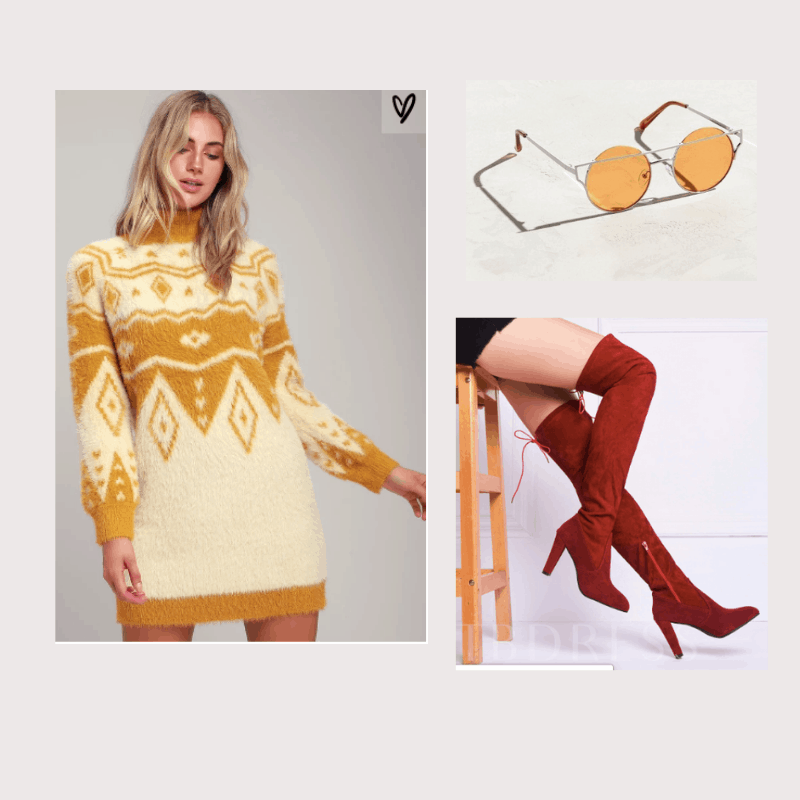 Products: Dress – Lulus, Boots – TBDress, Shades – Urban Outfitters
For this second outfit, I chose a more traditional, and yet distinct sweater dress, to style. This look highlights the mustard yellow color of the dress — always a favorite fall hue. I love the way this dress looks, but I love the material even more: It's fuzzy and cozy, meaning it will keep you warm through even the coldest December nights. This cute and functional dress is a must-have for your fall wardrobe.
Now what to pair with this sweet dress? Over-the-knee boots again, of course, this time in a brilliant red color to contrast with the mustard patterns on the dress. In addition to the tall boots and cozy sweater, a pair of yellow-tinted glasses will highlight the outfit's warm color scheme.
Hot Tamale: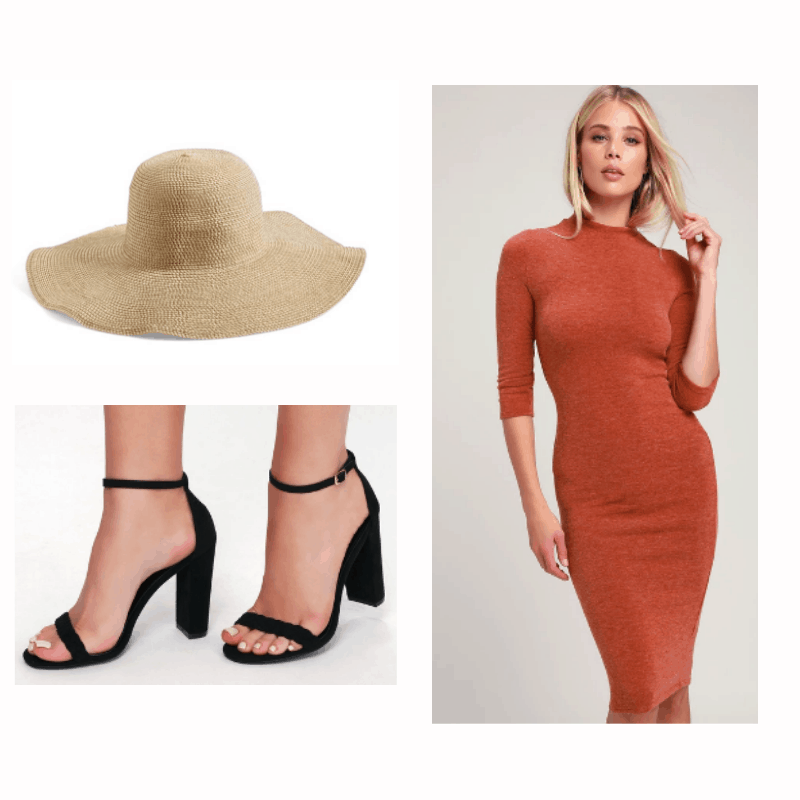 Products: Heels – Lulus, Dress – Lulus, Hat – Nordstrom
On the coldest winter days, when we're contending with gray skies and muddy, iced-over roads, it's nice to imagine ourselves somewhere warm and sunny. This sweater dress, with its shorter sleeve, cropped neckline, tight fit, and longer, over-the-knee length, reminds me of something I'd wear to dinner on vacation. So why not invest in a dress that could be worn now, for a classy holiday party, and later, for spring break?
A classic pair of black open toed heels will show your style with this dress, whether you're on an island or attending a soiree closer to home. Add simple jewelry to keep the look classic and cool. Finally, a straw hat would be the perfect pairing for spring break — buy one during the sales now and you'll have it for February!
Cotton Candy: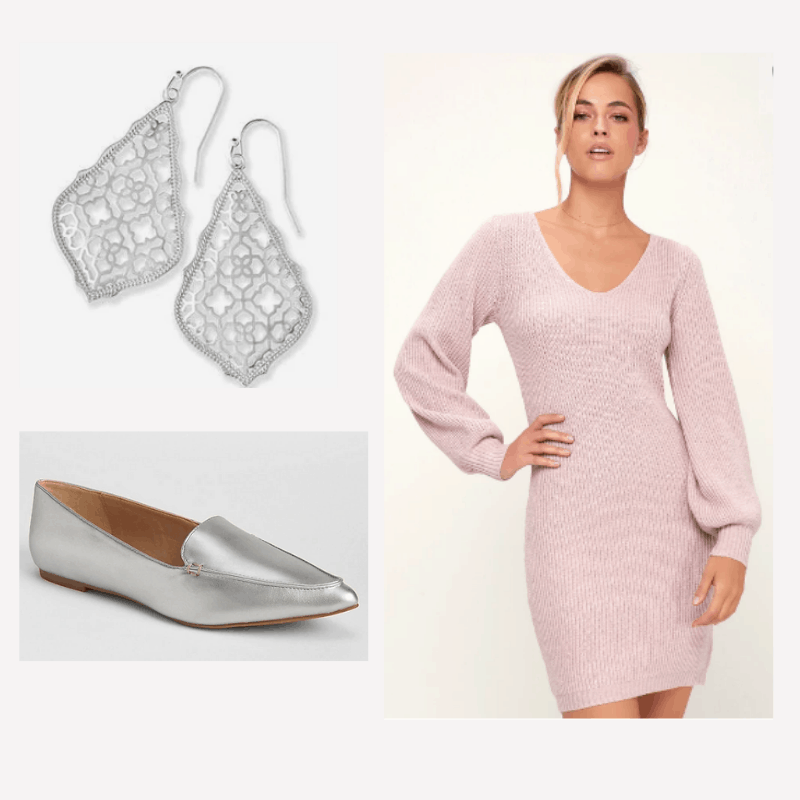 Products: Flats – Gap, Dress – Lulus, Earrings – Kendra Scott
Sweater dresses can be worn just about anywhere, and with the holiday season approaching, why not wear something convenient and comfortable while we feast and catch up with friends and family? This light pink dress has a plunging (but tasteful) neckline and bunched sleeves, plus a warm, soft material. This dress could be dressed down with a jean jacket, or accessorized with silver for a dressier look, as shown in the outfit above.
These silver loafers are ultra-comfy and yet still give a classy look to the outfit, while thick metallic earrings add that extra flair to draw attention to your beautiful face! As seen on the model, light and blush-colored eyeshadow and lip-gloss will bring out the baby pink tones on the sweater dress.
What do you think?
Do you have any sweater dresses hanging in your closet this season? Comment below which look was your favorite, and what how you're planning on styling your sweater dresses! Happy cozy/cute season!